Red Handbags Are The Fall 2023 Trend Adding A Pop Of Color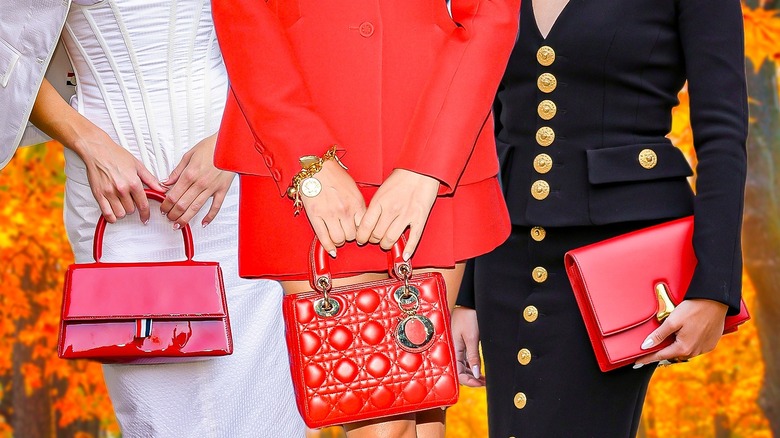 Static Media/Shutterstock/Getty
Red is poised to be the "it" color of fall, once again living up to its reputation as a "red-hot" hue. While some of us are only too happy to dress head to toe in the boldest of all colors, others prefer to use red as an accent shade, by way of a stylish pair of shoes, jewelry, or a lip color that any Swiftie would be proud of. While those are all excellent options, a vibrant red handbag is the ideal way to add some zing to a look without going overboard.
Red is the ultimate eye-catching color and gives any outfit an infusion of confidence and power that other shades just don't offer. This kind of clout does come with some limitations, however, as a red handbag doesn't pair well with every color (or even most colors if we're being honest). So while the red handbag might not be an everyday kind of accessory, it certainly makes a statement when the time is right.
Contrast with a cool shade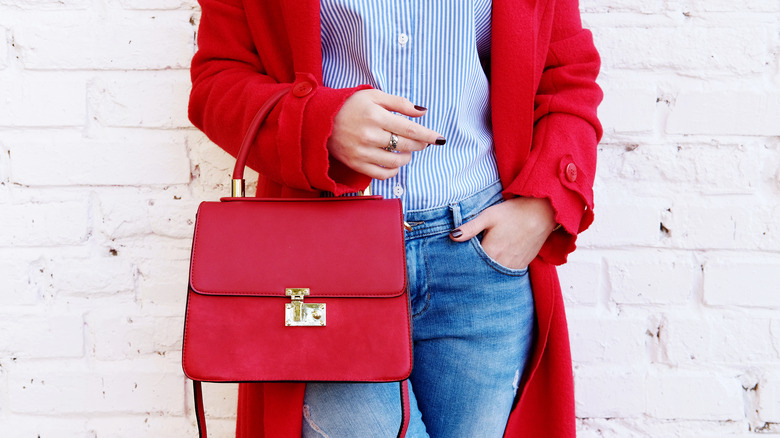 Viktoria Minkova/Shutterstock
Red, the warmest of warm tones, contrasts beautifully with cooler shades like blue. It's a fan favorite to wear with all types of denim, especially in the form of a purse. Bonus points if you're able to coordinate the bag with a similarly shaded piece of outerwear.
Red bags are the perfect pop of color
Does any color pop better than red when placed against a neutral backdrop? A red bag is the perfect accessory to add some excitement to practical clothes in neutral shades of black, white, and gray. People will be so focused on the spunky red bag that they may not even notice the basic black underneath.
Don't be afraid to embellish
Some red bags pack an even bigger style punch thanks to their ornate design embellishments, such as a chain strap or detailed closure mechanism. When paired with understated jewelry, a blinged-out red clutch will make a statement all on its own (but especially if worn with red heels).
Go big or go home
Red bags are not limited to clubs and parties only. They can also be a fabulous and practical way to add a pop of color to your day-to-day life. A big red bag can add both storage space and style to your outfit for days when you are out for dinner, running errands, or anything in between.
Red is office-ready chic
Red is often associated with love and passion, but it also conveys power and strength. Show your colleagues that you're not afraid to be bold and professional by carrying an oversized bag in a vibrant shade of red. When paired with neutral tones, it makes for the perfect accent piece in the work environment and will transition seamlessly for after-hours drinks.
Go a little wild with colors
Red isn't just about looking chic; it's a vibrant, stunning hue and the perfect primary color to experiment with. When you're feeling whimsical, try pairing a bright red bag with another equally vibrant color, like purple or even yellow. It might not be conventional, but it will definitely turn heads.