We're Already Over The Low-Rise Jeans Resurgence - How To Replace The Outdated Trend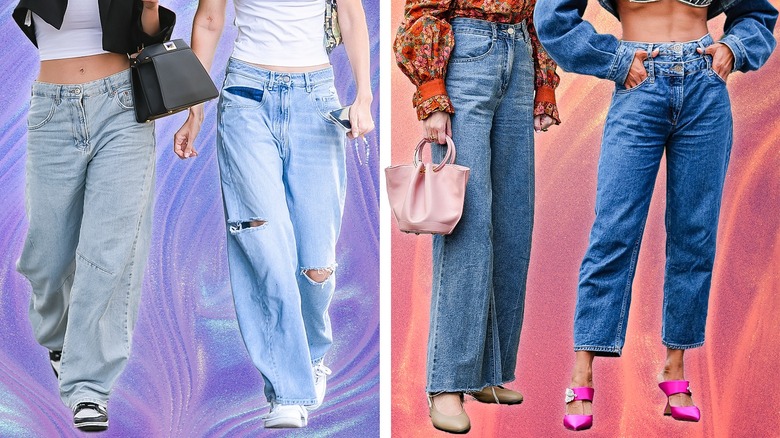 Static Media / Shutterstock / Getty
Many people probably rolled their eyes when they read about how low-rise denim staged a comeback before summer hit in 2023. But don't worry — we're over the briefly trendy low-rise look and don't plan on revisiting it anytime soon. While low-rise jeans can look sexy because they show that flash of skin at the midriff area, the additional sex appeal isn't worth the constant worries of them showing too much when we bend over, making our legs look shorter, and feeling uncomfortable against a lower-than-usual area of our bodies. Thus, we — along with other fashion enthusiasts all over the world — are moving on to more timeless, practical, and arguably more stylish jeans.
"Consider my affinity for a well-fitted pair of jeans as the foundation of my style identity. The high-rise, wide-leg cut is my ultimate preference, although I recognize the power of straight jeans, which seamlessly harmonize with a large spectrum of garments," Léna Farl, a fashion enthusiast in Paris, told Who What Wear. Whether you live in France, the United States, or anywhere else, it's time to ditch the low-rise jeans and embrace other — more versatile — jean options.
High-rise jeans are better for complementing our figures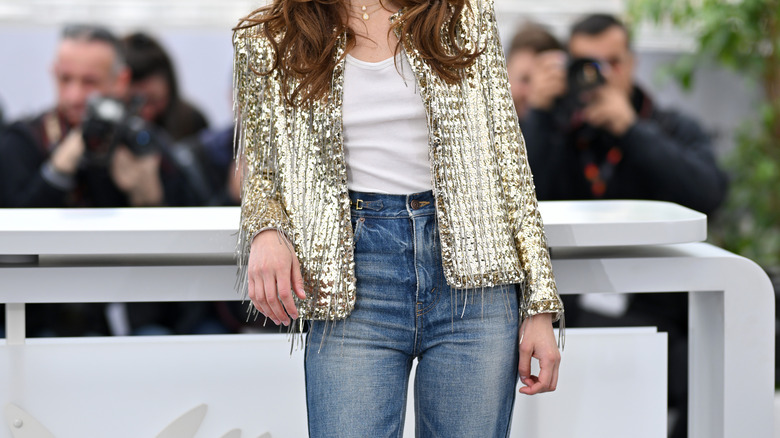 Lionel Hahn/Getty Images
It's time to face the truth: low-rise jeans will never highlight our curves and elongate our legs like high-rise options. While the low-rise look was only back for a fleeting moment, high-waisted pants aren't going anywhere, as they're beloved for making wearers appear taller and significantly more sophisticated than the more casual — and dare we say sloppier — lower-rise look.
Skinny jeans are sexy
If you liked low-rise jeans because you thought they looked sexier than other options, skinny jeans still give you some sex appeal, thanks to their body-hugging fit. Skinny jeans aren't dead — no matter what TikTok says. We'll defend the controversial jean style on our deathbed, because they just look so good.
Wear a crop top instead
Anyone who enjoys flaunting their midriff can still get that skin-showing Y2K look by wearing a crop top instead of low-rise jeans. By opting for a crop top with higher-waisted instead of low-rise jeans, you'll make your legs and torso appear longer rather than giving the appearance of shorter legs — which is inevitable in low-waisted jeans.
Straight jeans are fool-proof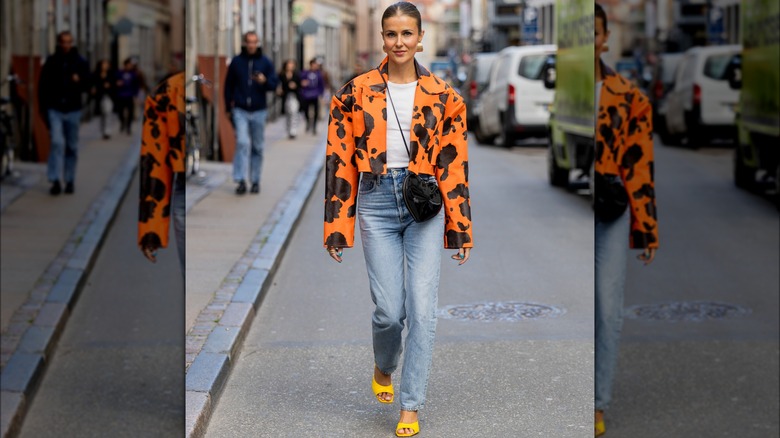 Christian Vierig/Getty Images
As previously mentioned, traditional straight-leg jeans are as versatile as possible. Not only are they convenient for dressing up and down, but they look good on everyone. Straight-cut jeans aren't form-fitting or baggy, so there's no excuse not to wear them. Thus, straight jeans are always the "safest" option, and everyone needs at least one pair.
The waistline doesn't have to be high or low
If the low-rise resurgence caused you to stress about how high or low your jeans' waistline is or should be, please don't let it make you overthink. The rise is only one aspect of the jeans and isn't worth stressing over. Don't feel like you must choose between only high or low-rise jeans, as there's no issue with wearing something more in between a high and low-rise.
Try jeans with fun details
Rather than opting for jeans with a low rise to make a statement, why don't you go for jeans that appear bold in other ways? For instance, sparkly jeans are super glamorous and exciting. Likewise, jeans with embroidery details can appear beautiful and unique, and even details like extra pockets can make the jeans look more stylish.