The 14 Best Mary Janes For All Of Your Most Stylish Outfits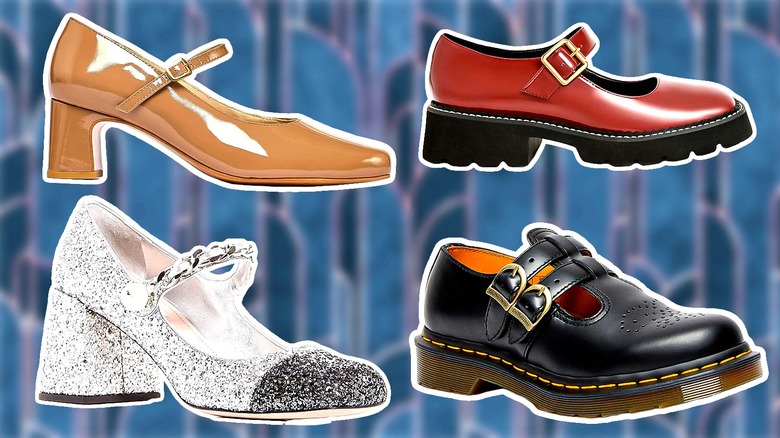 Static Media/Shutterstock
We may receive a commission on purchases made from links.
Certain shoe styles never go out of vogue, and we're here to argue that mary janes are a bona fide fashion staple. With their horizontal straps subtly evoking the grace of a ballerina and the innocence of a school girl, mary janes toe the line between cute and classy. Better yet, these charming shoes are versatile enough to ride out changing trends and tastefully accent a variety of different aesthetics.
For the current fashionista, mary janes pair especially well with trends like preppy-yet-moody dark academia fashion and the larger-than-life Y2K resurgence. Unbeatable mary janes are even at home in bold alternative looks, simultaneously serving punky and feminine vibes that are ideally matched for fads like the 'gloomy girl' aesthetic. But they aren't just a gimmick — mary janes also come in sleek, understated styles ideal for everyday wear or a journey to the office.
Fitting into so many different looks, it's no wonder that mary janes are a notable shoe trend. Once you find your perfect pair, mary janes are easy to style and can quickly breathe fresh life into your existing wardrobe. But what if you don't have a perfect pair yet — or want to expand your mary jane collection? To make the most of their enduring popularity, here are some of the best mary janes to serve as the cherry on top of your favorite outfits.
How we selected products
Jeremy Moeller/Getty Images
There is no shortage of shoe styles on the market, even if you're looking for something as specific as mary janes. But this abundance can be a double-edged sword. On the one hand, variety makes it possible to find your exact dream shoe. On the other hand, an excess of options can be overwhelming, making it difficult for you to confidently choose the right pair.
Window shopping can be fun, but sometimes, you don't want to browse through 100 different mary janes just to find "the one." To make this process less painful and more inspiring, we've done the hard work for you. After combing through near-endless product pages and tempting shoe styles, we're ready to unveil the best mary janes to accommodate any need and fashion goal.
To build our shortlist of must-have shoes, we examined each pair of mary janes based on style, comfort, construction, and price point, pulling further information from ratings, user reviews, product descriptions, and recommendations from other trusted fashion experts. And from the vast profusion of mary janes out there, we've compiled a roster featuring some of the very best. No matter what kind of look or aesthetic you're hoping to achieve with a fresh pair of mary janes, this shortlist is a foolproof place to start your search.
Best overall: Calla Mary Janes
No need to draw out the suspense — our award for best of the best goes to the classic mary jane shoe from Calla. A low heel makes these mary janes appropriate for almost any occasion, from a day spent at the office or fashionably running errands to an evening at a stylish gallery opening. Plus, Calla's mary janes come in various colors and finishes. Black is always a solid choice, of course, but we particularly love the polished look of the mary janes in toffee patent leather. This neutral brown just reads as incredibly expensive and classy.
And as for comfort, reviewers rave over their fit. "I don't think I've had a pair of comfortable heels in decades! I could walk a mile in these shoes. Highly recommend!" writes Emily S., while Rebecca D. comments, "Almost cried with happiness when I put these on!"
Purchase the Calla Mary Janes at Calla for $230.
Best budget mary janes: Cybling Round Toe Ankle Strap Mary Janes
This was a hotly contested category, as there are a lot of cute and reasonably priced mary janes on the market. Cybling ultimately won the day because they not only delivered on price point, comfort, and overall customer satisfaction but also on variety. Their chunky mary janes are available in a range of colors, from must-have black to sparkly gold and rich wine. They also offer a few unique styles, like a pair of colorblocked black-and-white mary janes and a pair that comes with an extra-sweet detachable mesh bow. With a look for every aesthetic, this shoe is a no-brainer for shoppers on a budget who want mary janes that match their vibe.
Purchase the Cybling Round Toe Ankle Strap Mary Janes at Amazon for $49.99.
Best luxury mary janes: Prada Brushed-Leather T-Strap Mary Janes
When paying luxury prices for a pair of shoes, you either want a totally wild show-stopper or a shoe that can be worn with everything. Prada delivers on the latter with a pair of quintessential T-strap mary janes that ooze quality. The soft sheen of the leather, accented with shiny buckles and a subtle brand logo, creates a classic, preppy look. And craftsmanship cannot be overlooked. As TikToker @akv_myyb points out in a comparison between real Prada mary janes and cheaper options, the genuine article wins out in terms of construction. "The stitching is very clean and clear. ... It's very well-made."
Purchase the Prada Brushed-Leather T-Strap Mary Janes at Prada for $1,200.
Best mary jane flats: Sam Edelman Michaela Mary Jane Flats
If you're interested in crowd-favorite mary janes, look no further. Sam Edelman's Michaela flats are beloved by consumers, earning a median 5-star rating on Zappos. And reviewers gush about these simple yet chic mary janes. As user Beth26 says, "I'm truly impressed by the quality of the materials and the comfortable feel while walking. Plus, they are just too cute. ... These flats look and feel very high-end. These are my first Sam Edelman shoes but they won't be my last." Our favorite part? The Michaela flats come in many different colors and materials, from mandatory matte black to copper velvet and even an eye-catching puffed wool finish.
Purchase the Sam Edelman Michaela Mary Jane Flats at Zappos for $130.
Best mary jane heels: Dirty Laundry Lita Janes
We love a chunky mary jane heel, and Dirty Laundry delivers with their adorable Lita Janes. Made of glossy patent leather, these baby doll heels are available in black, white, olive, and a dark wine shade. More importantly, they're reported to be very comfortable, with some reviewers even wearing them as a go-to work shoe. As one user says, "Comfortable and adorable! The shoe is soft on the inside and the sole is super comfy. I have received so many compliments on these cute shoes." The only caveat? Some reviewers suggest that Lita Janes may run a half size large. So if you tend to fall between sizes, opt to size up rather than size down.
Purchase the Dirty Laundry Lita Janes at Zappos for $69.95.
Best mary jane platforms: Free People Gwen Platform Mary Janes
Sweetly classic in style, the Gwen mary janes from Free People hit all the right notes for a platform heel: cute, sturdy, and comfortable. Happy customers sing their praises on the Free People website. As reviewer Emaruhodges says, "I wear these shoes every single day. ... I walk at least 3 miles every day to and from my office and I just say, it is only possible with these shoes. I wear suits to work and these shoes merge comfort with fashion. I get compliments on these shoes all of the time!" User Karinagh adds, "These shoes are so comfy and cute. They are going to be a staple piece."
As with the Dirty Laundry heels, some customers report that you may want to go a half-size up with the Gwens. And as for color, black naturally goes with everything. But don't sleep on the rich brown of "Pecan" Gwens, which add a bohemian air to any ensemble.
Purchase the Free People Gwen Platform Mary Janes at Amazon for $129.36.
Best lug-sole mary janes: Dr. Martens 8065 Smooth Leather Mary Janes
Doc Martens have built a reputation for craftsmanship, with their boots being lauded as nearly indestructible. But this iconic brand also offers that same high-quality craftsmanship in styles like their beloved lug-sole mary janes, which boast a 4.5-star rating from nearly 1000 reviews. Designed in a T-strap style with two adjustable buckles, detailing on the toebox, and the Dr. Martens signature yellow stitching around the sole, these smooth leather mary janes are built for both style and longevity. If you're looking for a pair of timeless mary janes that will last you through the years, Docs are a safe bet.
Purchase the Dr. Martens 8065 Smooth Leather Mary Janes at Dr. Martens for $140.
Best double-strap mary janes: Christian Louboutin Miss Jane Pumps
Louboutin heels may come with a steep price tag, but you can see why. The Miss Jane mary jane pumps are a thing of beauty, from their gleaming patent finish and streamlined block heel to the delicate dual straps and recognizable red sole. It's no wonder that these mary janes — almost a work of art more than a shoe — have a perfect, 100% 5-star rating at Nordstrom.
And flawless appearance aside, they even score high marks for comfort — setting them apart from some other Louboutin offerings. As reviewer UnicornRainbow reports, "I really never wear heels but I can wear these all day long. I have a narrow heel and wide foot with a very high arch and most shoes are uncomfortable but these are super comfortable and I have walked around all day in them several times. I love them and they match everything."
Purchase the Christian Louboutin Miss Jane Pumps at Nordstrom for $895.
Best square-toe mary janes: Sam Edelman Jildie Pumps
When it comes to understated staples with nearly universal acclaim, Sam Edelman strikes again with a square-toe heel that fans fawn over. 79% of customers give these heels a 5-star rating at Zappos, and another 10% give them 4 stars, adding up to nearly 90% who love the Jildie pumps right off the bat. As reviewer FutureLawyer says, "I was so afraid these would pinch, be too tall and uncomfortable to walk in, etc. However, these shoes were too adorable for me to pass up. So glad I took the gamble because they turned out to be comfortable and beautiful! ... Now that I've found my holy grail heel, I will definitely be buying in more colors!" In addition to traditional shades like black and brown, the Jildie pumps are available in various hues and finishes like textured burgundy, patent navy, and prosecco velvet.
Purchase the Sam Edelman Jildie Pumps at Zappos for $140.
Best mary jane sneakers: Skechers Seager Power Hitters
The mary jane style is so versatile that it even fits into the world of tennis shoes. This is great news since the sneaker trend shows no sign of slowing down. To meld comfort and style in your own wardrobe, these mary jane sneakers from Skechers are a great place to start. With comfy knit uppers and a convenient slip-on design, the Seager Power Hitters are sporty enough to wear on a long walk but fashionable enough for days when you want to wear your sneakers to work. As for social proof, the majority has spoken: From the more than 3,000 reviews on Amazon, these mary janes have a lofty 4.4-star rating. Grab a black pair to compliment everything from sharp suits to sportswear or nab the shade "Natural" to finish your minimalist, Scandi-inspired khaki looks.
Purchase the Skechers Seager Power Hitters at Amazon for $60.
Best mary janes for wide feet: Vivaia Margot Mary Janes
If you have a wider-than-average foot shape or health complaints that require more foot-friendly shoes, it can be tough to find mary janes that strike the right balance between comfort and fashion. Happily, shoemaker Vivaia offers styles developed specifically for wide feet, promising cute shoes that won't kill your tootsies. Among these, the Margot mary janes are a particular standout.
With their square toe and single strap, the Margot mary janes bear a charming resemblance to ballerinas' pointe shoes. But unlike ballet slippers, they're built for comfort. With stretchy uppers, padded heels, arch-supporting insoles, and anti-slip soles, the Margots have worked hard to earn their 4.8-star rating. Experience these super-comfy flats for yourself in one of six colors, from denim blue to ruby red.
Purchase the Vivaia Margot Mary Janes at Vivaia for $97.
Best mary janes for all-day wear: Naot 'Arataki' Mary Janes
These mary janes from Naot are a little non-traditional, but we can appreciate their summery, sandal-adjacent twist on the style — especially since they're renowned to be incredibly comfortable. Customers tout the Arataki mary janes as a fantastic vacation shoe, thanks to their airy, perforated toe, light weight, comfortable straps, and cushioned footbed. As reviewer LLWW says, "I love these shoes. My feet are completely comfortable, supported, and happy. Naots are a wonderful brand because they offer so many styles while designing each shoe to offer great arch support. Very high quality, soft leather."
Purchase the Naot 'Arataki' Mary Janes at Nordstrom for $190.
Best colored mary janes: Charles & Keith Cognac Metallic Buckle Patent Mary Janes
Black mary janes may be classic, but we can't resist a tasty and colorful take on the style like this offering from Charles & Keith. Saturated enough to evoke the bold shades of red currently trending but just muted enough to remain timeless, the color of these mary janes is practically drool-worthy. While the brand has officially termed this hue as "Cognac" for its earthy undertones, you could be forgiven for comparing it to equally luscious reds like dark cherry or tempranillo. The gold buckle and white contrast stitching are just the icing on the cake, making these colorful mary janes tough to resist.
Purchase the Charles & Keith Cognac Metallic Buckle Patent Mary Janes at Charles & Keith for $66.
Best statement mary janes: Miu Miu Glitter Block Heel Mary Jane Pumps
When trying to choose the splashiest mary janes on the market, it all came down to visual impact. Walking the fine line between couture and tacky, these sparkly mary janes from Miu Miu are inarguable head-turners. In a peak expression of fashion maximalism, Miu Miu offers up a "more is more" mentality, adorning these heels with colorblocked glitter, metal adornments across the strap, and even a massive pearl in place of the customary buckle. And yet, by adhering their bedazzled look to a neutral silver and gray color palette, these mary janes could work with a wide range of outfits. We'd argue that this juxtaposition of wild yet versatile makes Miu Miu's glittery mary janes the best statement makers of the moment.
Purchase the Miu Miu Glitter Block Heel Mary Jane Pumps at Bloomingdale's for $1,100.