'Pink Petal Hair' Is TikTok's Favorite Bright Color Hair Trend Right Now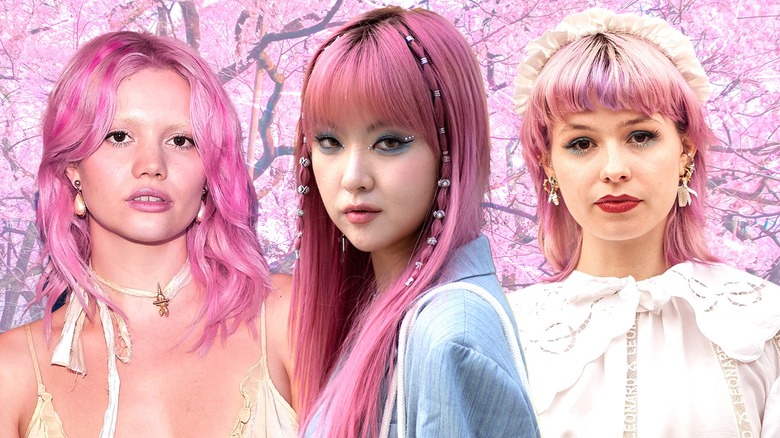 Static Media / Shutterstock / Getty
If you think Barbie blond is too tame, try pink hair instead. Pink hair is playful, girly, and super fun, so if you want to explore nontraditional hair colors, pink is an excellent option and is the color of the moment. "Similar to how wearing a bright yellow outfit on a rainy day can brighten your mood, dyeing your hair pink takes it one step further to embody a bold statement of hope," Naomi Torres-Mackie, Mental Health Coalition's head of research and Lenox Hill Hospital practicing psychologist, told PopSugar. After all, how can anyone not feel more cheerful when their hair is pink?
Furthermore, the "pink petal" hair dye color is trending on TikTok in 2023, as TikTokers such as @prettyinminkbysesi and @cosmothompsonpro post videos flaunting the adorable pink hair color. And, yes, their hair looks as beautiful as real pink rose petals! Thus, anyone looking for a gorgeous hair transformation should take inspo from these TikTokers. However, remember that pink tresses typically require more maintenance compared to more traditional hues like brown or blond. But if you don't mind that extra work, stunning pink petal hair is worth it!
Make the jump to pink hair
Anyone who feels ready to commit to pink hair should just do it without overthinking. While making the jump to such a bold hue might initially seem scary — especially if you've never dyed your hair or have never had such an unconventional hair color before — you'll likely regret not trying it if you never take the plunge.
Or ease into it with pink ombré or balayage
Are you curious about pink hair but can't bring yourself to flaunt a full head of pink? Consider starting with only pink ends. Pink balayage or ombré can help you dip your hair into pink territory without a full commitment — if you decide you don't like the pink, just cut off those ends and rock short hair for a while — so you won't be stuck with it. But if you love the pink hue, you may want to eventually opt for all-pink hair!
Fun pink streaks exude punk vibes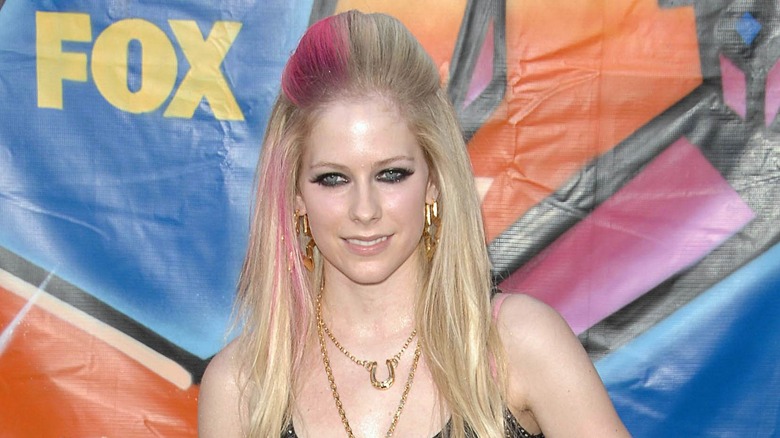 Everett Collection/Shutterstock
If you like Avril Lavigne's hair pictured above or the punk look, you should try pink streaks at least once. Adding pink streaks to your hair will instantly help you appear edgier, trendier, and more unique — with a pop-punk twist, as there's no way to don pink streaks without giving off cool-girl energy.
Long pink locks look luxurious
Pink hair typically looks most glamorous and girly in long lengths. We can't think of anything more hyper-feminine than long pink hair. So, if you want to rock a romantic, sweet-looking hair color and have long locks, pink is the way to go for the ultimate coquette appearance. If you don't have long hair and want the look, consider pink extensions.
Short pink hair is chic and bold
Long pink hair gives off girly glam, while short pink hair is always stylish. Trendy 2023 short hairstyles look more exciting than ever in pink, so if you want that ultra-trendy look, it can't hurt to also ask for a haircut — whether a bob or a pixie cut — when you get your hair dyed pink.
Pink waves give off supernatural vibes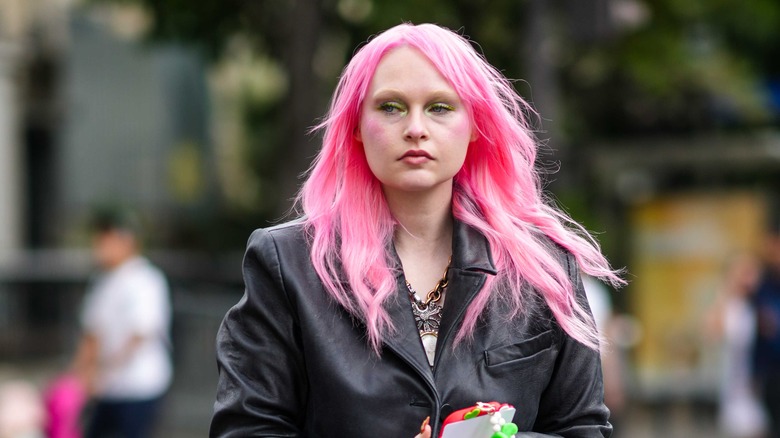 Edward Berthelot/Getty Images
We want to make it clear that pink hair looks beautiful with every hair type, from super straight to ultra-curly. But there's something supernaturally beautiful about wavy pink hair, whether it's short, long, or medium-length, as the free-spirited color and waves remind us of mermaids, fairies, angels, goddesses, and other supernatural beings. Thus, if you already have natural waves with a mermaid haircut, we can't think of a better-fitting hue than pink.
Consider pink eyebrows, too
This last idea will likely be too bold for many people, but if you're feeling dauntless, why not rock bold pink eyebrows with your pink hair? Pink hair is already daring, so it would look super striking to fully commit by opting for a monochromatic look with matching pink hair and brows.