21 Bridal Hairstyles That Highlight Short Hair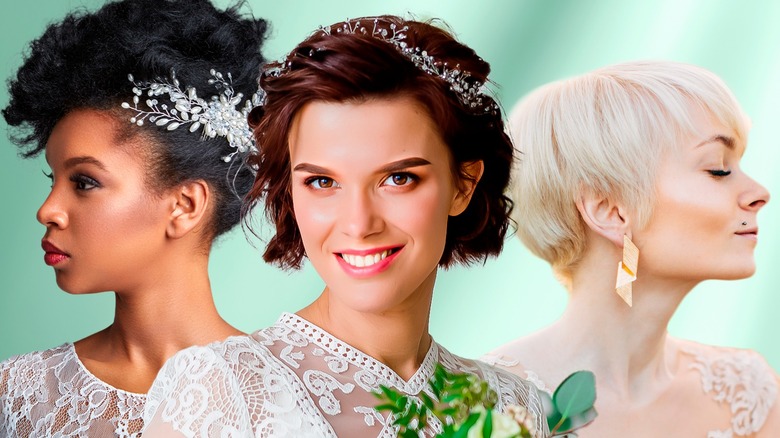 Static Media / Shutterstock
Pinterest and Instagram are havens for brides planning their weddings, offering visual inspiration for everything from bespoke engagement rings and flower arrangements to the perfect bridal hairstyle. Unfortunately for short-haired brides, these sites often provide page after page of long hair bridal inspo, highlighting elaborate updos and waist-length mermaid waves. If you're a short-haired bride, this lack of representation often makes it a challenge to figure out what look and styling options are out there for you before you head to your first hair and makeup trial.  
Fear not. Whether you've been rocking a pixie cut for the past decade or just considering a shorter style for your big day, there is no shortage of bridal hairstyles that highlight short hair. "For bobs and lobs, some styling options are beach waves, vintage waves, one side up, and messy updos," celebrity stylist Stacy Pitt tells Brides. "One side up or one side braided back are good options for an asymmetrical look." In other words, there is a lot to be done with short hair. If you're still feeling doubtful, the following collection of beautiful short-haired bridal styles is sure to inspire your own wedding day look. 
Glamorous finger waves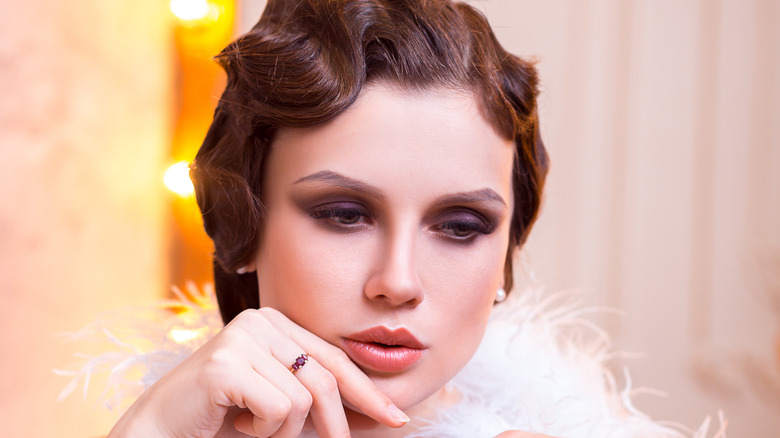 Ironika/Shutterstock
Finger waves aren't just for flappers. On the contrary, this chic hairstyle is perfect for short-haired brides looking to add a touch of vintage glamour to their wedding day look. The C-shaped waves is a classic style suitable for brides with existing bobs and pixie cuts, and provide the perfect amount of texture.
This look is also more versatile than you might think, with options for "wet" waves or looser waves paired with a beaded hairpiece or headband. "You can do a few waves at the front and top of the head for a sleeker look, or continue the waves throughout for a more 1920's finger-wave effect," hairstylist Cataanda James tells Allure.
Low chignon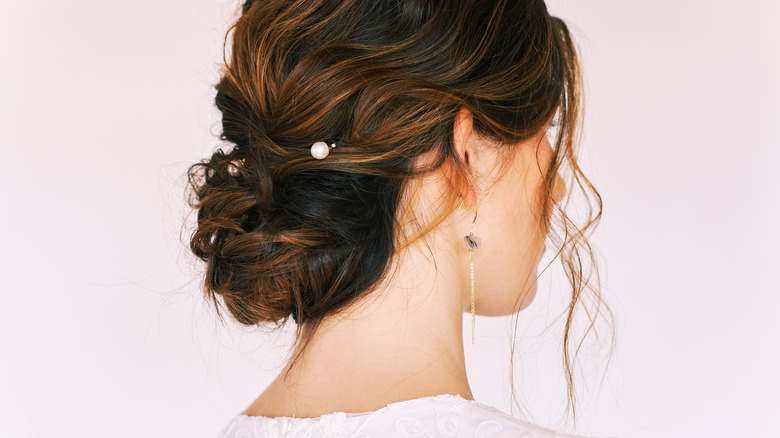 Anna Nahabed/Shutterstock
Nothing says classically bridal like a beautifully crafted chignon. The chignon hairstyle is simply a low, elegant bun styled at the nape of the neck, but it can vary in texture and sleekness to adhere to your particular preference. 
Although the chignon has been around for decades, it is currently a trending wedding hairstyle. "From Hailey Bieber to Paris Hilton, we've seen this sleek and sophisticated style continue to be a favored wedding day look for brides," wedding planner and stylist Daphne Durmaz Cardoso shares with The Knot.
Blunt bob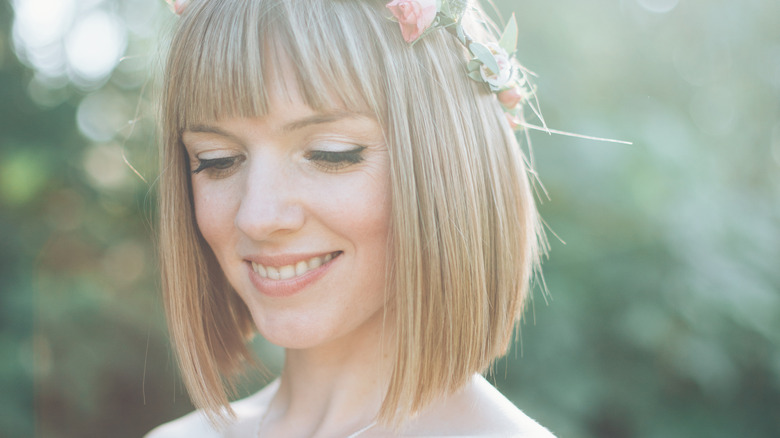 Sveta Y/Shutterstock
Blunt bobs are more versatile than they appear, especially for short-haired brides. Whether your hair ends at your ears or in a blunt line at your shoulders, the sharpness adds a touch of drama your guests won't forget. Blunt bobs also look good on a variety of face shapes. 
Depending on how you choose to accessorize on your wedding day, blunt bobs can elevate a bohemian, classic, or edgy look. Stylist Rashunda Durham tells The Zoe Report, "The bluntness of the ends will emphasize the jaw area and bring an intense and flattering look." 
Deep side parts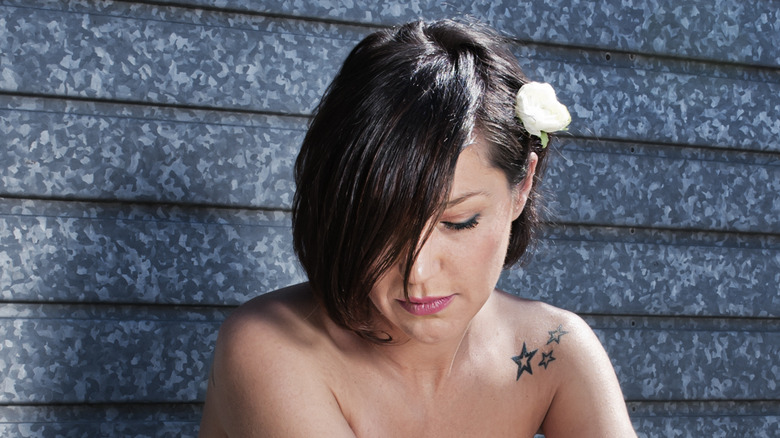 Merbe/Getty Images
If you want to keep your hairstyle equal parts relaxed and romantic on your wedding day, elevate your natural look with a deep side part. Located an inch or two from your natural part, a deep side part can be rocked with a lob or shoulder-length hair and still achieve a glamorous or rocker-chic look. Brides with fine hair may benefit from the added boost of volume a deep side part provides as well. Clip back one side of your romantic 'do with a fun hairpiece for an extra dose of bridal beauty. 
Small braids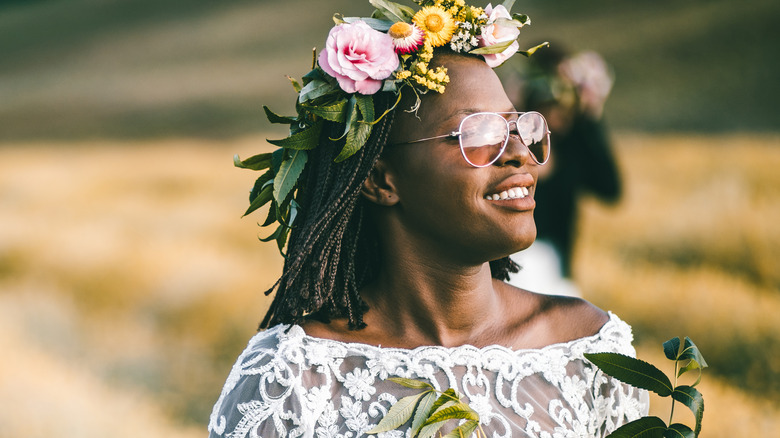 Kosamtu/Getty Images
Whether you rock short or bobbed braids in your everyday life or want to experiment with them for your wedding day, they are an awesome and versatile style. You can wear them curly or pair locs with box braids for a trendy take on braided hairstyles. Even with short lengths, braids can be worn in dramatic updos, paired with vibrant flower crowns, or pinned to the side for an elevated take on your natural beauty. 
Braided French twist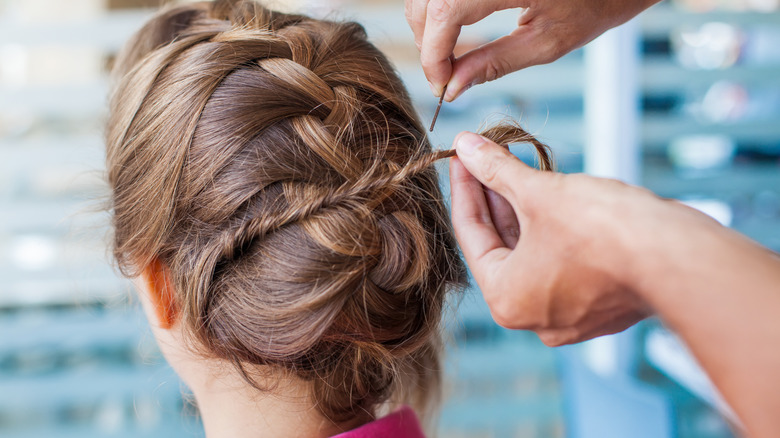 Mila Supinskaya Glashchenko/Shutterstock
Like the chignon, a French twist is a classic updo often worn for special or formal occasions. Unlike the chignon, the French twist can be worn higher up on the head but still suits short and medium-length hair that ends at the chin. Although made popular by elegant, perfectly coiffed Hollywood actors like Audrey Hepburn, modern brides are embracing loose, messy takes on French twists for their more casual wedding affairs. 
Beachy waves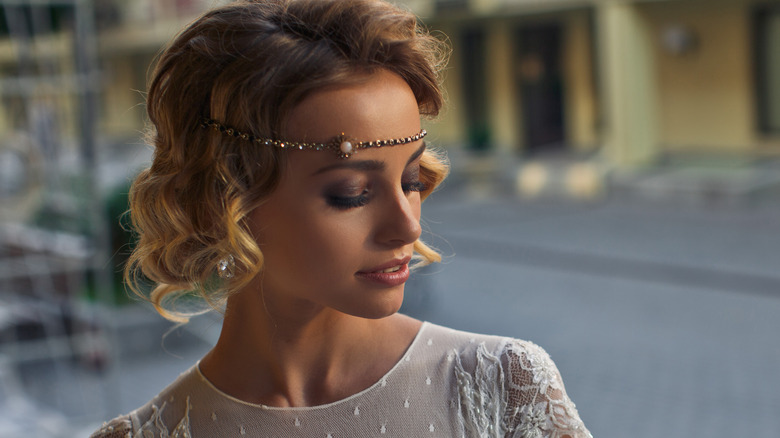 Andrey Nastasenko/Shutterstock
Beachy waves are a fabulous hairstyle for short-haired brides. Although the look has been predominantly worn by women with long hair, short, relaxed waves have been popular since Cindy Crawford rocked the look for her beach wedding in 2004. The imperfect curls are casual without being too perfect, and give a breezy, effortless vibe to beach or lakeside weddings. If you aren't overly particular about your hair having a structured look, beachy waves are the way to go. 
Textured bob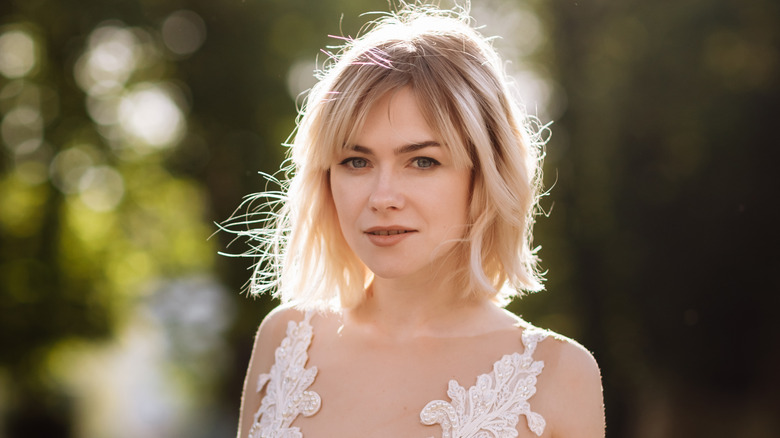 Andrii Medvediuk/Getty Images
Elevate your everyday bob with a bit of subtle curl and texture. The soft and subtle waves give a touch of tousled movement and volume to the blunt, sharp ends of a bob. The resulting wedding day hairstyle is romantic and ethereal without requiring heavy extensions or hours in the salon chair. A textured bob also has the benefit of complementing a variety of face shapes and being low-maintenance. 
Sleek and clean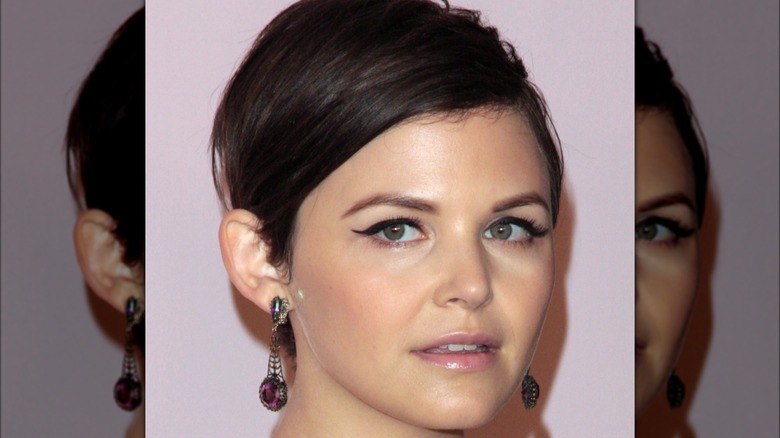 Everett Collection/Shutterstock
Minimalist brides know how to rock short and sleek hair. A benefit of this clean look is that it doesn't detract from your choice of wedding gown. "It creates balance and doesn't compete with fashion elements," hairstylist Pekela Riley tells Allure. Although this short bridal hairstyle may be more difficult to adhere a veil or hairpins to, it is simple enough that it keeps all eyes on you and your natural beauty. 
Dainty accessories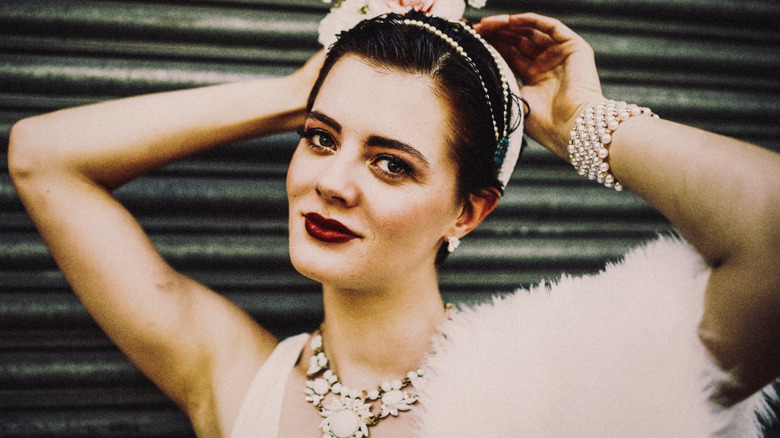 Suteishi/Getty Images
Accessories are a short-haired bride's best friend. From dainty pearl headbands to an array of delicate rhinestone clips, sparkly accessories can make a bridal look appear polished, romantic, or effortlessly vintage. "A bride's accessories can completely transform and elevate her bridal look," Daphne Durmaz Cardoso tells The Knot. 
Long pixie cut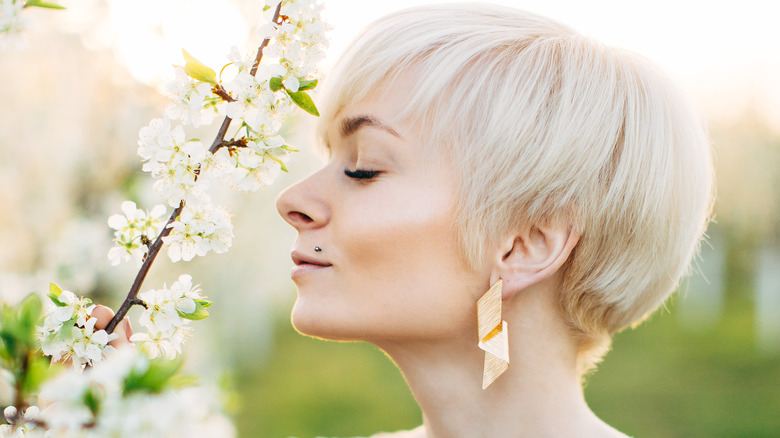 SofikoS/Shutterstock
Long pixie cuts combine low-maintenance care with a lovely bit of length for extra versatility. On your wedding day, you can style it messy and textured for a more rock n' roll style or keep it flat-ironed and sleek. You can also ask your stylist for layers to add movement or experiment with an undercut or bangs to make the style perfectly you. "Long pixies can even be braided back," Stacey Pitt tells Brides. 
Voluminous lob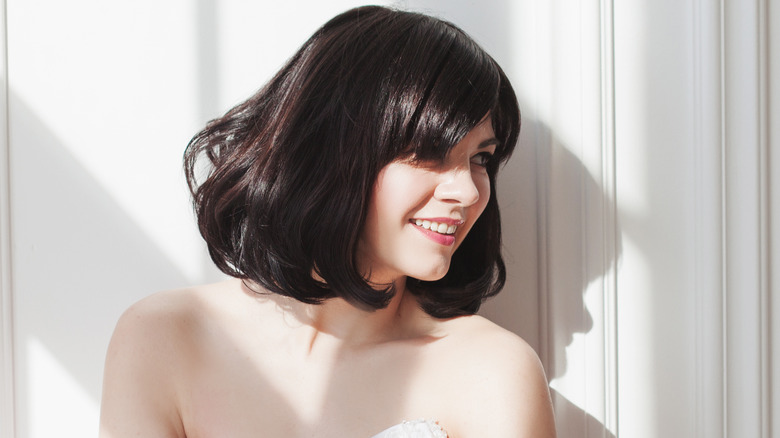 Lia Koltyrina/Shutterstock
If you aren't committed to a blunt bob or pixie cut for your wedding, consider a voluminous lob. Long bobs have the necessary length to create beachy or romantic waves, but they can also be styled in retro curls or pinned up into a sophisticated updo. Bridal stylist Jamie Nelson recommends adding some dimension with highlights. "A few sun-kissed highlights will help, so your hair doesn't look flat in photos," she tells Brides.
Minimalist curls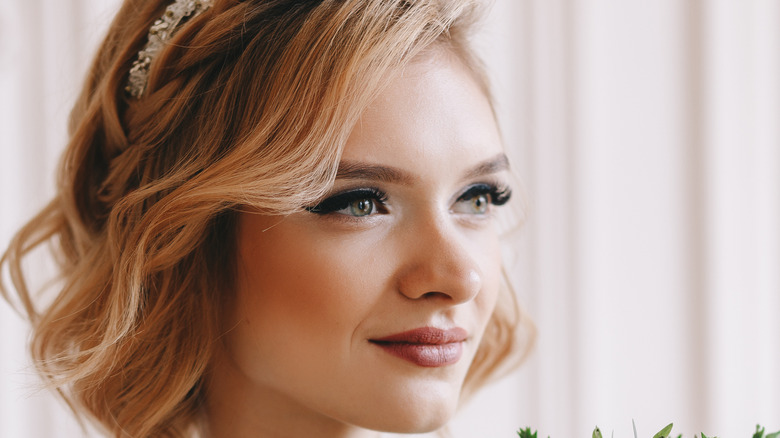 Trofimova Natalya/Shutterstock
Rocking short, minimalistic bridal hair is the perfect way to balance out a maximalist wedding gown, accessories, or wedding theme. Keeping your hairstyle simple with soft curls will not only complement a bold eyeliner or lip choice, it will make way for dramatic accessory options like a statement necklace or brightly colored shoes. As a bonus, short, no-fuss curls will also stay put throughout your entire day. 
Half-up, half-down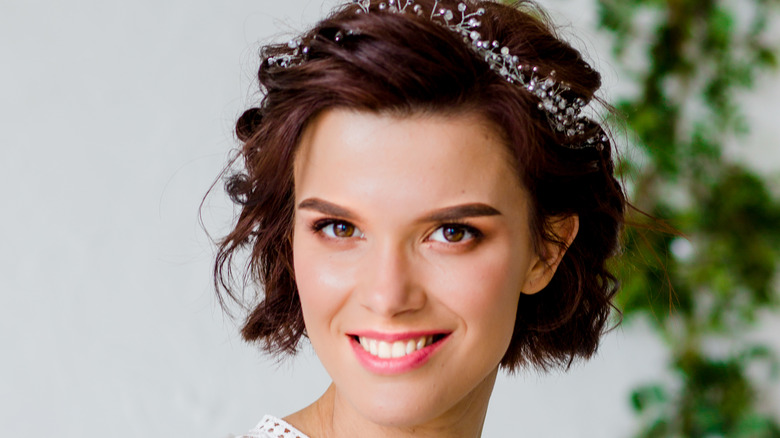 Leojuli/Shutterstock
Even short hair can get mussed on a windy day, which makes a half-up, half-down hairstyle ideal for outdoor or beach weddings. It is practical, beautiful, and effortlessly chic no matter how you style or accessorize it. Pin back one side and leave the rest loose and free for a stunning, edgy yet romantic combo that shows off your neckline and elongates your face. 
Floral hairpieces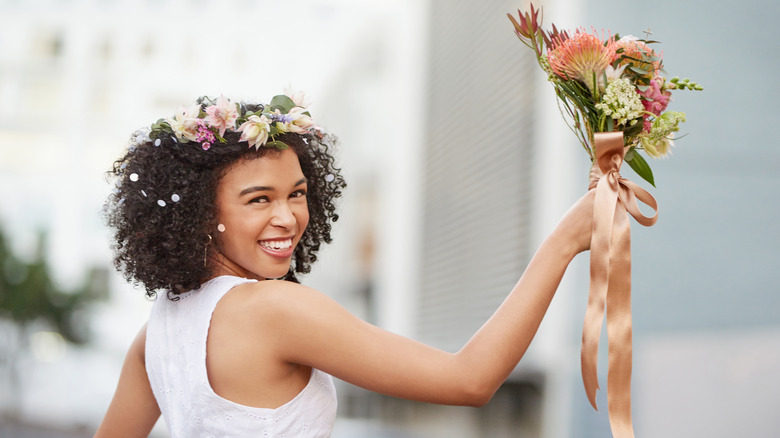 Under tree/Shutterstock
You don't have to be a boho bride to enjoy a floral headband or hairpiece. Large or bright statement flowers are a lovely addition to a short-haired bridal look, adding whimsy, playfulness, and earthy vibes to whatever locale you get married in. Depending on the season, consider adorning your hair with flower alternatives like a crown of succulents, berries, or dried florals, or keep it interesting with your favorite herbs and botanicals. 
Curly hair with voluminous or fluffy tops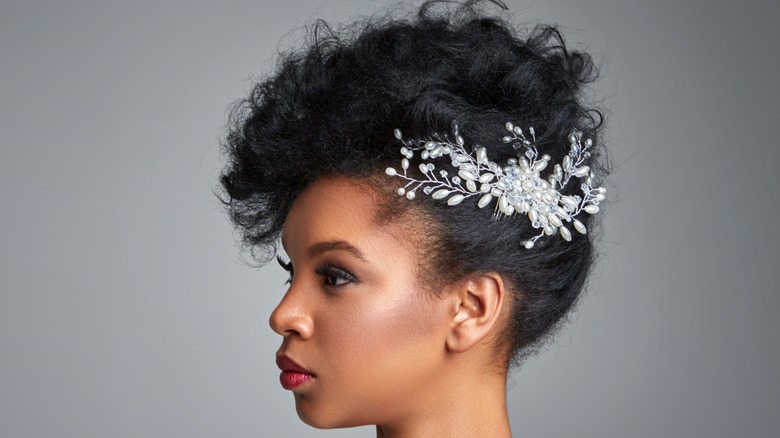 Svetography/Shutterstock
Embrace the beauty and versatility of short, natural curls with a pinned updo. Pulling the hair up and back against the scalp creates a smooth structured look, while pinning the ends of the curls on the top of your head creates a fun and fluffy style suitable for any wedding aesthetic or gown. 
Boho braids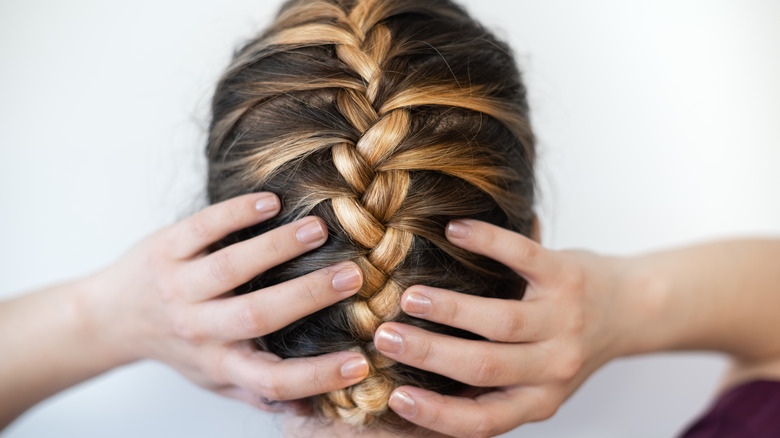 Fotolgart/Getty Images
Yes, even brides with shorter hair can rock a free-spirited boho braid. The boho trend is heavily inspired by the beauty of nature and the concept of wanderlust, both of which are complemented by loose curls, braided headbands or crown braids, messy fishtail braids, and hybrid braids. To achieve the signature boho look, keep the braids as loose as possible and make sure to pull out some face-framing pieces. 
Natural curls and waves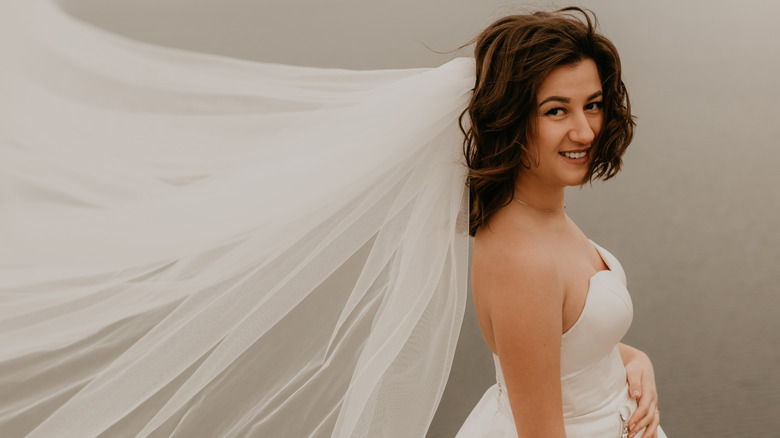 Andrii Drachuk/Getty Images
Are you a short-haired bride with naturally curly or wavy locks? Embrace your natural texture for your wedding! Natural waves have gorgeous visual appeal and volume that many straight-haired brides covet, in addition to being effortlessly romantic. This hairstyle can be worn an infinite number of ways and suits any style of bridal accessory, from cathedral-length tulle veils to trendy pearl headbands or hairclips. 
Short pixie with bangs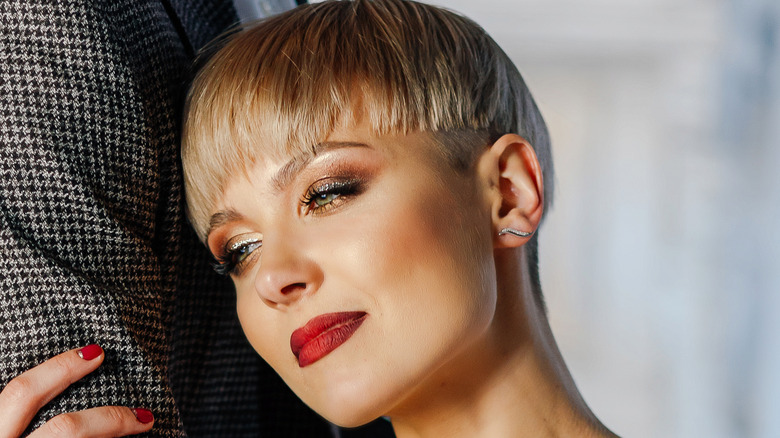 Sevastsyanau Uladzimir/Shutterstock
A pixie cut with bangs is a sassy, edgy, and no-fuss wedding hairstyle. The short length of this particular cut highlights the bone structure and neck, while baby bangs or straight fringe frame and soften the face for a truly stunning look. This wedding day hairstyle pairs perfectly with tulle wedding gowns, tea-length dresses, birdcage veils, floral headpieces, and statement jewelry. 
A statement crown elevates a cropped cut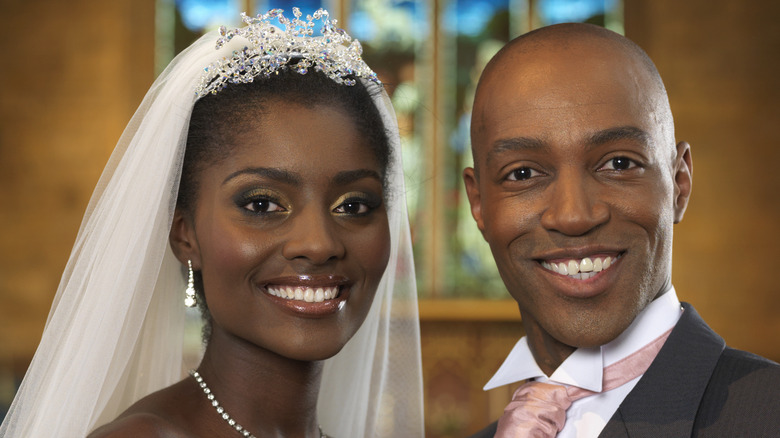 Isitsharp/Getty Images
Tiaras are a wedding accessory staple for royals, but you too can attempt the regal look. Top your hairdo with a period crown for vintage vibes or add a statement crown made of flowers or crystals. If you choose to wear a tiara, be careful with the rest of your look. "The tiara and dress must not compete, so you have to decide which is going to take a step back out of the limelight," Vanessa Chiltern tells Harper's Bazaar. 
Top your low bun with a birdcage veil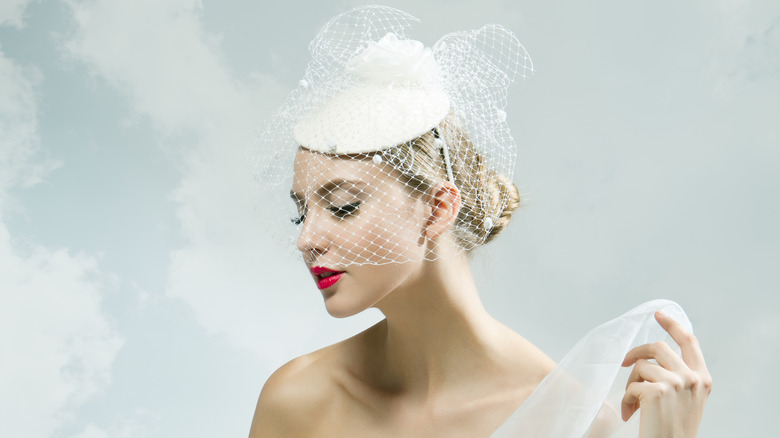 Hamara/Shutterstock
Birdcage veils have always been a perfect addition to a short-haired bridal look and are currently a modern wedding trend. Diamond-shaped birdcage veils have a delicate netting that can be adorned with appliques or crystals to embellish a simple bun or add that perfect vintage look to finger waves.