Logo Denim Is Coming Back (Sorry, Stealth Wealth)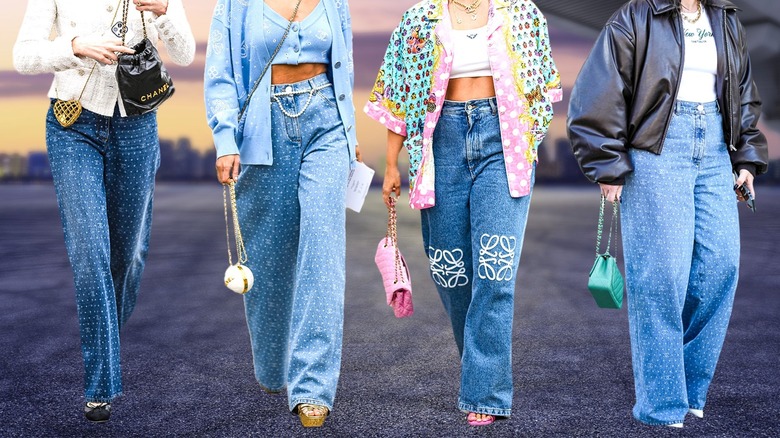 Static Media/Shutterstock/Getty
While some are still catching on to the quiet luxury and stealth wealth trends, a new denim trend is ready to take over your closet this fall. Logo denim mixes maximalist designs with pieces you know and love. We've previously seen logo denim during the peak days of the logomania trend when everyone was donning the logos and branding of their favorite brands. Brands like Versace and Gucci are notorious for incorporating their logos or names into their products so everyone knows the creator behind the designs.
With denim more crucial than ever in your looks, it's time to refresh them with some logos and prints. Even minimalists can jump on the trend with subtle ways that incorporate symbols in sleek, modern ways. Instead of plastering the brand's name onto the denim, many designers emphasize their logo or motifs. This simple switch allows a subtle hint of the brand without overwhelming the piece. Brands like Loewe have uniquely adopted their logo to maintain their timeless essence. Regardless of how you incorporate symbols, there's no better place to showcase your favorite brands than on your denim pieces.
Maximalist denim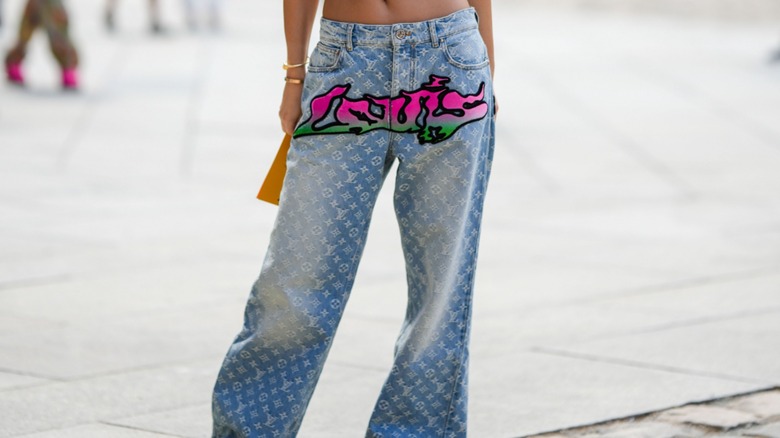 Edward Berthelot/Getty Images
No brand does logomania better than Louis Vuitton. Some of its most iconic pieces come with the logo we all know. In 2020, Miley Cyrus rocked a pair of the brand's monogram jeans in New York. She showcased how a maximalist approach to the logo denim trend can still be considered high fashion. More recently, Savannah James sported a logo-covered denim set at the Louis Vuitton Menswear Fashion Show Spring 2024. Complete with embellishments and glam, blending in all the accents with your logo is one way to captivate the movement.
Patterned logos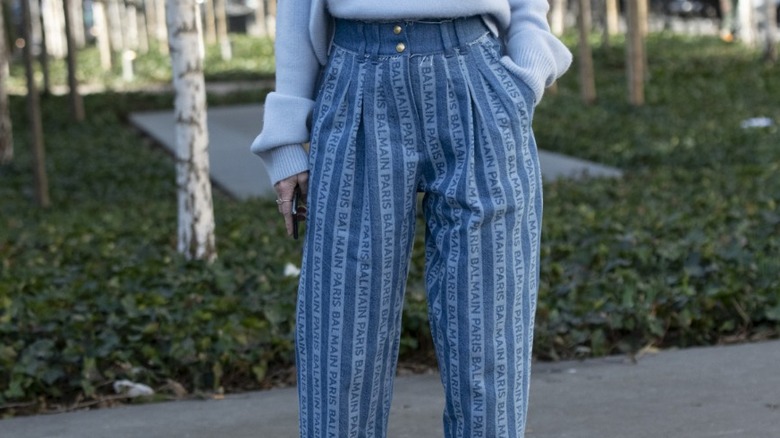 Kirstin Sinclair/Getty Images
Placing logos in a pattern can take them to the next level, as demonstrated in Chanel's 2022/2023 Metiers D'Art collection, which showcased patterned logo jeans. This is a shining example of how logos in a pattern format, such as a stripe, can elevate this trend. For those concerned about making this work in a high-fashion setting, look no further than Chanel to ease your worries.
Printed motifs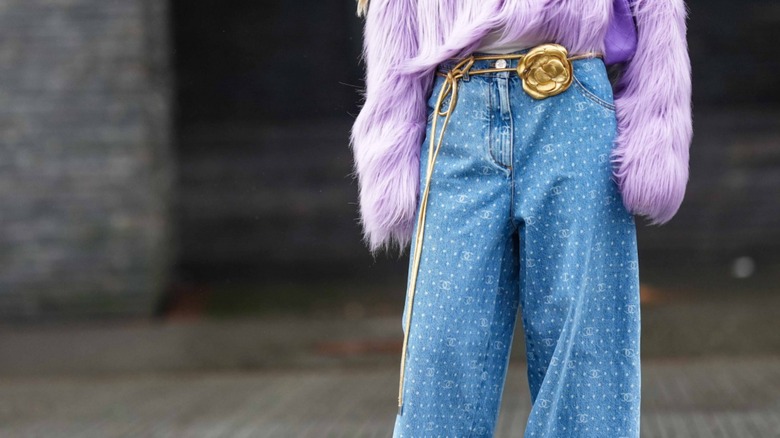 Edward Berthelot/Getty Images
The easiest way to add a denim piece with a logo to your wardrobe is through motifs. Luxury brands such as Chanel, Dior, and Louis Vuitton have iconic motifs that are recognizable in any form. For instance, the Chanel motif jeans are designed with the brand's double c, allowing you to follow this trend without directly branding the company's name. These sleek and chic pieces can easily fit into your wardrobe like any other printed or embroidered jeans you already own.
Brand name denim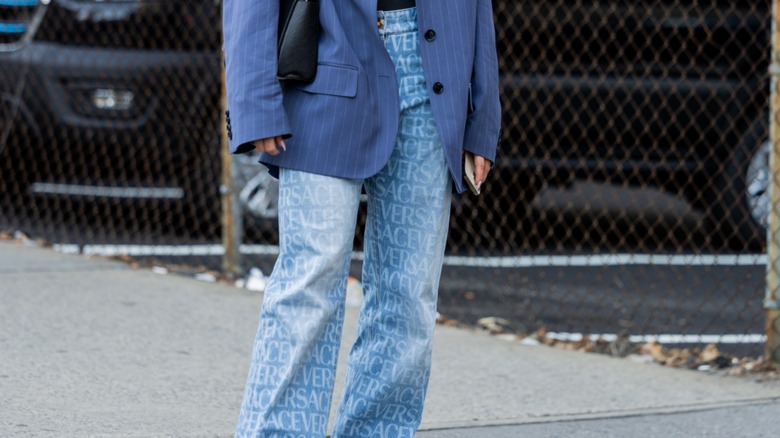 Christian Vierig/Getty Images
There's no better way to exemplify this trend than by branding the designer's name on the piece. Instead of subtle hints, this ensures that everyone knows where the jeans come from. Companies often use this logo detailing as a style and marketing strategy all in one. A shining example came from Hailey Bieber (then Baldwin), who rocked head-to-toe Versace denim with the brand's name emblazoned on it back in 2018. Although it's a statement piece when paired with a plain top like Bieber did, it's a chic look that can easily become a street-style uniform.
Patchwork jeans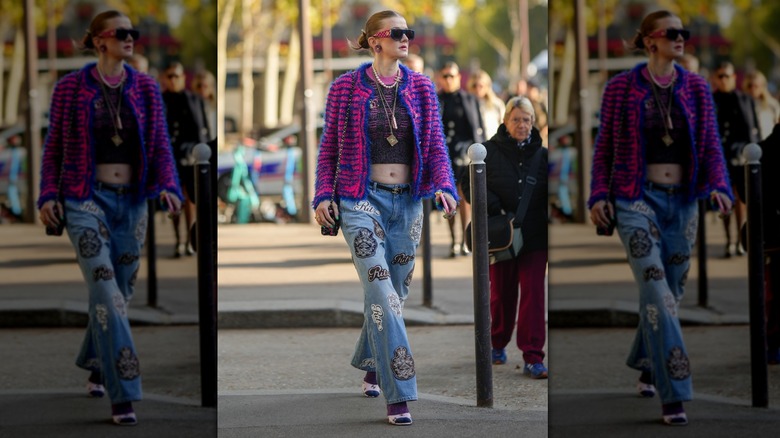 Edward Berthelot/Getty Images
Sometimes, wearing logos and words on your clothes can be too plain, even for those who love the logo denim trend. Patches and embroidered details can add flair to your jeans without having a brand's name printed across them. Often, brands that offer patchwork jeans will incorporate details and symbols important to their brand, giving them a fun approach. This trend is not new, as it was seen years ago worn by celebrities like Margot Robbie.
Logo details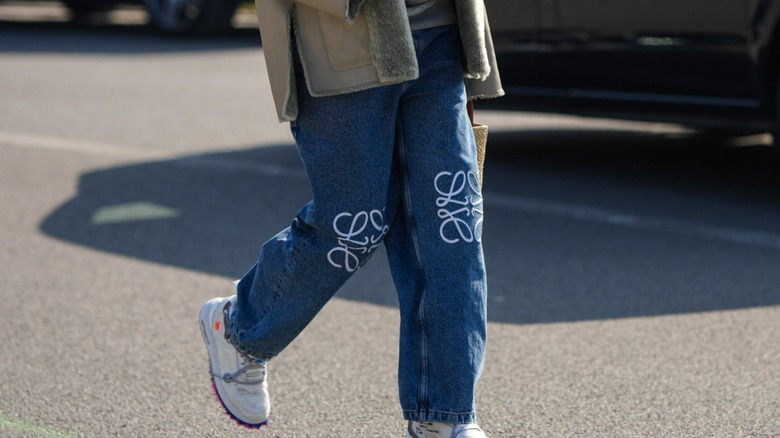 Edward Berthelot/Getty Images
Not all logo denim jeans are only for maximalist fashion lovers. Sleek logo details can be subtle and small to blend into your outfit more. Logo patches on the knees or pockets can give you the trend without overwhelming your denim. If you're looking for timeless logo denim jeans that you can wear season after season, consider these subtle logo hints. Loewe has made its mark in this section with logo pants featuring knee detailing for a touch of the trend.