The NYFW Spring/Summer 2024 Fashion Trends We're Already Loving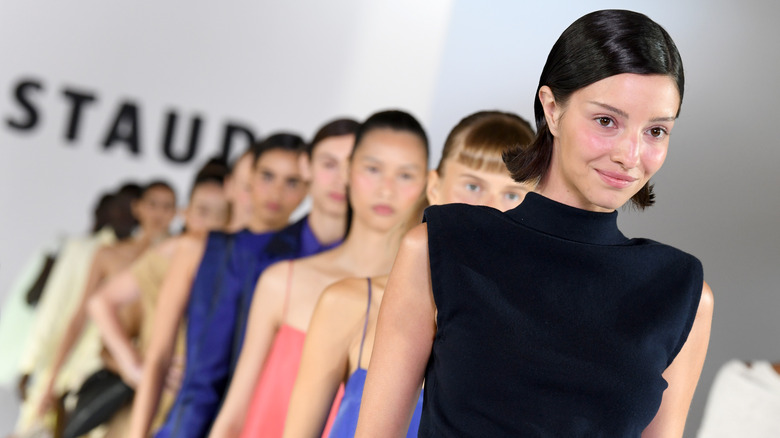 Albert Urso/Getty Images
For many people, the end of June is the best time of the year, signaling the beginning of the summer. Moreover, many others get most excited for the end of October, celebrating the spooky season and looking forward to a Thanksgiving feast in November. But for fashion lovers like us, the best time of the year is mid-September: The New York Fashion Week Spring/Summer shows.
According to the CFDA Fashion Calendar, the 2024 Spring/Summer NYFW goes from Friday, September 8 to Wednesday, September 13, 2023 — and we're already obsessed with what we see. The runway has showcased stunning looks from the minimalist end of the spectrum to the avante-garde extreme, giving us a sneak peek into what we can expect in the fashion world in 2024. 
As we do every NYFW, we're making note of what some of our favorite designer names — such as Christian Siriano — are presenting to see what will be 2024's hottest spring and summer trends. Thus far, some of our sightings include even more balletcore, business-chic looks, and intriguing colors and textures.
Balletcore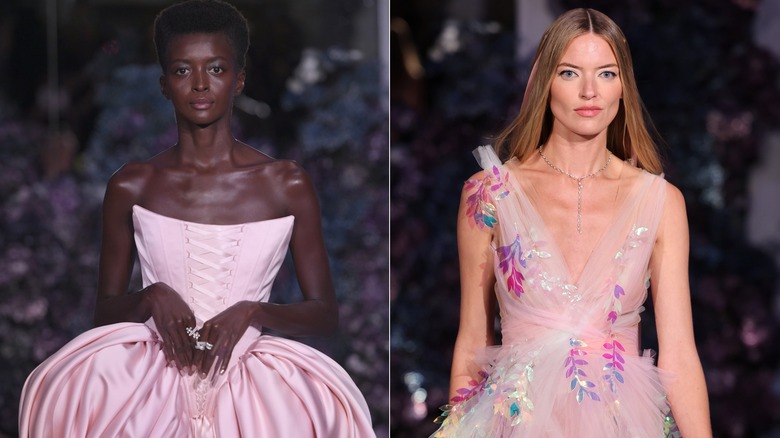 Mike Coppola/Getty & Fernanda Calfat/Getty Images
Are you getting tired of the balletcore fashion aesthetic? We're not, and we hope you aren't either because it was seen on the runway by designers like Christian Siriano, which proved that balletcore will be more prevalent than ever in 2024. One of the collection's most noteworthy moments was the iconic Coco Rocha in an ultra-poofy pink gown with some dark and sparkly touches.
Faded denim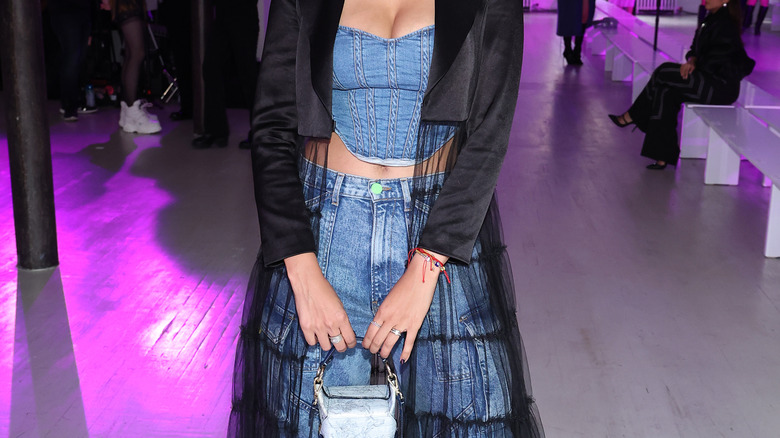 Paul Morigi/Getty Images
Gone are the days when denim is too casual for the runways, according to Ralph Lauren's NYFW SS24 collection. Ralph Lauren posted on Instagram about the collection, writing, "It's about the freedom of creating a personal style through the artistry of faded denims and painterly florals ... and luxurious handcrafted details." We adore Ralph Lauren for normalizing denim in such a high-fashion, highly-respected event, and we expect to see a lot of faded denim in particular — especially with floral patterns and details.
Corporatecore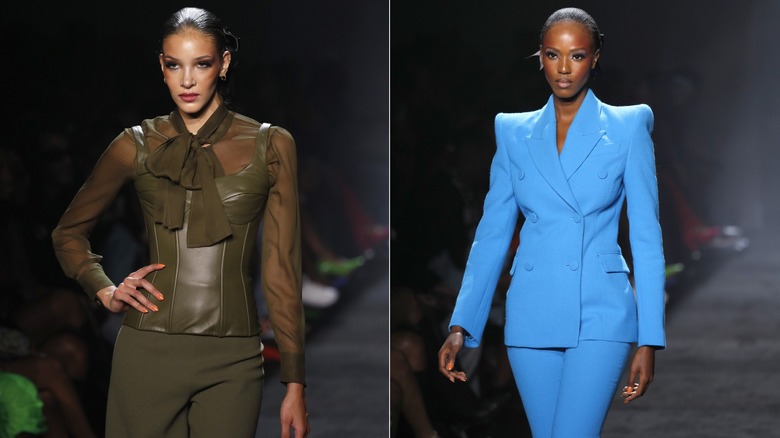 Al Zeta/Getty & Al Zeta/Getty Images
On the other hand, the corporatecore fashion trend is all about embracing business looks and making them as stylish as possible. Who says corporate, professional vibes can't be super fashionable? Sergio Hudson showed off professional-looking touches through patterns, cuts, and silhouettes, proving that corporatecore can be fun and will be trendy in the spring and summer of 2024. "A bad, boss b***h ... The girls need new blouses, new dresses, new something," Hudson told Fashionista backstage during the show. 
Clothing with natural and earthy tones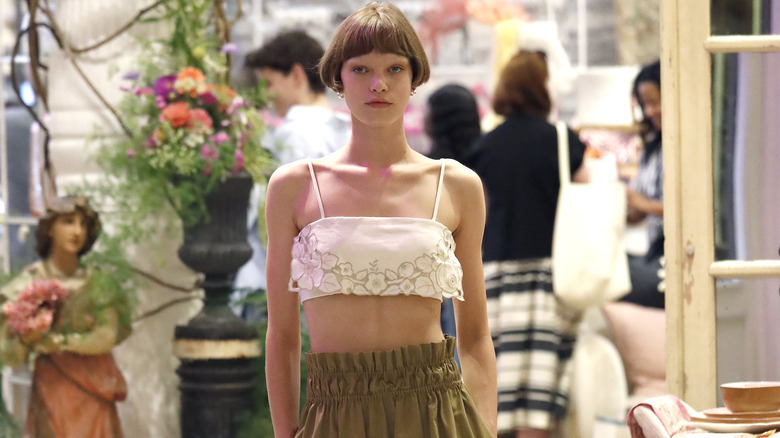 Al Zeta/Getty Images
If you've been waiting for more earthy tones instead of all the neons and neutrals we have seen in the 2020s, you can thank designers like Rentrayage and Bronx and Banco for bringing so many deep earthy hues to the runway. Therefore, prepare some nice nature-inspired tones to disrupt some of 2023's brighter hues and neutrals.
Flowy goddess pieces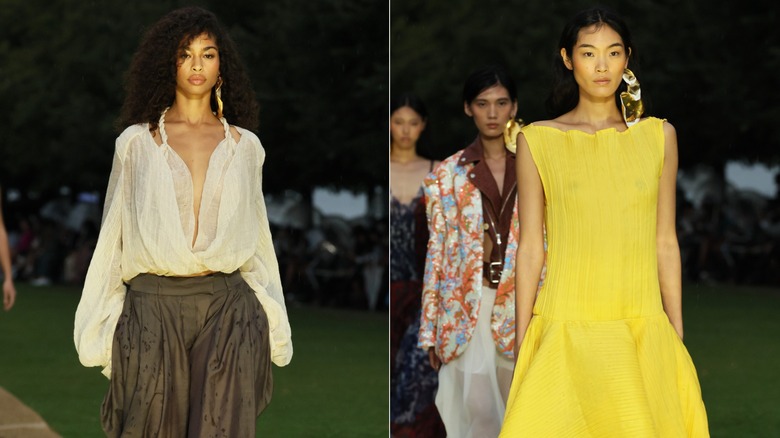 Dia Dipasupil/Getty & Dia Dipasupil/Getty Images
Get ready for a significant uptick in flowy details, asymmetry, and sheer touches because of Prabal Gurung's goddess-like ensembles featured in the Spring 2023 Ready-to-Wear collection. So, if you like pieces that beautifully drape over the body rather than overly figure-hugging garments that appear as symmetrical as possible, you're in luck. It looks like we might be trading the party girl aesthetic in for more goddess-like looks for spring and summer 2024. 
Simple and chic staples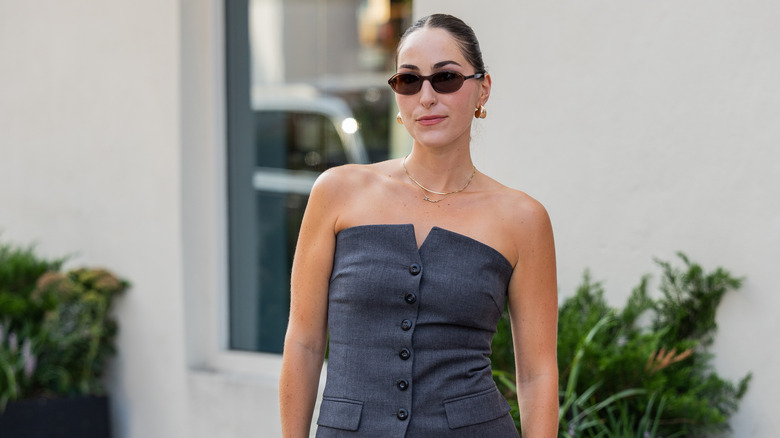 Christian Vierig/Getty Images
Finally, everyone who's been enjoying the minimalistic look will likely see even more minimalism in fashion in spring and summer 2024, resembling Theory's NYFW looks. Rather than going for over-the-top maximalism, Theory went for the quiet luxury trend and showcased neutral, subtle, clean looks — which we're totally ready to see more of in 2024.