Fall's Luxury Neutral Nail Trend Absolutely Dominated The 2023 VMAs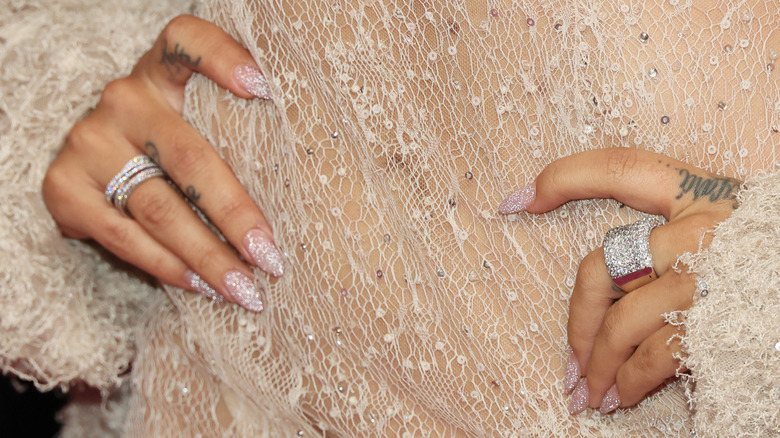 Dia Dipasupil/Getty Images
Everyone has their reasons for tuning into the MTV Video Music Awards. For some, it's mesmerizing performances by artists like Doja Cat and Nicki Minaj. For others? It's all about what the stars are wearing. From Britney's live python shoulder shawl in 2001 to the sparkling seashell pasty rocked by Lil' Kim in 1999, few events are associated with quite as many moments in pop culture history as the VMAs.
At the 2023 MTV VMAs, many looks on the pink carpet left something to be desired — but one detail saved the day for several celebs. Fall's luxury neutral nails trend was in full swing, spotted on the fingertips of stars like Kelsea Ballerini and Alejandra Espinoza. The elegant manicure concept combines earthy, autumnal colors with sophisticated shapes and details. Curious to see who pulled off this festive nail trend at this evening's awards ceremony? Without further ado, we present our favorite luxury neutral nails worn at the 2023 MTV VMAs.
Bebe Rexha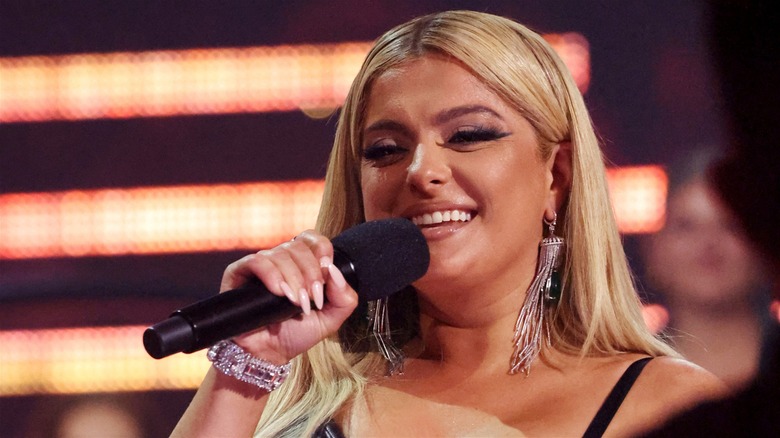 Mike Coppola/Getty Images
We may not have been the biggest fans of Bebe Rexha's outfit at tonight's VMAs, but we couldn't ignore her exceptional manicure. The talented songwriter wore softly tapered almond nails with a blush hue and a glossy finish. Our favorite part? Their extra-long length — a dramatic touch that perfectly complemented her glittering accessories.
Kelsea Ballerini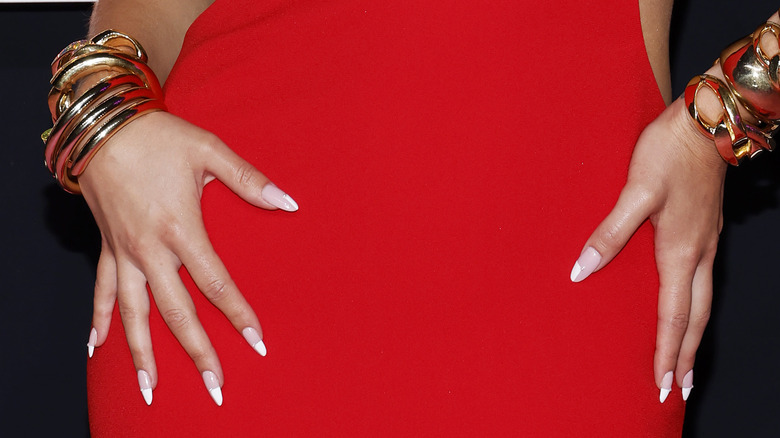 Jason Kempin/Getty Images
After you take in country star Kelsea Ballerini's breathtaking red dress, you'll spot her elevated neutral nails. Though it looks like your classic French manicure at first glance, a closer look reveals some unexpected geometric details. The playful twist on an old favorite livens things up for this singer-songwriter's look, and we can't wait to try this nail trend out for ourselves.
Ts Madison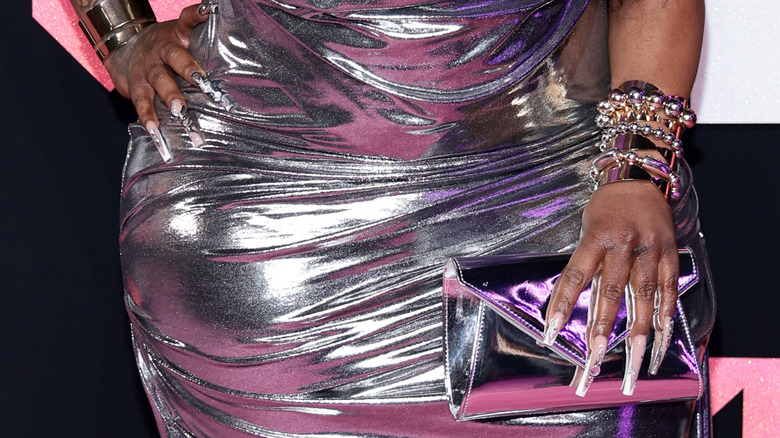 Dimitrios Kambouris/Getty Images
We can't get enough of Ts Madison's ultra-stellar silver ensemble, complete with matching baubles and clutch. Yet her ethereal kitty cat French manicure stole the show here — from the extraordinary length down to the striking chrome accents. In fact, we'd go so far as to say this space-age-inspired nail set may be our favorite of the evening.
Alejandra Espinoza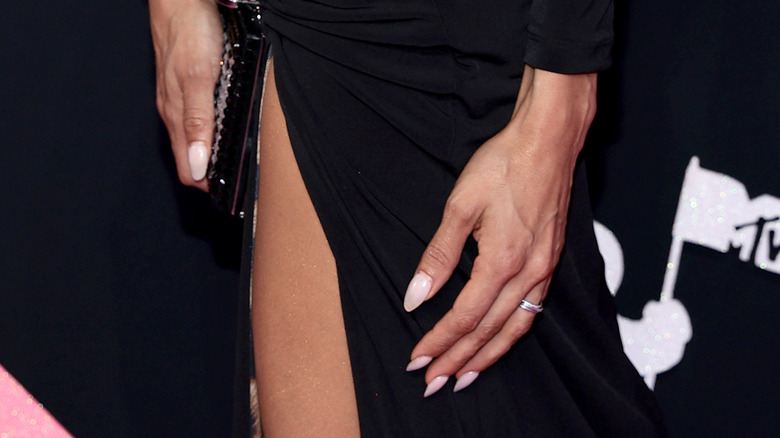 Dimitrios Kambouris/Getty Images
Espinoza cut a dramatic figure in this stunning black gown, and her luxury neutral nails made for an impressive finishing touch. Similar to Rexha's set, Espinoza opted for a lengthy almond shape for her tips as she strutted the VMA's pink carpet. The celebrated actor wore a pale pink neutral polish that added a welcome bit of contrast to her dark, sultry look.
Karol G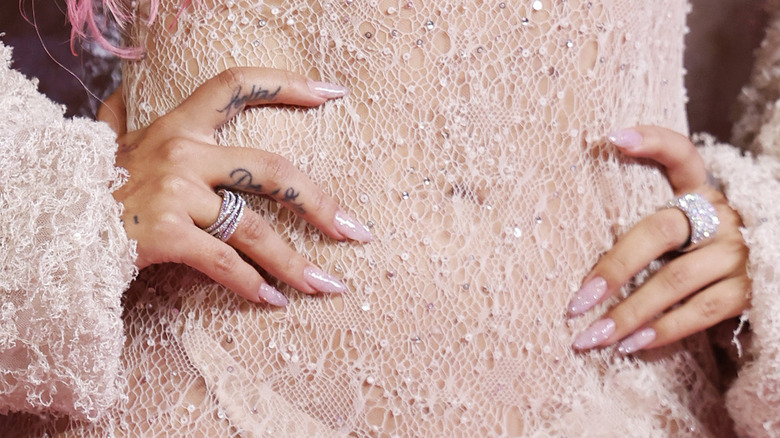 Jason Kempin/Getty Images
Who doesn't love a bit of sparkle? Karol G went all out with the bling at the 2023 VMAs, and her nails were no exception. We adore this manicure's ice-cream pink hue and, of course, its glittery finish. Best of all, these rosy tips match Karol G's pastel hair to a tee.
Nicki Minaj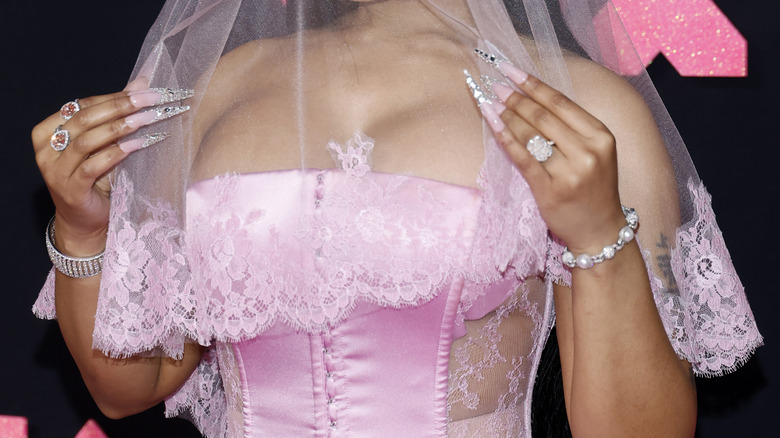 Jason Kempin/Getty Images
Unlike a few others at the 2023 VMAs, Nicki Minaj's attire totally won us over at the show. But what we love almost as much as her red carpet 'fit? Those long, neutral nails with a pop of Barbie fun. Minaj wore sharply-filed tips painted into a classic French tip topped with chunky silver glitter, and the result was simply stunning. Taking the extra-long nail approach, the star's sophisticated manicure was a feast for the eyes.
Taylor Swift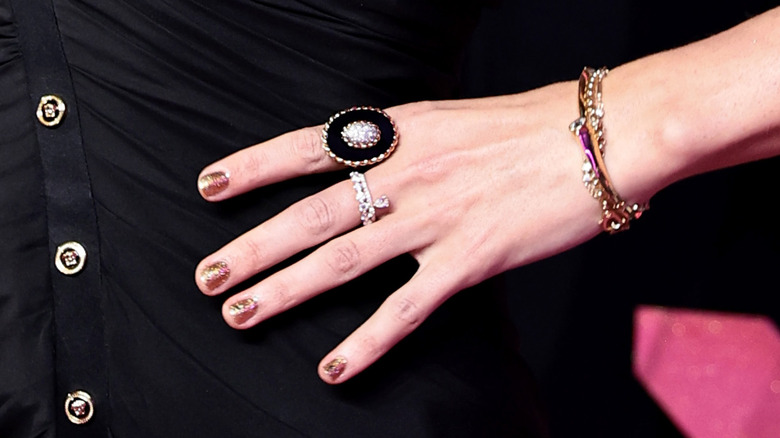 Dimitrios Kambouris/Getty Images
Perhaps we had some choice words to say about Taylor Swift's hair at the 2023 VMAs, but we felt very differently about her luxury neutral nails. Though Swift kept the length to a minimum, all eyes were on the singer-songwriter's glittering gold polish. Considering the trends that Swift has inspired over the years — from her trademark red lips to her softly-trimmed bangs — we fully expect gold nails to be the next big thing with beauty fans across the globe.