Adele's Favorite Perfume Is The Most Dramatic, Alluring Amber Scent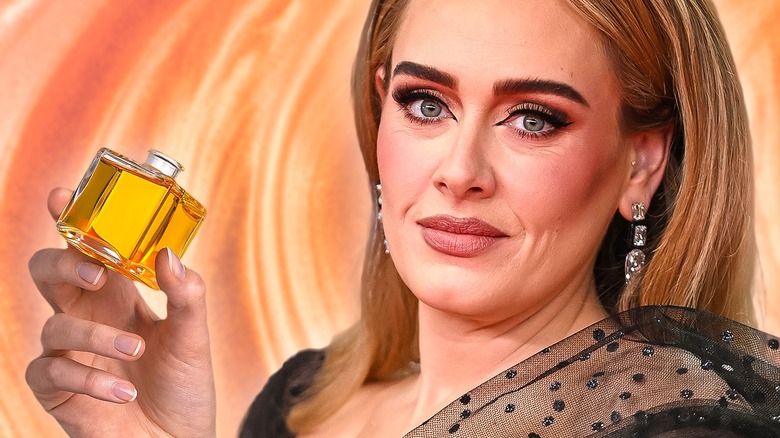 Static Media/Shutterstock/Getty
One of the highlights of our young adult years was listening to Adele's "21" album for the first time. Its lyrical genius, heartfelt songs, and overall sentimentality really captured all of our growing pains, both romantically and in life. Since then, we've stuck with Adele from 21 and 25 to being full-fledged adults at 30. Like us, Adele is also quite sentimental and prefers to stick to what has been tested and trusted since her teenage years. This includes her perfume of choice, the Dior Hypnotic Poison Eau de Parfum, which the songstress has reportedly used since her mid-teens.
Created by French perfumer Francois Demachy, Hypnotic Poison Eau de Parfum is a dramatic yet seductive cocktail of notes that embodies all that Adele stands for. The perfume, which is also available in an Eau de Toilette (EDT), retails at $151 for 100 ml of product at the time of writing. Dior's Hypnotic Poison is a cross between sweet, sensual, and opulent decadence, and is available at retailers like John Lewis and Harrods. It is a fitting fragrance for anyone who wants a scent that symbolizes softness and seduction all in one.
What does Dior Hypnotic Poison EDP smell like?
The secret to Hypnotic Poison's potent mix of amber sweetness and drama lies in its notes. Top notes of licorice and almond give the perfume a spicy whiff, while heart notes of jasmine sambac and orange blossom offer a floral and fruity profile. At the bottom, notes of vanilla and tonka bean leave the heady amber trail that the perfume is known for. With such a combination, it is no surprise that Hypnotic Poison is an excellent mix of dramatic and dark.
It is important to note that the perfume's 1998 Eau de Toilette form is much older than the EDP and features different notes, such as coconut, plum, Brazilian rosewood, and vanilla, for a softer, less forward feel. Hypnotic Poison has earned several loyal fans, from Adele to perfume stores, with some sharing their love for the scent's sillage and longevity in reviews. A reviewer on Fragrantica described the perfume as "rich, boozy, sensuous, warm, and strangely clean," while another recommended the scent to emo or goth-inclined perfume lovers for its vampire-like vibe.
However, like all other perfumes, certain reviewers have had mixed feelings about Hypnotic Poison's scent profile. While some describe it as overpowering, others have mentioned that the fragrance does not project well. Regardless, many agree that it is a solid mix of cohesive, tantalizing notes and is the go-to for lovers of dark yet warm scents.
Layering and alternatives
The Dior Hypnotic Poison EDP offers a mix of different vibes. It combines the gourmand sweetness of licorice and almonds with the fruity and floral vibrance of jasmine sambac and orange blossom and finishes with an oriental trail of tonka beans. However, some reviewers have found that this mix can be overpowering. To avoid clashing scents, consider matching or layering your Hypnotic Poison with fragrances made with lighter, airier notes such as sea salt and watermelon.
While Dior's sillage, scent, and longevity are of excellent quality, budget-conscious shoppers may want to look for dupes. Although no dupes come close enough to the richness of this sensual mix, there are alternatives that can provide a similar feel. One pocket-friendly option is the Divain-155, which features many of the same notes as the Hypnotic Poison, such as licorice, almond, and tonka bean. It retails for around $38 for 100ml of product. Like Adele, we're sure to have this perfume on rotation for a long time, and we think you will too.