12 Of The Best Claw Clips For Your Cutest Up-Do Yet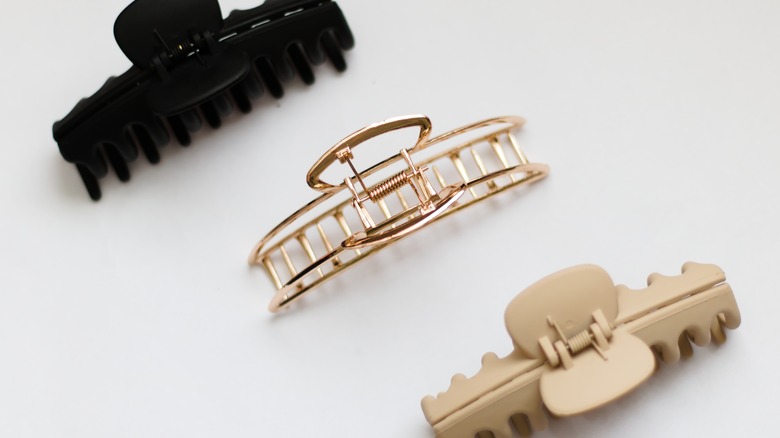 Charlotte Clinton/Shutterstock
We may receive a commission on purchases made from links.
Claw clips were everywhere in the '90s and noughties. And now, after an extended fashion hiatus, they are back with a vengeance. Stars from Hailey Bieber to Bella Hadid have been spotted wearing the nostalgic trend, setting other fashionistas scrambling to stock these hair accessories in their own collections.
It's not difficult to understand claw clips' renewed popularity. Style-wise, adding easy claw clip hairstyles into your rotation of up-dos is a breezy yet refined way to mix up your usual look. And on the practical side, taming your mane with claw clips can have unexpected benefits. Not only are they quick and convenient, but claw clips can be gentler on your hair than elastics and heat styling tools, helping you manage your flowing locks without causing damage.
Perhaps best of all, claw clips are the very image of versatility. Chic but unfussy, you can dress them down for errands or dress them up for a night on the town. So, rather than cluttering your vanity with dozens of different clips and barrettes, consider grabbing one or two of these must-have claw clips to serve as your new hairstyling staples.
How we selected products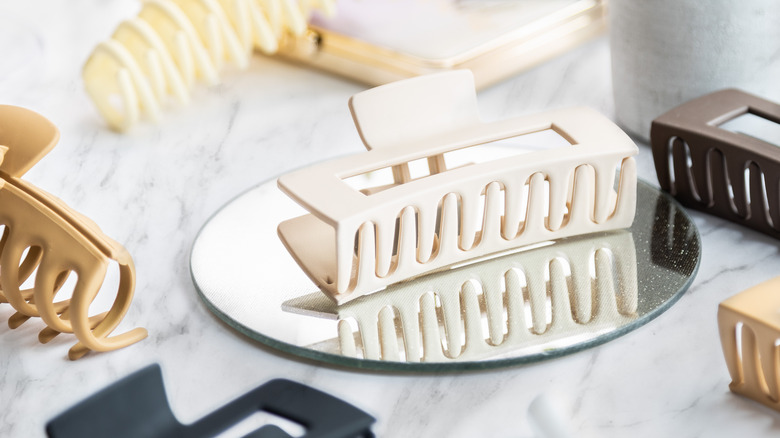 Ion Graur/Getty Images
Claw clips are timeless and practical hair accessories that only continue to cement their worth year after year — especially during the current claw clip renaissance. Of course, this means that there are ever more claw clips saturating the haircare market. On the upside, this bevy of competition means plenty of brands and styles to choose from. But on the downside, the glut of claw clips can make finding your holy grail clip a slog of endless research and trial-and-error purchases.
Instead, let's cut to the chase. To take the mystery out of your next claw clip hunt, we've narrowed down some of the best options available for every need, aesthetic, and budget. We began by examining contenders based on construction, materials, size, and style. Then we sifted through ratings, customer reviews, product pages, and analyses from other style pros.
In the end, we were left with a shortlist of the best claw clips you can buy today. Whether you're looking for cheap and cheerful clips to hold your hair while you go through your skincare routine or high-fashion statement pieces to elevate any up-do, this selection of clips has a variety of perfect options to get you started.
Best overall: Tegen Large Hair Claw Clip
For our best overall pick, we love that Tegen provides a high-quality and long-lasting riff on the classic claw clip design. Handmade in France from cellulose acetate — in the town where claw clips were invented, no less — they are reported to be stronger than cheap plastic clips. Tegen even offers a one-year minimum guarantee and dust bags to protect their clips when not in use. Aesthetically, their organic patterns offer easy, diverse styling — from the tortoiseshell look of the "Tokio" variety to the colorful array of "Stained Glass." And consumers give the brand high marks, with Tegen boasting a 4.9-star rating from the over 4,500 reviews submitted through Junip.
Purchase the Tegen Large Hair Claw Clip at Tegen Accessories for $56.
Best budget claw clip: LuSeren Hair Clips
When you're in the market for a budget claw clip, one of the first considerations has to be value for money. LuSeren immediately starts off on the right foot by offering variety in this inexpensive 8-pack of claw clips, which is an Amazon best-seller. The set includes four shades of matte neutrals and two different styles — a classic claw clip and a tidy rectangle clip with large cutouts. Of course, you also want to be sure you're getting products that are worth your time. According to the nearly 10,000 reviewers who have awarded LuSeren's claw clips with a stellar average rating of 4.8 stars, these accessories definitely qualify. So if you're looking for a selection of affordable claw clips, LuSeren's are a safe bet.
Purchase the LuSeren Hair Clips at Amazon for $7.99.
Best luxury claw clip: Prada Metal Hair Clip
Couture fashion doesn't have to be all or nothing. Whether you're more into quiet luxury or flaunting your designer swag, this Prada claw clip presents a happy middle ground. The body of the clip itself is understated, with its classic silhouette and sleek "Steel Gray" finish. But the inclusion of the iconic Prada logo in contrasting black gives this clip a properly luxurious and expensive feel. For those seeking petite clips, Prada also offers these claw clips in smaller sizes, with the option of an appealing gold finish.
Purchase the Prada Metal Hair Clip at Prada for $595.
Best claw clip for thick hair: Gimme Beauty Thick Hair Rectangular Claw Clips
Struggle with using claw clips in your thick hair? It can be tough to find clips robust enough to handle dense tresses, but this duo by Gimme Beauty is a solid purchase. After all, there's a reason that Ulta customers have given these clips an average rating of 4.8 stars. As reviewer Morgan writes, "These clips are hands down the best on the market. They hold thick hair so well. Even if you have long hair that's not thick, they grip your hair [amazingly] and won't move. The colors are stunning in person, too." This set from Gimme Beauty comes with two rectangular clips, in matte tan and pink. The neutral shades mean that these practical clips serve not only function but also flexible style for both casual and professional looks.
Purchase the Gimme Beauty Thick Hair Rectangular Claw Clips at Ulta for $9.
Best claw clip for thin hair: The Hair Clips by Crown Affair
Rocking a claw clip in fine hair has its own set of challenges. And while these half-sized claw clips from Crown Affair aren't the cheapest on the market, dazzled reviewers give them 4.6 stars, insisting that you're paying for grip and quality. What makes them so special? In addition to the large external teeth, The Hair Clips are crafted with a second row of small internal teeth to grip all hair types securely, no matter how silky. As user @moiparksonfirst writes, "I have struggled my entire life to find clips that hold my hair and don't slide. I have fine, straight hair and nothing stays — not even elastics. These do. I wear them every day. Never leave the house without [one]."
Purchase The Hair Clips by Crown Affair at Sephora for $54.
Best matte claw clip: Yanwenx Hair Clips
Many claw clip multipacks are focused on neutrals, which we love and appreciate, but sometimes you want something with a little bit of color. This selection of velvety matte claw clips from Yanwenx strikes an enticing balance by delivering the best of both worlds. Staples like beige, black, and navy are joined by burnt orange, soft fuschia, and sage green, letting you underscore or contrast a wide range of color palettes. Better yet, 84% of reviewers give these clips five stars, praising not only their rainbow hues but also their firm grip and sturdiness.
Purchase the Yanwenx Hair Clips at Amazon for $8.99.
Best minimalist claw clip: Lukacy Large Metal Hair Claw Clips
From necklaces to earrings, accessorizing for a minimalist aesthetic usually calls for a petite, dainty approach. These claw clips from Lukacy fit the bill, setting aside chunky silhouettes for more delicate designs. Simple shapes are outlined in thin, golden metal frames, leaving plenty of negative space for your hair to shine naturally through. And with six different designs, you can still bring a touch of novelty to your different ensembles. Finally, over 8,000 pleased Amazon customers have awarded this set with 4.7 stars, praising their style and grip.
Purchase the Lukacy Large Metal Hair Claw Clips at Amazon for $8.98.
Best maximalist claw clip: Coucou Suzette Gray Cat Hair Claw
Really, any of Coucou Suzette's whimsical acetate hair claws would serve as a precious accent to over-the-top outfits inspired by the maximalist fashion trend. Artsy and bold, these clips feature a range of designs, from flowers and fruit to animals and even mermaids. But the site's best-selling clip is this claw clip featuring a friendly gray cat — and who are we to disagree? If dogs are more your style, Coucou Suzette's second-best-selling claw clip is a cute Dachshund Hair Claw that's also perfectly adorable. Just be aware that these unique clips ship from France and charge in euros instead of USD. Wherever possible, it's best to order anything you want in a single bulk order to avoid getting slammed with repeated shipping fees.
Purchase the Coucou Suzette Gray Cat Hair Claw at Coucou Suzette for €15.
Best Y2K claw clips: Scünci Mini Stone Jaw Clip Set
At the turn of the millennium, nothing was more typical of an it-girl hairstyle than dozens of tiny plastic claw clips shaped like literal butterflies. Cute, flirty, and feminine, this look is experiencing renewed attention thanks to the resurgence of Y2K hairstyles and fashions. To get the effect in a slightly more upscale way, you can't go wrong with these classy, bejeweled mini clips from Scünci. With an incredible 4.8-star rating at Ulta, these gorgeously embellished mini claw clips are bona fide fan favorites. As reviewer Martinique writes, "Dainty and beautiful small hair clips that add a little something special to your outfit and look. I have thin hair and they work perfectly on unmanageable pieces. Very good buy."
Purchase the Scünci Mini Stone Jaw Clip Set at Ulta for $12.
Best avant-garde claw clip: YVMIN E.G 2.0 Liquid Hair Claw
Luxury brands have released some truly tempting claw clips with premium materials and brag-worthy logos. But if you're only going to drop cash on a single big-ticket claw clip, consider making it a stand-out statement piece. Enter the E.G 2.0 Liquid Hair Claw. Plated with 18k platinum, this abstract accessory graces your hair like a piece of modern art, reflecting the dynamic and experimental energy of its creators at YVMIN, a Beijing-based design studio. With its modern sensibility, this clip is well-suited to complement a slick work ensemble, an elegant cocktail dress, or a stunning formal look.
Purchase the YVMIN E.G 2.0 Liquid Hair Claw at Chop Suey Club for $365.
Best mini claw clips: Anthropologie Mini Claw Hair Clip Set
Believe it or not, mini claw clips are not only for pre-teens and Y2K throwback looks. With their natural color palette and restrained silhouettes, these mini clips from Anthropologie prove that small claw clips can be both versatile and chic. The set comes with four oval cutout clips and four slightly smaller, pronged clips to accommodate a number of styles. And while these clips may be petite, they're functional as well as decorative. As reviewer Em0909 writes, "These are so cute! Elevates your style when you don't have the time to spend on your hair. I use these at the gym and anytime I need to get my bangs out of my eyes."
Purchase the Anthropologie Mini Claw Hair Clip Set at Anthropologie for $30.
Best custom claw clips: Emi Jay Custom Big Effing Clip
There are other custom claw clips on the market, but for quality, aesthetic, and script clarity, our money goes to this offering from Emi Jay. Bedazzled with 100% Swarovski crystals, this large clip — over 4 inches in length — is a perfect way to add character to any outfit. It also makes a great gift for birthdays, holidays, or bridesmaids. Choose from seven clip colors and pair that base with the crystals of your choice. Each clip can hold up to seven letters or numbers, so personalize to your heart's content with names, dates, or other special words.
Purchase the Emi Jay Custom Big Effing Clip at Emi Jay for $86.