9 Wedding Pedicure Ideas For Picture-Perfect Feet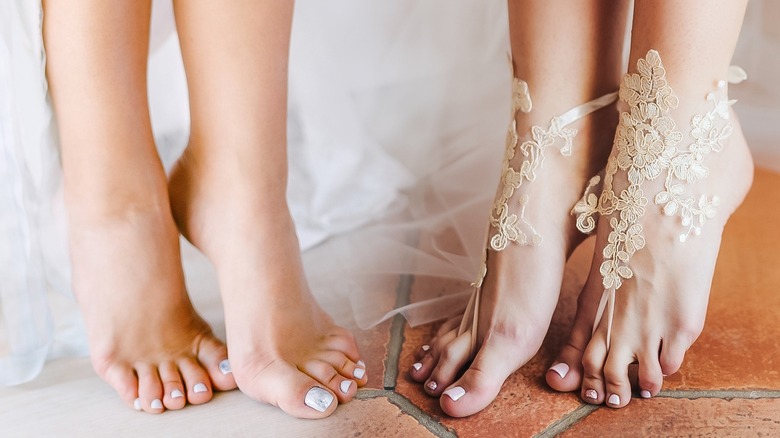 Static Media/Shutterstock
When we think of our wedding, we envision the perfect wedding dress, flowers, and hairstyles. We go over bridal magazines, mull over makeup looks for the day, and research the best wedding decor trends. We plan everything and leave nothing to chance. Whether we are looking for a romantic wedding, one with a flair for the extravagant, or even one with an elegant allure, we, as brides, want to shine on our special day. So, we take care of ourselves from head to toe ... or do we?
When it comes to bridal pedicures, not every bride takes a moment to step back and think about them. Our toes won't really show when covered with a floor-length wedding gown. Right? Well, yes and no. A bride's feet won't typically show, but there are instances when people might get a glimpse of them. But even if nobody gets to see your feet, you should not neglect your pedicure, if for no other reason than to pamper yourself before the big day. From subtle baby pink to classy French and flamboyant red, these are some wedding pedicure ideas for picture-perfect feet. 
The subtle baby pink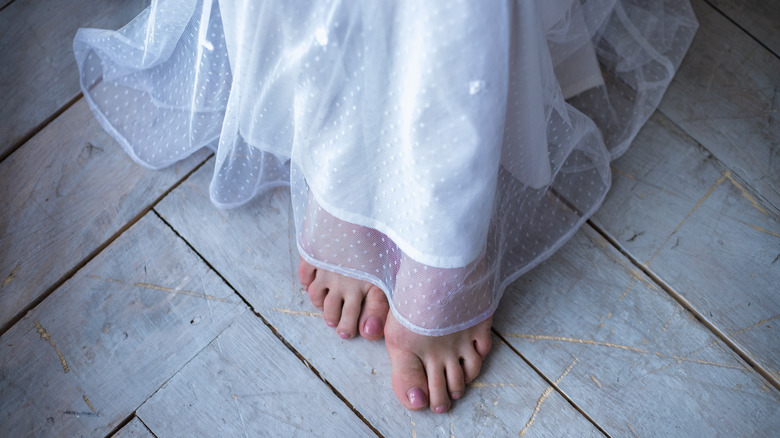 Yulia Naumovich/Getty Images
If you are looking for discreet pedicure colors, this baby pink is a great option. Baby pink embodies the essence of sophistication and elegance, and the soft hue perfectly complements a variety of bridal styles and complements every skin tone. Whether you're opting for a traditional or contemporary wedding ensemble, the baby pink will add a delicate touch of graceful charm to your feet, making them picture-perfect for those close-up camera moments. If you want to add some extra sparkle to your toes, opt for a touch of shimmer on top of the solid baby pink.
The classy French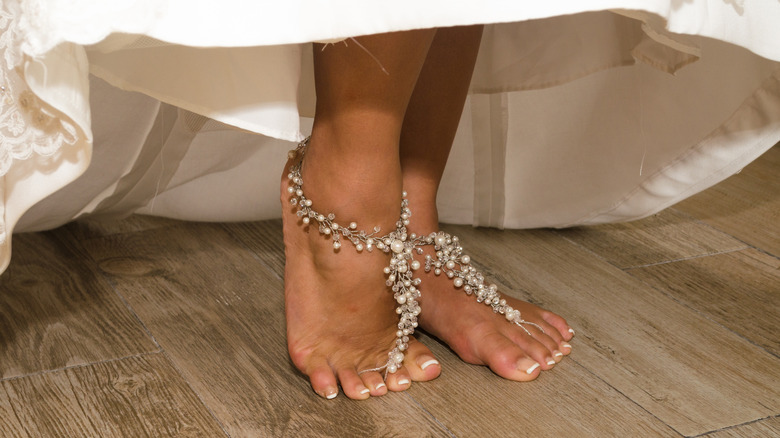 Josuozkaritz/Getty Images
For a classy and timeless look, the alluring French pedicure will rise to the occasion and give you picture-perfect feet for your special day. The French pedicure's understated elegance and versatility allow you to opt for any type of combination you fancy. You can go for neutral tones with a beige base and white tips, add some color with a pink base, or go one step further and choose a white base with pink tips. Whatever you choose, the classy French will seamlessly blend with any bridal style, adding a touch of elegance to your looks.
Go green!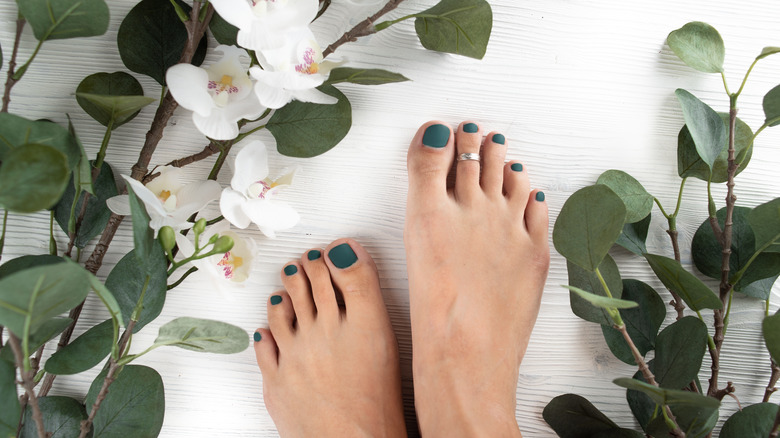 OlgaOzik/Shutterstock
Who says that a bridal pedicure needs to be subtle? It's your wedding day, so if you want to go green, you should! Green symbolizes everything that nature represents: growth, harmony, and hope. Opt for a shade of green that best resonates with you, whether it's a vibrant emerald, a soft mint green, or even a deep forest one. Green will add a refreshing touch to your wedding look, and we're expecting it to be one of the bridal trends set to be hot with 2024 brides.
Something borrowed, something blue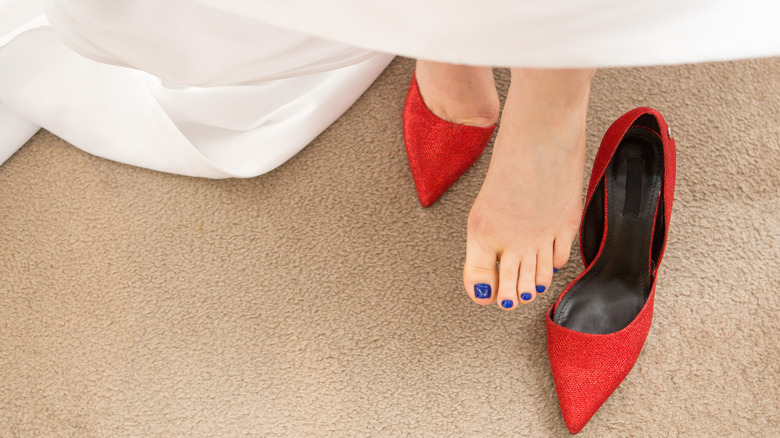 Julie Photo Art/Shutterstock
Something borrowed, something blue: Embrace the tradition, and add a little pizzazz by incorporating blue into your ensemble. Add a pop of color to your feet and embrace this verdant hue that represents serenity, harmony, and the promise of a bright future ahead. Delicate pastel blue or a rich navy one? Whatever your choice, a blue pedicure will pair well with a range of wedding themes and color palettes while helping you honor the tradition and infuse your attire with whimsical enchantment. Step out of the ordinary and be playful on your special day!
The timeless white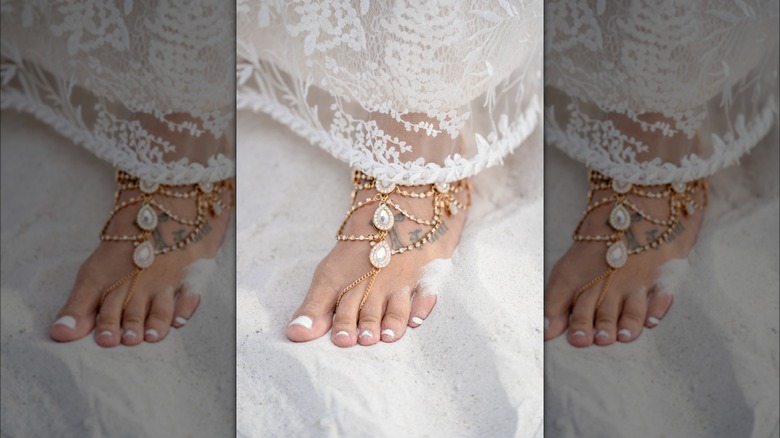 Wirestock/Getty Images
For a timeless and elegant allure, opt for a white pedicure. White is traditionally associated with everything bridal, and not without good reason. It signifies grace and innocence and symbolizes new beginnings, making it the ideal choice for brides stepping into their married life. White pedicures are the epitome of sophistication, and while they seem quite simple, they actually seamlessly blend with any wedding theme or color palette, adding a touch of elegance to your looks and allowing you to play around with the color palette of your bridal shoes.
Add some embellishments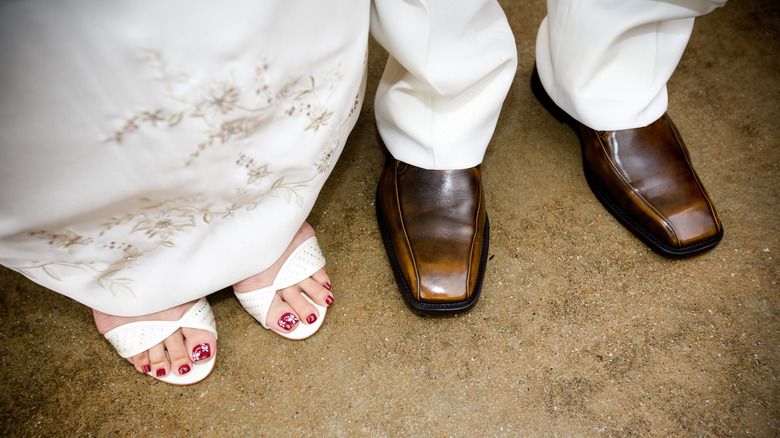 eyedear/Shutterstock
Add some flair to your ensemble and embellish your pedicure with sparkles and intricate designs. Bring your own personality to your pedicure and choose embellishments that uniquely speak of you. For example, introduce a touch of glamour with some tiny crystals or add some bold shimmer with sparkles that playfully catch the light as you dance the night away. Alternatively, give an artistic and elegant dimension to your overall look with some floral designs and turn your toes into a true work of art, confidently knowing that your picture-perfect feet speak tales of your individuality.
Bright cherry red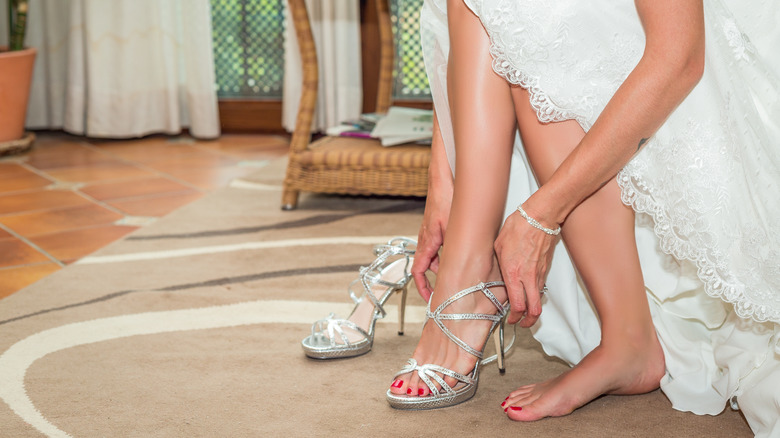 Wirestock/Getty Images
For the bride who wants to stand out, the bright cherry red pedicure is an excellent choice. This rich red hue evokes passion, love, and confidence, making it a daring –- yet meaningful –- option for your bridal ensemble. This striking color will perfectly complement any wedding style, from romantic to modern, classic and trendy, or vintage and elegant. The bright cherry red shade demands attention and ensures that your feet are not only picture-perfect but ready to strike a pose and make an impression on the dance floor and on the aisle.
Orange is the new white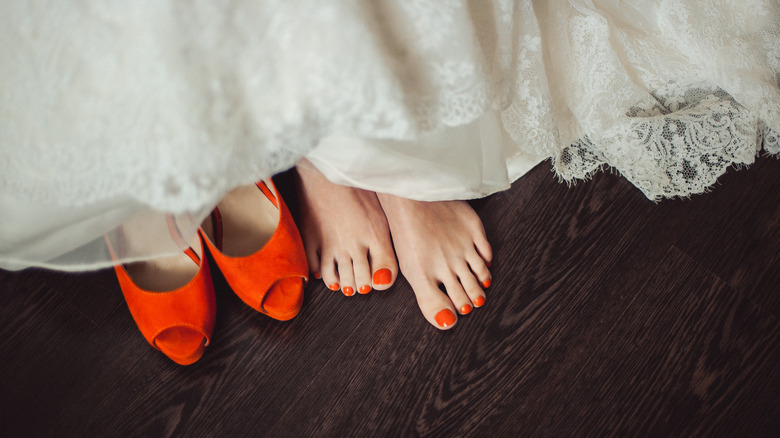 Vidi Studio/Getty Images
Orange pedicures defy tradition and give a dazzling twist to your wedding attire. Embrace the zest and energy this bold hue embodies and make your daring personality stand out. While orange signifies a departure from traditional bridal colors, it is undeniably a hue that will elevate your looks while radiating positivity on your special day. Begin your exciting journey as a married couple with a color that symbolizes the enthusiasm for your joined life ahead and the passion of your love. Orange will definitely bring something new to your wedding day style! 
Daring burgundy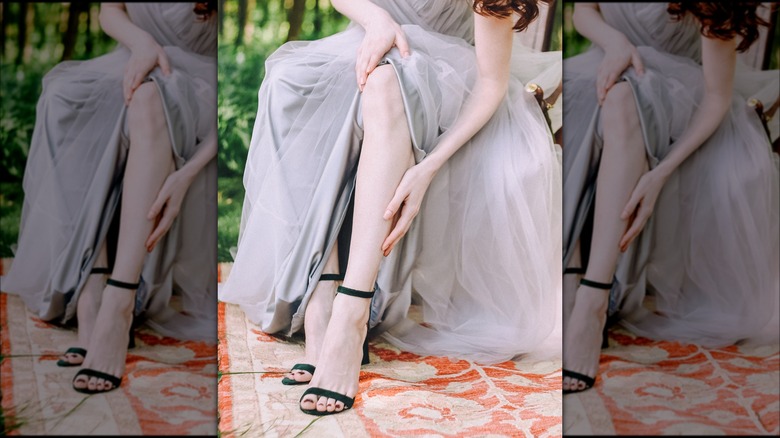 Kovtun Anastasiia/Shutterstock
For a striking contrast between your white dress and your pedicure, opt for a daring deep burgundy color. Symbolizing passion and exuding an aura of sophistication and confidence, burgundy will elevate your bridal style and speak volumes of your personality without being too loud. Embrace your individuality and adorn your feet with a striking picture-perfect shade that showcases your adventurous side and sets the stage for stylish and unforgettable wedding attire. Let this bold choice represent the intensity of your love for your spouse, and make your pedicure not only alluring and elegant but also deeply meaningful.