When Should You Use A Face Mask In Your Skincare Routine?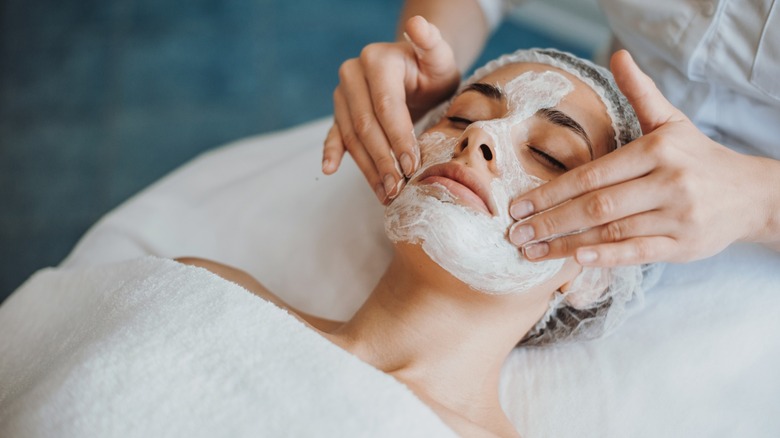 Strelciuc Dumitru/Getty Images
Face masks aren't just a self-care addition; they also serve many purposes when you're upgrading your skincare routine. Depending on your face mask type, your skincare product can add hydrating or detoxifying properties to your skin. When appropriately used, Penn Medicine states that they can be beneficial to your skin by giving you an extra boost. Although everyone has seen face masks plastered in every beauty store and aisle, there's some confusion about when to use them. Applying your face masks at the right time can be the difference between glowy skin and an acne breakout.
Since face masks trap hydration and moisture in your skin, you want to avoid using them at the wrong time. Although many love ultra-hydration, it is possible to get too much hydration trapped in your skin. Apart from using it at the correct time, you want to ensure you're using a suitable face mask for your skin. Too many wrong ingredients can get caught in your pores and cause an acne breakout.
When to use your face mask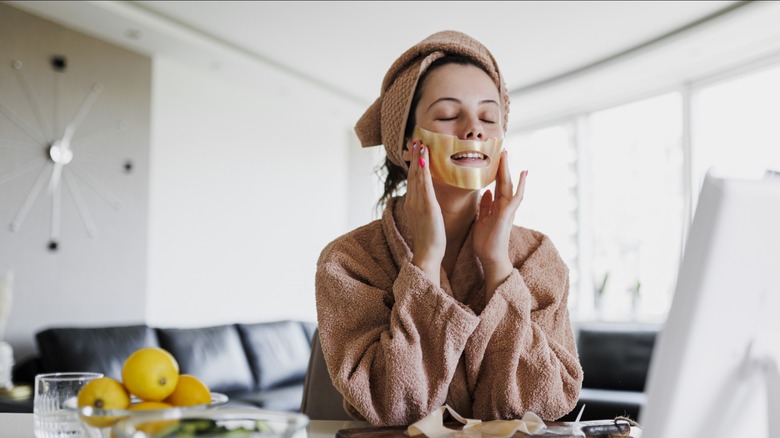 Eleganza/Getty Images
You must use your face mask at the right time for your skin to get the most out of the product. Like any skincare product that adds ingredients to your skin for hydration or detoxing, you'll need to ensure your skin is clean and washed beforehand. According to the U.S. Dermatology Partners, the optimal time to apply your face mask is after cleansing and toning your skin. As with any other product, you can't use a product on top of dirty skin, as this will render your face mask useless. To give your face mask the best chance of working, you'll need to allow it to penetrate your skin directly.
Applying a face mask to dirty skin can also cause more trouble for your skin. L'Oreal Paris explains that adding a face mask product to unwashed skin can clog and irritate the pores. Adding even more ingredients is a recipe for clogged skin that can produce acne breakouts. This combination of ingredients can also cause congestion.
How to choose your face mask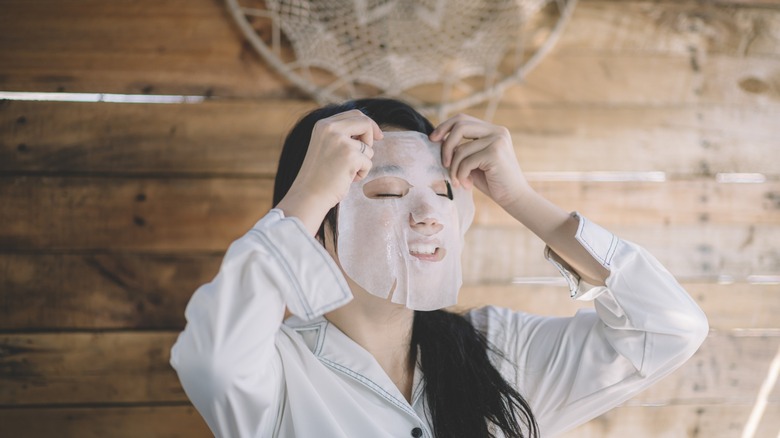 Edwin Tan/Getty Images
Choosing the suitable face mask for your skin goals and needs is vital for a complete skincare routine. Before comparing formulas, you want to ensure you are using the best ingredients for your skin type. If you have sensitive skin, you'll want to stray from facial masks containing too many fragrances and chemicals, which can irritate the skin. Try to reach for clean products that don't have a long list of ingredients, as these can affect your skin.
When picking face mask types, you want to determine what you want from your masks. WebMD explains that sheet masks contain hydrating properties essential for those needing an extra moisture boost. Clay masks are best for oily skin types that require a product to soak up excess oil and shine. Peel-off masks can be both cleansing and moisturizing — these products can lift all the gunk you don't want but leave your skin with plenty of moisture. Another option comes in the form of gel masks. These ultra-hydrating products are best for dry areas like the under-eyes that need a significant boost in hydration.