The Peek-A-Boo Collar Is Getting A Preppy Resurgence In 2023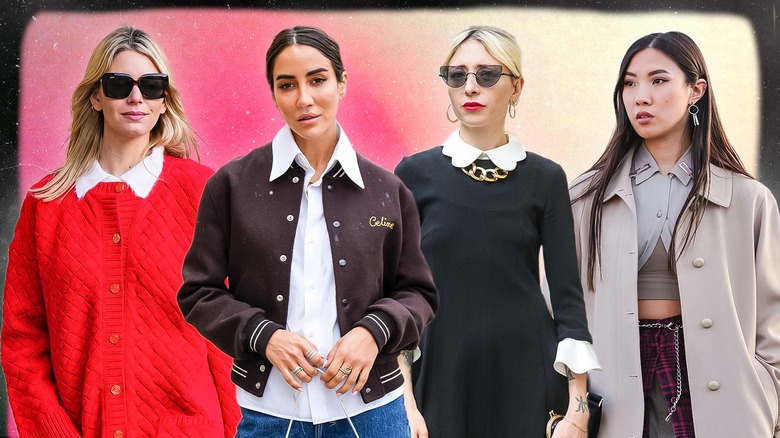 Static Media / Shutterstock / Getty
Preppy — and preppy-adjacent fads — have been on the rise this year, from nautical-inspired yacht fashion and the retro varsity trend to the re-emergence of old-money staples like tweed. But you don't have to invest in a pair of deck shoes or a letterman jacket to put a prep-school touch on your wardrobe. Giving your ensembles a refined air is as simple as the thoughtful addition of a collared shirt, especially when it's layered underneath other pieces in a classic peek-a-boo style.
There are a lot of things to love about peek-a-boo collars. For one, the look is easy to achieve, as you probably have a collared shirt or two in your closet already. Convenience aside, there's also the visual impact of a peek-a-boo collar. For such a simple style, it imbues a satisfying hit of contrast and structure. Added to any outfit, from casual to dressy, the neat lines of a traditional collar instantly instill a fresh elegance and formalize the sweep of your neckline.
Only one question, then, remains: Once you have your favorite dickie or button-up in hand, how can you best fit it into your personal interpretation of preppy style? For a classic look, you can't go wrong with the simple and clean effect of a white collared shirt peeping out from beneath your favorite pullover. But that's only the beginning — there are so many unique and fashionable ways to style the peek-a-boo collar trend.
Sharp collars under baggy sweaters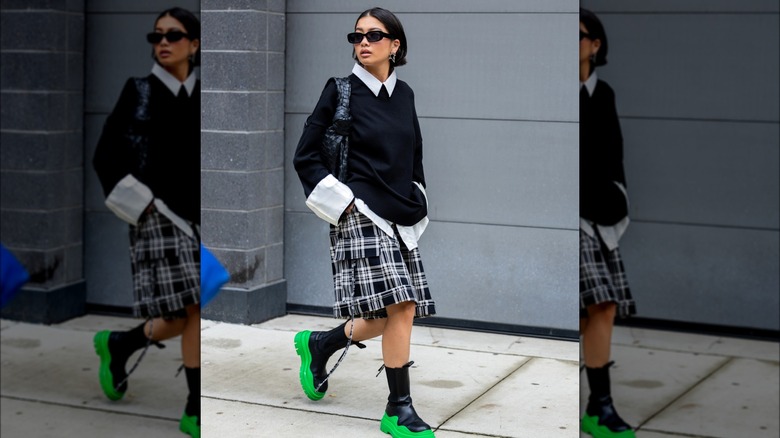 Christian Vierig/Getty Images
The classic preppy approach to peek-a-boo collars usually involves layering your collared blouse under a fitted top. However, you can shake up the silhouette and introduce a cool factor by leaning into the oversized outfit trend, instead. Simply top your peek-a-boo collar with a comfortably baggy sweater or hoodie to walk the line between posh and casual. Balance the exaggerated fit of your top by pairing it with form-fitting bottoms like skinny jeans, or commit to a completely oversized ensemble with a pair of slouchy trousers.
Peter Pan collars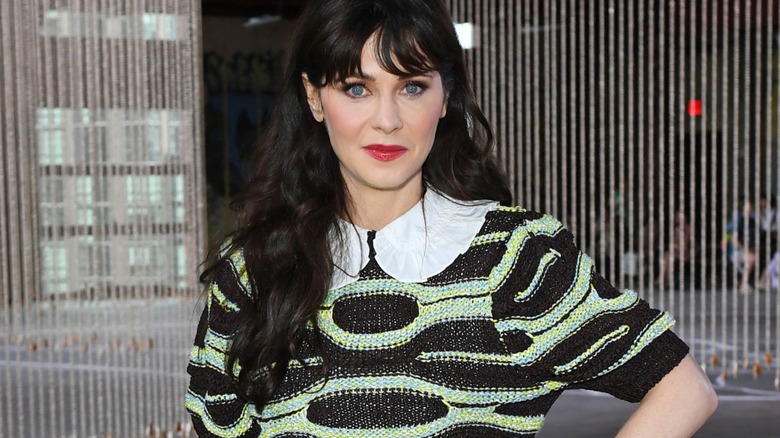 Dave Benett/Getty Images
The angular corners of a typical shirt collar are fantastic for curating a chic, streamlined aesthetic. But what if you prefer something a little sweeter? The gentle curves of a Peter Pan collar soften the contrast between collar and pullover, giving your peek-a-boo look a lovely charm. For maximum cuteness and an undeniably preppy vibe, style this collar with a cropped sweater or cardigan, a high-waisted skater skirt, and a pair of must-have Mary Janes to complete your outfit.
Ruffled collars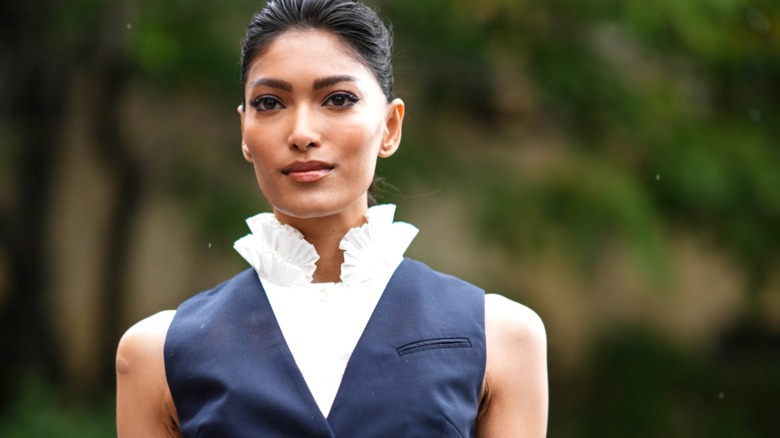 Edward Berthelot/Getty Images
Want a collar that makes more of a statement than the standard button-up blouse? Ruffled collars are not only eye-catching with their delicate texture but they also add a romantic, vintage air to any ensemble. Go for an utterly dreamy aesthetic with layers of lace that drape like a waterfall from your neckline, or adopt a regal bearing with a high collar of stiff, upright ruffles. Either option will look incredibly sharp beneath the tidy silhouette of a tailored vest, V-neck sweater, or slim-fit cardigan.
Bow collars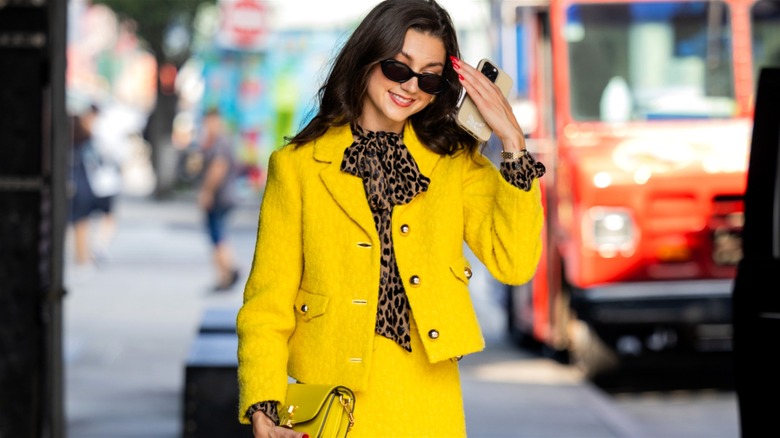 Christian Vierig/Getty Images
For a peek-a-boo collar that combines polished femininity with a hint of playfulness, pussycat bows are always a good idea. Whimsical but still classy, the easy drape of a bow-style collar can help break up the stiff lines of tailored garments like blazers or vests. And because they're serving subtly flirty vibes, bows are a boon to any outfit that needs to transition from day to night. Use a neutral pussycat bow to quietly introduce softness to a professional look, or break out bow-collar blouses with fun patterns to add character and pizzazz.
Embellished collars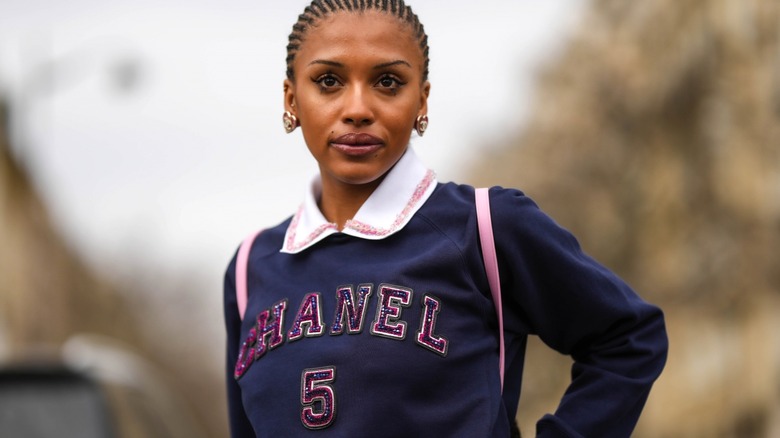 Edward Berthelot/Getty Images
A pristine white collar is classic for a reason, but you don't always have to stick to the basics. For a little extra glitz and glam, consider emphasizing your next preppy outfit with an embellished collar. Choose blouses or dickies that feature unique detailing like piping, embroidery, beading, rhinestones, or even studs. From floral designs to refined pearl accents, an embellished collar can be your way of putting a personal twist on the aesthetic. For more variation, use removable adornments like brooches and collar pins to mix up the look from day to day.
Turtleneck collars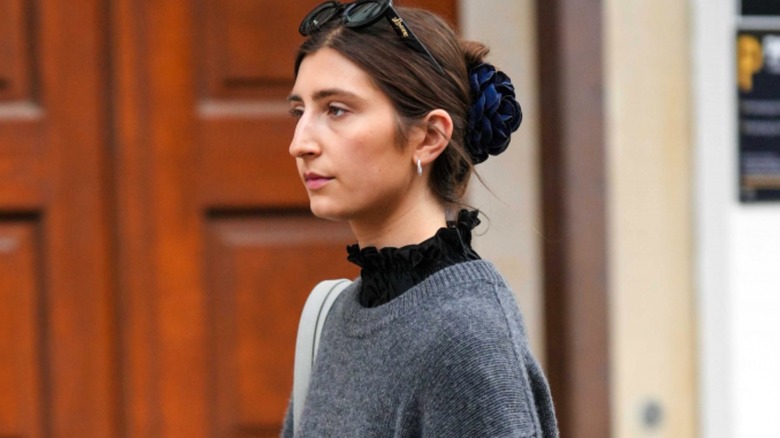 Edward Berthelot/Getty Images
When trying to achieve the peek-a-boo effect, we don't always think of turtlenecks, but they can actually be very stylish for layering. Whether you prefer the coziness of a full turtleneck or the more moderate impact of a mock-neck top, these high-collared shirts create interest with a solid, color-blocked take on the peek-a-boo look. Evoking a vaguely European sensibility, we especially love the moody edge provided by a black turtleneck collar. Layer it under a neutral sweater for understated style, or use a solid turtleneck to counterbalance tops that feature bold colors or prints.
Patterned collars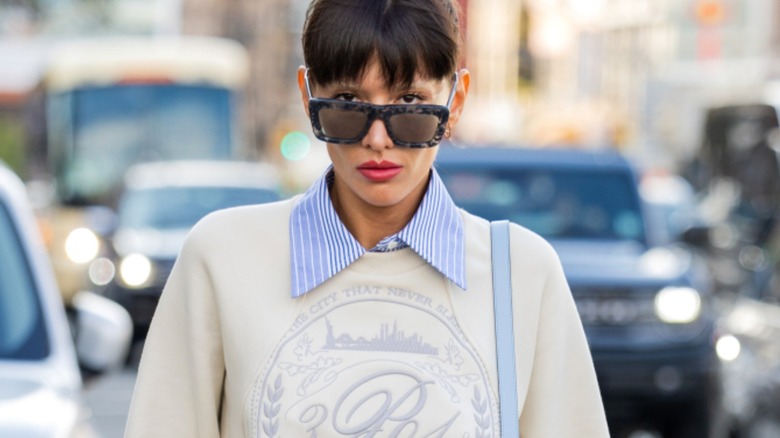 Christian Vierig/Getty Images
Often, peek-a-boo collars are used as a blank slate to juxtapose the hues and patterns of more exciting outer layers, but they can also be used to introduce texture and detail. Flip the script by wearing collars with prints like pinstripes, polka dots, paisley, florals, or other lively patterns beneath solid pullovers. The result is a subtle and sophisticated touch of personality that doesn't overwhelm the total ensemble. And remember: If you don't want to fill your closet with collared shirts, a handful of interesting faux collars can be an inexpensive way to get the look.
Collared shirt dresses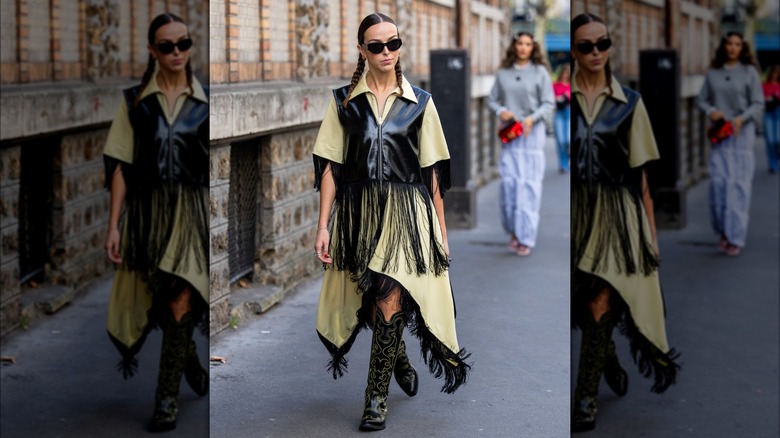 Christian Vierig/Getty Images
Did you think the peek-a-boo collar trend could only apply to blouses? Think again. Collared shirt dresses are perfect canvases for peek-a-boo layering, whether you're topping a voluminous midi dress with a sassy leather vest or staying closer to the trend's preppy roots in academia fashion by wearing a sweater vest over your favorite collared minidress. Trying out a peek-a-boo style is also a handy way to transition warm-weather shirt dresses into autumn and winter. Simply let the collar shine under a season-appropriate sweater and add a pair of warm tights to the outfit to get extra mileage out of that summery frock.
Oversized collars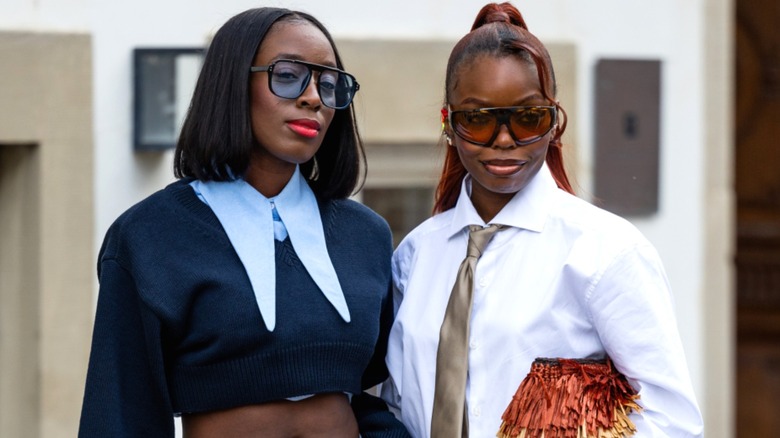 Christian Vierig/Getty Images
It's true that preppy fashion has deep roots in class and tradition, but that doesn't mean you can't get experimental with preppy trends — including peek-a-boo collars. Turn your outfit from everyday to avant-garde by tweaking the proportions in unexpected ways. For instance, a dramatic, oversized collar is sure to turn heads without veering into gaudiness. Or throw out the rulebook on layered looks by pairing your peek-a-boo collar with the shock of a bare midriff. The juxtaposition of the tidy collar with its modest, preppy heritage against such modern, flirty styling is irresistibly intriguing.