Taylor Russell's Metal Jacket Has Basically Guaranteed Her A Met Gala Invite Next Year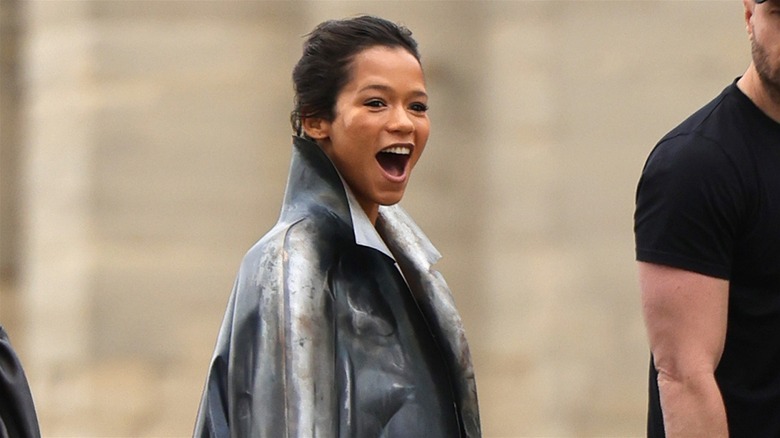 Jacopo Raule/Getty Images
If you're a follower of fashion, you're familiar with the legendary — and legendarily tough — Anna Wintour. The "Vogue" Editor-in-Chief is said to be the unofficial inspiration for Meryl Streep's character in "The Devil Wears Prada". In other words, the icon is a longtime fashion mogul who is not easy to impress. However, that appears to be exactly what none other than potential Harry Styles love interest, Taylor Russell, has pulled off at Paris Fashion Week.
Advertisement
Videos are currently circulating on TikTok showing the young actress removing a metal jacket — designed by Jonathan Anderson, Creative Director at Loewe, and French artist Elie Hirsch — in order to take her seat. Removing the jacket not only revealed an outfit that consisted of a strapless bodysuit and pumps, but it prompted a rather undeniable smile from Anna Wintour herself. Invitation to the 2024 Met Gala? When it comes to Taylor Russell, it looks like a resounding yes to us. 
Taylor Russell's growing stardom
Although Taylor Russell has been acting since 2012, she broke out as a new star in 2022's "Bones and All," in which she portrayed a teenager grappling with her own cannibalistic nature. Since then, the rising star has been spotted holding hands with Harry Styles around London (per People), fueling rumors that the two may be an official couple. Whether or not these rumors are true, Russell is shaping up to be quite an influential fashionista, as her run-in with Anna Wintour at Paris Fashion Week has proven.
Advertisement
As Russell continues to explore the trio of her acting career, her potentially public love life, and her global ambassador partnership with Anderson at Loewe, expect to continue to hear her name in conjunction with pushing the boundaries of modern fashion. With the bold and fearless way she has presented herself so far, we honestly can't wait to see more of her inspirational presence. 
Anna Wintour's fashion influence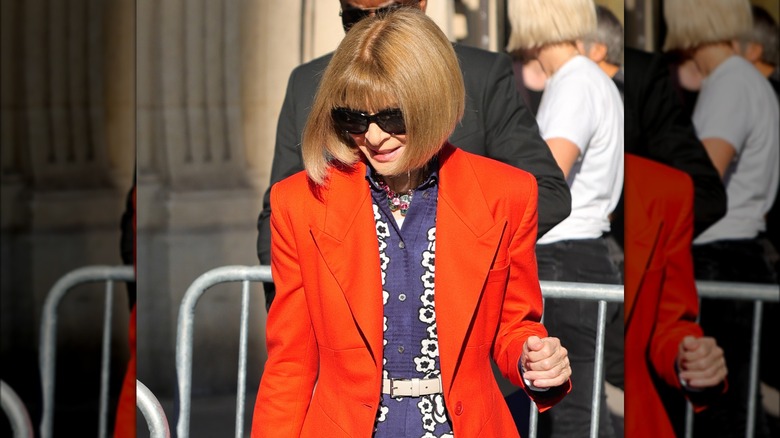 Jacopo Raule/Getty Images
Anna Wintour has served as Editor-in-Chief of "Vogue" since 1988. Her influence on the world of high fashion cannot be overstated. She is the genius behind tying actresses, musicians, and other public figures to fashion trends in magazines rather than depending solely on fashion models, and she's the mind behind the launch of "Teen Vogue." She also — as a longtime permanent co-chair — put the Met Gala on the map using the same method she used to breathe life into "Vogue" as a fashion magazine: embracing celebrity culture.
Advertisement
Today, everyone who is anyone is on the waiting list for the invite-only annual event — and Wintour has more than earned her reputation as the harbinger of fashion culture around the globe. The fact that the fashion icon openly showed a sign of admiration for Taylor Russell is an excellent indicator of the young actress's future, in the worlds of both fashion and celebrity.