Knee-High Socks Are The Standout Runway Trend Of Fall 2023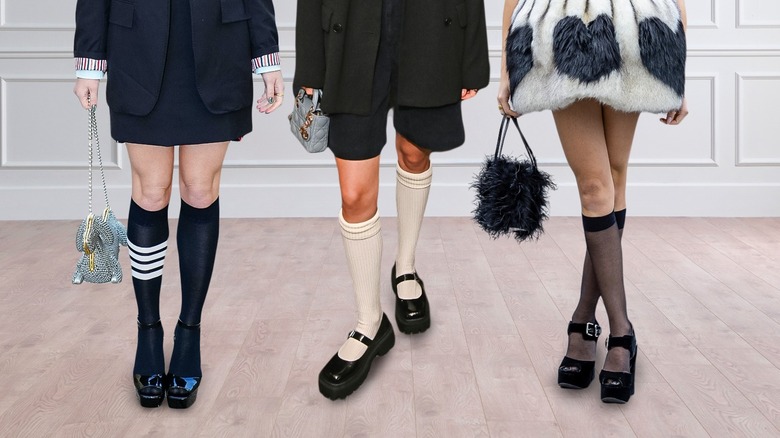 Static Media / Shutterstock / Getty
Although recent fashion week collections showcased must-have trends for spring and summer 2024, a few are also perfect for fall 2023 wardrobes. In fact, one of the season's standout trends, knee-high socks, is a finishing touch that can complete our fall looks while keeping our legs warm and cozy. Brands like Dolce & Gabbana and Sacai led the knee-high sock trend with parts ranging from warm knits to fashion-forward sheer moments. With plenty of variety, you can use knee-high socks in your wardrobe in many ways, which makes us want to rock them even more.
While knee-high socks typically align with the preppy style, they can also give edgy or minimalist vibes depending on your aesthetic. Using different textures and colors can help you use this piece often designated for school uniforms to elevate your footwear game instantly. For instance, try pairing these socks with boots or heels to create a comfortable and stylish fall 'fit. Knee-high socks are also perfect to style with mini hems that require more warmth to keep you warm and ready all fall long. Your options don't end, though, as we've gathered all the inspo you need this fall.
Sheer socks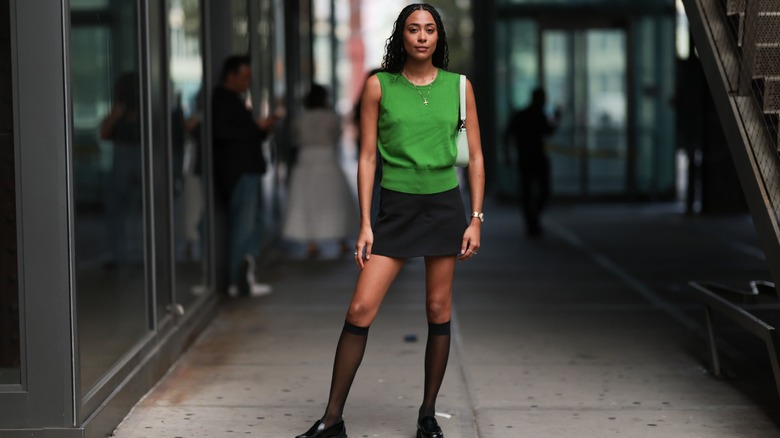 Jeremy Moeller/Getty Images
Sheer clothing options typically only come in the form of tops and dresses, but now socks are meeting the sheer trend head-on. Mesh and see-through socks were a standout trend during fashion week since they're easy-to-wear pieces that go with any shoe or outfit. Typically in black shades, sheer knee-high socks made their way to the runways via brands like Anteprima and Dolce & Gabbana. Wear them with sneakers, loafers, or flats to add flair to your fall look.
Knit knee-highs socks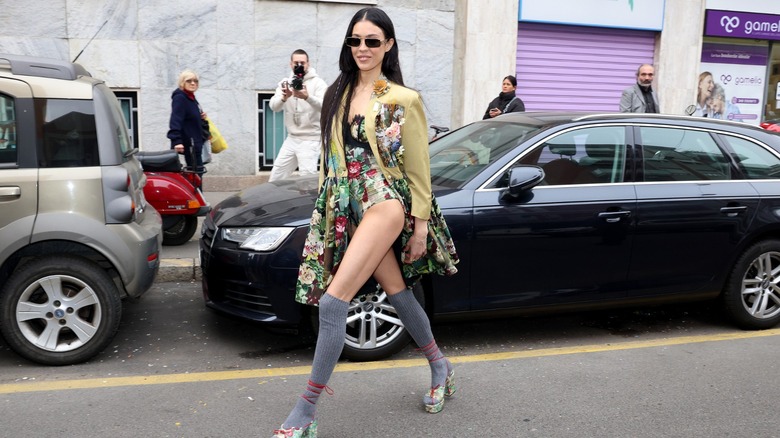 Franco Origlia/Getty Images
Knits always shine during fall and winter because they provide texture and warmth to your fall outfits. Knit knee-high socks, like those shown in the MSGM Spring/Summer 2024 show, are ideal if you want to jump on board this trend in the fall. With a thicker material, knit knee-high socks can easily give you a cozier look. Pair them with sandals, like MGSM, or opt for a more fall-inspired look with boots or loafers.
Classic white socks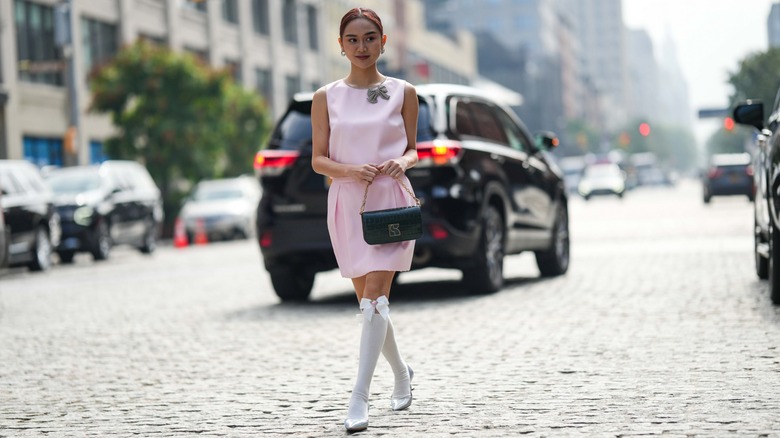 Edward Berthelot/Getty Images
When considering the ultimate preppy look, we need to remember our good, classic friend: white knee-high socks. Those wanting a preppier look for fall will need a few pairs of white knee-high socks for an authentically academic vibe. Then, it's best to style these socks with loafers or platform heels for a chic, preppy look. Brands like Yuhan Wang took the white knee-high to the next level with embroidered socks and pairs with accents like bows and lace.
Socks with boots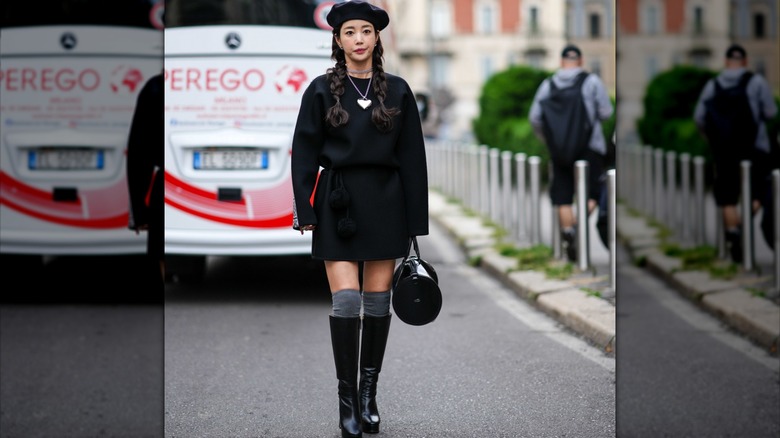 Edward Berthelot/Getty Images
You'll need to pull out your knee-high socks and tall boots to get the ultimate fall look. You'll undoubtedly need socks with your shoes, but knee-high socks that barely peep over your boots are a chic and subtle touch. Opt for pairs with lace and frills towards the top, like those shown in Yuhan Wang, to give your look feminine flair. Pairing these two fall trends lets you stay warm and pull off your shorter hemlines during the colder weather.
Embellished knee-high socks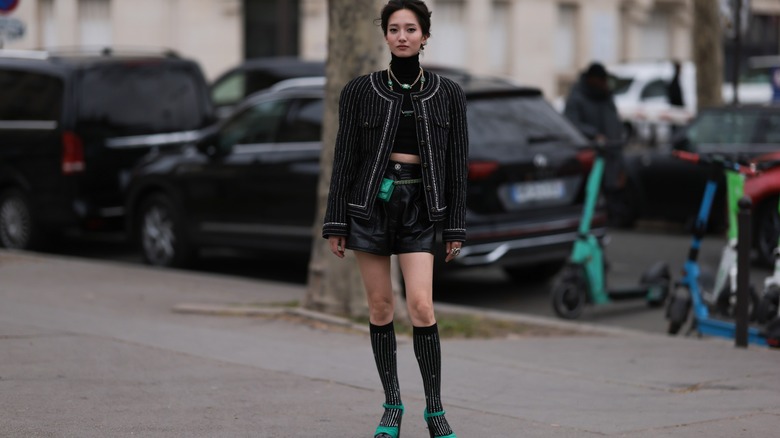 Jeremy Moeller/Getty Images
Just because your knee-high socks go on your feet doesn't mean they can't have some sparkle. After all, they grab attention by rising so high! Since metallics and shimmer have become more fashion-forward as of late — thank you, Beyoncé! — everyone's been finding unique ways to incorporate them into their looks. Embellished knee-high socks are perfect for adding sparkle to your look without fully committing to the trend. Prada previously showcased the movement by adding its iconic Prada silverware as an embellishment.
Colorful pairs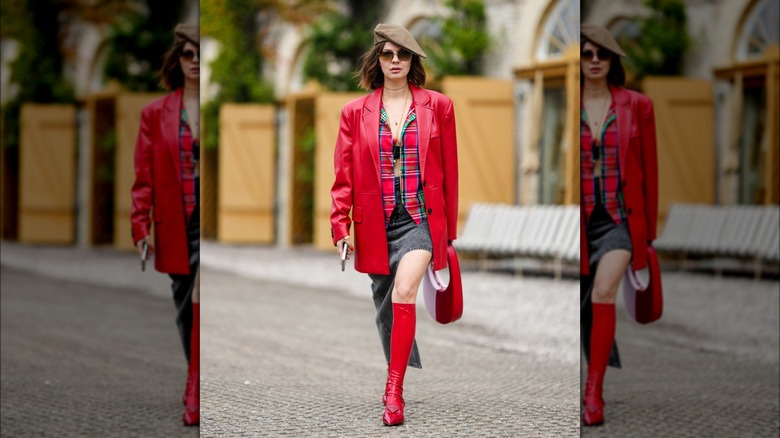 Edward Berthelot/Getty Images
Red is the "it" color of the moment, and there's no better way of incorporating it into your fall looks than a pair of knee-high socks. These small pops of color are easy-to-wear pieces that can add life to your fall looks without completely changing your wardrobe. Even minimalists can incorporate these colorful hues to add bits of bold colors into their looks. While Chopova Lowena showed vibrant reds in its show, you can rock any shade you love.