Cobalt Blue Nails Are The Unexpected Alternative To Brown And Orange For Fall 2023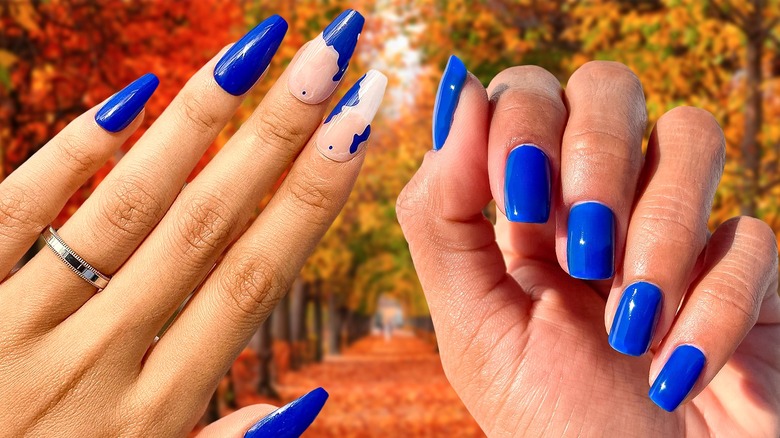 Static Media / Shutterstock
Anyone who loves blue nails has surely tried blueberry milk nails, which are a lighter, creamier shade, not to mention denim blue, a darker, more muted shade. If this applies to you, then you may also want to try cobalt blue nails. A super-popular color for spring that's been embraced by fashionable folks who aren't afraid to have vibrant nails, cobalt blue is the ideal alternative to brown or orange this fall.
Sitting in the middle when it comes to light and dark shades of blue, cobalt's pop of color can bring your outfit to the next level or serve as an accent that complements your ensemble. Cobalt blue also has some unexpected aspects that make it a truly dynamic seasonal hue. Jewel Marlowe, the designer behind Jeweled Interiors, told Better Homes & Gardens, "Cobalt blue is a fantastic color because it is a little bit of a bait-and-switch. Though located on the portion of the color wheel that feels soothing, cobalt is actually a bold and energizing color. It is related to colors that feel innocuous, but functionally, it's a rock star statement-maker."
You'll have no doubt that's true when you find out the many different ways you can take advantage of this trendy color. For instance, you might want a design of effect that's just as unexpected as using cobalt blue during the fall, or you might want the kind of nail art that makes the most of this stunning shade.
Solid glossy cobalt blue nails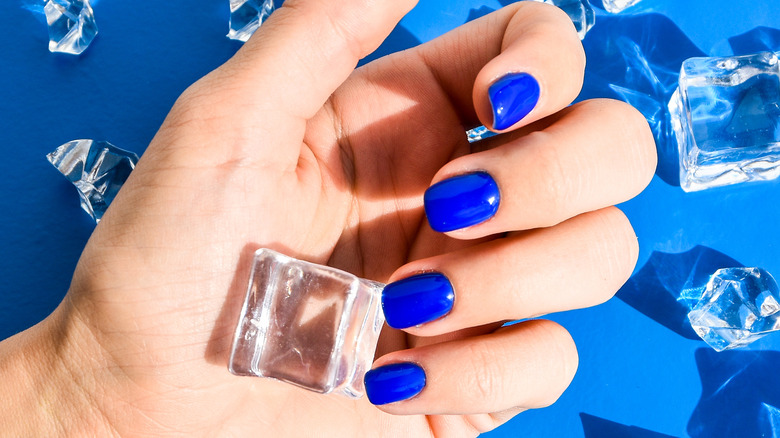 yanishevska/Shutterstock
Cobalt blue perfectly captures the cool vibe of the season while creating a stunning contrast to warm fall colors like red and orange. In fact, if you opt to wear this shade along with an outfit that boasts autumn hues, your cobalt blue nails will truly stand out. Of course, that doesn't mean you can't make it even more dynamic by adding some shine. Simply use a product that's made to have a glossy finish or add a top coat and seal in the color when the blue polish has fully dried.
Rich matte cobalt blue nails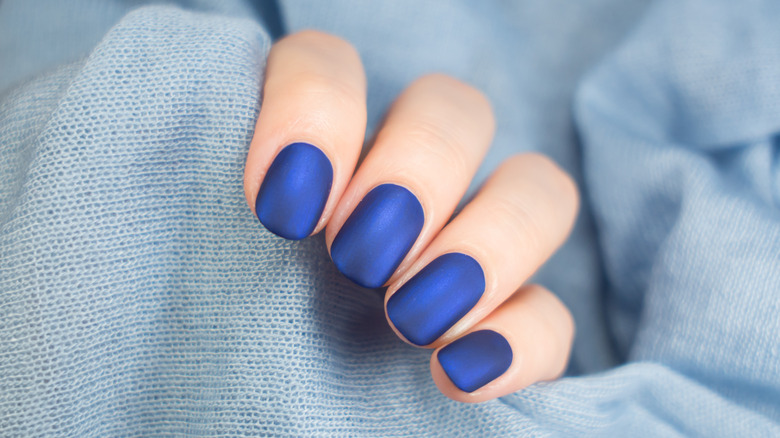 Minszka/Shutterstock
Glossy nails are a gorgeous option and work incredibly well with blue shades, but the same can be said for the opposite kind of manicure. Anyone who loves matte nails and bold colors will surely fall in love with a cobalt blue version of this style. Thanks to the rich tone of this shade, a matte finish creates a smooth finish that is cool, sleek, and something a little different for fall. At the same time, the electric tone behind the color keeps it from being cold or dull.
Negative space cobalt blue nails
Opting for a trendy negative space nail art design is an easy way to put a fun twist on your manicure. Although it's a look that works well with subtle autumn-like colors like light red hues and soft brown tones, negative space nail designs can look even more fabulous when you use a vibrant shade of nail polish. That's why cobalt blue works so well. Whether you use an option that's matte or glossy, the bright shade creates a strong and highly visible contrast to the sections of nude negative space.
Cobalt blue-tipped nails
Add another unexpected twist to your fall manicure by opting for a contemporary style such as modern cobalt blue-tipped nails, aka a negative space French manicure. Imagine a typical French manicure but with rounded tips instead of flat ones — as sharply curved as you desire. You also want to replace the white shade with a cobalt blue color and have it arch in the same way as the end of the nail. To give this look an extra edge, add a thin line that follows the same curve at the tip to create negative space.
Line art cobalt blue nails
There's no doubt that cobalt blue is a striking color that wanders away from typical fall colors, and line art is just as eye-catching. Combining the two is the perfect way to show off this shade. Simply grab a thin nail brush or even a toothpick to draw on simple lines in captivating patterns. Make sure you have a steady hand, and don't rush. If you take your time and give it a little TLC, this may become your new favorite way to wear cobalt blue nails each fall.