Casual Trucker Jackets Are Outdated For Sophisticated Fall 2023 Trends - What To Wear Instead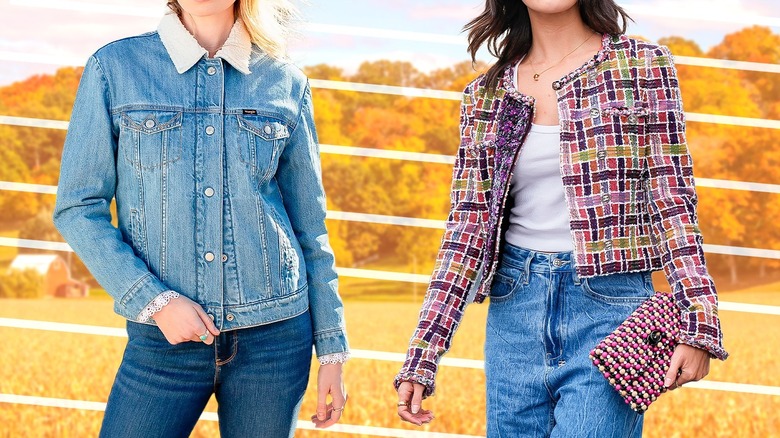 Static Media / Shutterstock / Getty
Trucker jackets have been basic, foolproof wardrobe staples for basically forever. Their simple silhouette, casual fit, and undeniable versatility have made them easy to wear over anything from tees and hoodies to easygoing mini dresses. But when a fashion piece becomes so ubiquitous, it can also start to feel stale. And while trucker jackets have served us faithfully, we're officially setting them aside for fall 2023.
This year, autumn trends are steering away from low-key basics toward pieces with more sophistication, personality, and charm. From statement sweaters to the gorgeous metal details of fashion hardware, fall 2023 is embracing fads that draw the eye. And you don't have to go too wild to fit in. While bold colors and striking silhouettes will certainly do you a few favors, you can just as easily keep up with autumn trends through elegant details and cohesive styling.
In the end, it all comes down to outfits that display a clear point of view — no matter if you tend to gravitate more toward a chic trenchcoat or a classic moto jacket, both of which are still in vogue. Whether your overall aesthetic is refined, sporty, or edgy, there are more interesting ways to flaunt your outerwear this fall than by defaulting to a dull and outdated trucker jacket.
Tweed jackets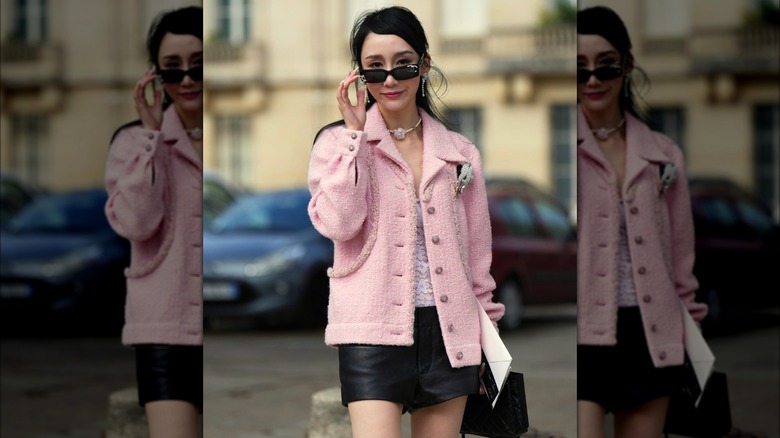 Edward Berthelot/Getty Images
If you're seeking a more put-together alternative to a plain trucker jacket, the charmingly preppy, stealth wealth vibe of tweed is super fall-appropriate. This thick fabric is warm without being bulky, and even if you're not a student, its academic roots instantly vibe with back-to-school season. Yes, certain cuts of tweed can skew formal. But if you want to balance out a posh jacket, simply pair it with casual bottoms, like a pair of baggy jeans. You can also add spice with a leather skirt, which creates a fun and interesting juxtaposition against tweed's more modest energy.
Trenchcoats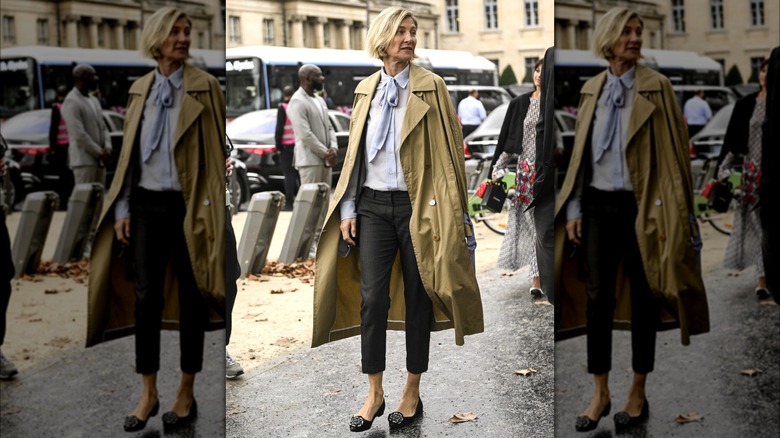 Daniel Zuchnik/Getty Images
Looking for a one-and-done autumn staple? Forget trucker jackets — trenchcoats are timelessly chic. With a sophisticated, European sensibility, trenchcoats elevate any outfit, whether worn with cute work separates or an elegant cocktail dress. Tan or black trenches are reliably stylish choices, but you can also add a dash of daring by choosing a trenchcoat in trendy fall shades like bright red, vivid green, or Barbiecore pink. And don't fret if a heavy, waterproof trench doesn't suit your climate — you can still get the look by snapping up a lightweight cotton trenchcoat instead.
Varsity jackets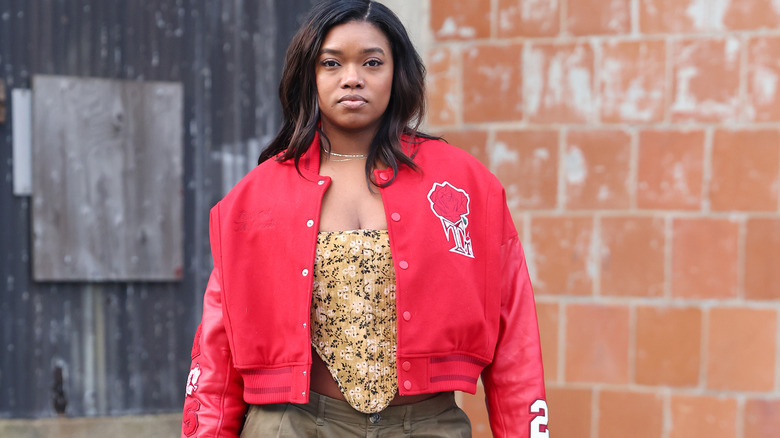 Arturo Holmes/Getty Images
If tweed isn't your speed, the varsity jacket trend is a sportier way to achieve a preppy vibe. Delightfully retro and often bursting with color, varsity jackets marry cool with casual for a youthful autumn look. Better yet, these jackets are typically thick and cozy, making them a practical choice for the cooler months. Go classic with a dual-toned design featuring contrast sleeves, or put a monotone twist on the look for bold cohesion. These jackets will look cute layered over all kinds of casual, streetwear ensembles, from a basic tee and jeans to an adorable corset top.
Unique denim jackets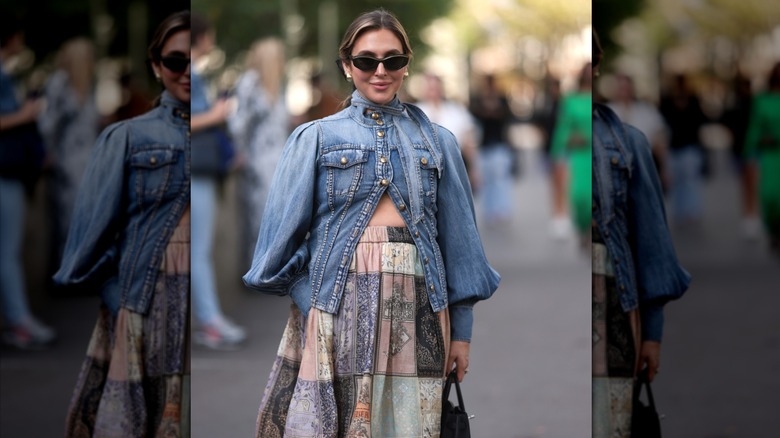 Jeremy Moeller/Getty Images
Denim is common in trucker jackets, but while trucker jackets may be out, other denim styles are trending. Put aside the slim, boxy trucker silhouette for cuts that are more flirty and adventurous, like denim jackets with voluminous lantern sleeves, asymmetrical designs, or cropped hems. Best of all, a denim jacket goes with anything, letting you get real mileage out of this statement piece. You can even wear it with jeans because the double-denim look — sometimes called the Canadian tuxedo — has become an out-and-out trend this year.
Fringed suede jackets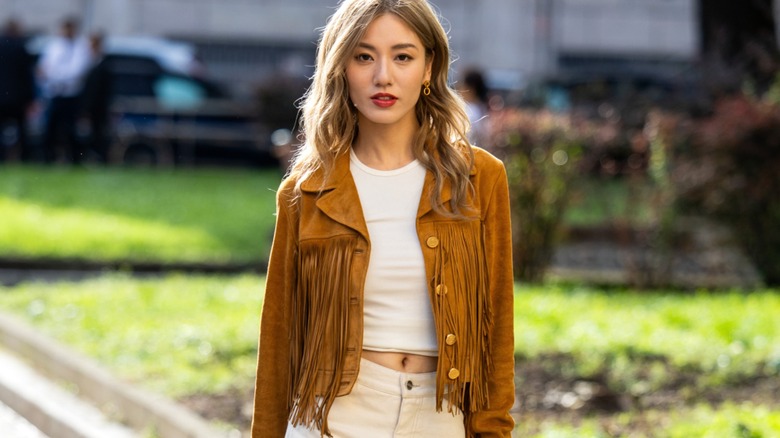 Christian Vierig/Getty Images
Fringe is a style essential this year, and '90s-inspired suede jackets are a growing trend for fall 2023. So, why not get the best of both worlds by rocking a stunning fringed suede jacket this autumn? From a cute, Western-inspired autumn cowgirl aesthetic to a bohemian hippie vibe, there are plenty of ways to style fringed suede. Try this eye-catching jacket wherever you'd normally wear a moto jacket. Fringe adds shape and movement, so choose a fitted cut to minimize bulk. And don't forget to consider your color options — brown is classic, but it's not a requirement.
Offbeat moto jackets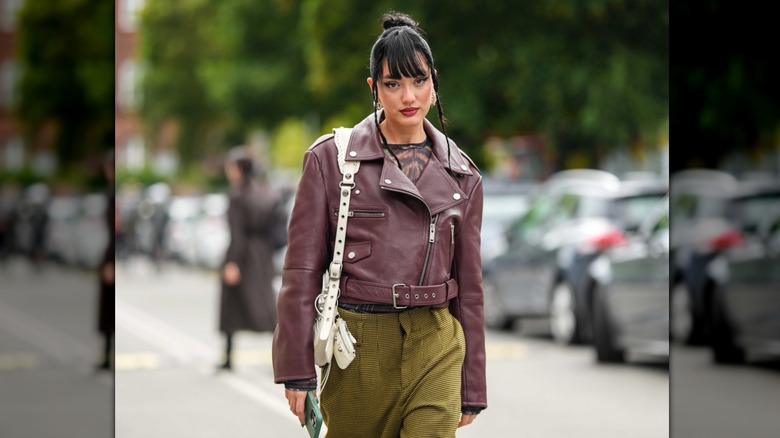 Edward Berthelot/Getty Images
Speaking of moto jackets, you can breathe new life into this go-to style by setting aside the plain black standard. Add a touch of the unexpected by choosing a moto jacket in an unusual color, whether you prefer moody plum or the shock factor of electric lime. You can also ramp up the interest by playing with materials and details. Consider a moto jacket with floral embroidery, colorblocked panels, or a quilted finish. A unique moto jacket gives you the same striking silhouette along with a chance to infuse your own personality into the look.