The Statement Sweater Is The Must-Have Fashion Trend For Fall 2023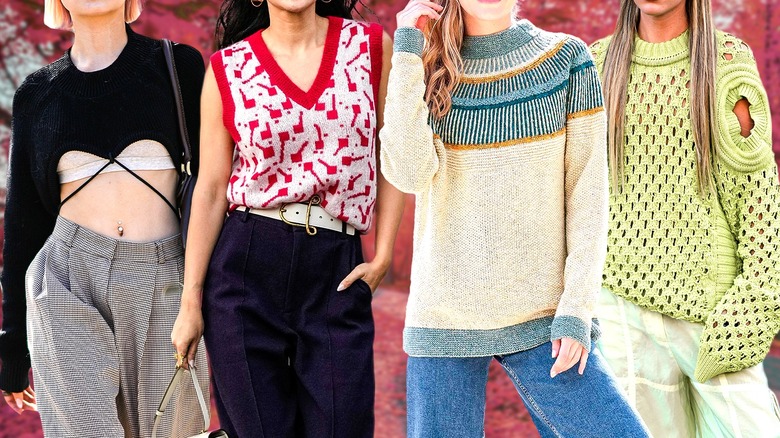 Static Media / Shutterstock / Getty
Ready to shake up your wardrobe for fall? Autumn 2023 is poised to be a big one, with incoming styles that include everything from major fall color trends like vivid reds and buttery yellows to the edgy fashion hardware fad.
But of course, there's also the pragmatic matter of preparing your closet for chilly weather. Happily, there's an easy, on-trend way to dress for both comfort and style. Putting together outfits for autumn is often a game of layering, and adding warmth through sweaters is a no-brainer. But cuddly pullovers can be more than a fall practicality — combined with bold prints and unusual silhouettes, sweaters can become bona fide statement pieces.
Even better, the wide variety of statement sweaters makes these pieces a good fit for any personal style. Whether your day-to-day aesthetic leans more toward chic and minimal Stockholm style or the moody, vintage-inspired "gloomy girl" look, there's a way to make this trend your own.
Pair busy patterns with solid colors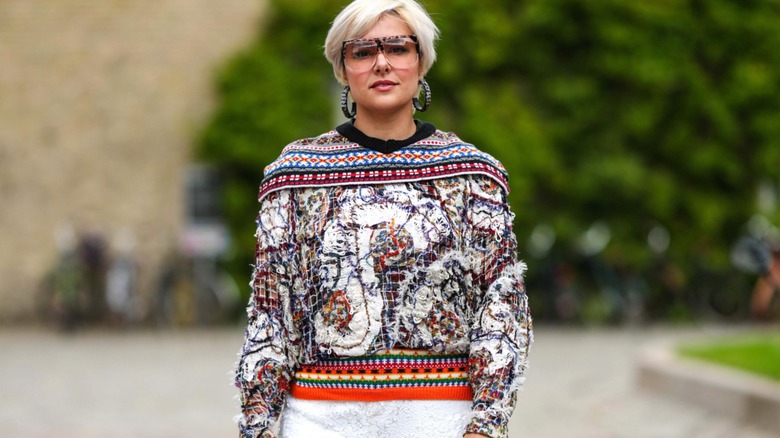 Edward Berthelot/Getty Images
"Ugly" sweaters are no longer confined to Christmas parties, and this year, wildly patterned pullovers may be the ultimate autumn statement piece. From loud colors or clashing prints to contrasting textile treatments, these eye-catching sweaters ooze confidence and a devil-may-care attitude. Even better, they can be thoughtfully styled to read as haute couture rather than outright tacky. Make your craziest sweaters wearable for all fall occasions by pairing them with solid separates like black denim jeans, brown cords, or khaki trousers.
Choose sweaters with texture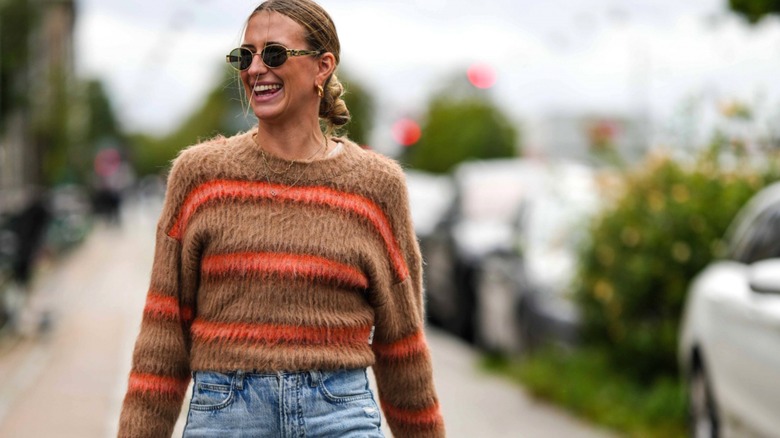 Edward Berthelot/Getty Images
If you're looking for statement sweaters that embody the coziness of fall fashion, texture is your shortcut to a warm and homey look. There are many different textures and finishes to choose from, such as fuzzy mohair, thickly ridged knits, or playful bobble sweaters. Even loosely woven crochet pieces can be transitioned into your fall wardrobe to add intriguing visual detail to your autumn ensembles. For a sharper, more structured look, wear your textured sweater over a white collared shirt to add a fresh counterpoint at the neckline.
Use cropped sweaters to play with proportions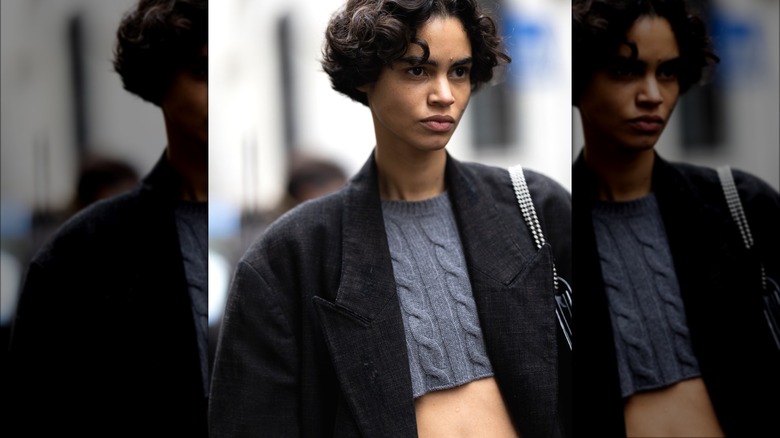 Valentina Frugiuele/Getty Images
Crop tops have been in vogue for a while now. But autumn provides a unique opportunity to style your crop tops beyond the basic — including the inclusion of fall-friendly cropped sweaters. The juxtaposition of chunky knits and short hemlines creates super interesting silhouettes and can be topped with a long jacket to help ward off the autumn chill. Experiment with different sweater lengths that work comfortably in your local climate, bearing in mind that you don't have to go overboard — showing even a little bit of skin can make a big visual impact in fall. Try wearing your favorite cropped sweater with high-rise trousers or a skirt to minimize exposure and keep the vibe of your bare midriff flirty and chic.
Turn heads with graphic sweater designs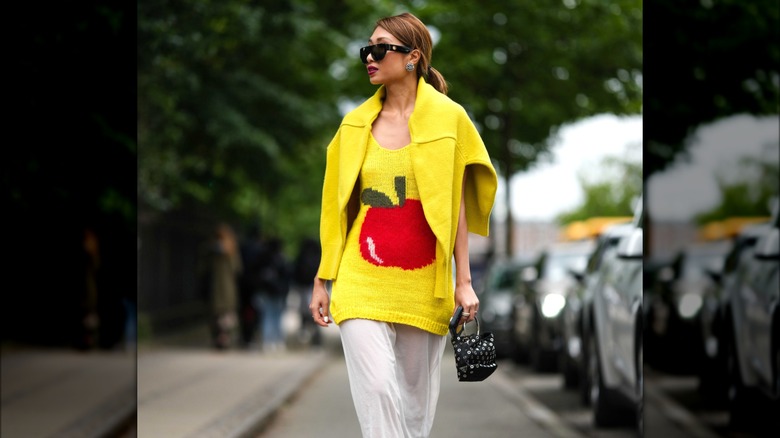 Edward Berthelot/Getty Images
In spring and summer, graphic tees are a quick way to pump up the volume on any outfit. Achieve the same effect in autumn months by opting for a graphic statement sweater, instead. From cute fruit woven in bold primary shades to autumn-hued woodland designs, you can find graphic knitwear to accent any mood and color palette. Give the look a preppy finish by layering a collared shirt underneath, or go for a cheeky, punky edge by pairing your graphic sweater with leather accessories and motorcycle boots.
Create contrast between mismatched patterns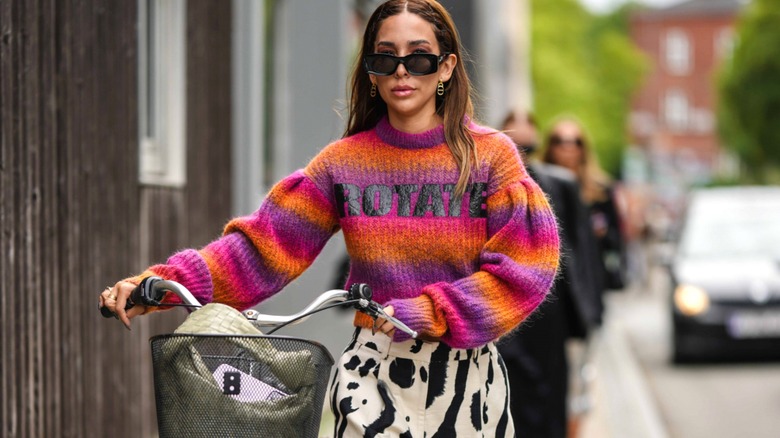 Edward Berthelot/Getty Images
Any statement sweater can become the epicenter of a simple outfit, but it takes a truly daring fashionista to play with violently contrasting patterns. This fall, exude whimsy and flair by wearing a statement sweater with equally loud separates and accessories. Throw out the rulebook by combining rainbow gradients, animal prints, paisleys, polka dots, stripes, plaids, and other vibrant patterns. Unexpected pairings will instantly lend you an adventurous, free-spirited air. Besides, fashion is about expressing yourself. So as long as that outlandish combination of garments makes you smile, it's fair game. 
Get creative with your sweater vests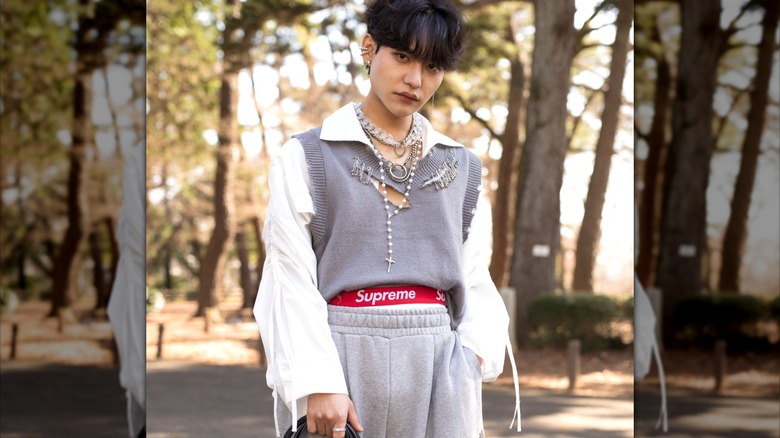 Matthew Sperzel/Getty Images
Sweater vests have been having a moment. Dovetailing beautifully into style trends like preppy fashion, cottagecore, and the dark academia aesthetic, these pieces have proven their versatility — and provide an excellent outlet to get creative with your statement sweaters this fall. Play with vivid patterns or colors, cropped or baggy silhouettes, and distressed finishes to give your vest a unique twist. Because sweater vests comprise less of your total ensemble than a full, long-sleeved pullover, they provide the perfect canvas to create an impactful but balanced look.
Put a new spin on the oversized trend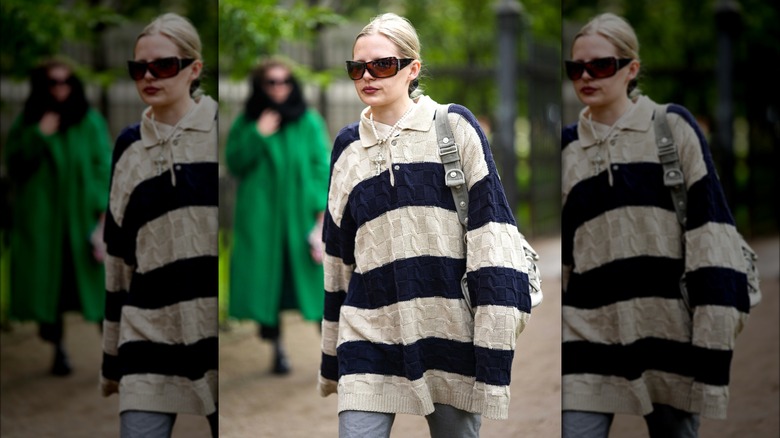 Edward Berthelot/Getty Images
Oversized sweaters aren't exactly a new fad, but you can breathe fresh life into the trend by wearing uncommon variations of these statement sweaters. Instead of choosing typical batwing styles, boxy cable knits, or baggy grandpa cardigans, allow yourself to reimagine the look. For instance, a collared and striped rugby-style sweater will lend your autumn aesthetic a curiously sporty undertone, while a seriously distressed sweater can add grunge vibes and reveal alluring hints of skin beneath your oversized silhouette.
Add interest with cutouts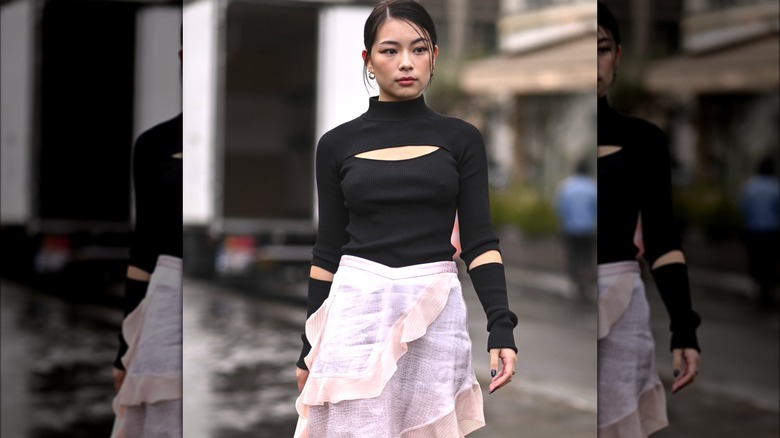 Daniel Zuchnik/Getty Images
Not all statement sweaters have to be loud and in your face. Instead, introducing negative space can instill your next autumn ensemble with a powerful yet effortless elegance. Cold shoulder tops may be a bit passé at this point, but tasteful cutouts can still turn a basic pullover into something special and mysterious. A sleek slash beneath your collarbones is gently flirtatious, as long as it doesn't gape too widely. Or, for something less expected, try statement sweaters with unusual cutout placements, such as inside the elbow or down the spine.
Embrace maximalism with an embellished cardigan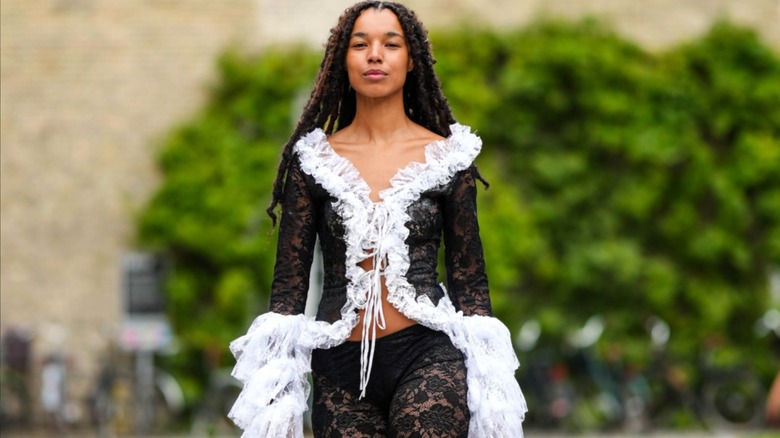 Edward Berthelot/Getty Images
If "doing the most" accurately describes your favorite aesthetic, an embellished cardigan will help you capture the maximalist fashion trend this fall. Whether you opt for a cardigan with flouncy lace trim, extensive embroidery, or an embarrassment of rhinestones, this unapologetically extra style gives satisfying "Clueless" vibes. To ground the look, wear your fancy cardigan with simple separates like a white tank and classic jeans or a denim maxi skirt.