Keep Your Crocs In Perfect Condition With These Cleaning Tips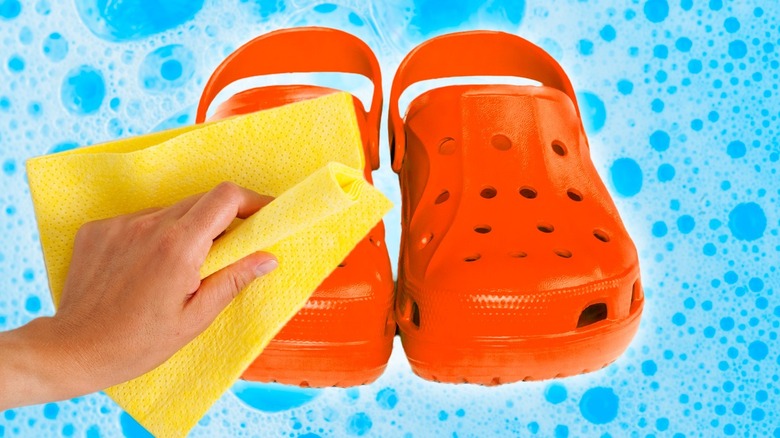 Static Media / Shutterstock
We may receive a commission on purchases made from links.
There have been a lot of shoe fads over the years, from jellies to Keds to Doc Martens. But the shoe brand that undoubtedly gripped the world, for better or worse, in the early aughts was Crocs. Although Crocs drew scrutiny over their unconventional appearance, one thing was easy to suss out at first sight — they're easy to clean. 
The goofy, plastic-looking clog hit the marketplace in 2002 in an array of colors and has since branched out into a bunch of different styles, including sandals, flats, and fuzz-lined varieties. Only recently, the brand added the "Creel" (Crocs with a heel) to its lineup — to mixed reactions. Although Crocs enjoyed initial success back in 2002, the tide soon turned, and the company lost a whopping $185 million in 2008 alone. This led to mass layoffs, factory closures, and a product line revamp. All signs pointed to a slow death for Crocs, but that was not the company's destiny.
In fact, whether you love 'em or loathe 'em, Crocs are blowing up in a big way since the pandemic, thanks in large part to Gen Z. The generation grew up with what experts have termed "ugly fashion," and see Crocs as the ultimate combination of comfort and an ugliness only an owner could love. Since there are roughly 100 million or so pairs of Crocs walking around the world, a lot of those are going to get dirty at some point. Here's how you can clean your Crocs and keep them looking like new.
When possible, practice some prevention
In a world dominated by leather, rubber, and canvas shoes, Crocs were a true departure from the norm when they first launched. That's because they're made from a proprietary substance dubbed "Croslite" by the company. It's described only as a "closed-cell resin," and it's this material that supposedly makes the shoes comfortable, breathable, and odor-resistant, among other features.
Currently, white Crocs are the hot style du jour, according to Oh Crocs. But as any mom or other person who's responsible for keeping stuff clean knows, white anything is generally an absolute beast to deal with. Although we'll go into some handy cleaning tips in a moment, use some caution when wearing Crocs, especially the white variety. A day that calls for torrential rain and therefore a lot of muddy water is not likely to pair well with Crocs (plus the water will sneak in via their trademark holes and wreck your socks). Also, think about where you're going that day. A baseball field, for example, with lots of red dirt is going to stain them and create a big ole headache for you to clean. So use some common sense, protect your investment, and wear old sneakers that you don't really care about when the situation calls for it.
The hand wash option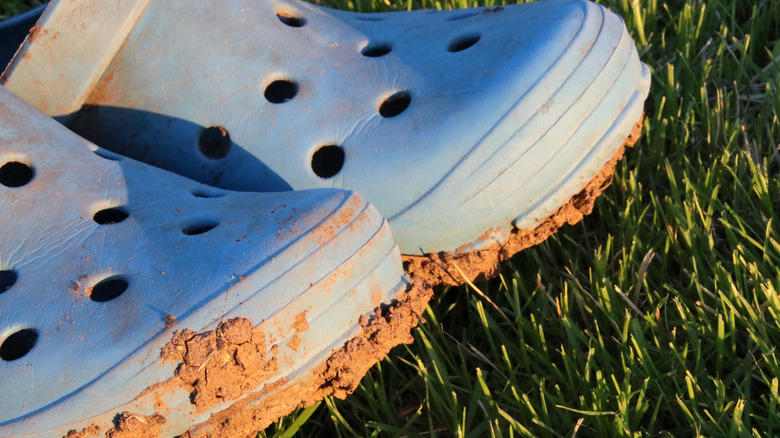 photowind/Shutterstock
All that said, sometimes even the most fastidious Crocs owners wind up with some dirt, stains, or other unsightly additions to their once-pristine Crocs. The brand says that Crocs can be cleaned in the sink, and to start by first rinsing off any obvious dirt or other grime. Then, you can use a damp cloth, cold water, and a mild soap (like dish detergent) to gently scrub or dab any problem areas.  
Wirecutter, a product recommendation service operated by The New York Times, took it a step or two further and purposely sullied some Crocs in pursuit of the best cleaning methods. In addition to the soap and water method, Wirecutter managed a better clean by using a toothbrush to clean the area where the heel strap attaches to the shoe, and also to dislodge stubborn dirt from the grooves on the soles. When faced with stubborn grass stains, the testers also applied a baking soda, water, and vinegar paste to the shoes for extra cleaning oomph. They allowed the mixture to sit, then rinsed it off and air-dried the shoes completely. This can be repeated as needed until the stains are totally gone.
Machine wash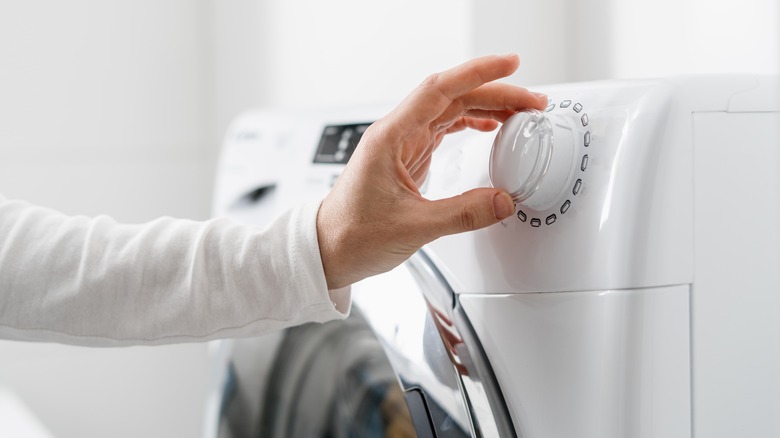 brizmaker/Shutterstock
Certain types of Crocs made from Croslite foam can actually be popped in the washing machine for a quick spin cycle or two. The brand instructs Crocs owners to only wash them using gentle laundry detergent on the delicate cycle. Fuzzy Crocs and those styles made with leather or other materials that are not 100% Croslite should not be put in the washing machine. They should be hand-washed or spot-treated instead. 
Make sure the cycle is cold water only, as Crocs do not respond well to any extreme heat. Because of this, never put Crocs in the dryer or in any other situation where they're exposed to too much hot air or water. This includes the dishwasher, a hot car, extended periods in direct sun, and so on. Doing so could cause the shoes to warp or even shrink. Since the main draw of Crocs is their exceptional level of comfort, it's a safe bet that no one wants theirs to be shrunk down beyond repair.
Buy brand-specific tools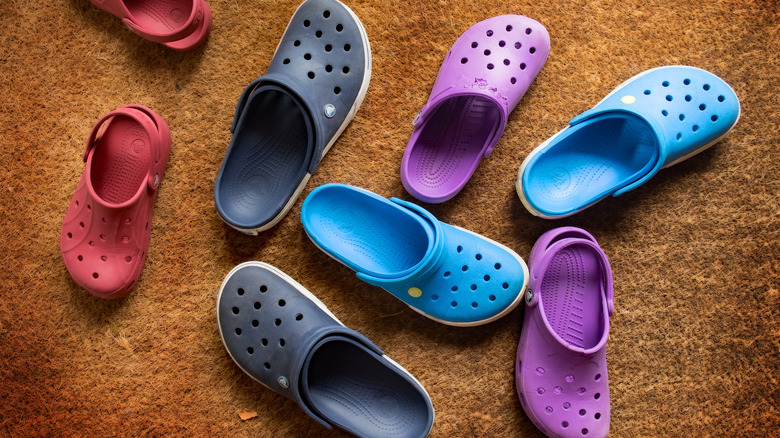 claire Bullion/Shutterstock
Sometimes it's just easier to use a brand-specific product to get the job done. The good news is that Crocs' polish and cleaner product (known as Crocs Shine) retails for $8.99 on the company's site, which is not a terrible price to pay for the convenience factor. Wirecutter tried the product and reported that "it did add some luster back to our Crocs." 
Using the product is fairly hassle-free because the company says that the restoring solution is automatically contained in the sponge applicator. The brand instructs users to rub the sponge on any dirty or otherwise scuffed-up area. Then, use a clean, dry washcloth or paper towel to wipe away any extra cleaner. This process should give the Crocs a like-new shine and can be used on any Croslite material. According to Amazon reviews, some people opt to first wash their Crocs by hand, then use the Crocs Shine to buff and add extra shine. 
Practice some patience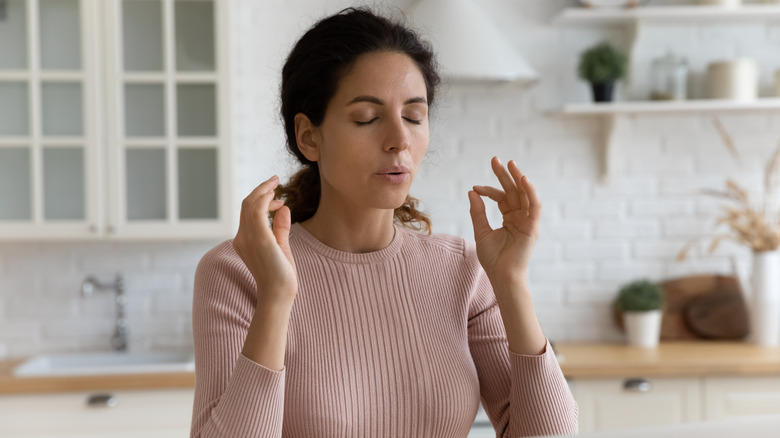 fizkes/Shutterstock
The time commitment when cleaning Crocs is wide and variable. After all, it really depends on the severity of the stain or damage in question. The experimenters at Wirecutter had immediate success with certain types of stains, like red clay, dirt, and dog poop, but had to wage a much tougher battle where grass stains, paint, and sriracha sauce were concerned.  
Interestingly, Wirecutter also noticed that some stubborn stains actually disappeared completely after they'd been cleaned and left alone for a couple of days in a room with no direct sunlight. They hypothesize that this could be because the cleaners sometimes work more slowly on the proprietary material that Crocs are made of. Whatever the case, if persistent stains are making you crazy, it can't hurt to try this "do nothing" method. If only everything else in the world could be "cleaned" using this strategy — we'd certainly be happier for it!