The Sheer Trend Is Getting Less Racy For 2024 - Our Tips To Style It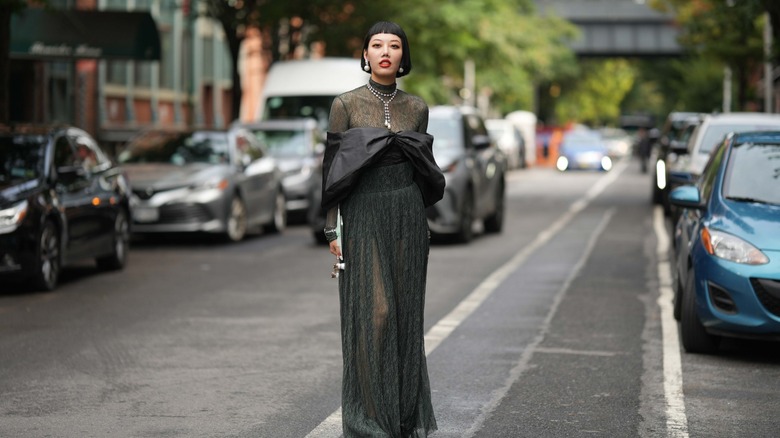 Edward Berthelot/Getty Images
If there's one trend to encapsulate the 2023 fashion scene, it's sheer clothing. From sheer dresses to sheer pants and everything in between, there are plenty of ways style trendsetters and designers have used the see-through material to create ethereal and whimsical designs. If you're looking to add a little extra-femme style to your wardrobe, sheer is an easy way to create a more romantic look. And while the fabric is well-known for its sultry vibes, it can also be reworked into more modest and elegant ensembles. 
Advertisement
For 2024, there are plenty of sheer options with a sophisticated tilt to add to your wardrobe, and designers like Louis Vuitton have shown us that sheer can be as put-together and polished as any other material this season. Instead of waiting for that one special event to rock your favorite so-sheer pieces, use these less racy options for a subtle yet chic fashion detail.
Sheer accessories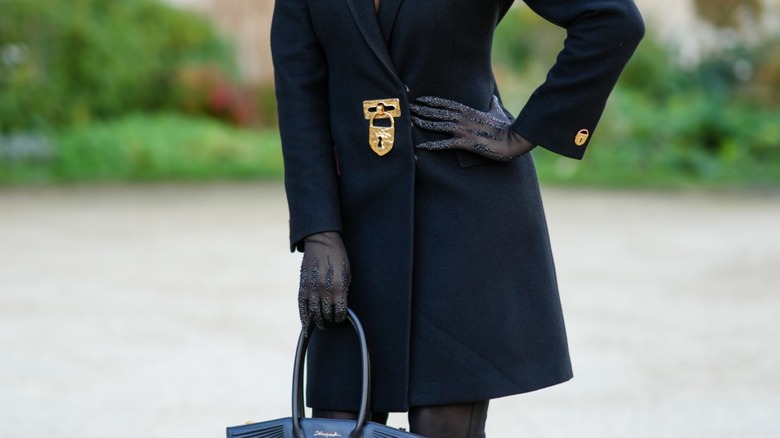 Edward Berthelot/Getty Images
While there are plenty of sheer clothing options, the more modest way of rocking the trend is via see-through accessories. Anything from sheer gloves to mesh socks or tights is perfect for those looking to add some of this feminine element into their wardrobe in 2024. Without committing too much to the trend, these sheer accessories can provide an elegant touch to your looks. Take it from Givenchy, who turned each look into a grand affair with their sheer opera gloves.
Advertisement
Strategic outerwear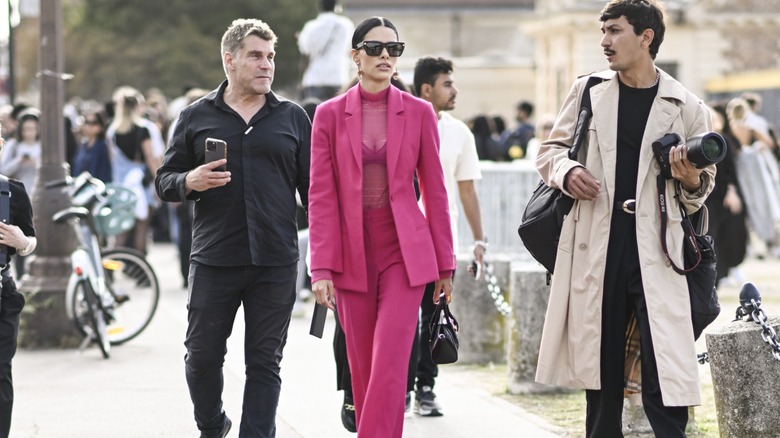 Daniel Zuchnik/Getty Images
From what to wear underneath to how to style your look, sheer tops can be a problem if you're brand new to the trend. Wear sheer tops paired with pants and a blazer for an officewear-inspired look to ease the struggle. For those looking for a less risky option, you can easily button up your blazer for a small peek-a-boo element. You can also wear a tank or bodysuit of the same hue underneath your sheer top for a cohesive look that isn't too revealing.
Advertisement
Silver linings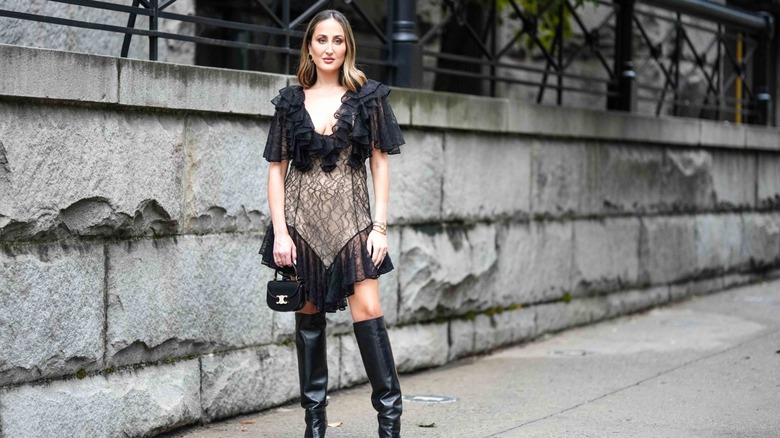 Edward Berthelot/Getty Images
While sheer outfits can allow you to showcase your chic undergarments, it doesn't always need to be a revealing fashion option. Sheer items with a lining are becoming more popular as many look to bring this trend into their day-to-day life. Whether nude or lining in the same color, this extra fabric can provide enough coverage to feel protected all day. Like the outfits shown during Prada's Spring/Summer 2024 Fashion Show, adding a fabric lining is just enough to make your sheer 'fit a little more practical.
Advertisement
Sheer overlays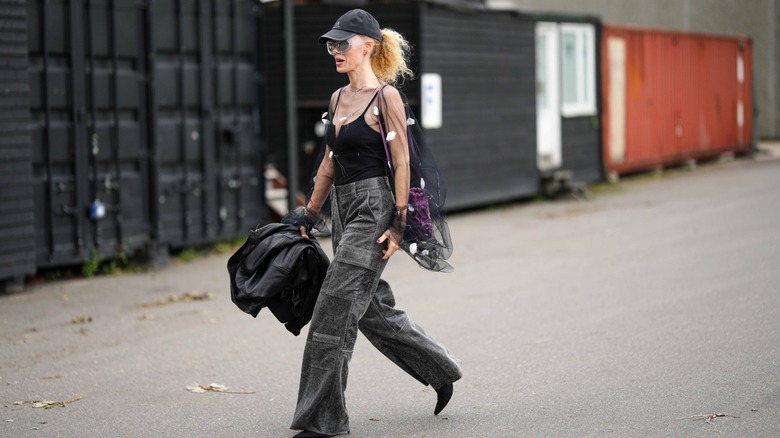 Edward Berthelot/Getty Images
Sometimes, a sheer item doesn't need to be the most obvious piece of your outfit; it can be a layering piece that works to add a whimsical touch to your look. Opt for a sheer shawl or mesh coverup to add a unique texture to your look without the trendy fabric becoming the centerpiece of your ensemble. Sheer layering pieces can drape over your existing 'fit and pull your look together flawlessly.
Advertisement
'90s layering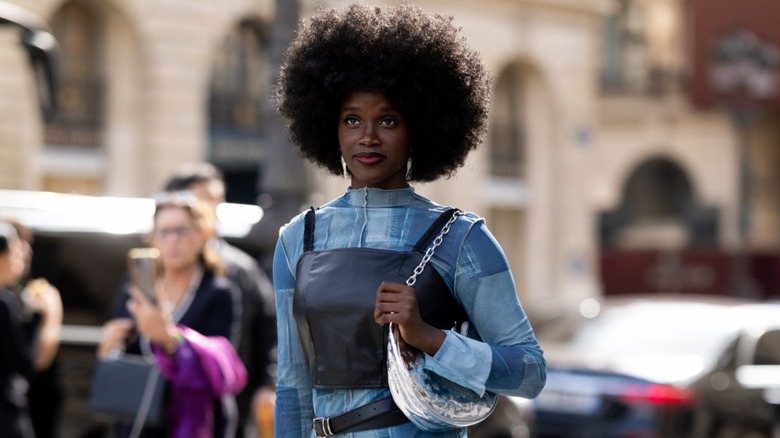 Valentina Frugiuele/Getty Images
Any fan of '90s fashion trends will know that layering is a go-to style in and of itself. While some usually wear their sheer pieces on top, you can also wear them underneath a juxtaposing ensemble. Opt for a sheer top with a layered piece like a sweater vest or a bralette for added coverage. This layering technique is fun and practical for those wanting to add a nostalgic touch to their 2024 looks.
Advertisement
Busy prints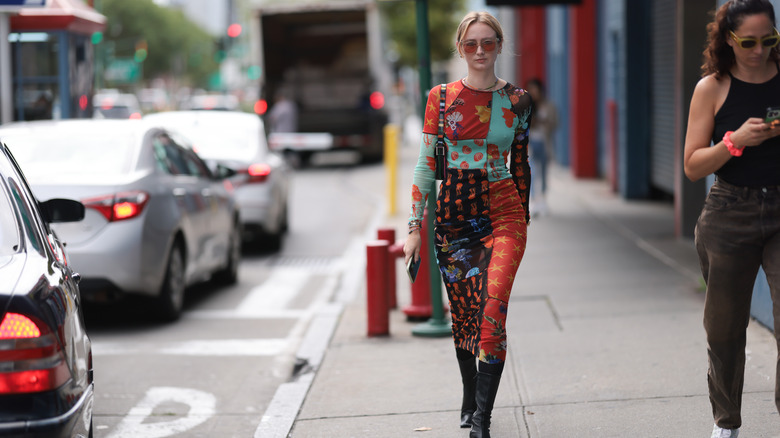 Jeremy Moeller/Getty Images
While wearing solid-colored sheer clothing is chic and perfect for a quiet luxury look, a printed sheer piece can be more practical — and even more fun — for your everyday looks. Printed sheer dresses and tops are ideal as their busy patterns can offer you more coverage from a sophisticated but still see-through 'fit.
Advertisement