Crocodile Is Officially The Trendiest Bag Texture Of The Moment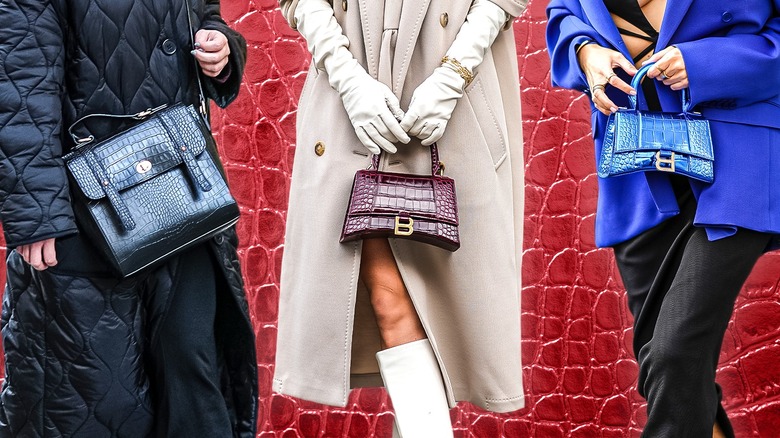 Static Media / Shutterstock / Getty
A gator-like aesthetic is the kind of shoe trend that can elevate your outfits. You might also be intrigued by the idea of crocodile nails. Of course, if you're into this kind of wonderfully wild look, then you definitely need to embrace the trendiest bag texture of the moment: Yes, it's crocodile!
If you're wondering why crocodile is such a desirable material, not only is it incredibly attractive, but it's also a luxury. Because it can be difficult to come by crocodile skins, they tend to be expensive, and, in turn, so are the items that are made from them. Of course, these days, plenty of brands refuse to use real crocodiles for their products. California-based indie shoe brand Freda Salvador co-founder Megan Papay explained to Fashion Magazine, "We never got into using actual exotic crocodile skin for several reasons. The main reason is the embossed croc alternatives look so real it's hard to tell the difference, so why would we ethically choose to do that? We made a point to use tanneries in Italy that are incredible at making calf skin look exactly like snake, lizard, or crocodile, from the color to the raised scales."
When it comes to quality, you don't have to worry about faux croc being a letdown. Instead, Hudson's Bay fashion direction Tyler Franch told Fashion Magazine, "I love that the newest form of the trend comes to us in mock croc! It's the easiest way to inject some affordable luxury into your look."
Classic clutch crocodile bag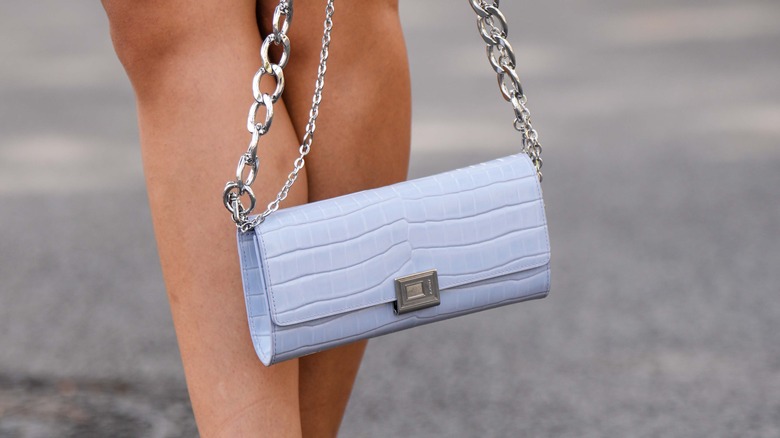 Edward Berthelot/Getty Images
Thanks to the chic look of crocodile bags, they really don't need any additional adornments or design factors to make them so impressive. That's why you may want to keep a classic clutch crocodile bag around for lunch dates, work events, or even formal parties. Although you could opt for any number of colors and use the clutch as intended, modern versions often offer a strap that can be attached or removed for your convenience. You may consider matching crocodile straps, sleek, faux leather straps, or an extra-thick chunky chain strap.
Structured crocodile bag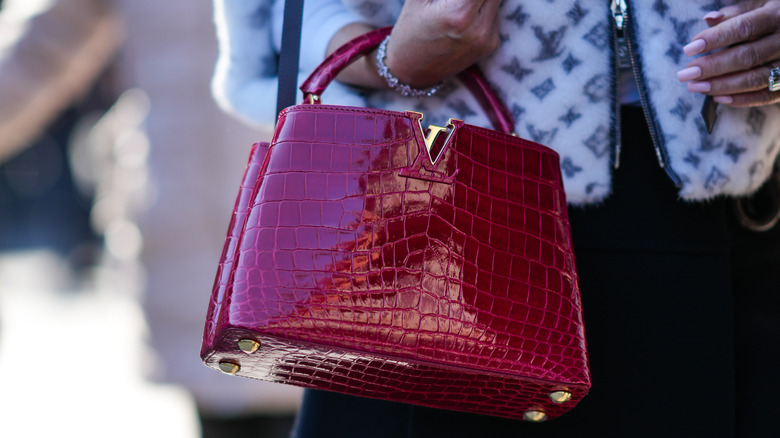 Edward Berthelot/Getty Images
Structured bags are just as timeless as ones that boast a crocodile exterior. The clean lines and sharply angled corners work perfectly with the material and fully show off the enviable design. An ideal option for either a handbag or shoulder bag, depending on the length and shape of the straps, you might find that this bag becomes your everyday go-to option. That's why you might want it in a standard color like black or grey. However, it may be hard to resist one that's navy blue, emerald green, or deep red.
Oval crocodile bag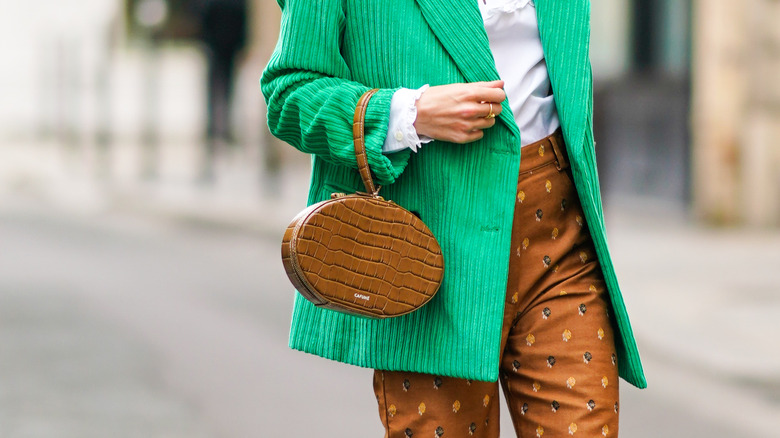 Edward Berthelot/Getty Images
Structured bags don't always have to rely on angled corners. After all, an oval-shaped piece looks just as incredible with a crocodile pattern. Thanks to the stiffness and shape, it's almost like a box-like bag, which becomes a fabulous base for the sleek material. This is undoubtedly another option that doesn't need any additional accents, thanks to the fact that the piece is so stunning on its own. On top of that, the crocodile aesthetic is so striking that you may find yourself on the receiving end of countless compliments every time you use this bag.
Layered crocodile bag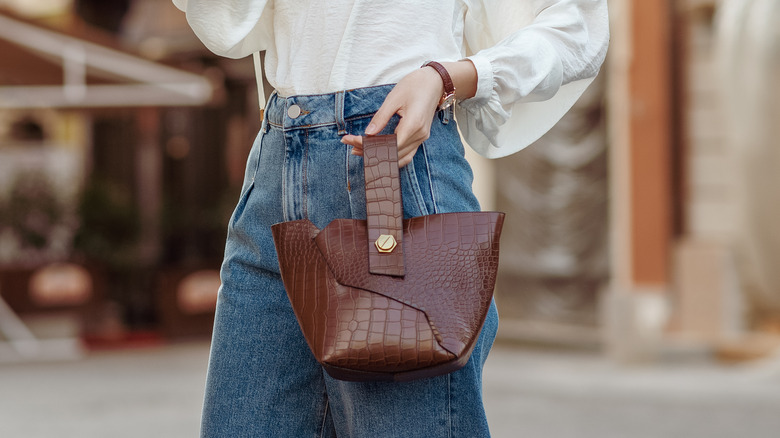 Victoria Chudinova/Shutterstock
Get ready for something relatively unusual in the best kind of way. Due to the fact that crocodile material is already a relatively bold choice, it works perfectly with particularly eye-catching designs. For instance, a layered contemporary style could be an irresistible choice. With multiple seemingly random sections of the stunning material pieced together to create the ideal overall shape, it's not necessary for the animal print to match up perfectly. Instead, having it somewhat mismatched can result in a fabulous visual dynamic that's wonderfully modern and fabulously unique.
Chrome-sheen crocodile bag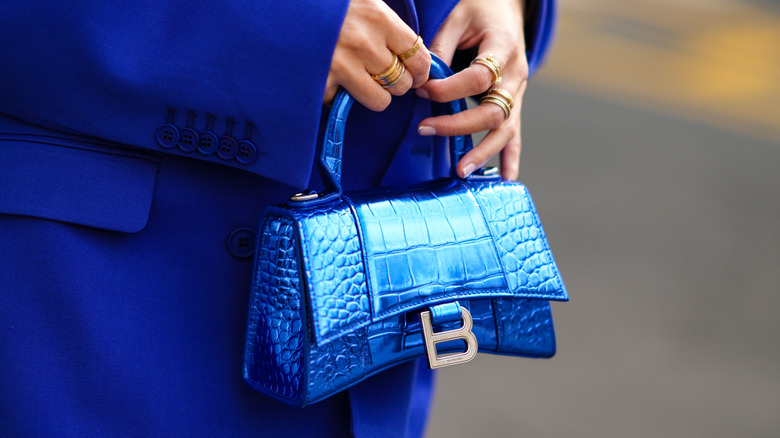 Edward Berthelot/Getty Images
When you see how luscious a crocodile bag looks with a chrome sheen, you'll wonder why there are no IRL metallic-colored crocs. The enviable shine perfectly sets off every shape, line, and groove in the material in a way that will have people noticing your bag and being unable to look away without a second glance. With seemingly endless options, you could choose a bag that boasts a glimmering and almost icy peacock blue, a gorgeous glowing green, or a radiant scarlet red boasting a sheen that makes it look like it's on fire.
Artistic crocodile bag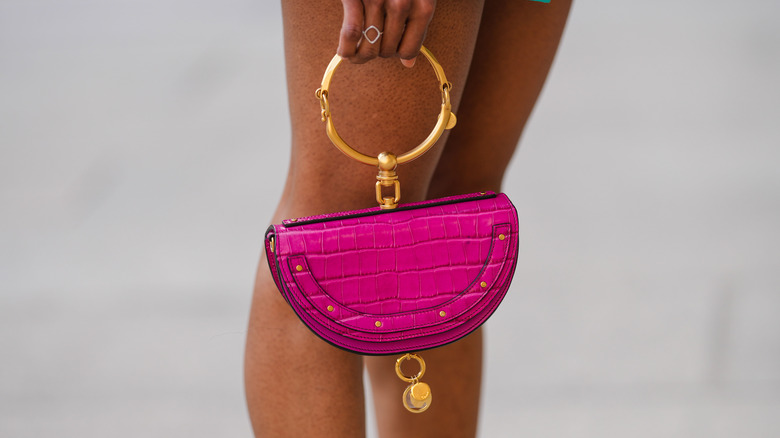 Edward Berthelot/Getty Images
Once you've fallen in love with both the classic and contemporary styles of crocodile bags, you may want to delve into the world of artistic designs. This is a realm where anything goes. That might be bright colors of mock-croc and curved lines as well as gold-plated loop handles with studded accents. Of course, that's just one option. The piece could also include anything from the material in a full rainbow of colors to unusual shapes and unexpected sizes. That's not to mention endless adornments that take the artistic aspect up a notch or two.