Is This The Lip Gloss At The Center Of Kate Middleton And Meghan Markle's Infamous Exchange?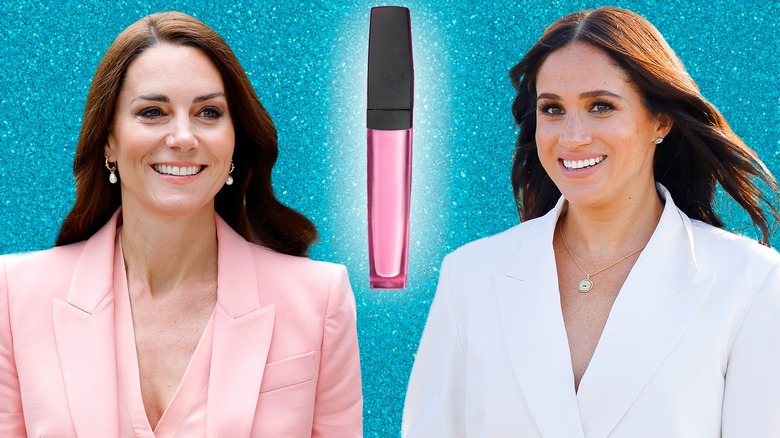 Static Media / Shutterstock / Getty
We may receive a commission on purchases made from links.
There are few things as entertaining as family drama, and famous families like the Kardashian-Jenner clan or the Jonases offer us plenty to talk about. That being said, there is one more family on this list with their many, almost endless squabbles: the royal family. Surprisingly, some of these tense moments among the royals revolve around love, family, and... lip gloss?
In Prince Harry's bare-it-all memoir, "Spare," he narrates an awkward moment during the Royal Foundation Forum in 2018 between his wife, Meghan Markle, and the Princess of Wales, Kate Middleton. Harry writes that Meghan had asked to borrow some lip gloss from Kate backstage at the event, describing the action as "an American thing." He also adds that Kate reluctantly reached into her bag and handed Meghan a tube of lip gloss, out of which the Duchess "squeezed some onto her finger and applied it to her lips. Kate grimaced."
While the tense moment is fodder for anyone who loves the drama, we're unashamedly most concerned with what the lip gloss in question was. We're not exactly sure which it was, but all guesses lead to the Clarins Natural Lip Perfector, a $29 shimmery gloss that Kate Middleton has been caught on camera wearing. Here's to taking royalty-approved beauty inspo from a sticky situation.
What's so special about this lip gloss anyway?
Apart from being Kate Middleton-approved, the Clarins Natural Lip Perfector is a product that has earned its shine, literally and otherwise. The Lip Perfector is a lip gloss balm hybrid that plumps and hydrates while leaving a sheer wash of color. Formulated with shea butter, which is famous for its moisturizing properties, the lip gloss comes with a cushion applicator for easy spreading across your lips. It is available in six shades, from a dusty Rose Shimmer to a peach-toned Candy Shimmer. It's hard to tell if the lip perfector really was at the scene of the royals' exchange and what shade was used. From the photos taken of her courtside at Wimbledon 2019, our guess lies firmly on Rose Shimmer.
With its hydrating formula and beautiful shimmery tints of color on the lips, we can see why this Clarins Lip Perfector is the princess' go-to. However, she's not the only one who loves the product. Reviewers on several retailer sites are praising the lip balm for its even application and sweet vanilla scent. One reviewer on Ulta Beauty stated, "I won't wear anything else on my lips. It stays on long enough for me, it smells great and feels like silk. And the color is perfect for me!" However, other reviewers have complained that the gloss can be a bit sticky, wear off quickly, and that none of the colors suit them.
How to apply Clarins lip gloss
When doing your makeup, certain steps can require more skill or practice, like putting on false eyelashes or lining your lips. However, lip gloss is not one of them, and there are many ways to make it yours.
To apply your Natural Lip Perfector, Clarins says you could either wear it alone on your bare lips or use it on your lipstick for extra shimmer. You can take it a step further by lining your lips with a pencil slightly darker than the shade of the lip perfector you'll be applying. For instance, a dark plum lip pencil would work well with the Plum Shimmer shade of the lip perfector.
While the Clarins Natural Lip Perfector is a fantastic product, $29 for a gloss isn't exactly budget-friendly. In that case, there are close alternatives that can offer hydrating shine at a fraction of the price. One is Naturium's Phyto-Glow Lip Balm, which features shea butter, cupuaçu butter, and squalane and retails for $10. The other is Rhode's Peptide Lip Tint, which comes in four buildable shades and retails for $16. Your pout is yours to decide.