Cozy Fall Date Ideas We Can't Get Enough Of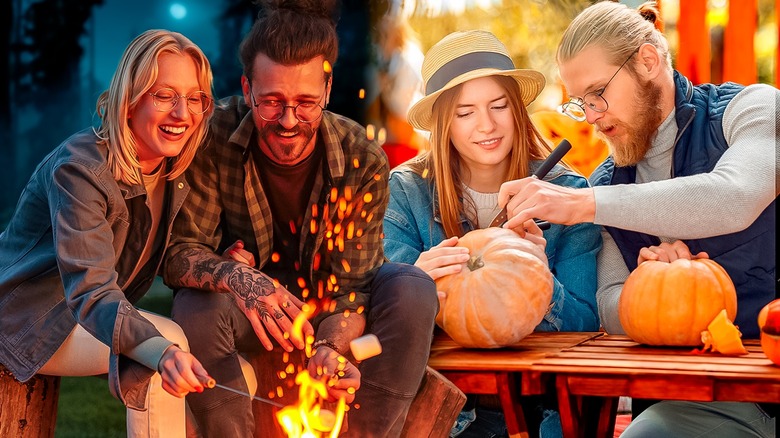 Static Media / Shutterstock
Fall brings gorgeously colored foliage, diminishing temperatures in the northern hemisphere, and a harvest of delicious flavors like apple, pumpkin, pear, corn, and squash. There's a profusion of fall activities to partake in — corn mazes and haunted houses to explore, trails ablaze with color to hike, and farmers' markets filled with an abundance of produce. 
Julia McCurley at Austin, Texas-based matchmaking service Something More explains several reasons that make autumn the ideal season for going on dates and connecting with others. McCurley says, "Fall is when testosterone is naturally highest ... which increases the desire for closeness, making a successful date more likely." If you're hoping to fall in love this autumn, we're here to help you dream up the perfect cozy fall date ideas to try. The ideas suggested below include some that are viable for every stage of your relationship. There are some ideas that work well for first dates, some that are better-suited for couples that know each other well, and many that would even work as date night suggestions for happily married pairs. Now, it's time to get cozy.
Check out Oktoberfest in the nearest host city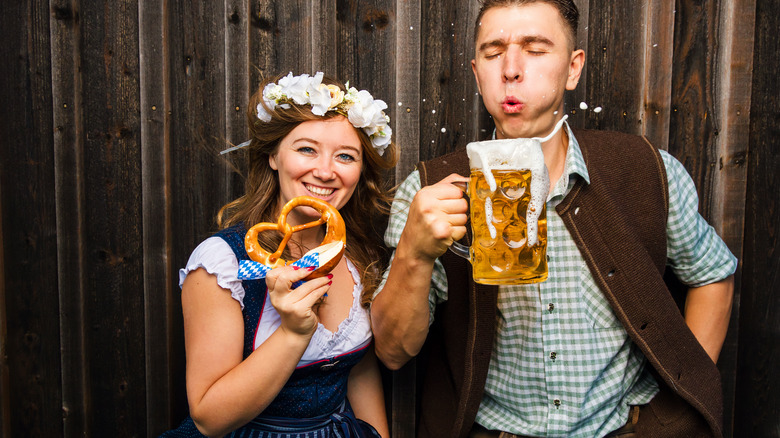 KarepaStock/Shutterstock
Since its beginning in Munich, Germany in 1810, Oktoberfest has grown to be the world's most popular long-running annual folk festival. There are now copycat Oktoberfest celebrations in many other countries, so you and your date don't have to fly to Germany to participate. This would be a fun fall date for couples who enjoy drinking beer and who know each other well enough that they feel comfortable getting tipsy together. We suggest leaving your car at home and taking a taxi or public transportation to this festival so that you and your date can indulge safely without worries about driving home afterward.
According to Vacasa, several of the USA's best Oktoberfest celebrations take place in Helen, Georgia; Fredericksburg, Texas; Bend, Oregon; and Big Bear, California. Many other cities also host similar festivals in the fall. Each Oktoberfest celebration has its own ambiance and flavor, but many of them prominently focus on celebrating Bavarian traditions, perhaps featuring German beer, authentic Bavarian-style music, traditional folk dances, parades, games, and yodeling contests. A common element is German food such as schnitzel, bratwurst, pretzels, and strudel. 
Typical Oktoberfest outfits include traditional dirndls, aprons, and lederhosen. Simone Egger of the Institute for European Ethnology at Ludwig-Maximilians-Universität (LMU) tells Science Daily, "Often, combinations with checkered shirts or blouses catch the eye, but you also see a lot of handkerchiefs tied around the neck, or other accessories of an Alpine nature." Egger adds, "Another major unity are the beer hat, T-shirt and group outfit wearers."
Grab a beverage and chill out at your local coffeehouse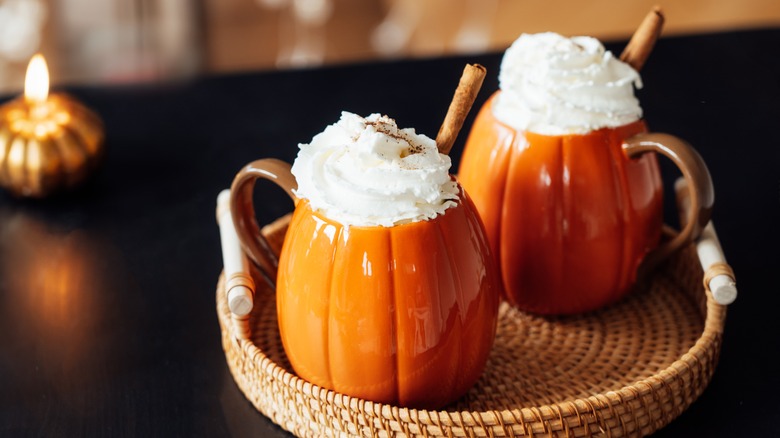 Okrasiuk/Shutterstock
A coffee date can work for couples at every stage of their relationship, from a cozy first date to a relaxing date night for married couples. This is a low-key, affordable fall date idea that doesn't require massive planning. No fancy clothing is required, and you can dress in whatever way makes you feel most comfortable. Nobody will feel pressured to drink alcohol on this date, so it's ideal for the under-21 set or for people who simply want to stay sober.
In autumn, many coffeehouses offer seasonal menu items such as pumpkin spice lattes, pumpkin milkshakes, hot apple cider, and pumpkin muffins in addition to the usual selection of coffees and teas. Even if coffee isn't your favorite drink, chances are good that you'll find an enjoyable beverage to try.
Check the schedules at your favorite local coffeehouses to see if you could catch a planned event at one — perhaps live music, book signings, coffee tastings, game night, pool tournaments, karaoke, or open mic night. If the two of you are college students with upcoming fall midterm exams, you could turn this into a study date. Whether you choose to sit, chat and sip, or you partake in a coffee house-hosted activity like karaoke, this idea will give you a chance to get to know your date better while enjoying each other's company.
Celebrate a fall holiday together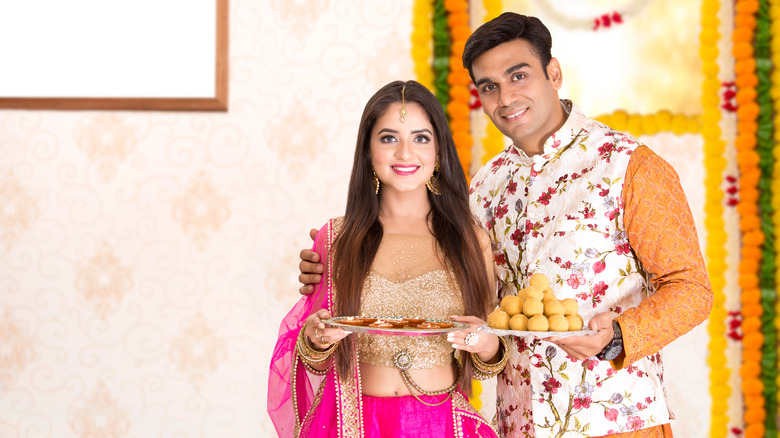 Reliance CCS/Shutterstock
There are numerous fall holidays that couples might want to celebrate together, possibly including Diwali, Samhain, Halloween, World Card Making Day, Rosh Hashanah, Yom Kippur, Sukkot, Simchat Torah, Arbaeen, Janmashtami, Mawlid, Eid al-Ahda, and others. It's relatively easy for couples from the same culture and faith to choose a holiday and a means of celebrating it; it's less straightforward for couples from different countries or faiths to do so. 
In either case, if the relationship is heading in a serious direction, it is helpful for each individual to understand the extent to which the other prioritizes religion and religious celebrations. Rabbi Robyn Frisch, director of the Rukin Rabbinic Fellowship Program at InterfaithFamily, tells Tablet Magazine, "One of the most important things is to learn about your partner's religion. An important aspect is gaining knowledge about the holidays, trying to become both educated and also part of the experience." 
It is totally possible to navigate being in a relationship with someone who has different views on religion than you do. However, an interfaith relationship can have more complexities than one where both partners share the same faith. One of the most crucial challenges is learning to discuss your differences and settle on a path forward in a respectful and supportive manner. If you're an interfaith couple, a fall holiday date can be a useful test of how you and your partner will do with meeting this challenge. 
See a stand-up comedian perform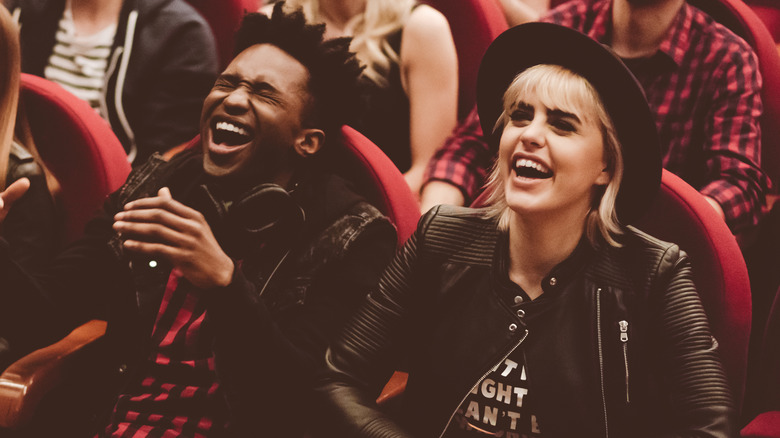 Izusek/Getty Images
Science tells us that laughter has both psychological and physiological benefits, per a 2016 article in American Journal of Lifestyle Medicine. Funny stand-up comedians can have the effect of activating the brain's reward centers, so seeing a live comedy show with a special person would be a fun and enticing fall date activity. If it's a lighthearted and entertaining encounter you're in search of, it's worth checking the schedules of comedy clubs in your area for upcoming performances. You might also find that stand-up comics perform at other venues in your area like bars, cafes, theaters, performing arts centers, cultural centers, or seniors' centers.
Besides just providing comedic icebreakers when you're getting to know your date, a stand-up comedian can also offer you an interesting and non-invasive means of perceiving which subjects your date might react to. If you're hoping to understand what this individual thinks is funny or offensive, this date idea will give you a means of gathering insights. You can skip the step of asking intrusive questions. Furthermore, watching your date's body language during the comedy routine may give you better intel than an interrogation would.
Attend a costume party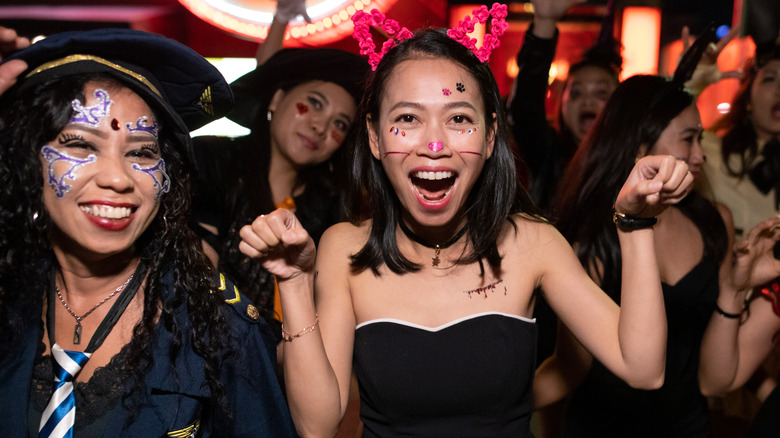 Satoshi-k/Getty Images
Costume parties tend to be popular during the month of October, especially the closer it gets to Halloween. If you've been invited to one or you want to host one yourself, it could be fun to attend with a date. You could even take the time to collaborate on a couples costume together. 
Wouldn't it be amusing if the two of you were to dress up as Sulley and Mike, the lovable monsters from the "Monsters, Inc." film? Or you could dress up as a couple of characters from the "Wizard of Oz," "Scooby Doo," "Grease," or "The Flintstones," to name just some pop culture films and series. Another idea would be to dress up to look like Barbie and Ken. You could both wear costumes to pretend to be vampires or skeletons, complete with scary face paint. You could be pirates or NASCAR drivers. If the couples costume idea doesn't work for you, perhaps you'd rather try some DIY Halloween costume ideas on your own.
Select pumpkins to carve together from the pumpkin patch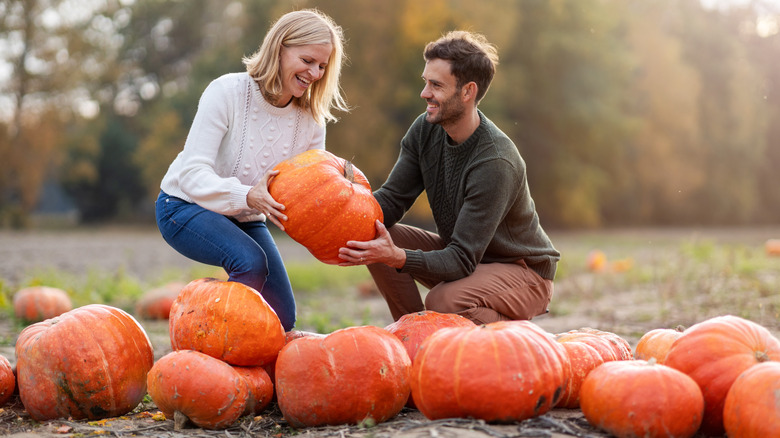 pikselstock/Shutterstock
Farmers and hobby growers who have successfully harvested an abundance of pumpkins, gourds, and squashes often make their excess produce available to the public at this time of year. You'll often find these items available for sale at farmers' markets and pumpkin patches. If one of these markets is open in your area, you and your date could go there to choose pumpkins for carving, decorating, and cooking.  Do be strategic with your pumpkin selection; if you give some thought to the design you want to carve beforehand, you can do a better job of picking a pumpkin in the right shape to facilitate your design. Don't forget to snap a few selfies together amidst the colorful produce.
The two of you have many creative options for carving your pumpkins beyond just the usual jack-o-lantern faces. You can carve letters, ideas, or scary scenes into your pumpkins. Another idea is to carve your pumpkin in a decorative way to make it resemble a lantern or a romantic candle holder.  Relationship counselor and dating coach Samantha Burns, writing at Love Successfully, points out another little-known benefit of pumpkin carving's creative aspects. Burns says, "Being creative allows you to relax, and activates parts of the brain associated with emotional responses and the release of dopamine."
When you're cleaning up the pumpkin guts after your carving session, keep the pumpkin seeds because you can roast or toast them for a delicious snack to share with your date.
Go for a scenic drive with a romantic destination in mind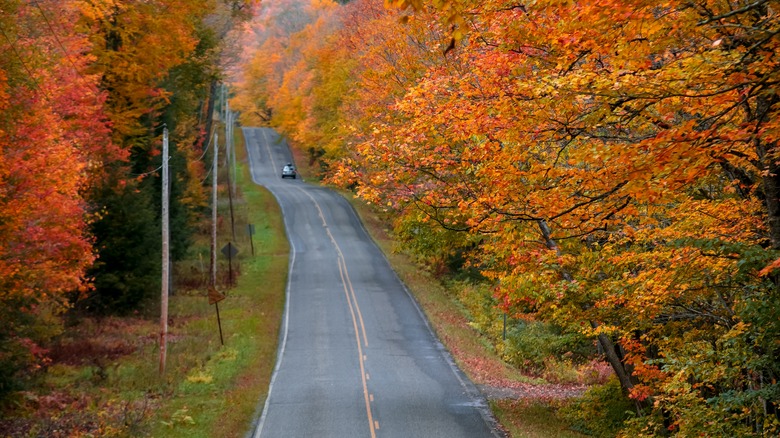 SNEHIT PHOTO/Shutterstock
When it's peak foliage time in your region, that could be your cue to take a road trip with your date. Pick a playlist and explore the most memorable roadways in your area together. We suggest this as a fall date idea for couples who are already well-enough acquainted to feel safe and comfortable alone together in a vehicle.
In the United States, the U.S. Secretary of Transportation has designated  84 especially remarkable roads as being worthy of the distinction of "National Scenic Byways" and "All-American Roads." A few of the most famous include Oregon's Pacific Coast Scenic Byway, Virginia's Blue Ridge Parkway, and the multi-state Historic Route 66. In Canada, the government has specified a list of noteworthy Scenic drives at Parks Canada. A few of these include Prince Edward Island's Gulf Shore Parkway, New Brunswick's Fundy Coastal Drive, and Quebec's Whale Route.
If the two of you are looking for date ideas where drinking alcohol isn't an expectation, this one is fantastic because everyone knows drinking and driving don't mix. It's best to avoid choosing a bar or party as your date's endpoint. Instead, you can select a cozy, romantic restaurant or venue that offers delicious and interesting mocktails as your destination. There are many other charming possibilities. The two of you could go dancing, wander around a museum, see a concert, browse through an appealing antique shop, grab hot beverages at a café, or watch an intriguing movie.
Try dinner and a Halloween horror movie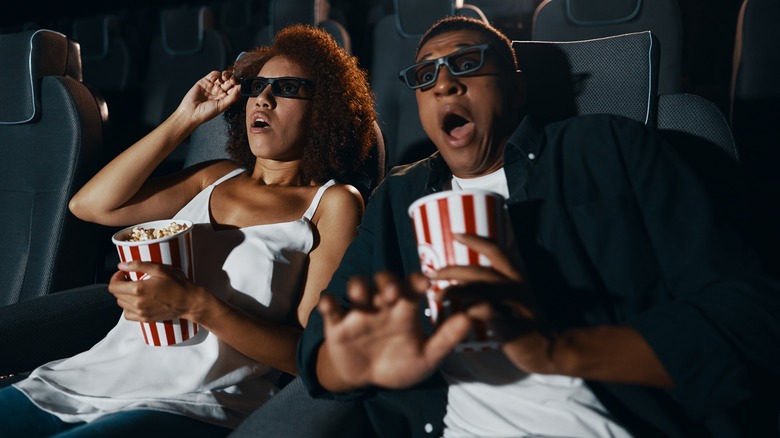 Rovsky/Shutterstock
As a date idea, dinner and a movie has always been a reliable standby. In the weeks leading up to Halloween, you can put a seasonal twist on this dependable idea by making it dinner and a Halloween horror movie.
A horror movie might not seem like the most fun experience you could possibly have on a date. However, research published in a 2020 article in the journal Psychological Science reveals that many people do get a thrill out of being scared. "By investigating how humans derive pleasure from fear, we find that there seems to be a 'sweet spot' where enjoyment is maximized," the paper's lead author, Marc Malmdorf Andersen, said (via Association for Psychological Science). "Our study provides some of the first empirical evidence on the relationship between fear, enjoyment, and physical arousal in recreational forms of fear." Andersent explained that "A 'just-right' amount of fear is central for maximizing enjoyment." So when you choose a horror movie, be sure to pick one that's scary enough to be satisfying but not so frightening that it misses this mark.
Besides the sheer fun of being scared out of your mind, a horror movie also gives you a fantastic excuse to throw your arms around your date and hold on tight. So if you're hoping to find a good reason for snuggling up, a few scary scenes can provide exactly the justification you're seeking.
Pack a picnic meal and head to the park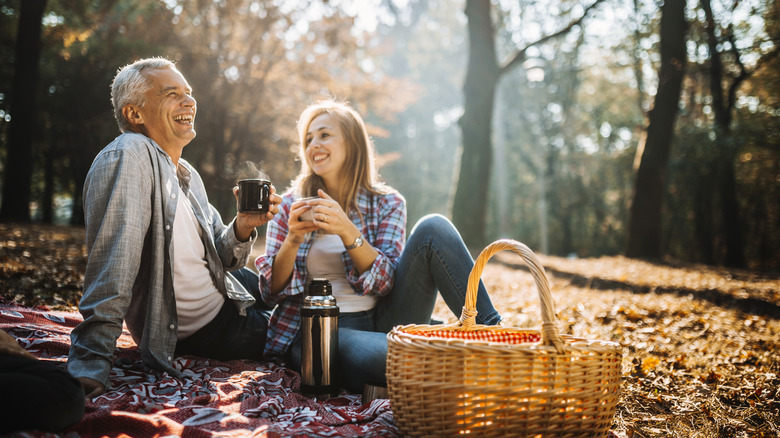 Obradovic/Getty Images
A picnic can be a creative, romantic, and affordable way to spend time with your date while limiting your spending to only the cost of the food ingredients. You can make picnic plans for just the two of you, or you can plan your picnic as a double date with friends. Putting together a successful fall picnic date takes some effort in preparation. You'll want to be proactive about checking the weather report to maximize your chances of choosing a fair weather day rather than a windy or rainy one. If there's any chance of rain in the forecast, you could choose a different day or look for a park that offers a picnic pavilion the two of you can sit under. 
Would you rather sit at a picnic table or spread a blanket on the ground to sit on? Both options require planning — either bring blankets or ensure that your chosen park facility offers suitable picnic tables. You might also want to pack a tablecloth to spread over your table. Fill a basket with your favorite picnic-friendly autumn delights: crunchy apples, juicy grapes, sandwiches, and snacks.
Bring some fun items to extend the date beyond just a simple meal. Perhaps you could take some crossword puzzle books to work on together or reading material to read out loud to your date. Download some music to play on your phone, or bring a guitar or another musical instrument if either of you wants to serenade.
Plan a bonfire and a night of stargazing together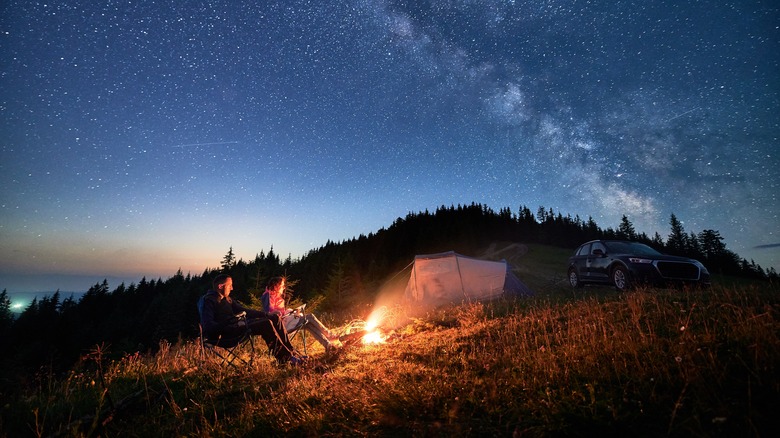 anatoliy_gleb/Shutterstock
As fall days get progressively shorter, the starry nights get increasingly longer. If you and your date are outdoorsy types, you might enjoy grabbing a star map and heading outside to check out the constellations and wish on a shooting star. Planning to stargaze during a new moon and seeking out a Dark Sky Place for the location of your romantic date could make for a very memorable time. If you light a bonfire, you can also toast marshmallows or make s'mores together. 
Stargazing alone in the wilderness isn't necessarily the safest idea for a first date with an unknown person, so we suggest this as a possible date idea for couples who are already well acquainted. However, it's possible to attend community stargazing events that could be totally safe and interesting to take part in on your first date. Many of the USA's national parks have organized stargazing programs and events, including star parties, ranger-hosted moon walks, and courses in telescope astronomy.
Concoct fall treats together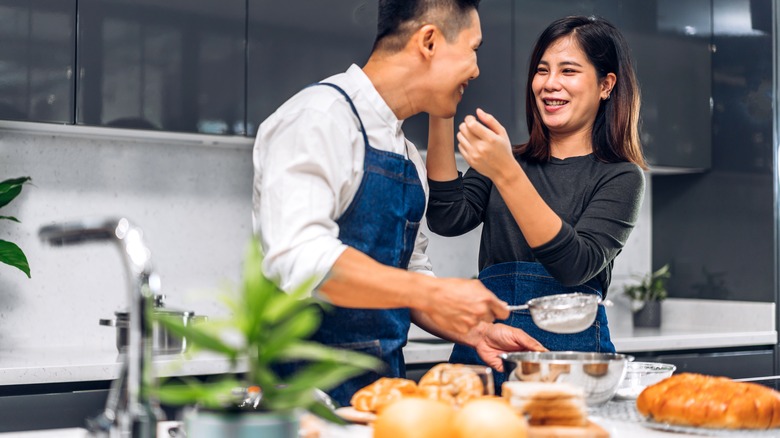 Art_Photo/Shutterstock
Fall brings with it a bounty of delightful flavors that you and your date might want to savor together. You could create a variety of autumn delights, possibly including pumpkin spice lattes, apple muffins, pumpkin bread, caramel apple pie, apple crisp, or any other fall dish that the two of you both happen to like. You could begin the date at a mutually agreed-upon store or farmers market to shop for the ingredients you'll need to make the fall treats of your choice. Then you can head to the kitchen to prepare and enjoy the treats together.
Keep in mind that you can combine two or more of these cozy fall date ideas if you like. Charly Lester at the 30 Dates Blog suggests, "Popping to a deli or supermarket, picking up some dips, sandwich fillings, and some other picnic staples, and then turning the fruits of your labor into a picnic. That way you could make the date a two-stage affair (a technique a lot of people swear by to make you feel like you've experienced more with the other person)."
Take a cooking class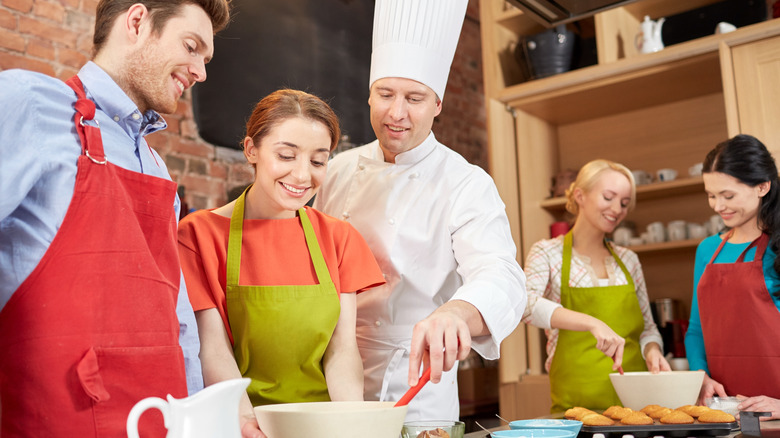 Ground Picture/Shutterstock
If you and your date aren't comfortable in the kitchen, it might be stressful to prepare a dish from scratch. An organized cooking class could be a better date experience, taking the pressure off both of you. With professional guidance, there's less chance that anything will get burned or turn out inedible. You'll both learn how to prepare an interesting dish, which will be a valuable experience whether or not you continue the relationship. If you take detailed notes in the class, you'll be able to replicate your results for future occasions. Plus, you'll both also have the satisfaction of enjoying your freshly prepared treat together.
Charly Lester at the 30 Dates Blog suggests a cooking class as a first data idea. Lester says, "I've done a number of first dates in group settings ... and I think seeing your date interact with other people can tell you a lot about him or her. I think being around other people also lessens the intensity of the date, and going on a date to a class is a really simple, easy dynamic, as the teacher will lead conversation, fill silences, and even help start discussions."
According to Sara Tick, LMFT, a dating company founder and a licensed couples therapist, this is also a fantastic second date idea. Tick told Today.com, "Besides getting a glimpse of how you work together as a team, your date will have a set beginning and end, which is helpful for people who don't like guessing when a date should wrap up."