The 8 Best Sephora Gift Sets This Holiday Season
There's nothing more fun than going to pick up your Sephora birthday gift — except for selecting holiday gifts for your loved ones. After all, giving is arguably more rewarding than receiving! But sometimes, trying to find the best gift ideas for the self-care and beauty aficionado in your life can be challenging, as there are so many products available, and it can be tricky to determine which items will pair well together. Luckily, Sephora offers many pre-determined gift sets to do all the work for you.
Advertisement
There are various gift sets available, from makeup to fragrances, so there will be something for everyone, whether your loved one is a skincare enthusiast or a beauty lover who wants to try every type of makeup. The gift sets also come at various price points, so you'll be able to find the perfect presents for your favorite Sephora fans, whether you want to splurge to give your loved ones a taste of luxury or are on a budget and don't want to spend over $40.
How we selected products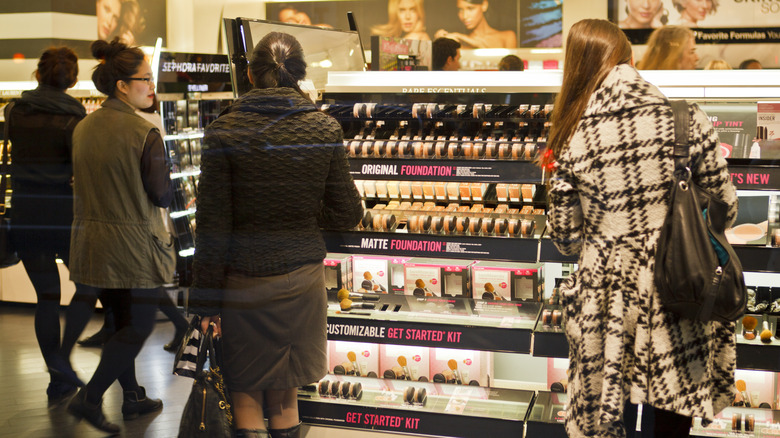 Wdstock/Getty Images
Sephora is super helpful for creating such a wide variety of fun and accessible gift sets. But with that said, all those options can appear overwhelming. Instead of letting our readers panic as they go back and forth over which Sephora sets to gift their loved ones this holiday season, we did the work for you and already researched and narrowed down all the best options.
Advertisement
We made sure to find a set for any gift category you may be looking for, whether that be makeup, skincare, perfume, or haircare. And we're never lazy when researching the best products for our readers. We carefully vetted all the gift sets included in this article by scrolling social media to see which sets people are raving about — versus which gift sets they'd rather skip. We also read many consumer reviews to see what made these sets stand out to shoppers, as well as product descriptions and price points, to land on the best possible selection for each category. 
Best overall gift set: Sephora Favorites Holiday Sparkly Clean Beauty Kit
Anyone who prefers to keep their makeup clean should check out this gift set. It features an impressive variety of six products — some of which include lipstick, blush, lip gloss, and brow gel — and you can't beat the price. Plus, it has 4.1 out of five stars with an 86% recommendation rate. Lifestyle and beauty TikToker @nikicaoo posted an honest video regarding which Sephora holiday gift sets you should buy and which to skip. The TikTok user spoke highly of this set, adding the text, "yesss there's so many amazing clean beauty products & the reusable bag is so cute!!!" 
Advertisement
Purchase the Sephora Favorites Holiday Sparkly Clean Beauty Kit for $42 at Sephora.
Best hair-related gift set: Scalp Revival Shampoo + Scalp Massager Gift Set
This set is perfect for hair and scalp care lovers looking to add a touch of luxury to their showers. HairTok content creator @danniv_x uploaded a TikTok video noting that this is a helpful winter product. People with every hair texture will benefit from this set, and it has an impressive 4.8 out of five stars with a 97% recommendation rate. A pleased reviewer wrote, "My hair has never felt this great before!! Usually my scalp is super dry and dull but I finally have found something that has given it life! It is so smooth and silky and finally feels actually hydrated."
Advertisement
Purchase the Scalp Revival Shampoo + Scalp Massager Gift Set for $42 at Sephora.
Best fragrance gift set: Sol de Janeiro Cheirosa Travel Perfume Set
Do you know someone who loves exploring new fragrances and wants to try various options? They'll love this cruelty-free, vegan fragrance set, consisting of four petite fragrances, so your loved one can change their scent based on their moods. Sol de Janeiro has a cult following thanks to its iconic Cheirosa '62 fragrance — which is included in this kit. The kit has 4.3 out of five stars, with an 85% recommendation rate. A pleased reviewer even wrote, "I love all the scents! This would make a super cute gift. Beautiful packaging. I bought this for myself but I wouldn't hesitate to buy it again or for a loved one."
Advertisement
Purchase the Sol de Janeiro Cheirosa Travel Perfume Set for $34 at Sephora.
Best skincare gift set: First Aid Beauty Hydration Wonderland
Skincare enthusiasts, this one's for you. Sephora employee @thatgirltamikaa shared a TikTok video recommending some specific Sephora gift sets, beginning with this option, noting that the products in the set do a great job at hydrating the skin (much-needed during the colder months) at a very affordable price. Featuring unscented, vegan, cruelty-free, and clean items, this set can do wonders for the skin. Containing a full-size jar of the Ultra Repair Cream and Facial Radiance Pads, along with the Pure Skin Face Cleanser and Hydrating Eye Cream, this set simply can't be beat in the skincare department. With a near-perfect rating of 4.8 stars, the set has a 98% recommendation rate.
Advertisement
Purchase the First Aid Beauty Hydration Wonderland — Full Face Routine Holiday Gift Set for $49 at Sephora.
Best budget-friendly gift set: Laneige Midnight Minis Set
Many beauty enthusiasts who love rocking smoother, fuller, and healthier lips adore the iconic Laneige lip sleeping masks. Not only is Laneige mega-popular among the #BeautyTok community but the products are always raved about on Instagram as well. This set will give the lip-care lover in your life a taste of all five delicious flavors for juicy-looking and sweet-smelling lips. The gift set has 4.3 stars with a 92% recommendation rate, and a happy reviewer wrote, "Best gift for you or someone else. The scents are delicious and they're so cute. A little goes a long way and they keep your lips soft!!"
Advertisement
Purchase the Laneige Midnight Minis Set for $20 at Sephora.
Best splurge-worthy gift set: Glow Recipe Best of Glow Wishlist Kit
Glow Recipe became huge after "Shark Tank" — and for good reason. If you want to splurge on a loved one, treat them to this skin-quenching skincare set featuring eight full-sized best-sellers — a few of which include the Avocado Ceramide Moisture Barrier Cleanser, Plum Plump Hyaluronic Acid Serum, and Watermelon Glow Niacinamide Dew Drops. While this set is more expensive than the other options on this list, reviewers believe it's worth the price, as it has 4.7 out of five stars with an incredible 100% recommendation rate. A pleased consumer even wrote, "Great value, was considering buying 2 or 3 of the items anyway and realized I get a lot more for an extra $70. The toner is my fave, and now I'm hooked on it all."
Advertisement
Purchase the Glow Recipe Best of Glow Wishlist Kit for $199.
Best nail polish gift set: Sephora Collection Color Hit Nail Polish Set
Need a gift that's not makeup, hair, or skincare-related? We've got you covered. While Sephora doesn't have a lot of nail-related gift sets, this is a cute, fun, and inexpensive option for all the nail polish enthusiasts in your life (and makes for an adorable stocking stuffer!). The kit provides an excellent balance of neutral and colorful shades — in addition to a top coat. TikTok user @shine_on_with_me even posted a video captioned, "This cute nail polish gift set from [Sephora] is a great gift option!" Thus, anyone who enjoys frequently exploring different nail polishes exuding unique vibes will likely appreciate this gift.
Advertisement
Purchase the Sephora Collection Color Hit Nail Polish Set for $20.
Best makeup brush gift set: Sephora Collection Complete Brush Set
If you're close with anyone who's been talking about needing new face and eye makeup brushes — or has just been using their fingers to apply their products — this set will make their life significantly easier. And it's affordable! This gift kit features seven vegan items and will have the receiver entirely covered, from their cheeks to their eyebrows. Not only does it have 4.6 stars, but 92% of reviewers recommend it. One impressed reviewer noted, "I love this brush set because it is nice high quality. Plus, this set has the best of both worlds- bigger brushes for larger coverage and smaller ones for the more precise movements! Thanks Sephora!"
Advertisement
Purchase the Sephora Collection Complete Brush Set for $49.