We Designed Our Own Taylor Swift & Travis Kelce Game Day Nails & It's A Must-Copy For Swifties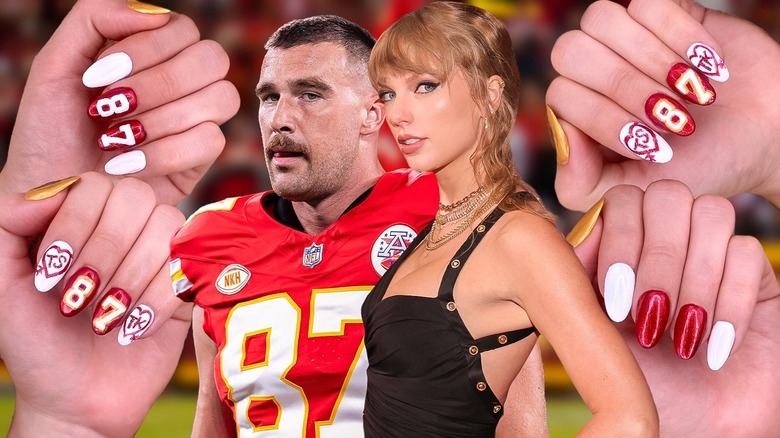 Robyn Song / Static Media / Shutterstock / Getty
We may receive a commission on purchases made from links.
There's no denying that 2023 has been Taylor Swift's year — selling out stadiums and breaking box-office records speak for themselves — including the "Style" singer having a (foot)ball with a new beau: Kansas City Chiefs tight end Travis Kelce.
Although we can't say for sure that these two are going steady just yet, Swift has attended several Kansas City Chiefs football matches since September, and a photo of the singer kissing the athlete's cheek surfaced on Instagram after an October 23 game. If you thought the duo's story was giving "Miss Americana & the Heartbreak Prince," you're not alone. Whether you continue to watch Chiefs games as a Swiftie or a legit fan of the football team, we've got just the nail art idea for you to show both Swift and Kelce some love.
For our design, we pulled from some of the singer's recently worn nail art featuring bold golds and reds, which just so happen to work perfectly with the Chiefs' color scheme. Best of all, it doesn't take much prep to pull this sparkling set off. That's because it only uses three classic colors and a top coat, such as Essie's Good to Go! Fastest Drying Top Coat. Ready to rock your own Kelce and Swift-inspired manicure for game day?
How to start your Swift x Kelce mani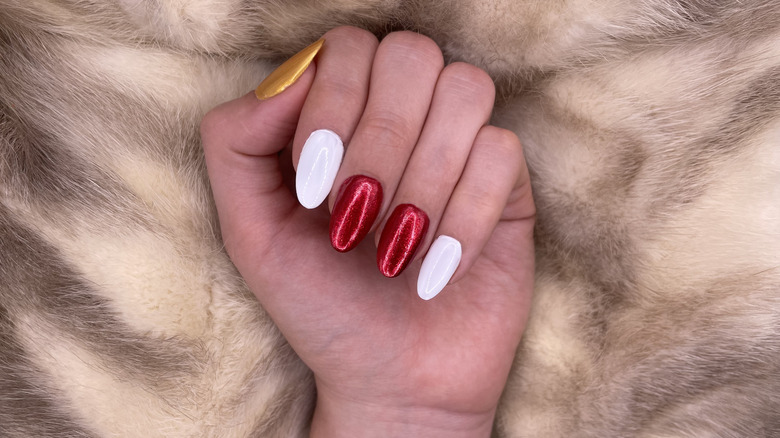 Robyn Song / Static Media
For any variation of this design, you'll need a few basic supplies. Most importantly, secure some gold, red, and white nail polish. A nail art kit is useful, but a toothpick or sewing pin can work in a pinch. From there, don't worry about the state of your current set — this will work for natural, artificial, or press-on nails. If using your natural nails, you may want to start with a clear base coat or ridge filler, but it isn't a deal breaker if you don't. Those with artificial nails can choose a clear or solid base coat to protect their nails before they paint.
Next, start laying down your base colors in gold, white, and red polish. We used a deep sparkling red — Kiss My Aries from OPI's Big Zodiac Energy Nail Polish Collection — for our two center nails. However, you can use any red you've got on hand. Then, apply an opaque white shade to your pointer and pinkie nails. We picked Blanc by Essie, though any bright white lacquer will do the job. Finally, coat your thumbnail with a metallic gold, making sure it's not too sheer. We reached for Scar from Nailtopia. After each coat dries, apply a second layer of lacquer to even everything out and let them set for a few minutes before proceeding to the next step.
Getting closer to the finish line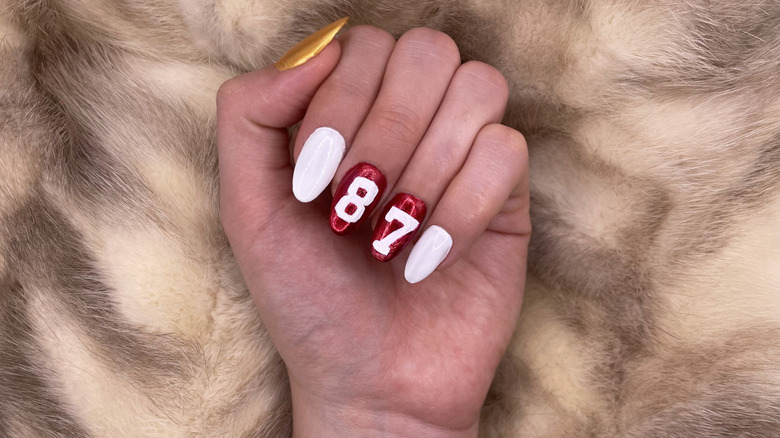 Robyn Song / Static Media
If you aren't sure about your detail-painting skills, you can stop at any point from here — the base colors alone are perfectly appropriate for any Kansas City Chiefs fan. But for those determined to give it a try, we've got you covered. Using your white nail polish of choice, dip a nail brush, spotting tool, or toothpick into a small puddle of product. Then, begin outlining Kelce's jersey number — 87 — on the two center nails.
If the polish gets tacky or sticky, don't worry. Pour a little more out, or dip your nail tool directly into the polish bottle cautiously to retrieve fresh lacquer. You can also keep a capful of polish remover at your workstation to thin out the colors and clean your tools. If using a nail brush, be careful not to swirl it too vigorously into the nail polish remover. Acetone and other polish removal products can break down the glue inside your brush, causing the bristles to fall out. 
With your outline down, bolden the numbers so they take on a blockier appearance like the ones on Kelce's jersey. You may notice a textured, uneven appearance as you add your final layers, but this is totally fine and won't affect the final result.
Put Travis and Taylor's names in the Blank Space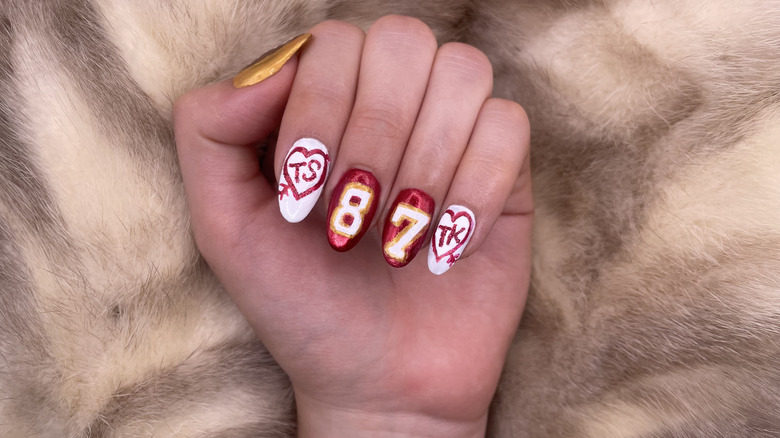 Robyn Song / Static Media
Of course, we can't forget to include a nod to Taylor Swift in our final step. After watching her "Blank Space" music video — which is extra appropriate thanks to "1989 (Taylor's Version)" released on October 27 — we knew just the thing to place on our spare nails: matching heart carvings for her and Travis Kelce. This step is a little trickier for novice nail painters, but you can easily alter it. Instead of sketching both parties' initials, leave the hearts blank or stick with simple "T"s instead.
For the heart-inspired nail art, take the same red nail polish from before and pour a small droplet onto your palette. A sewing pin, toothpick, or small dropper is best for this design, as it uses very fine lines. Slowly sketch out a heart on each nail, followed by the initials. For each letter, use a dotting tool or toothpick to create a thin, dotted outline. We also outlined our jersey numbers in gold and painted a football atop our thumbnail, but these steps are purely optional.
With your negative space designs finished, it's time to seal the deal: Let each nail dry completely (or you may risk smudging your handiwork), and then apply an even glaze of topcoat. This will smooth out any imperfections in your paint job and give your nails a shiny finish. All that's left to do is figure out your game-day plans!