Leather Maxi Skirts Are Trending For Fall 2023 - Our Best Styling Tips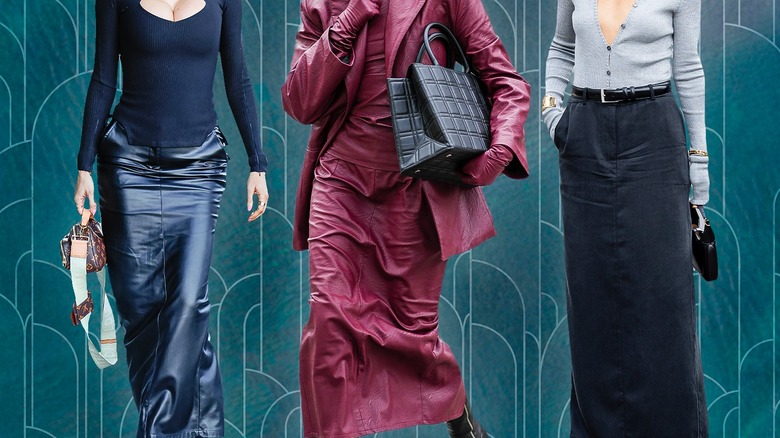 Static Media / Shutterstock / Getty
The allure of leather skirts is undeniable. Embraced by fashionistas, influencers, and designers, leather skirts always seem to claw their way back into our stylish and bold looks. Don't just take it from us: Many fashion-forward content creators have taken to TikTok to showcase the trendy staple, with #leathermaxiskirt amassing over 972,000 views. Admittedly, leather skirts have the ability to seamlessly blend edgy sophistication with timeless elegance. When in maxi length, they transcend fashion trends, offering a wide array of styling possibilities for every season — making them a staple piece of our wardrobes. 
Whether you're aiming for a bold, urban look, a more refined and polished ensemble, or a playful casual attire, the leather skirt rises to the occasion as the it-girl fashion trend. This season, leather maxi skirts are more stylish than ever before, pushing aside their shorter-hem counterparts. Casual chic, Barbiecore reinvented, the revamped cowboy look, and the preppy school-girl wear — we've rounded up our favorite ways of styling your maxi leather skirt to ensure that you're always en vogue this season.
Leather skirt and a dash of Barbiecore
Paul Archuleta/Getty Images
It's only natural that the Barbiecore fashion trend would find its way into our fall ensembles and add a dash of color to our — otherwise dull — colder weather garments. Pair your maxi leather skirt with a vibrant pink jacket (or any other pink accessory) and instantly transform your outfit into a head-turning one. For added playfulness, complete the look with a pair of shoes that sport pink accents. Girly yet feminine, playful yet chic, this style perfectly incorporates the Barbiecore hype with your beloved leather skirt.
Leather skirt and the versatile suit jacket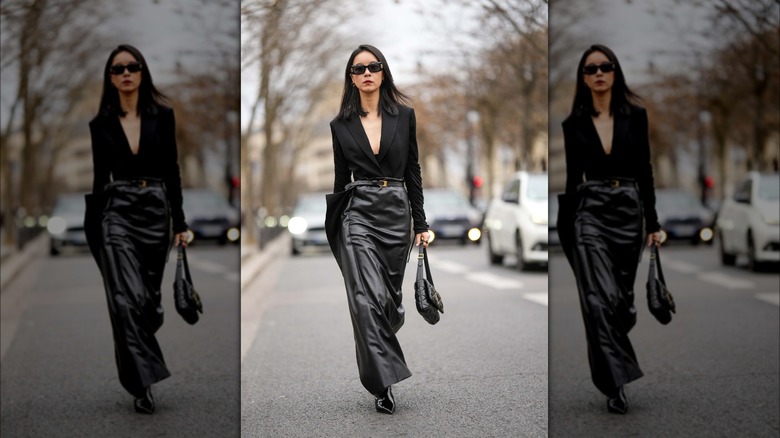 Edward Berthelot/Getty Images
A slim-line suit jacket made of thin material makes the perfect pair for your maxi leather skirt. Tucked in the waist and cinched with a belt, the jacket effortlessly assumes the role of a blouse but instantly elevates the look into a cat-walk-worthy one. The overall result is elegant yet incredibly sexy, especially when completed with stiletto pointed-toe pumps. Perfect for a business meeting or a night out, this style will ensure that you make a bold fashion statement wherever you go.
Leather skirt and leather boots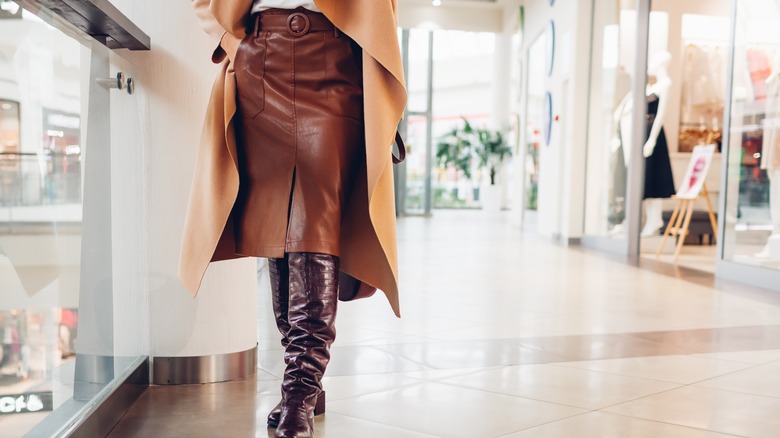 Mariia Boiko/Shutterstock
Elevate your fashion game by pairing your leather skirt with leather boots. While this type of pairing is associated with midi skirts, it is a look that can be used to style longer hemmed skirts. The sleek combination of the skirt and boots creates a powerful silhouette, making it ideal for both casual outings and more formal events, depending on how you choose to complete the rest of your ensemble. Try a chic long coat and a trendy micro-purse for a night out and a denim jacket paired with a satchel bag for a casual affair.
Leather skirt and an oversized checkered jacket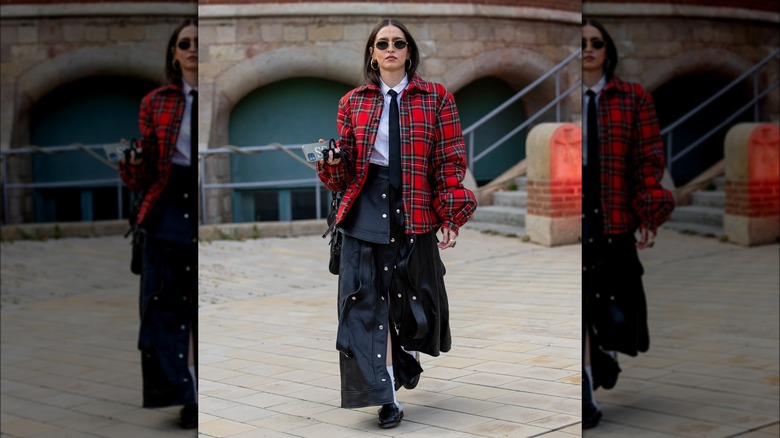 Christian Vierig/Getty Images
Revamp your fall wardrobe and nail the preppy school-girl outfit trend. To achieve the look, style your leather skirt with an oversized red checkered jacket, a white shirt tucked at the waist, and a sleek black tie. Rock this chic ensemble and turn your staple leather skirt into a fashionable statement, perfect for the colder fall weather. As an added bonus, rocking this style will help you stay in sync with the school uniform look that was all over Fall 2023 runways. 
Leather skirt and a vibrant blouse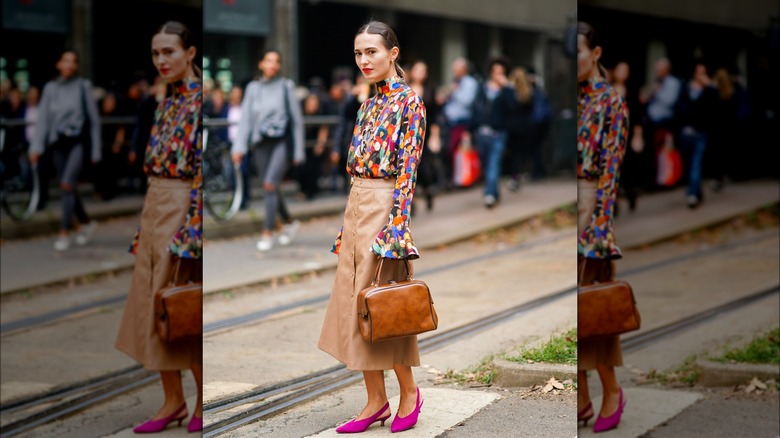 Edward Berthelot/Getty Images
Who says fall wardrobes should stick to monochrome color palettes? This fall, step out of the ordinary and embrace colorful tops to pair with your season's leather staple. A vibrantly colorful blouse with sleeves that end in a cascading frill is everything you need to add a dash of pizzazz to your colder-weather attire while styling your favorite beige maxi leather skirt. Complete the look with stunning kitten-heeled shoes.
Leather skirt and cropped turtleneck sweater
A turtleneck sweater should be a staple in our fall wardrobes. It is versatile, easy to style, and cozy to wear. Pair this fabulous staple with another staple — your favorite maxi leather skirt — to achieve an ultra-elegant look perfect for any occasion. Finish the look with a pair of boots and an edgy studded belt, complete with a classy clutch bag. For an even more casual appeal, wear it with a pair of comfy sneakers and add a denim jacket.
Leather skirt and fluffy coat topped with a fedora
Christian Vierig/Getty Images
This fall, embrace the essence of the cowboy look with a contemporary, fashionable twist. Elevate your attire by pairing your maxi leather skirt with a fluffy jacket. To add a touch of glamour and complete the ensemble, top it off with a stylish fedora hat. This combination exudes confidence and fashion-forward elegance. Plus, it's sure to keep you warm — a total win-win.
Leather skirt and striped top for a nautical vibe
The nautical look is never out of fashion and always finds its way into our outfits, be it in the summer or fall. For a chic navy-inspired look, pair your leather skirt with a striped top to create a casual ensemble. A black denim jacket will keep you warm on those windy days while giving your look the timeless appeal of the beloved navy stripes and jeans combo.