Cocoon Coats Are The Luxe Outerwear Trend We're Investing In For Fall 2023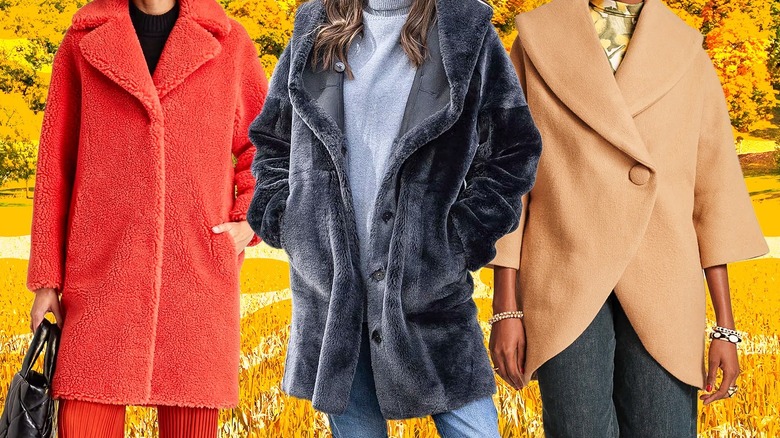 Static Media / Shutterstock
Fall is the time for all things cozy. Since the weather is starting to chill out, it's time to break out our classic coats and jackets to give us that extra warmth for our autumnal wardrobe. However, this season, our sleek and slim coats are taking a backseat in favor of a much larger trend. As we saw on the runway from brands like Max Mara and Loewe, the oversized cocoon coats are the new must-have for the season.
The baggier and less structured your coat is, the better. Not only can these cocoon coats give you the "perfectly imperfect" look, but they will keep you warm and comfortable the entire season long. Think of it as a chic blanket you get to wear outside, and that will make your ensembles stand out even more. Depending on your cocoon coat and your outfit underneath, there are plenty of ways to add this hot trend to your wardrobe without feeling overwhelmed by fabric.
Add all the layers
While cocoon coats seem overwhelming, it's best to embrace the chunky piece with plenty of layers. Add layers to your outfit so the oversized silhouette looks intentional and high-fashion. Go for a chunky scarf similar to those shown during Apiece Apart's Fall 2023 presentation. Wear it tied around your neck or as an accessory; there are plenty of ways to amplify the warmth with an extra heavy scarf along with your cocoon coat.
Texturize it
Adding texture to any piece of clothing helps bring another visual component to your look that's vital if you want a sophisticated fall wardrobe. The more texture you have in your piece, the more fun you can have with creating something interesting. A texturized cocoon coat is heavy and thick, making it ideal for pairing with lightweight materials like satin or silk for a surefire high-fashion combination.
Keep it classic
A long black coat can take you far in creating a fall wardrobe that lasts you for many years to come. A black cocoon coat takes this classic garment and gives it a modern twist by emphasizing the oversized fit. Even if the oversized trend subsides in the future, a classic black or other neutral coat will remain a timeless item that you can wear with anything. Use a belt to cinch in the waist or leave it open to reveal a chic look underneath; there are endless possibilities when opting for a neutral hue.
Showcase the rest of your 'fit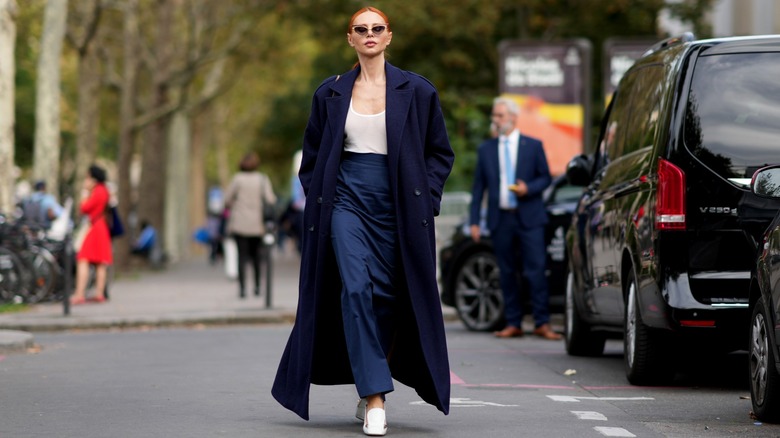 Edward Berthelot/Getty Images
If the weather allows, leaving your oversized cocoon coat open to showcase your ensemble underneath will give your look an extra emphasis. By framing your outfit with a cocoon coat, you'll draw attention to the items you masterfully put together. Take inspiration from Tod's, a brand which uses these cocoon-style coats to make a range of outfits more appealing and exciting.
Wrap it around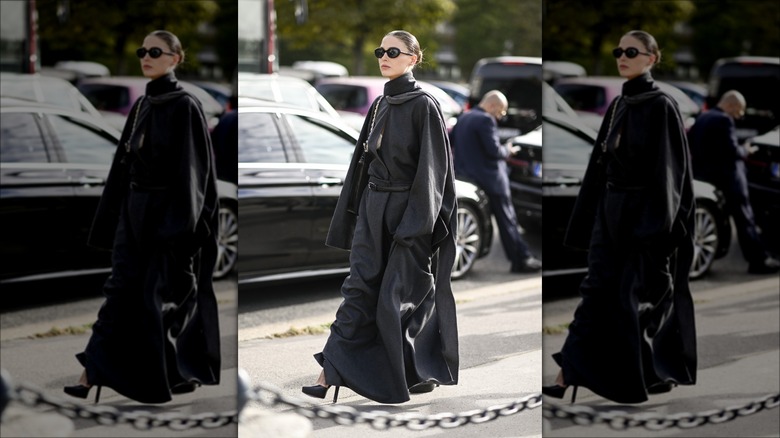 Daniel Zuchnik/Getty Images
While wearing such a heavy and thick coat can be overwhelming for your frame, you can also make it into a sleek piece. If you want to get a more fitted silhouette but stick with the oversized trend, you'll need the help of one accessory. Adding a belt, whether part of the coat or as a separate piece, will easily cinch in your waist, creating an hourglass figure. Cinching in the waist will also result in a more oversized fit on top, which works especially well if you opt for an outfit with a shorter hem.
A new trench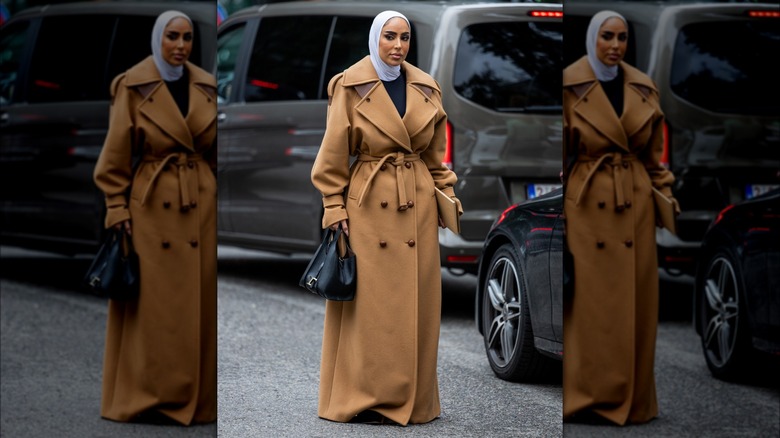 Christian Vierig/Getty Images
Your favorite trenchcoat is a staple for the fall season and is a must-have regardless of your style. Bring this same classic and sophisticated style to your cocoon coat by opting for a piece that shares similar elements. Instead of an open coat, opt for a cocoon coat with double-breasted buttons. You can also choose khaki or beige-colored coats that mimic the traditional trenchcoat. An oversized typical trench will allow you to get the best out of the classic and trending worlds of fashion.