The Return Of Thigh-High Boots Has Us Ready To Strut Into Fall And Winter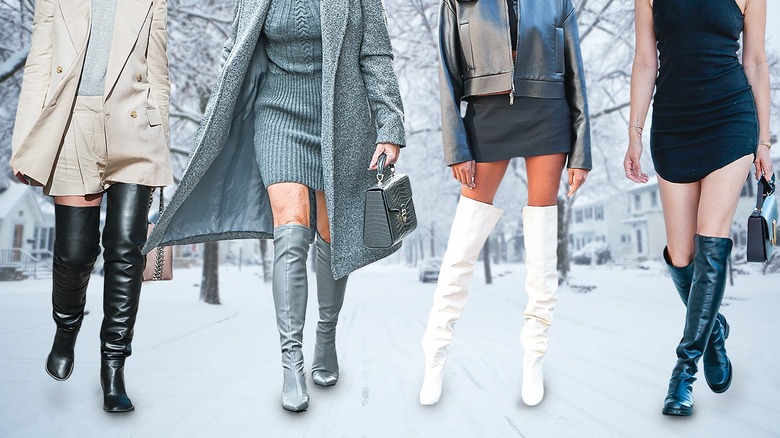 Static Media / Shutterstock / Getty
There are no fall and winter fashion trends without a few boot styles to mix it up. Regardless of what the trends are at the moment, boots will always prevail. After all, boots are synonymous with the season, so it's crucial to have a mixture of styles that'll hold you over for whatever looks you come up with during this time. One important boot style to have in your closet is the classic over-the-knee boot. While everyone knows ankle boots have taken over the trends in the last couple of seasons, the over-the-knee boot is ready for its comeback, and your shoe closet will never be the same.
Apart from the sleekness of these shoes, over-the-knee boots give the energy of confidence and power. Whether it's the tall silhouette or the form-fitting design, over-the-boots are a safe bet for any style. Even those with a softer, feminine aesthetic will find that certain styles of these boots can help add a modern touch to your closet. Plus, over-the-knee designs are essential if you want your fall and winter closet to radiate confidence.
Lace it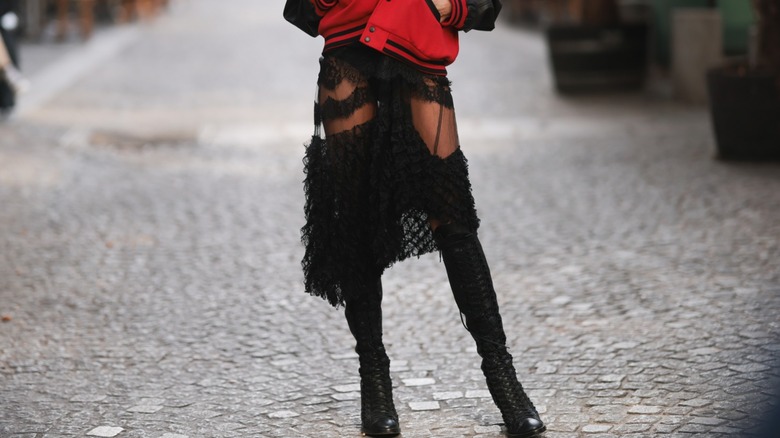 Jeremy Moeller/Getty Images
While some might underestimate the power of lace-up boots, they give the perfect punk-rock look to any outfit. In other words, having lace-up over-the-knee boots is a grunge detail that'll add some edge to any look, which we saw on the runway with Acne Studios. They might be a bit more work, but once you've laced up, you have a great extra detail that'll elevate any look. For a softer approach, opt for a white or lighter color.
Headed to the disco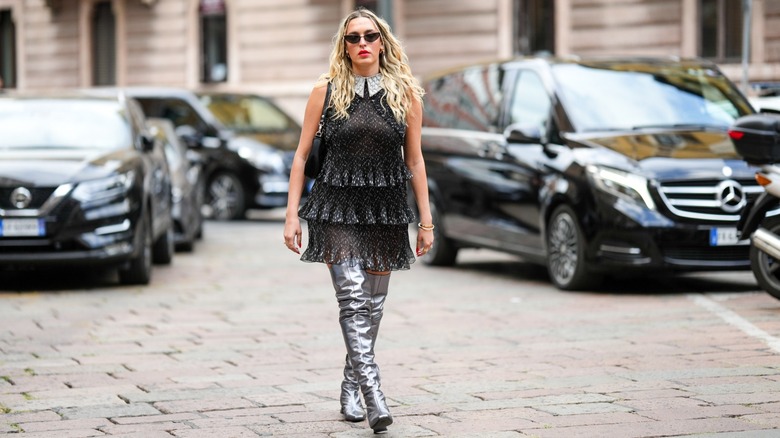 Edward Berthelot/Getty Images
There's nothing you can't add glamour to, and metallic boots are a prime example of that. Silver, gold, and sequined over-the-knee boots are one way you can add some sparkle and fun to your fall and winter wardrobe without having to commit to a head-to-toe, shiny look. While these boots are an ultra-statement option, you can downplay them with neutral or toned-down items. You can also embrace the chaos and opt for a fall or winter 'fit complete with sequins, feathers, prints, or more.
Soften up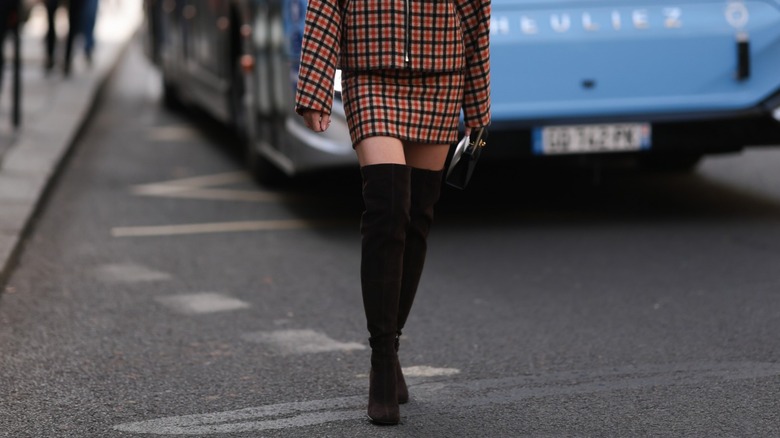 Jeremy Moeller/Getty Images
We know that leather boots add some grunge to your outfit, but if you want to soften it up, opt for a less rough material. Suede boots, for example, will always be a classic in the fall and winter because they look and feel cozy. Add some of this texture to your seasonal wardrobe and reach for a pair of suede over-the-knee boots. Apart from softening your look, these boots give you a slightly Western touch, which we saw on display during the Area Fall Winter 2023 show.
The denim days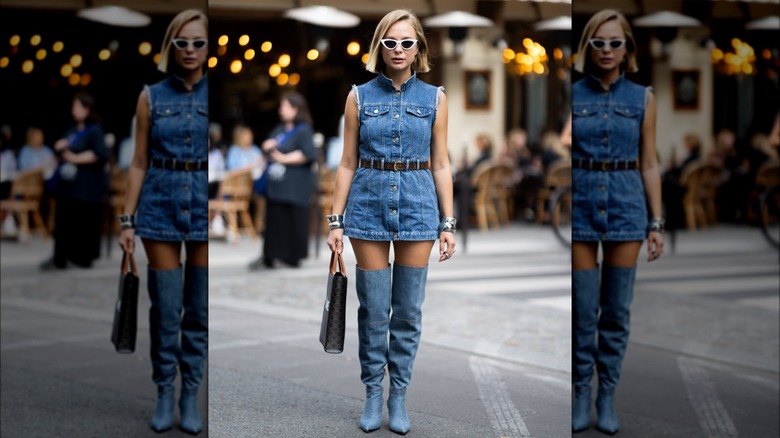 Valentina Frugiuele/Getty Images
Although denim boots aren't always the most common option, they're a showstopping item with plenty of casual vibes. Denim over-the-knee boots are perfect if you're looking to pull off a double denim outfit or you want to add some of this rigid texture to your 'fit. Regardless, this denim material is perfect if you want a bolder boot that's still useable daily.
Animal instinct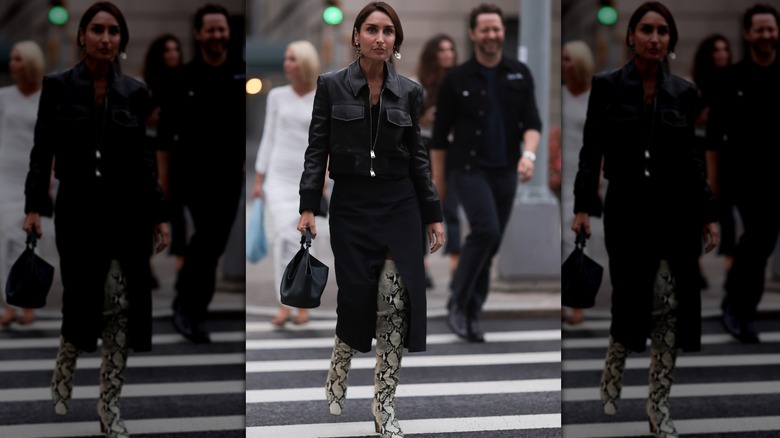 Jeremy Moeller/Getty Images
While the days of utilizing animal prints may have decreased thanks to stealth wealth and other minimalist trends, they're ready for their comeback as well. There is no better pairing for an animal print than your over-the-knee boots. Although this pairing is a classic, it's time to wear them out again. Designers like Andrew Gn and Philosophy Di Lorenzo Serafini gave everyone their version of the animal print over-the-knee boot with plenty of inspiration for incorporating them back into our wardrobes.
Brighten your walk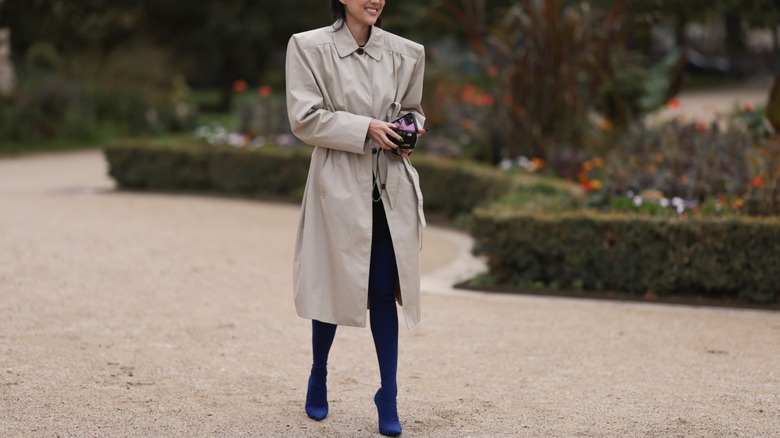 Jeremy Moeller/Getty Images
Bright and bold colors will make any fall and winter closet stand out from a sea of neutrals. Knowing that color is likely the best way to set yourself apart, opt for a pair of vibrant over-the-knee boots to create an exciting pop of color for all your ensembles. There's no need to alter your fall and winter wardrobes, as bold hues can pair perfectly with any neutral pieces you already own.