Micro-Ruffles Are Taking Over 2024 - Our Tips To Try The Trend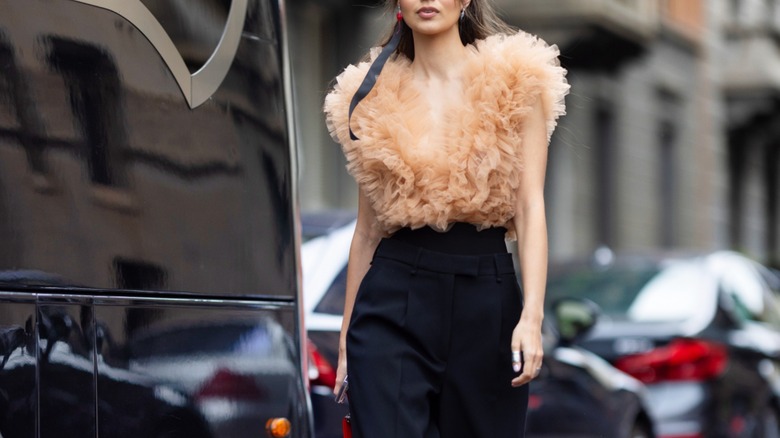 Valentina Frugiuele/Getty Images
When it comes to texture, ruffles add an effortless and whimsical look to any outfit. Whether a ruffled piece or accent, this simple style element can add plenty of movement and femininity. For 2024, ruffles will not only make a statement in your ensembles, but they'll also do it on a micro-level. Micro-ruffles are minimally-ruffled fabrics that look like ruched tulle and are far from over-the-top style accents. Designers including Molly Goddard (via Vogue) have repeatedly used micro-ruffles in their collections to achieve a girly, fairylike image that's impossible to ignore.
Regardless of your style preferences, micro-ruffles can offer many benefits. For those who prefer minimalism, micro-ruffles can add texture and dimension to your 'fit, preventing it from falling flat. The key to styling micro-ruffles is using them however best helps achieve your style goals. In some cases, micro-ruffles can create an ultra-feminine touch for dresses, while, in others, they can provide a dynamic contrast to a more masculine ensemble.
Tousled layers for cold weather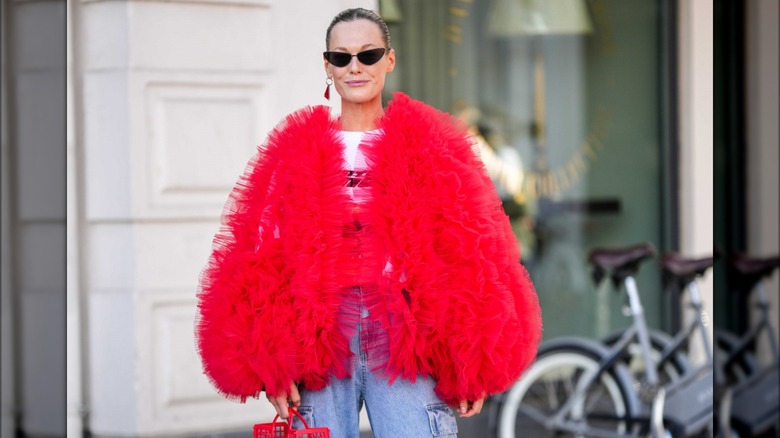 Edward Berthelot/Getty Images
When the weather is a little chillier, a micro-ruffle coat or jacket can be the critical piece to turn a cold-weather outfit from drab to high-fashion. Take it from Adeam, which showcased blazers and jackets with micro-ruffle details in monochromatic outfits, showing us that even masculine designs can get frilly. Style your ruffled jacket with jeans or simple trousers to offset this dramatic vibe.
Wearable pouf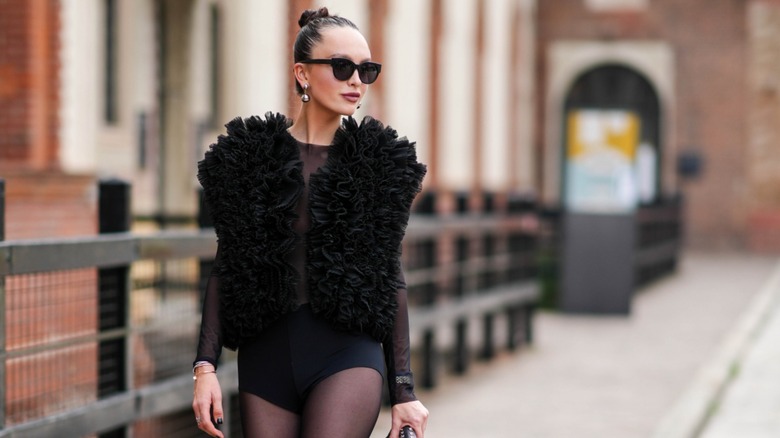 Edward Berthelot/Getty Images
With this kind of theatrical style element, it's easy to assume you can only wear micro-ruffles for special occasions. While they do serve an elegant touch, micro-ruffles are also wholly wearable for every day. Rock a micro-ruffled top or blouse for a romantic touch that elevates your day-to-day wardrobe in 2024. For their spring collections, brands like Bora Aksu (via WWD) showcased micro-ruffles with sophisticated tops for a whimsical ensemble that perfectly suits the office or the grocery store.
Frilly accessories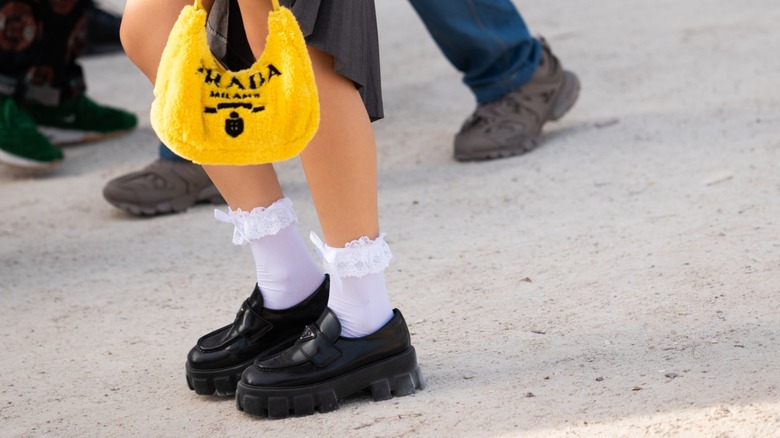 Claudio Lavenia/Getty Images
While micro-ruffles let you have fun with your daily wardrobe, the trend can be overwhelming for those with a more minimalist style approach. You can still have a little fun with this ruffled accent, though — just move the frills from your clothing to your accessories. You'll find many to give your ensembles this girly touch without it consuming your entire look. Everything from socks to bags can be decked out in micro-ruffles since the accent is a truly versatile style element.
Ruched statements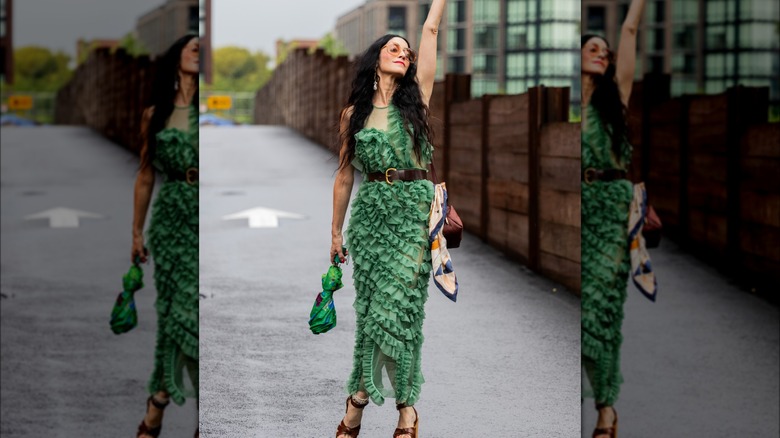 Christian Vierig/Getty Images
On the other hand, while micro-ruffles are tiny, they can still make a significant style impact. There's no need to opt for dramatic and powerful ruffled accents since these more minor frilly details are enough to create your haute couture moment. Designers like Susan Fang (via Vogue) use micro-ruffles for a chic, head-turning whimsical look. While not an over-the-top design, this feature has the volume and movement to create a high-fashion look.
It's a sheer thing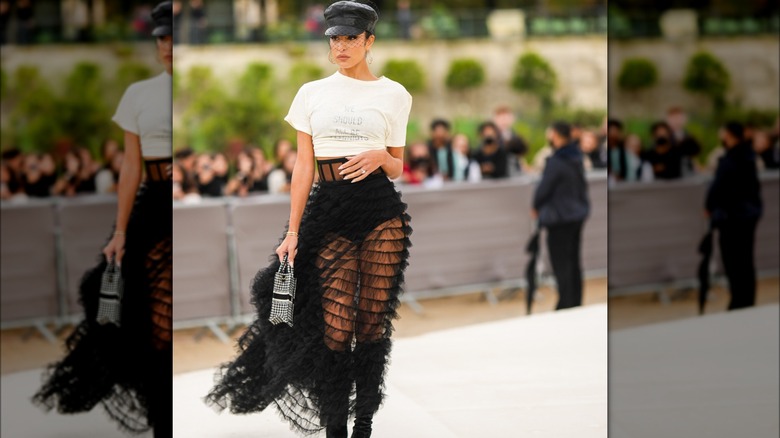 Edward Berthelot/Getty Images
While it might be challenging to rock see-through pieces, especially when you don't know what to wear underneath sheer clothing, sheer pieces are the perfect partner for micro-ruffles. Apart from being lightweight, sheer materials make micro-ruffle detailing stand out. When you see collections with micro-ruffles from designers like Molly Goddard (via Vogue), you'll often find that the thin material allows it to flow and move much more freely than other materials. This pairing could be the key to getting the ultimate 'soft-girl' aesthetic in 2024.
Renaissance era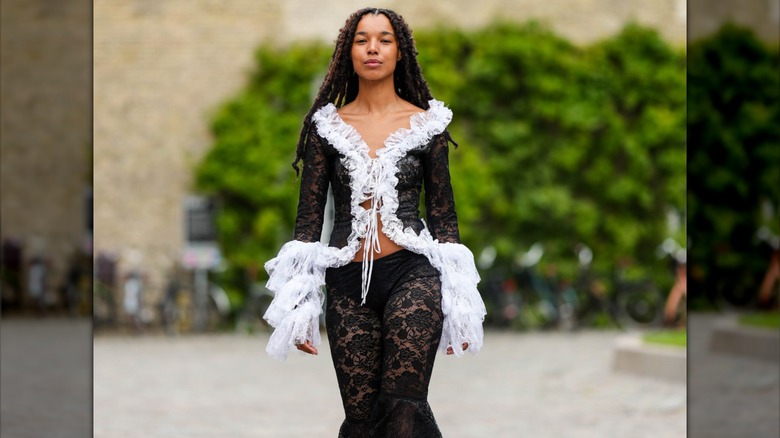 Edward Berthelot/Getty Images
While micro-ruffles are a hit for 2024, this doesn't mean you've got to rock them all over your outfits. For a more sophisticated look, focus this style element on a specific part of your outfit, such as your sleeves. By mimicking the Victorian look, ruffled sleeves are an easy way to rock this trend. Not only does this style element up the elegance factor, but it also gives your outfit a focal point that clearly makes a statement.
Ruffled accents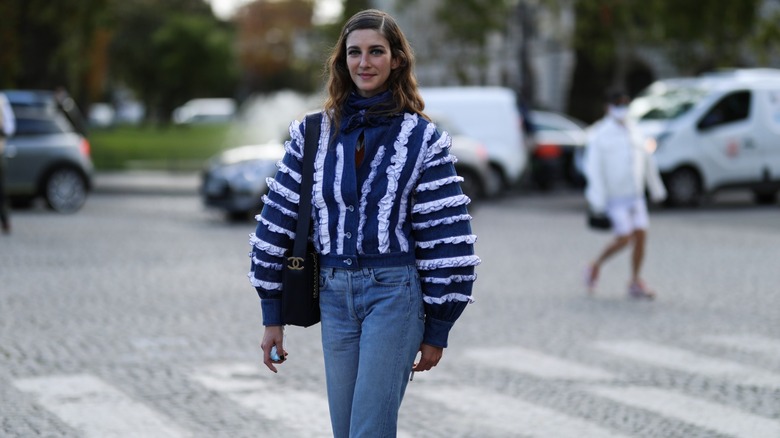 Jeremy Moeller/Getty Images
Just as you can add micro-ruffles to one part of your outfit, you can also add it all over in small doses. Accented pieces with micro-ruffle accents can give you a quirkier, funkier, more creative look. Tia Adeola (via Vogue) has used this style element as an accent to outline the bra top, giving this simple design a unique twist. Why go for simple in 2024 when just adding micro-ruffles is enough to make you look stylish?