Stylish Yet Comfortable Outfits To Serve In At Thanksgiving Dinner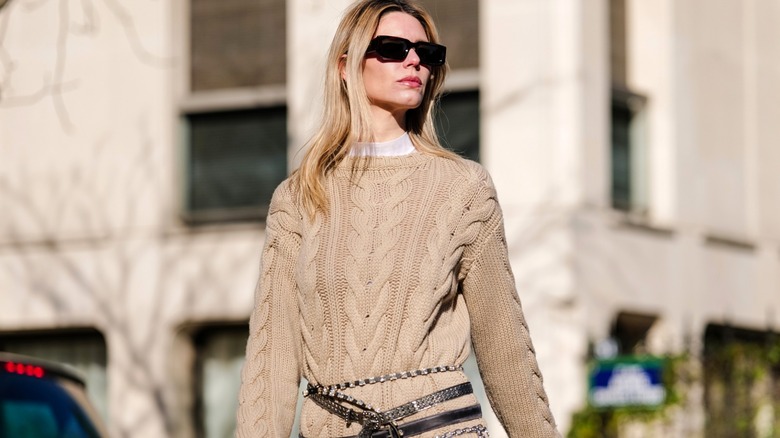 Edward Berthelot/Getty Images
As a holiday, Thanksgiving embodies a lot — gratitude, togetherness, and, of course, abundance. So it's no wonder people go all-out on extravagant meals and seasonal table settings. However, it's not just about the food and the decor. If you want to make a splash at your Thanksgiving celebration, there's also your personal style to be considered. Naturally, you can set the stage with autumnal beauty looks and Thanksgiving nail designs, but don't forget the clothing — what you wear may be just as important as the side dish you bring.
Here's the thing: Dressing for Thanksgiving is a bit of an art. It's a special occasion, so you probably want to look like you've put some effort in. But whether you're spending the day with family or honoring Friendsgiving, it's also a tradition steeped in domesticity, which calls for casual comfort. Then there's the November weather, which may demand heavy layers. And let's not overlook the incredible amount of delicious holiday dishes that many of us will be indulging in. With a heavy meal on the horizon, you don't want to end up in an outfit that's impractical and constricting.
So, how can you walk this line with verve and panache? The trick is to curate an ensemble that hits all the high points: ease, warmth, and style.
A classic baggy cardigan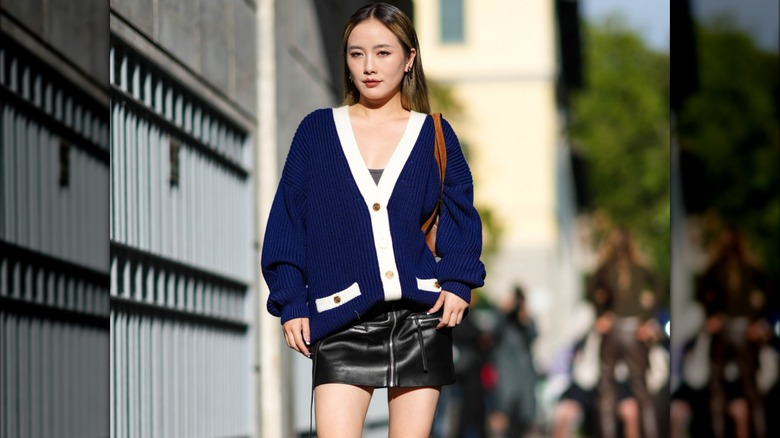 Edward Berthelot/Getty Images
A comfy, oversized cardigan is always a good fit for cool weather. But for an occasion like Thanksgiving, take the cardi look and make it fashionable by pairing it with a contrasting piece, such as a sleek leather miniskirt. This juxtaposition of comfort and edge creates interest in the outfit, helping you look effortlessly put together. Plus, you can easily adapt this ensemble to fit the formality of your event. Keep it casual by finishing the look with a cute pair of lug soles or Mary Jane's, or up the elegance with chic heeled booties.
A warm and cozy sweater dress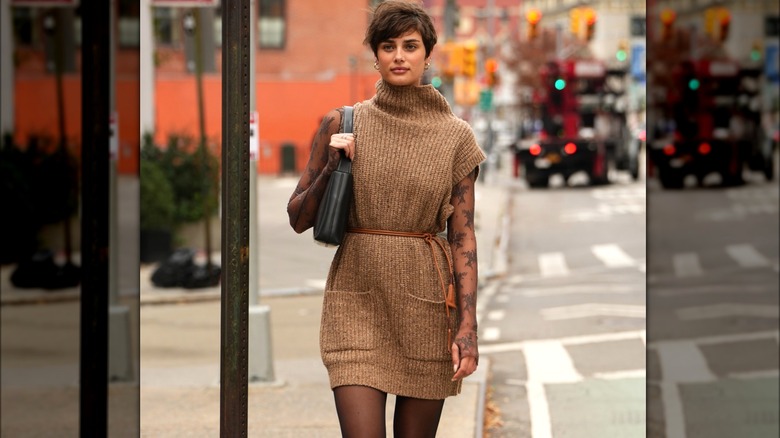 Jared Siskin/Getty Images
For homey fall fashions, cozy is the name of the game. But during special occasions, you want to temper that coziness with a stylish point of view. That's why we love a sweater dress for Thanksgiving, marrying the warmth of knitwear with event-ready designs. Inject personality by selecting a dress with special details, whether it features an intriguing neckline, a unique pattern, or tasteful cutouts. Of course, some knits can be bulky — to maintain balance in the overall look, opt for a style with a shorter hem.
A wide-legged silhouette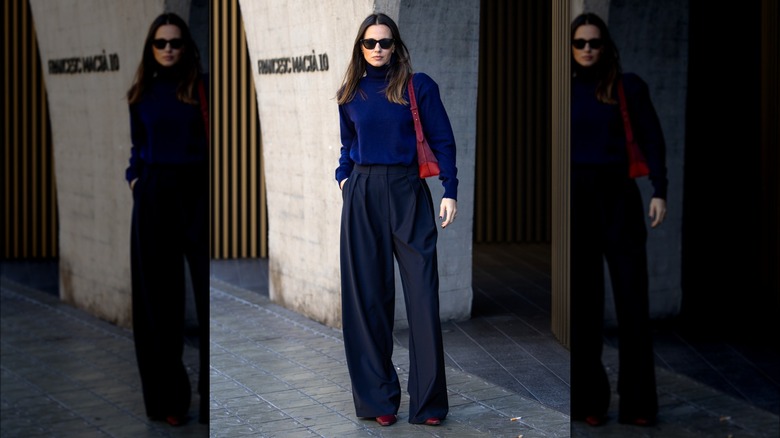 Christian Vierig/Getty Images
For a holiday-ready outfit that's easy, breezy, and oh-so-chic, you can't go wrong with the simple combination of a snug sweater and wide-legged trousers. This adaptable ensemble works with so many different styles of knitwear, from toasty turtlenecks to V-neck sweaters. Plus, it provides a perfect opportunity to wear your favorite iteration of this season's must-have staple piece, a trendy red sweater. Simply throw it on with slacks in black or navy for instant elegance.
A fun and festive jumpsuit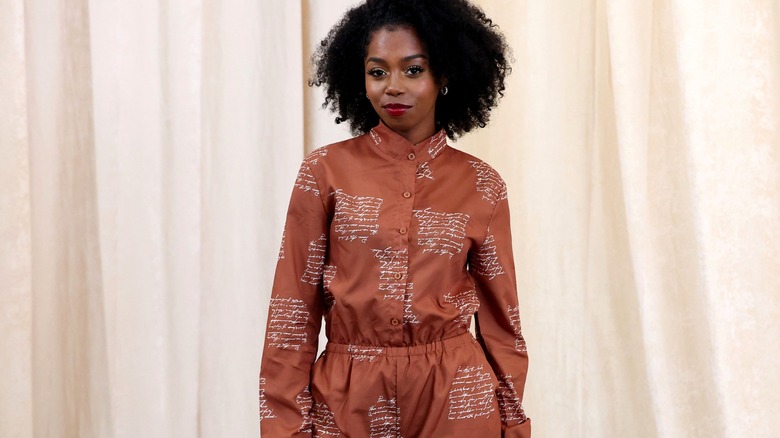 Arturo Holmes/Getty Images
When you want to quickly achieve both comfort and style, jumpsuits are ideal. These all-in-one pieces are ready and waiting to be accessorized for any event, so you can tailor this look to suit both your personal style and the mood of your get-together. We suggest adding a pair of killer heels, some statement earrings, and a bold lip to take your jumpsuit from everyday to extraordinary. Note: At Thanksgiving, comfort is key, so this may be a good time to set aside any skin-tight jumpsuits in your collection and style a looser fit.
Tasteful textures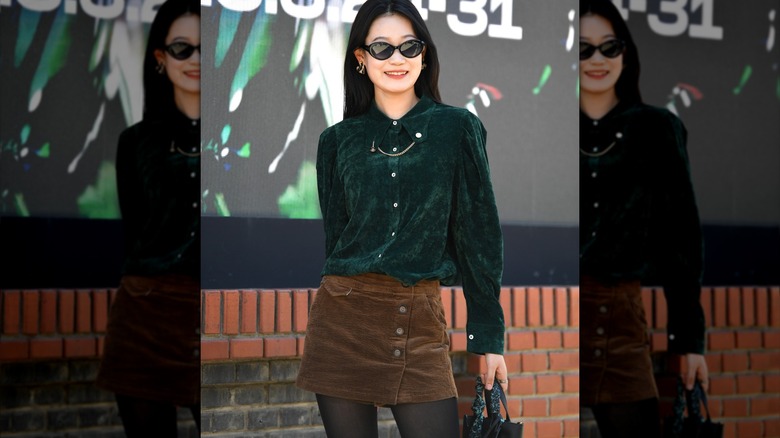 Yanshan Zhang/Getty Images
If you're a fan of textured fabrics, good news: Thanksgiving is a fantastic time to break out garments that are woolly, furry, ribbed, or plush. Not only do these fabrics enhance the detailed feel of your outfit, but many of them are warm enough to brave the November weather. And with fuzzy fabrics all over fall 2023 runways, the texture trend is currently right on target. From velvet and velour to corduroy and sherpa, try mixing and matching textured pieces to create a dynamic, seasonal look that's all you.
Perfectly plaid pieces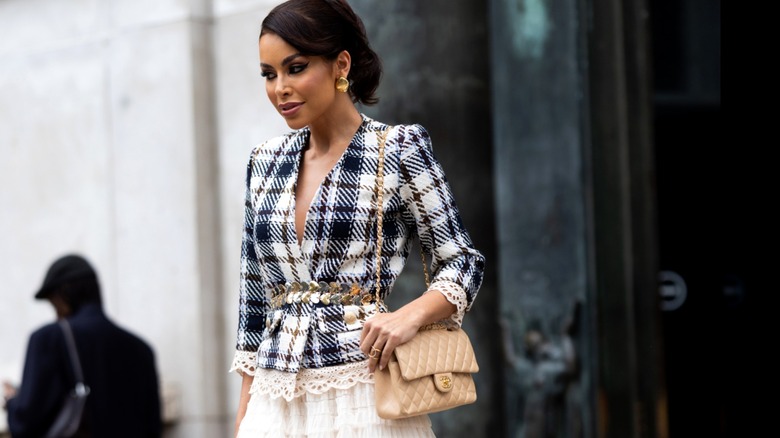 Valentina Frugiuele/Getty Images
At this point, plaid is basically synonymous with fall, making this pattern a natural choice for events like Thanksgiving. But it's not all about shapeless flannel button-ups — you can elevate the style by choosing plaid garments with a more tailored sensibility. Consider accenting your outfit with a plaid blazer, waistcoat, or bodycon skirt. And if the look starts to feel too formal, try offsetting these tailored focal points with casual basics like a simple camisole, a form-fitting mock-neck top, or your tidiest pair of denim jeans.
Super seasonal layered looks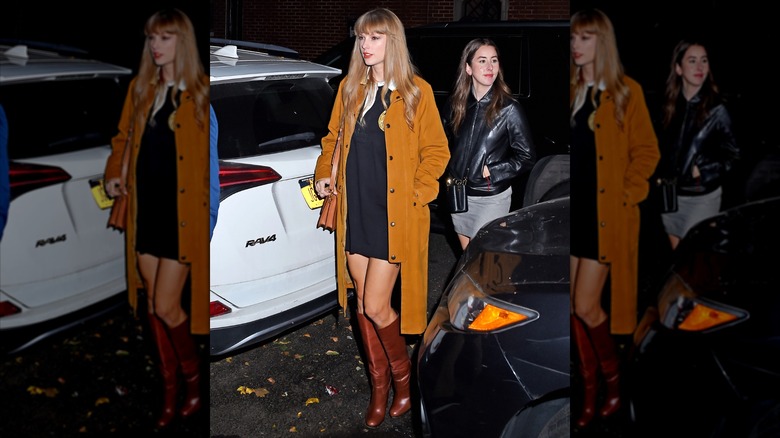 Mega/Getty Images
This year, why not take a nod from Taylor Swift and play with fall-friendly layers at your Thanksgiving gathering? The combination of a thigh-revealing minidress with a lengthy outer layer and high boots is flirty but event-appropriate, especially when presented in an autumnal color palette. While Tay-Tay's jacket is obviously amazing, a longline cardigan may be even better for an indoor event. And if the minidress doesn't work for you, you can achieve a similar effect by swapping in a sophisticated blouse and shorts — a duo that looks especially charming over opaque tights.
A feast-friendly maxi skirt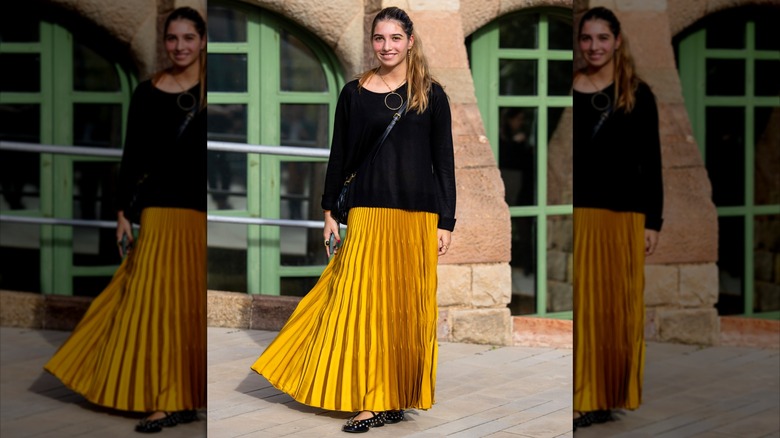 Christian Vierig/Getty Images
You can style flowy maxi skirts for nearly any season or occasion, and Thanksgiving is no exception. In fact, the comfort and stretch of a maxi with an elasticated waist is especially handy at Thanksgiving, when your sated waistline may need a little wiggle room. Pair your skirt with a contrasting sweater then finish the ensemble with a pair of precious flats. And to add more verticality to the look, you can make your legs seem extra long by using the French tuck to nip in the hem of your sweater.