The Red Sweater Is Winter 2024's Most Important Staple Piece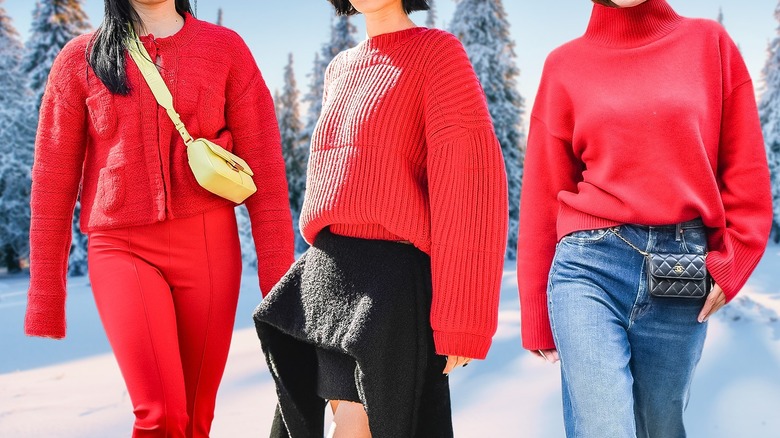 Static Media / Shutterstock / Getty
Everyone knows that red and its various hues are the hottest shades of fall, but this year, the color's takeover will continue throughout winter. According to Pantone's analysis of the 2023/2024 Fall/Winter New York Fashion Week color palette, there are plenty of variations of the color red to cover us for both seasons. There are many ways to rock this red shade in the winter, too; however, the most essential staple piece is the red sweater. It's likely the easiest way to inject this bold and powerful hue into your winter wardrobe without being cold. A casual rouge sweater, for example, is the perfect base for all your winter looks, and you can style it however you need.
However, picking out the best red sweater for your winter looks is about defining your style and goals for the season. In other words, if you're looking for a preppier vibe, look for red knits like those shown at Hermès, which give a classic and dressed-up look every time. Others, like the ones offered at Isabel Marant, are geared toward those seeking some edge to their winter wardrobe. No matter what style you are looking for, a red sweater is the perfect piece to amplify your winter ensembles.
Red printed pullovers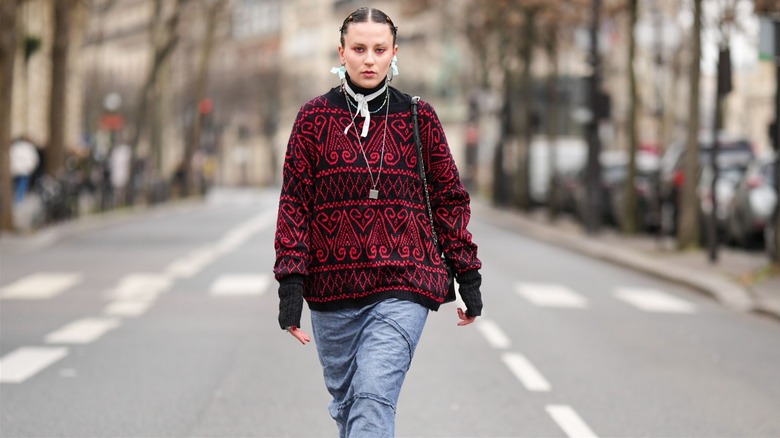 Edward Berthelot/Getty Images
Maximalists will love the boldness of red and its high saturation. However, to get the most out of this vibrant shade, you should opt for a red printed sweater to give you maximum statement. A red-printed sweater mixed with another loud hue is the key to creating a memorable winter look. On the other hand, a red printed sweater mixed with black or neutral hues will give you a more elegant approach to print.
Winter layering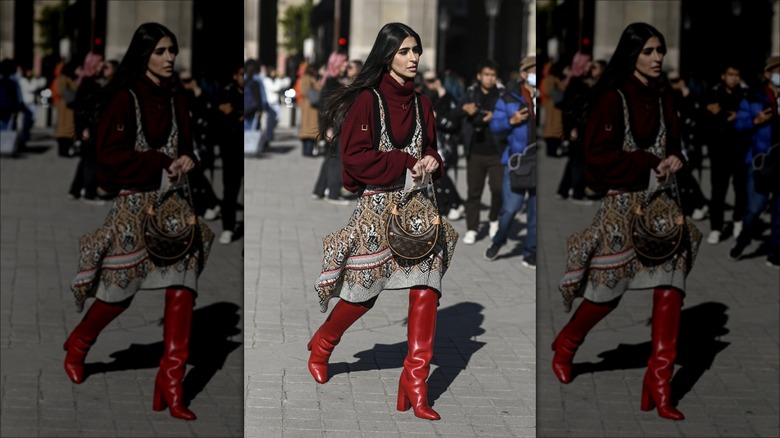 Daniel Zuchnik/Getty Images
Although winter is all about bundling up in cozy layers, it doesn't mean you can't bring out your fanciest frocks. Pair your red sweater with a chic outer layer for a stylish approach to cold weather. In other words, add a long-sleeved red sweater underneath a maxi dress for a layered outfit that keeps you warm and stylish. You can also opt for the opposite layering and add a collared shirt or top underneath your red sweater for a small pop of detail, like those shown at Tory Burch.
Black cherry splash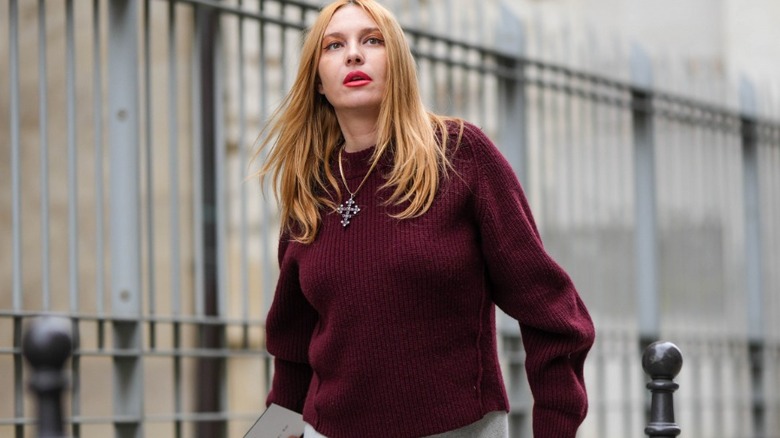 Edward Berthelot/Getty Images
While the fire engine red shade is a popular shade for fulfilling your red fix, the black cherry shade is another fabulous tone of red that can make quite the statement. After all, black cherry is gearing up to be a popular alternative for spring 2024, and it offers a much richer color that fans of a darker hue will also enjoy this winter. Plus, for those weary of wearing such an impactful red shade, black cherry is a great option that's still elegant and polished.
Coastal grandmother styling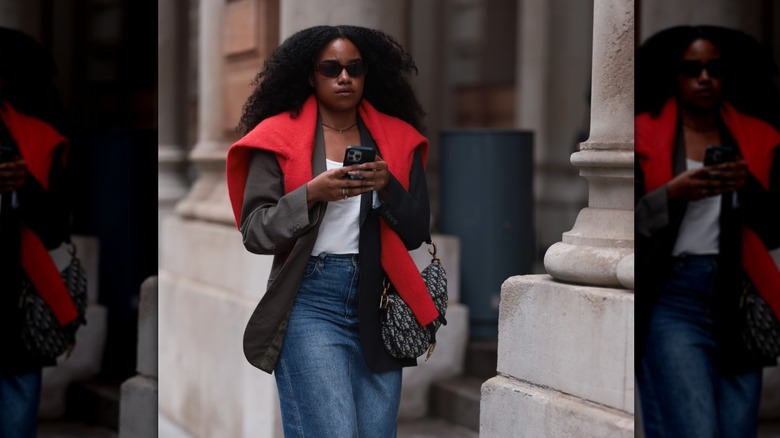 Jeremy Moeller/Getty Images
While we may be headed for winter, the coastal grandmother trends and styling techniques can still apply. For instance, if you're struggling to find the right spot for your red sweater, look no further than over your shoulders. Throwing your sweater around your shoulders is a stylish technique that gives you a coastal grandmother and a quiet luxury look that doesn't cost anything.
Rouge cardigans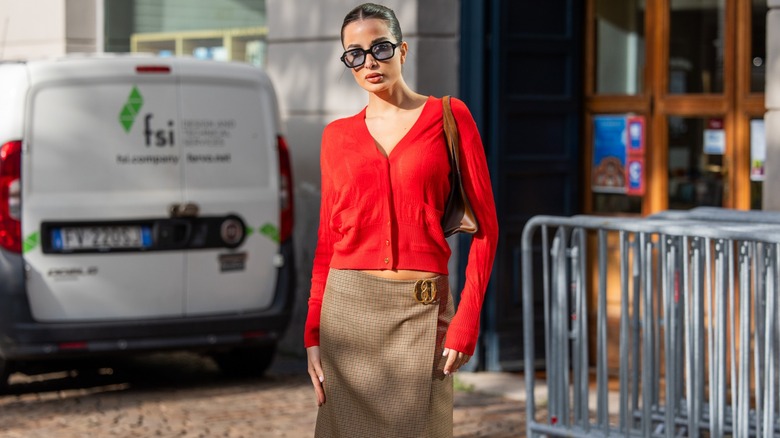 Christian Vierig/Getty Images
While chunky and oversized sweaters are exceptional for covering up for the winter, cardigans offer a sleeker and more modern option for knitwear. A red cardigan, for example, is the perfect subtle piece that adds this statement color in a lowkey piece, like during Bode's Fall/Winter 2023 show. The red cardigan is ideal for those looking for something easy to style and wear. Whether worn on its own or with another layer, you can get the perfect red pop this upcoming winter season.
All over red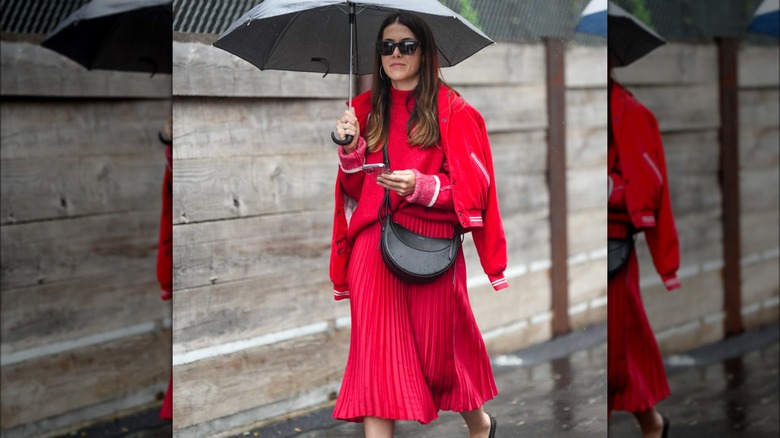 Edward Berthelot/Getty Images
With a bright and prominent color like red, it's normal to feel overwhelmed by it. However, the best way to rock any new trend or hue is by wearing it in a monochromatic moment. After all, monochrome styling is the easiest way to take the struggle out of styling, as you don't need to worry about mixing and matching colors. For example, an all-red outfit might seem over-the-top, but it is a chic way of pulling off this powerful tint.