Mint Is The Most Unexpected Green Shade Trending For Fall 2023 - Our Best Styling Tips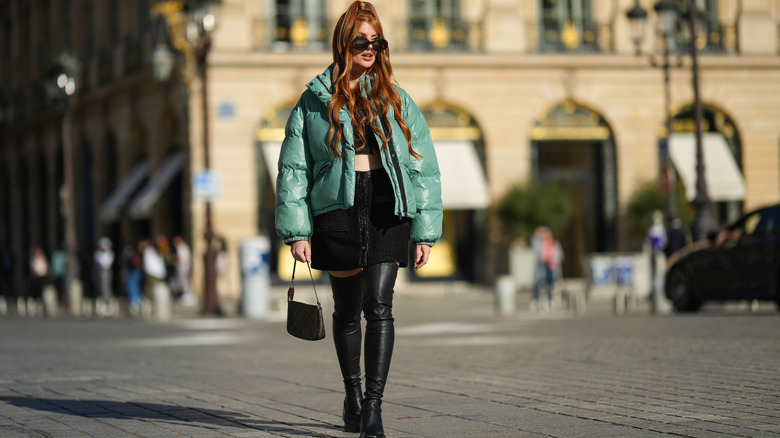 Edward Berthelot/Getty Images
While the traditional unwritten laws of fashion tell us to wear colors that match the season we are in, we are ready to break the rules this fall. In the autumn months, most of us wear neutral shades such as brown, beige, and black. Though these colors are beautiful in their own right, they aren't necessarily mood boosters the way bright hues are. This is why many people seem to be turning towards unexpected shades for their wardrobe this fall, such as vibrant mint green.
While it may make some of us cringe, many of our favorite 2010s fashion trends are already making a comeback. Mint green seems to be one of these trends, as it was a fan-favorite color for everything from clothes to nails in the early 2010s. Designers are bringing mint green to the forefront of fashion once again with brands like Bottega Veneta featuring the color in its winter 2023 fashion show. When styled with other modern trending items and used as a pop of color, mint is a must-add to your wardrobe for fall 2023.
Wear mint-green outerwear
While we usually lean towards a neutral coat for fall, a mint-green coat is a fashion-forward alternative. Wearing colorful outerwear is a great option for spicing up an otherwise neutral fall look. Our favorite mint-green coat style is the pea coat, as the preppy feel of the coat silhouette combined with the mint shade makes for an overall chic look.
Go full-green with a matching set
Matching sets are here to stay, and you'll go full-green when you add a matching set in mint to your wardrobe. You can easily take mint green from day to night with a leather pantsuit and a patterned top underneath your blazer. That way, when you leave the office, you still have a trendy look for a night out.
Add a pop of color with mint accessories
Accessories are key to a great outfit. If you love the mint shade but are not ready to dedicate your entire outfit to the color, incorporate the hue into your accessories. For a neutral look with a twist, try a beige or black outfit with a mint-green bag and heels.
Mint chocolate inspired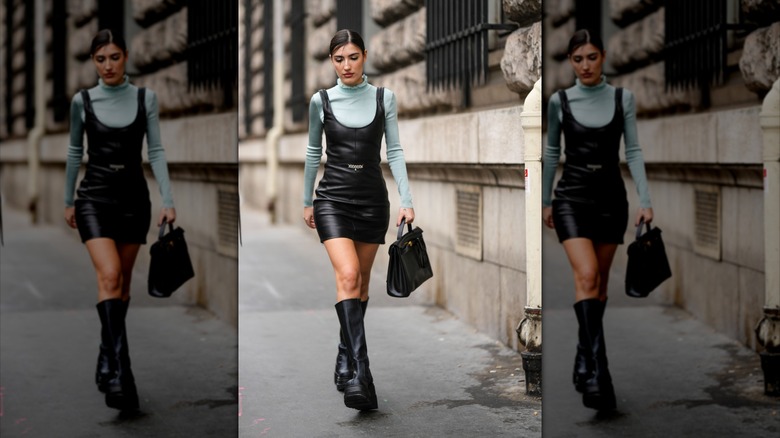 Edward Berthelot/Getty Images
Mint-chocolate-chip ice cream is likely one of the first things that comes to mind when people think of the mint-green shade. A chill delicacy, the dessert is also quite beautiful as the combination of dark and pale color creates a stark contrast. Use this as inspiration for your mint-green fashion looks, and pair the shade with black or brown for a sweet statement look.
A mint maxi moment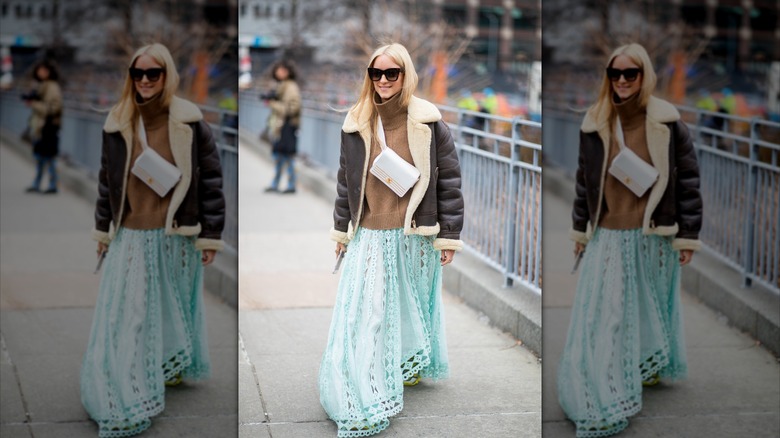 Christian Vierig/Getty Images
Maxi skirts are a chic yet comfortable way to elevate your fall style. Take it to the next level when your maxi skirt is in the season's trendy mint shade. We love the mint maxi skirt paired with a white top and white boots for an overall crisp, cool appearance.
Colorblock with other shades of green
Mint green is not the only shade of green that has been on our minds recently. Embrace colorblocking in your wardrobe when you pair trending shades of green together. We recommend a mint green blazer paired with a neon green skirt and a lime green handbag for a vibrant look that will make others green with envy.
Mint knits
Knitwear is essential for brisk fall weather, so it is only fair we add mint knits to our wardrobe this season. Cardigans can take an outfit from summer to fall in an instant. However, to keep the cardigan looking fashion-forward, pair it with Gen-Z-approved baggy pants and chunky gold jewelry.