The Bachelorette Party Trends You'll See Everywhere In 2023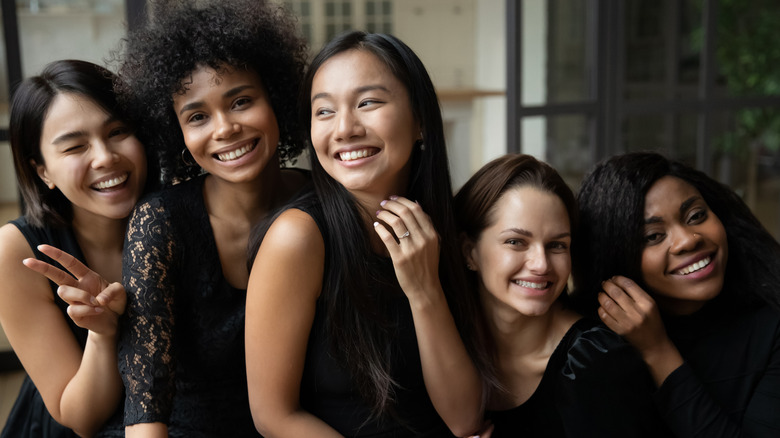 fizkes/Shutterstock
If you're preparing for your own wedding or someone else's in the coming year, there's a good chance that you've given some thought to what the bachelorette party will be like. We won't sugarcoat it; bachelorette parties are typically seen as being a bit risqué, usually involving games that are of a more adult nature in combination with some level of alcohol consumption. Though that isn't the case for every bride or every wedding, that image has made it difficult at times to find classier ideas for bachelorette parties.
In 2023, however, you can expect that some of what you've known about bachelorette parties is going to change, according to a OnePoll survey cited by Elite Daily. Not unlike the infla-dating trend that will see people spending less money in their dating lives because of changing economic conditions, it seems likely that bachelorette parties won't be far behind despite their marking a more significant milestone.
Bachelorette parties may become less expensive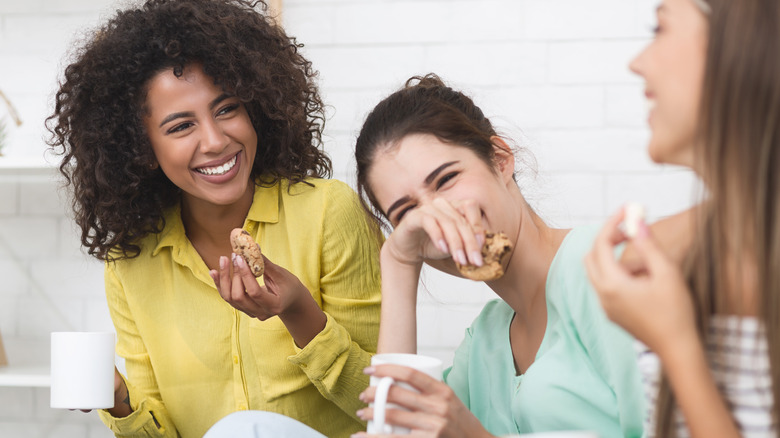 Prostock-studio/Shutterstock
Among the findings noted by Elite Daily from the OnePoll survey, it's mentioned that bachelorette parties in 2023 are more likely to focus on parties that won't break the bank for those attending. With that in mind, 27% of respondents to the OnePoll survey said that they would prefer to relax rather than to experience a party packed with activities.
Additionally, 42% of survey respondents said that they would prefer a local bachelorette party, which also suggests that respondents were thinking about the costs associated with bachelorette parties and cutting down on travel expenses. Though it isn't clear from Elite Daily's piece what would be considered "local" to a respondent, another section of the same piece mentions that only 16% of respondents wanted to visit a big city for a bachelorette party, which could be related to the idea of trying to keep things local if the members of the bridal party don't already live in a major city.
Bachelorette parties won't be as X-rated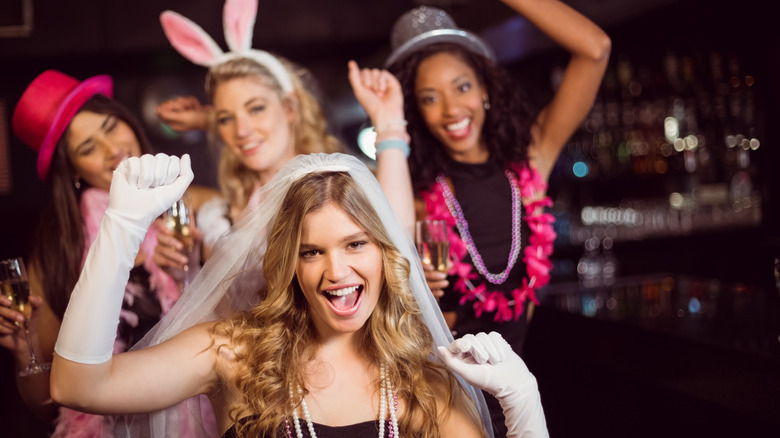 Wavebreakmedia/Getty Images
We know that bachelorette parties aren't known for being particularly wholesome affairs, but hear us out when we say that bachelorette parties in 2023 could see that phenomenon change. Based on Elite Daily's reporting on the OnePoll survey, 42% of respondents said that they aren't interested in going to gentlemen's clubs, for example. While this doesn't mean that the subject of sex is completely out of the picture for 2023 bridal parties (because there are plenty of venues other than gentlemen's clubs), these responses do seem to show a shift in priorities, at least where these survey respondents are concerned.
Instead of all things that could be sorted into the not-safe-for-work category related to bachelorette parties, the results of the OnePoll survey appear to suggest that bachelorette parties in 2023 will focus more on creating memories, which is likely to lead to a more positive experience for everyone involved now and into the future.
Sober bachelorette parties are increasing in popularity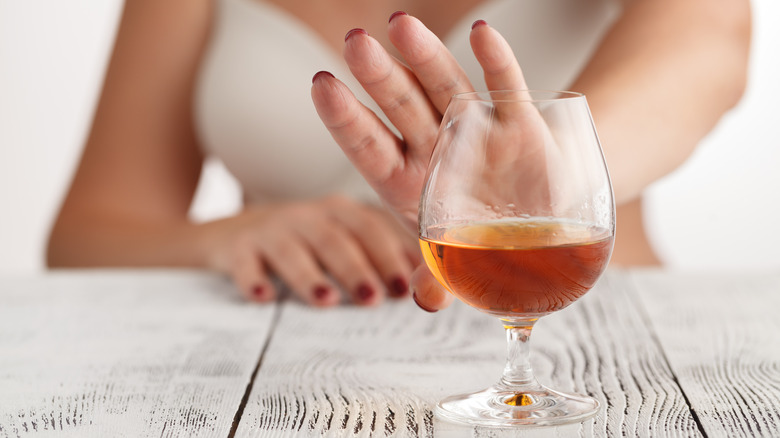 AndreyCherkasov/Shutterstock
Similarly to how it seems that bachelorette parties will be leaving their X-rated themes behind them as we head into 2023, more and more bachelorette parties are choosing to take a sober approach to their festivities. This doesn't appear to be as much of a trend, however, as it is a recognition that not everyone consumes alcohol. There are many reasons why a bridal party might opt for a sober bachelorette party, but resources ranging from treatment centers to bridal websites have provided ample ideas for those who wish to go that route.
Depending on a bridal party's reasoning for holding a sober bachelorette party, some activities may be more suitable than others. If you happen to be responsible for planning a sober bachelorette party solely to include one sober individual in the group, speak with them privately to find out what situations they are and are not comfortable with so you know what to avoid before solidifying your party plans.
Focusing on the bride will provide a personalized experience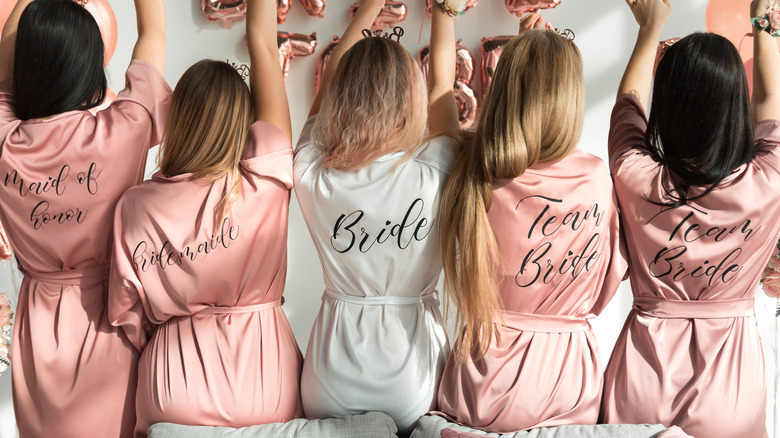 luchik08/Shutterstock
Along with a bridal shower, a bachelorette party is intended to celebrate the bride who is about to get married, so it makes sense that personalized bachelorette parties will gain in popularity in the coming year. There are companies that specialize in providing this as a service, but the point is in planning an experience that the bride will treasure.
The other benefit to these parties is that the sky's the limit when it comes to their theming. If the bride has a particular passion, then this would be the perfect opportunity to put it in the spotlight. The personalization also doesn't have to stop when the bachelorette party comes to an end, as shown in one TikTok video. In the video, a book contains Polaroid photos of the bride with friends and includes those friends' well-wishes on each page. Whether you're the type to fill it up with inside jokes or more heartfelt sentiments, it will make the memories last even longer.
Bachelorette parties might add some throwback vibes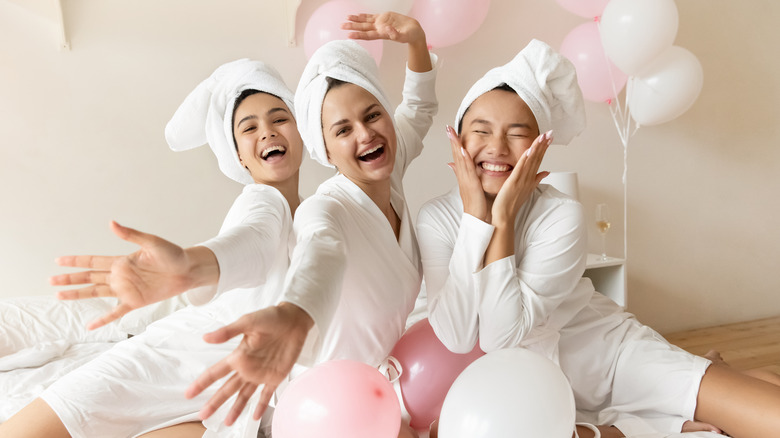 fizkes/Shutterstock
On another note about memories, it sounds as though many of 2023's bachelorette parties are likely to feature some fun throwback vibes, per Elite Daily. 38% of respondents to the OnePoll survey expressed their desire for a bachelorette party with a slumber party theme. No matter when the attendees met one another or what activities they prefer, this would be a great way to hold a bachelorette party for any kind of taste or budget while turning back the clock.
From ordering matching pajama sets to watching movies, eating popcorn, and having pillow fights, this theme is also a great option for anyone who wants to please their inner child. Likewise, it would work well for any bachelorette parties that might involve younger participants. (If you want our advice, though, just don't get too excited about the pillow fights. No one needs to get injured right before the big day!)
Mixed-gender parties are popping up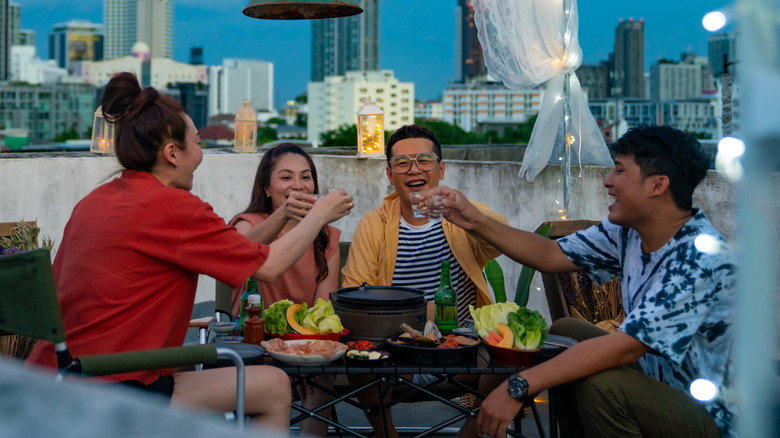 CandyRetriever/Shutterstock
Mixed-gender wedding parties have become more common, and that means that bachelorette parties in 2023 are likely to become more inclusive too. As event planner Justine Broughal told Brides, "Bride-centric, binary language in the wedding industry is both outdated and unconnected to the vibrant history of queer love across generations." To make their festivities more gender-inclusive for everyone in attendance, many couples are choosing to combine their bachelor and bachelorette parties into one event.
Even if you are in a cisgender heterosexual relationship and don't feel that this would benefit you and your wedding party, wedding officiant Karla Villar shared their opinion with Brides, saying that you shouldn't jump to conclusions. "You may or may not know it, but someone attending your celebration is on, has been on, or will one day be on a gender identity journey, and your wedding could be the first celebration space where they feel acknowledged, welcome, and/or embraced." Having fun isn't a gendered phenomenon, after all.