Tips For Adjusting Your Makeup Routine Around Weight Loss And Gain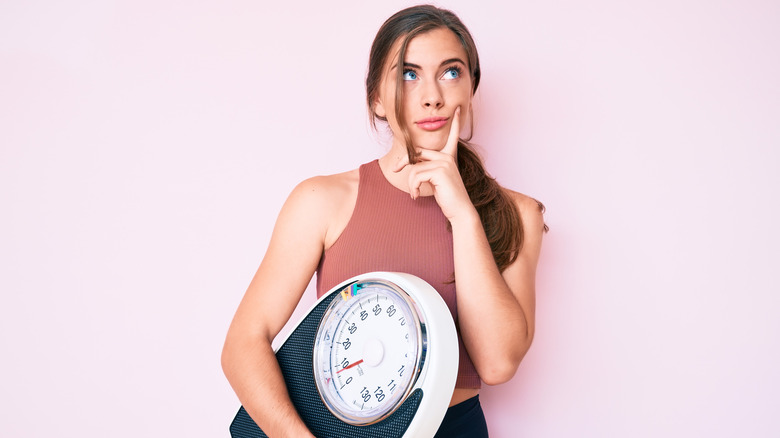 Krakenimages.com/Shutterstock
Losing and gaining weight are difficult tasks on their own, often requiring meal prepping protein-packed dishes, catering your workouts to your goals, and making major adjustments to your daily schedule. But once you begin seeing changes to your physical appearance, there are even more unexpected tweaks you might have to make when it comes to your beauty routine. You're working with a whole new body, so, in addition to investing in a new wardrobe, you might find that your makeup routine doesn't seem to fit, either.
According to a 2022 study in Diabetes, Metabolic Syndrome, and Obesity, 48% of respondents gained weight during the pandemic, while 18% lost weight. Pair this with data from NPD's Makeup Consumer Report that states that many women are now returning to their pre-pandemic makeup routines, and you're left with a massive group of people in search of a new beauty regime that better aligns with the changes to their body.
Start with the eyes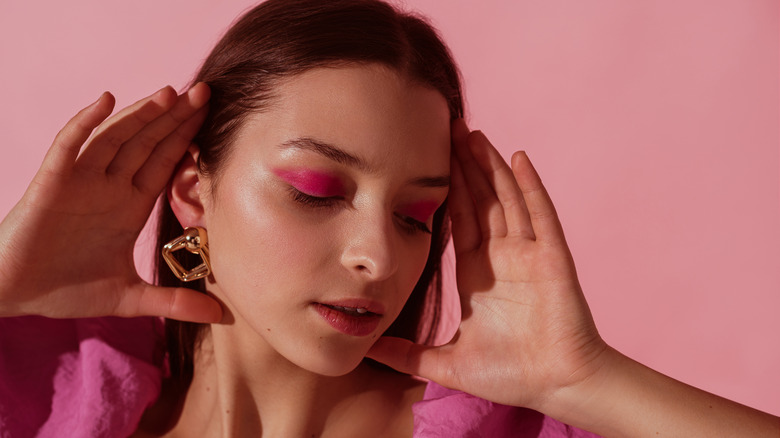 Victoria Chudinova/Shutterstock
If you're just looking to dip your toes back into the cosmetic pool, eyes are one of the easiest places to start. Weight gain and loss can cause major changes in your face, especially to your cheeks and jawbone, but, for the most part, eyes remain unaffected. Playing up your eyes is one of the easiest ways to feel more feminine, so something as simple as a swipe of mascara can reintroduce you to the world of cosmetics while you continue to get more comfortable with the changes you're seeing.
For a look that doesn't feel too bold on an otherwise-bare face, consider sticking to neutral tones you're already comfortable with — this could mean browns, pinks, or even burnt orange shades. Blend some darker shadow or a bronzer into your crease to add some definition and make your eyes look bigger, dab some shimmer on your inner corner to draw attention and make you look more alert, then finish off with some mascara and a bit of liner if you want to further emphasize your lashline.
Try out a new primer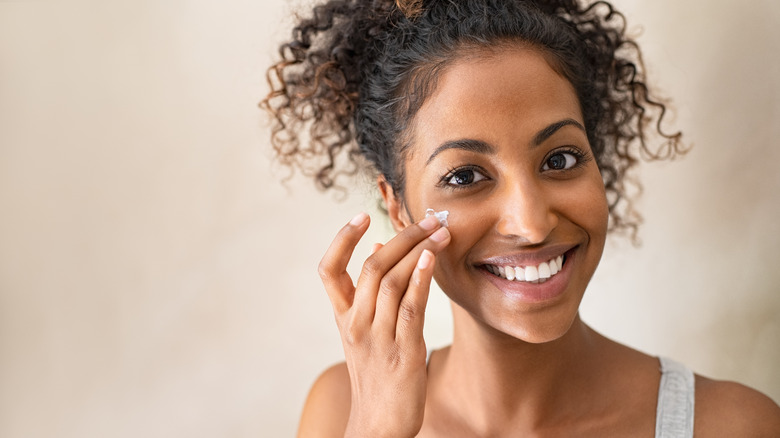 Ground Picture/Shutterstock
Primer, though often skipped, is one of the most important steps in a makeup routine, especially if you're planning on applying foundation later. Losing and gaining weight, especially rapidly, causes some major changes to your skin and its elasticity. According to Renée Rouleau, gaining weight can result in a more plump, youthful-looking face with less definition, while losing weight might leave you with more fine lines and a defined but sunken-looking complexion.
If you're not a fan of the glowy look or your skin looks more oily than radiant, try a mattifying primer under your foundation to tamp down the shine. If you lost weight and you're feeling a little lackluster, opt for something moisturizing to bring a more plump look to your skin and smooth lines. A color-correcting primer or something with a bit of shimmer can also be helpful if you're noticing more discoloration or dullness in your skin.
Invest in some new foundation and concealer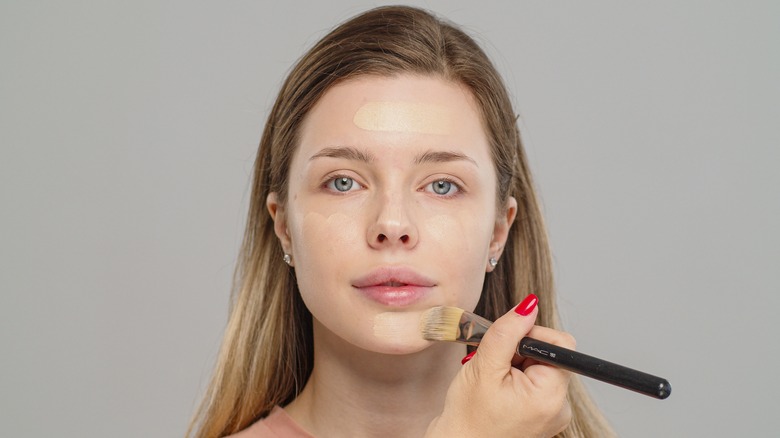 Valua Vitaly/Shutterstock
More frequent workouts can also mean changes to the amount of sun you're getting, so it's a good idea to check and see if your current foundation shade works on your skin. Slightly mismatched shades can be altered with a simple hack, but if it's too far off, it's time to head to the store. To pick the proper shade, either see a beauty specialist in-store, or try your hand at matching to the color of your neck. This is especially important if you find yourself working with a softer jawline — stark differences in shade are more obvious if you don't have as much definition.
Weight gain and loss can also mean changes to your skin texture. If you've recently gained weight, you might find that you're working with a plumper complexion that features fewer fine lines, so you can explore a wider range of foundations, from matte to glowy. If you've recently lost a lot of weight, however, the opposite might be true. If you've notice more saggy or lackluster skin as a result of weight loss, try out a lightweight foundation formula that won't settle into lines.
Hold off on countouring — for now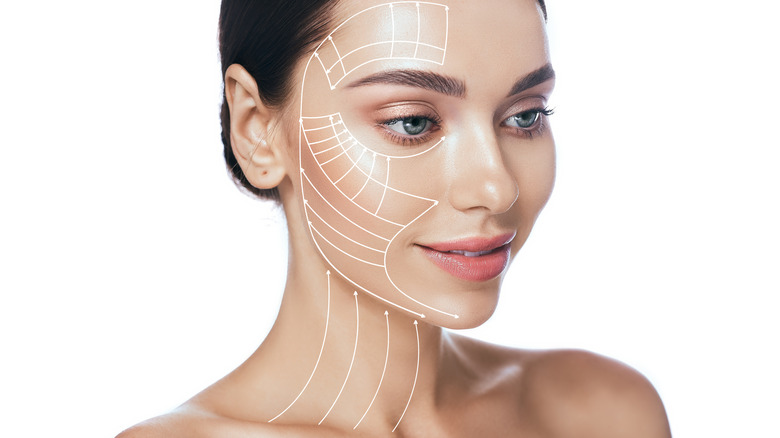 Peakstock/Shutterstock
Thanks to the impacts of celebrities like Kim Kardashian and an endless stream of beauty influencers promising razor-sharp cheekbones, contouring has become a staple in the modern beauty world. If you've just lost or gained weight, however, it might be a good idea to hold off from a full, bold sculpt until you're more familiar with what feels comfortable on your face.
If you've just gained weight, it's likely that your jawline will look softer and your cheeks will look more plump. If you lost a few pounds, you could see some more definition around your cheekbones and a slightly sharper jawline. Instead of going back to your old beauty routine, start slow with a bronzer around the edges of your face and under your cheekbones to bring back some definition after applying your foundation, then experiment with different placements to see exactly what you like before switching over to a fuller-coverage stick or liquid formula. Contour isn't one-size-fits-all, so a bit of trial and error is the best way to nail down your desired look.
Powder your face carefully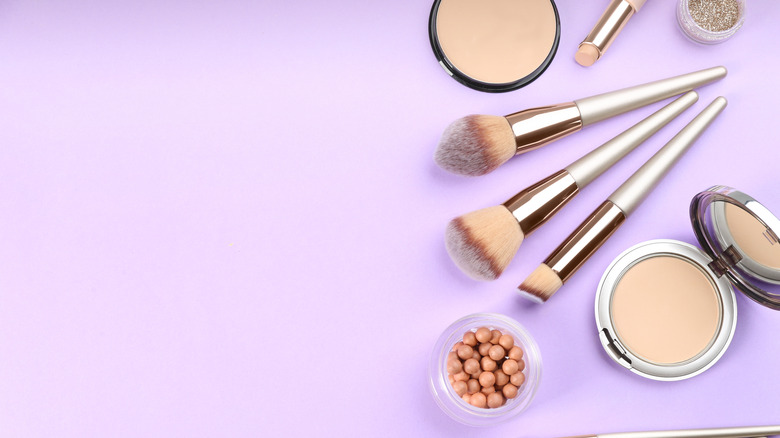 New Africa/Shutterstock
Powder is a bit of a controversial step in makeup routines. Some people pack it on then wipe off the excess to create a seamless, perfectly set look. Others forgo it completely, maintaining that it does nothing but settle into lines and leave you looking cakey. It turns out that both of these things can be true, and it all depends on your skin type and what issues you're trying to avoid.
If you've recently lost weight and you were a previous powder devotee, you might want to tone down your usage and only apply a thin layer where your skin really needs it — think T-zone, so your forehead, nose, and chin. Too much powder can settle into lines and make your skin look dry, so using a lighter hand can leave you with a more natural look that doesn't emphasize texture. If you recently gained weight, however, you can be more liberal in your application, especially if you want to tone down shine and keep your makeup from moving around.