The Easy Transitional Tip For Bringing Your Fave Dresses Into Spring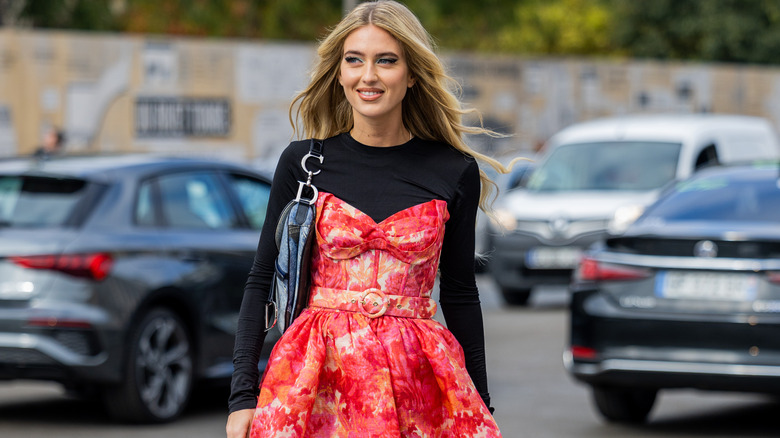 Christian Vierig/Getty Images
Spring is on its way, and that means it's time to ditch the heavy coats and pack away your scarves and gloves until next winter. But if chilly temps are still in the weather forecast, don't worry — you don't need to shiver your way through the season. Instead, you just have to get a little creative by layering your favorite warm-weather pieces.
Advertisement
One easy way to stay cozy without adding bulk is to slip a top under your lightest frocks. A long-sleeved tee or button-up shirt adds just enough warmth to springy slip dresses and strapless styles.
This transitional tip might remind you of your childhood days, when you were forced to wear a T-shirt under strappy dresses to obey the school dress code. But the top-and-dress combo can feel totally modern and even grown-up — and there are countless ways to pull it off. Get inspired with these stylish examples, and leave your jacket at home next time you go out.
Go green
Co-ords and matching plaid sets are having a moment, and you can get a similar effect by pairing a plaid or gingham dress with a top in a similar color. Here, the look is done in shades of green, but have fun test-driving blue, pink, and other colors in slightly different tones.
Advertisement
Cut it out
Cutouts have been trending for several seasons after Bella Hadid made headlines for wearing pelvis-baring cutout pants in 2021 (via News.com.au). Since then, the style has spread to blouses, skirts, and, of course, dresses. Bring last summer's cutout dress into spring by layering a crisp button-up shirt or crew-neck T-shirt underneath. You'll instantly look fresh, without exposing too much skin on cool days.
Advertisement
Mix things up
When it comes to bold prints, the more the merrier. Team pretty florals with classic plaid, or experiment with other printed pieces in your closet that haven't seen the light of day since September. Pro tip: When combining designs, opt for patterns that have at least one color in common. In the look above, the blouse and dress both contain touches of blue and cream.
Advertisement
Balance cute and casual
The quintessential dress-over-a-top ensemble usually consists of a slip dress worn with a basic white t-shirt, but it's seen here in velvet with a long-sleeved sheer leotard or top underneath. The combination is both feminine — especially when done in a blush pink color — and easygoing. To bring the look into streetwear mode, finish it off with comfy sneakers. Now you're set for brunch, an errand run, or a chill date.
Advertisement
Play with texture
Not ready to retire your warm winter wardrobe just yet? Bring a cozy textured dress into spring by adding a light top underneath and forgoing outerwear. Quilted, tweed, fuzzy, fringed — take your pick of textures, and then top it off with tights and boots for the perfect transitional outfit.
Advertisement
Add comfy accessories
Don't wait until summer to bust out your itty-bitty strappy dresses. Make them appropriate for spring with the right accessories. Stay comfy with a hat (master Parisian chic in a beret) and tall boots, and for the bottom layer, go for a soft (but not too chunky!) sweater.
Advertisement
Keep your shoulders warm
You know your most va-va-voom, body-con dress? The one you keep on standby for summer evenings out on the town? It can work on casual spring days too. Layer a basic short-sleeved tee underneath for an eclectic, street-style look that'll keep your shoulders cozy when the weather is just starting to heat up.
Advertisement
Make a statement
Don't hide your favorite statement-making dress under a cardigan. What sets it apart, whether it's bright colors or a quirky pattern, is just begging to be seen. To put your frock on full display, while dealing with hot-and-cold spring weather, tuck a simple top under. Top it off with a bag and equally fun shoes before heading out the door.
Advertisement