14 Makeup Tips Everyone Who Wears Glasses Needs To Know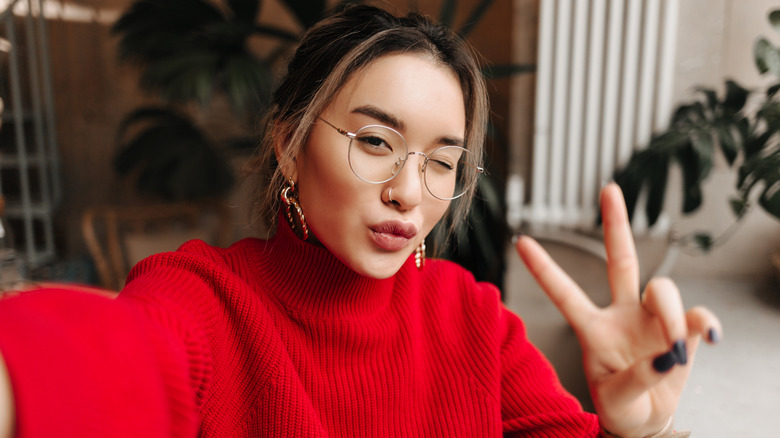 Look Studio/Shutterstock
Whether you wear prescription glasses or just have a pair of fun frames you occasionally rock as an accessory — you probably already know that makeup rules are slightly different for those with glasses. And considering that more than 166 million people wear them in the United States alone, according to The Vision Council, knowing how to properly apply makeup so that it works with your glasses and not against them is actually important.
Luckily, plenty of industry experts have shared their best tips and tricks over the years, and we've gathered the most significant ones. "When deciding on eye makeup options if you wear glasses, it's very key to take in consideration the style of frames you are wearing," makeup artist Pablo Rodriguez explains to Marie Claire. "The eye makeup look should go with the overall look, including hair, lip color, and outfit you are wearing."
With only a couple of slight adjustments, you can ensure that your makeup looks absolutely incredible with your glasses. Whether you're wondering how to enhance your eyes, prevent dark shadows, or ensure your glasses don't smudge the makeup around your nose — we've got you covered!
Curl your eyelashes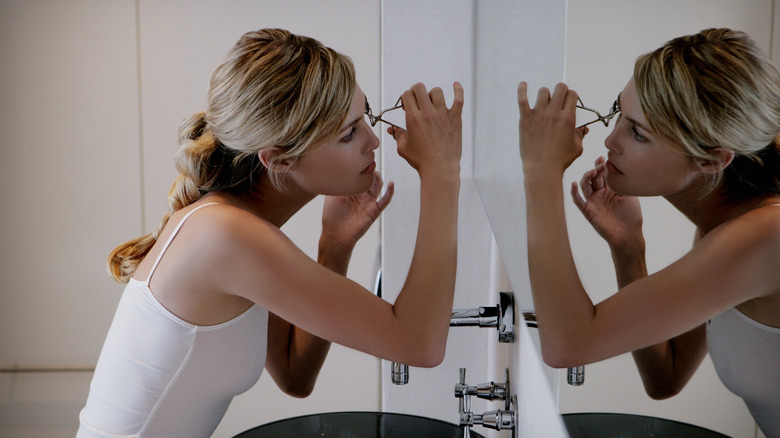 Jupiterimages/Getty Images
Since your eyes can be somewhat hidden behind your glasses, lashes play a major role in making them pop. But before you go on and lather mascara on them, ensure your upper lashes are lifted as much as possible. "Curl your top eyelashes. This will prevent them from touching the lenses of your glasses," makeup guru Bobbi Brown suggests to Cosmopolitan. "Clamp at the base of the lashes, then hold the curler for five to ten seconds as you lift up. Alternatively, for a quick pick-me-up, hold the lashes in a curl with your fingertips for a few seconds." 
Curling your lashes will make them appear bigger and more voluminous — which is why those who rock glasses are great candidates for a lash lift. False lashes, on the other hand, shouldn't be a top choice unless they are very natural-looking and on the shorter side. "Long, false lashes can brush up against glasses lenses," the Global Corporate Educator for Osmosis Colour Mineral Cosmetics, Ami Mallon, tells Insider. "This can cause streaking on the insides of the lens and can also irritate the eyes."
Use a volumizing, waterproof mascara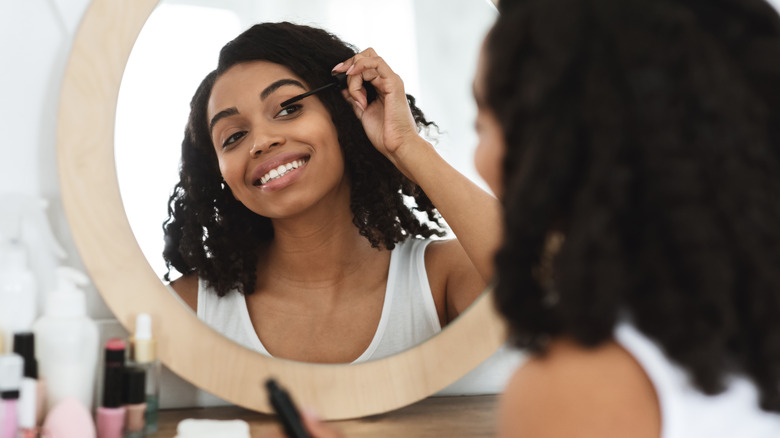 Prostock-studio/Shutterstock
If there's one tip you take away from us, let it be this: If you wear glasses, mascara needs to be the one makeup item you prioritize. "Choose a great mascara that emphasizes volume over length. Keeping the lashes full and separated will enhance eyes without getting in the way of glasses," Ami Mallon tells Insider.
Apart from going for a volumizing over a lengthening one, it's also best to use waterproof mascara — no matter how much you dread taking it off at the end of the day. "Layer a lot of waterproof mascara to avoid any smudging or transferring," celebrity makeup artist Kalyani Nayak tells Elle.
Makeup artist Bobbi Brown also tells Cosmopolitan that a long-wearing mascara formula "won't smudge on your lenses," which is obviously super important. The last thing you want is for smudged glasses to impair your sight and hide your eye makeup!
Pick your eye look based on your frame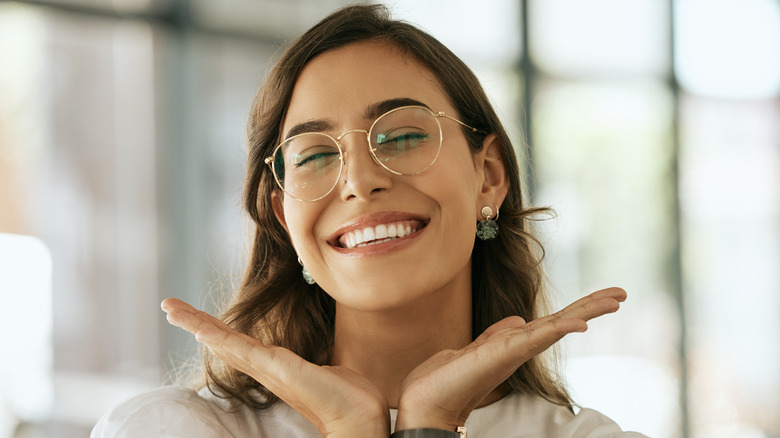 Peopleimages/Getty Images
A common misconception is that there is a general way every glasses-wearer should do their eye makeup. However, your eye makeup should enhance your frames, so you should consider their thickness and color. "The color of the eyeshadow depends on the frame that you wear," Kalyani Nayak tells Elle. "A thick frame looks good with a light color eyeshadow. On the other hand, for a frame that is thin or rimless, you can experiment with a slightly bold color."
Makeup artist Daniel Bauer tells Vogue that a "soft maroon smoky eye" looks best on those who rock red glasses. "For your classic black-rimmed glasses, a broad extended-wing eyeliner looks fantastic," he further explains. "For rimless glasses, I feel soft eye makeup looks stunning. A look that is easy to execute and which never fails is smudged kohl." 
Bobbi Brown also chimed in on how to rock makeup with glasses. "The color of your eye shadow shouldn't compete with the color of your glasses. If you want to do the same color as your frames on the eyelids, try a base hue that's a shade lighter, and go a few shades darker for the crease color," she reveals to Cosmopolitan. However, keep in mind that these are just makeup tips to get inspired from. Everyone's face shape and color preference are different, and if you like the way you look with bold and colorful eye makeup and thin rimless glasses, by all means — go for it!
Adjust the eyeliner based on your frames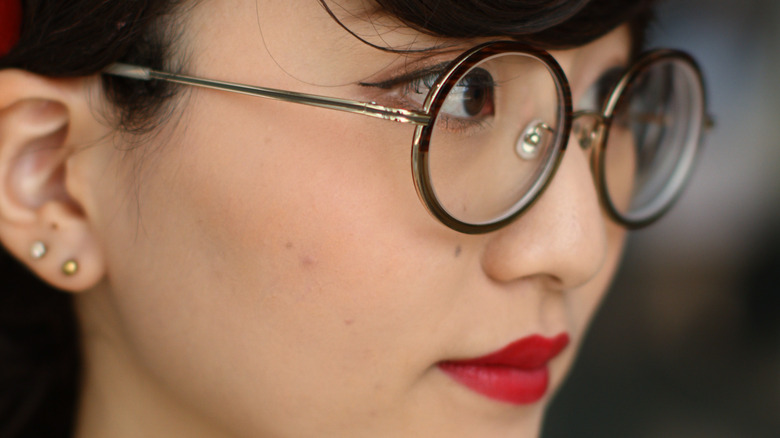 Onnie A Koski/Getty Images
Eyeliner is a great way to accentuate your eyes if you wear glasses. However, experts recommend adjusting your eyeliner's thickness to the thickness of your frames. "If your frames are thicker, you'll want to apply a thicker line to the upper lashline so that eyes stand out," Bobbi Brown tells Cosmopolitan. "If your frames are thinner, a softer liner works great. It's important to make sure that there is a balance between the definition of your frames and your eyes." 
Apart from thickness, the style of eyeliner is also something you should consider. "A graphic liner with dark-colored frames like brown or black would look very beautiful," Kalyani Nayak tells Elle. On the other hand, if your glasses are rimless or with thin frames, you may want to embrace the "barely-there" eyeliner trend and opt for a softer liner look. For this, use a pencil instead of a liquid or gel eyeliner and reach for a brown or gray shade instead of a harsh black.
Set the foundation around your nose to prevent your glasses from making indents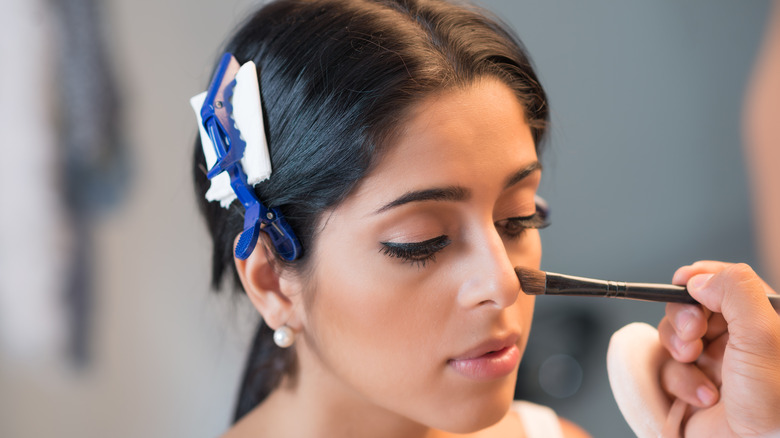 Dragonimages/Getty Images
One of the most common makeup concerns of those wearing glasses is the smudging that can occur in the areas where their glasses touch their nose or cheeks. But makeup artist Rose Siard has a clever tip to combat that. "Make certain that you are pressing your foundation and concealer into the skin around the bridge of the nose rather than pulling," she tells Reader's Digest. "Use a setting spray before applying your powder, then take your powder puff — yes, the one your grandma used — and press the powder into the bridge and sides of your nose. This will radically reduce how the glasses move your foundation."
While this tip works best for those days when you want to wear a full face of makeup, on an everyday basis, we would recommend skipping on applying foundation in the area — or only applying a tiny bit. "The major key to getting it to last is working from the outside in, saving the nose for last," beauty influencer Victoria Lyn reveals in a TikTok video. "Just use whatever's left on your brush to keep it light to avoid your glasses sinking in."
Add pops of color with fun eyeliner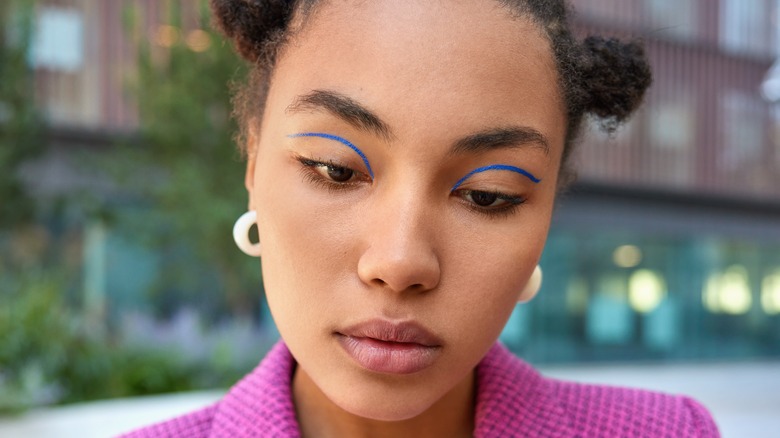 Cast Of Thousands/Shutterstock
Bright colors are always a fun way to switch up your makeup, but with glasses, fun-colored eyeshadow can quickly go unnoticed. "Keep the eyeshadow subtle and focus on the eyeliner instead," makeup artist Janice Daoud tells Marie Claire. "Adding a colored liner in your waterline makes your eyes pop and add a smoking look to your eyeliner adds definition to your eyes." You can even incorporate white eyeliner into your beauty routine for that extra pop.
If you do want to include brightly-colored eyeshadow into your makeup look, consider applying it to just your inner corners. "Pulling off a pop of color in the inner corner of the eye area is simpler than you think: You wanna' reflect light!" influencer Kristen Leanne tells Makeup.com. She suggests that if darker shades are more your thing, applying a glitter eyeliner on top will "help reflect a little light and give your look a bit of sparkle."
Use your brows to frame your face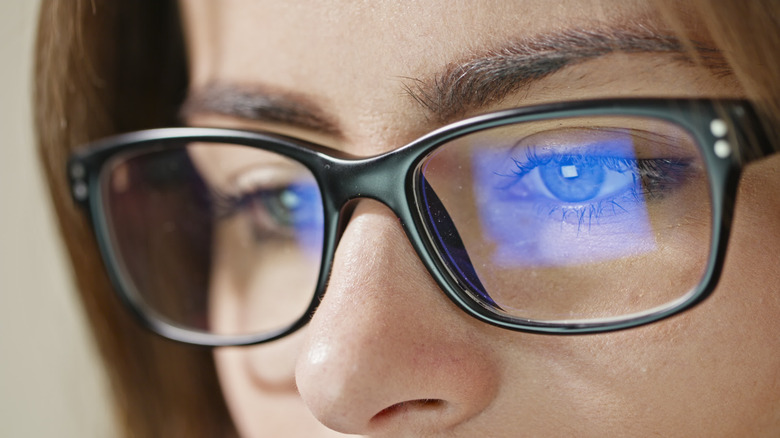 m-agention/Shutterstock
Brows can change your face drastically, which makes them incredibly important for a makeup look. "For me, brows are the real deal breaker, Daniel Bauer admits to Vogue. "You really do want your brows to be shaped and peek over the rim of your glasses. You should keep everything looking perfectly natural. I am a major fan of using pomades to fill in the brow."
That said, don't be afraid to have fun with your brows and explore different styles, even if you're rocking glasses. Whether you want to try out fluffy brows or go super bold with bleached ones (which have been trending for a while now), don't let a pair of glasses stop you. Even though experts recommend that you pay attention to some essential aspects if you're wearing makeup with glasses, that doesn't mean you need to sit out on fun trends!
Apply the makeup based on your lenses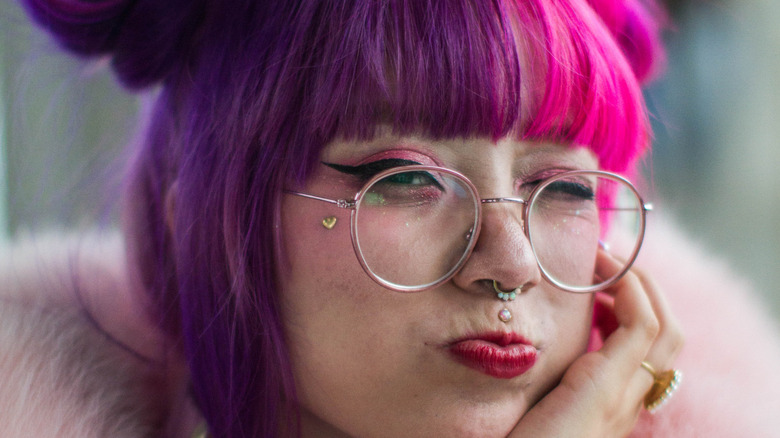 Onnie A Koski/Getty Images
Those who wear glasses as a fun fashion accessory can skip this tip, as it only applies to prescription glasses. You probably already know that depending on whether you're farsighted or nearsighted, your eyes look bigger or smaller through the lenses — especially if your prescription is strong. Taking this into account, you should pay attention to where exactly you're putting your eyeliner.
"If you're farsighted and your eyes look bigger through the glasses, you can use a black or a brown eyeliner in the waterline to make it look a bit smaller," Kalyani Nayak explains to Elle. "If you're nearsighted and your eyes appear smaller through the lens, use a nude eyeliner in the waterline to make the eyes look bigger." Aside from eyeliner, you can also make your eyes appear bigger or smaller with eyeshadow: Use darker shades if you are farsighted and lighter shades if you are nearsighted.
Glasses can enhance dark under eyes, so concealer is your best friend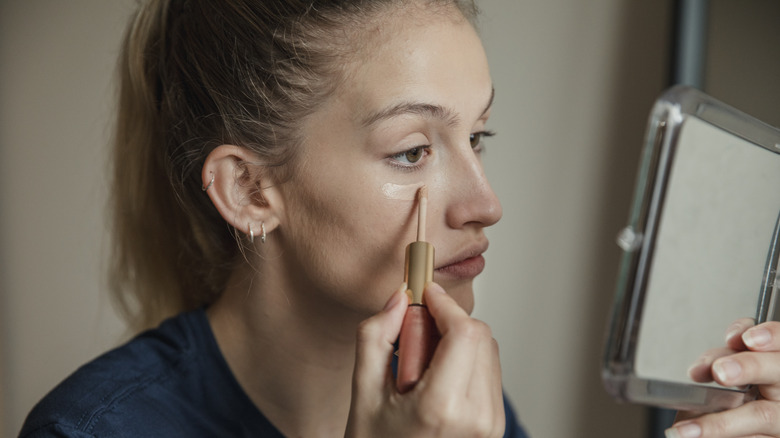 Dglimages/Getty Images
Since most glasses have frames, they can easily create a dark shade under your eyes — an area that is, for many, already prone to darkness. And if you have that darkness naturally, you don't want it to be accentuated! So, it's no surprise that concealer is your best friend (especially a color a couple of shades lighter than your skin tone).
"Concealer is the one product that can instantly lift and brighten the face," Bobbi Brown tells Cosmopolitan. "Choose a skin-tone correct formula that's one or two shades lighter than your foundation to help lighten any darkness. When concealer cannot fully lighten the under-eye area, a peach or pink corrector should be used to counter the purple of green tone." 
To apply the concealer, Brown advises blending and pressing — not rubbing — the product with your finger "to the lashline and in the inner corner of the eye." If the area under your eyes tends to crease, make sure you set it with a powder. To brighten the area even more, hit the area with an undereye brightening powder, light matte eyeshadow, or blush in a pink shade that suits your skin.
Use a magnifying mirror if you need to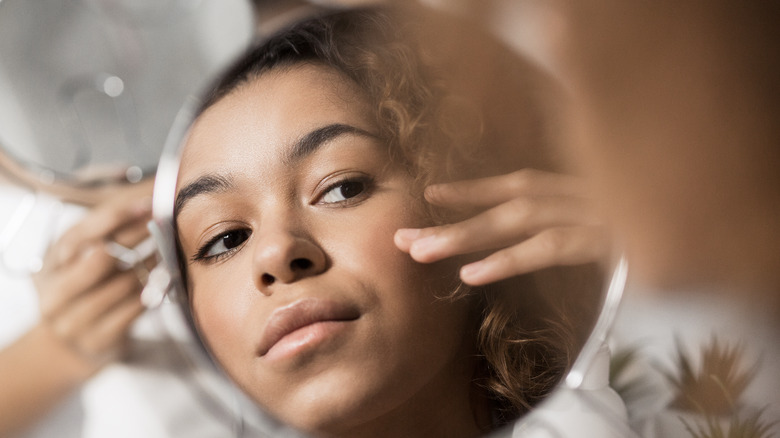 Prostock-studio/Shutterstock
Since most people wear glasses for a reason, chances are, they don't see that well when applying makeup without them. However, while you can work on your face and lips with your glasses on, you simply have to take them off when you're doing your eyes. Luckily, there is an easy way you can ensure you see your eyes well without wearing glasses. Makeup artist Elaine Wilkinson suggests to Insider that "the first investment [for glasses-wearers] should be a quality magnifying mirror," especially if you're nearsighted.
If you're willing to go the extra mile, you can also get a light-up magnifying mirror that will allow you to see your face incredibly well, no matter what lighting you're working with. And frankly, glasses or not — having a magnifying mirror can come in handy for anyone, as it allows you to perfect your eye makeup without getting super close to a mirror.
Bold lips look wonderful with glasses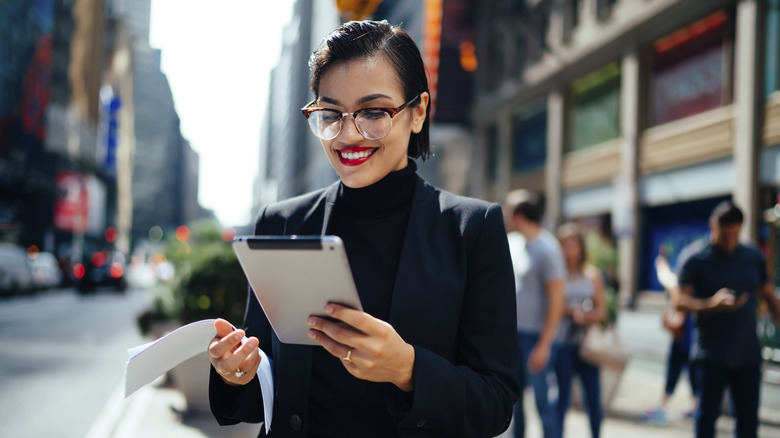 Gaudilab/Getty Images
An easy way to offset the drama that glasses can add to your face is to go for a bold lip. "A bold lip makes a serious statement whether you have glasses or not, but the pairing of glasses and a bright lip just reads impossibly chic," makeup artist Hillary Kline tells Insider.
In fact, if you only have a minute or two to get ready, instead of focusing on your eyes, apply a fun lip color instead. "A bold lip is great with glasses because it allows the lips to be the focus feature, rather than eyeshadow people may not be able to see behind your glasses," makeup artist Madison Murrell reveals to Makeup.com.
However, even though makeup artist Brandy Allen tells Reader's Digest that "a bright lip complements glasses by adding extra pizzazz," picking the right shade is essential. "When choosing a lip color, try to complement the frame color of your glasses," Allen explains. If you have glasses with a frame in a neutral shade, you can rock any color. However, if your frames are a red-brown, red, or purple shade, pick a lipstick color that doesn't clash with them.
Apply blush while wearing your glasses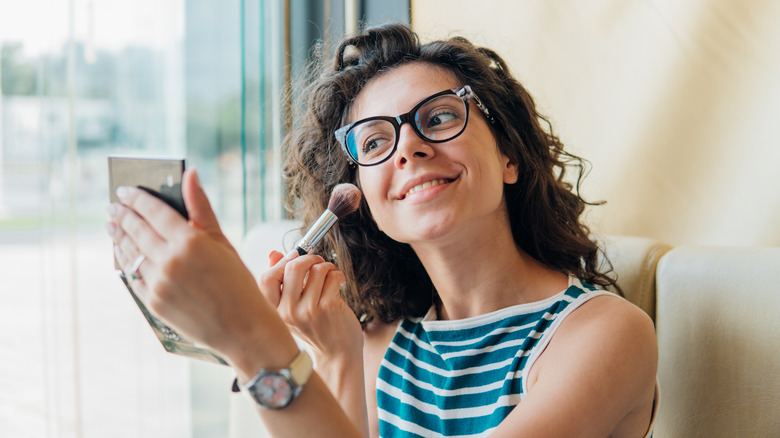 Brothers91/Getty Images
A lot of people who wear glasses believe that they need to fully finish their makeup before they put their glasses on. However, that couldn't be further away from the truth. In fact, certain steps of your makeup routine should only be done with your glasses on — like applying blush!
"This really helps you actually see your blush — it's like a custom placement to your frames," Victoria Lyn says in her Tiktok Video. "One problem I have when I wear glasses since I have such big cheeks is that when I smile, sometimes the makeup on my cheeks transfers to the lenses, so it's definitely about understanding how an individual's glasses fit their face and trying to limit the amount of product in areas where your glasses come into contact with your skin."
Following the same logic, you can also apply cheek contour and bronzer with your glasses on to ensure it's in the right place. However, once you do apply those products, take your glasses off and blend everything a bit more to ensure there are no harsh lines.
If your frame is bold, go the extra mile with your makeup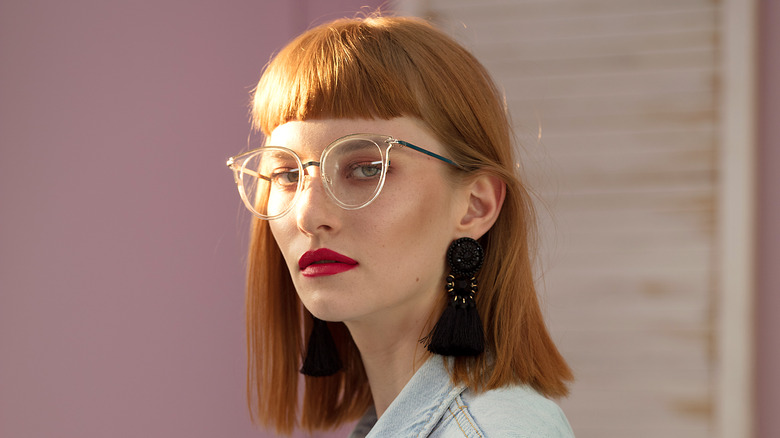 Neonshot/Getty Images
You might think that because you're wearing glasses, you always need to enhance your face by wearing makeup, but that is not always true. Makeup is supposed to be fun and give you confidence, but it is never obligatory. If you want to be bare-faced — by all means, go for it!
Conversely, if you do have a bold pair of glasses, you can get away with a bold makeup look even during the day. "There's definitely no reason to not dial up your eye makeup game when you wear glasses," Daniel Bauer explains to Vogue.
Because thick and dark frames already add a lot to your face, going for a dramatic eyeliner look and a fun lip color just makes sense. If you want to go the extra mile, the glasses will only enhance your makeup even more!