Cluttercore Is Back In Style, And We're Embracing The Chaos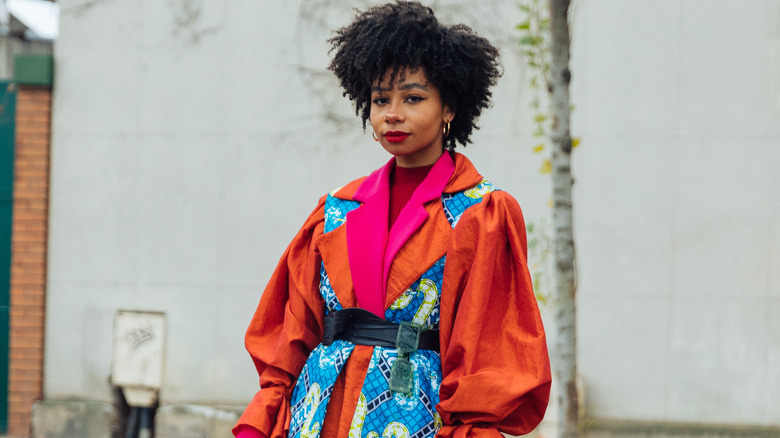 Melodie Jeng/Getty Images
The core phenomenon is about taking styles we've been indulging in for years and bringing it to the forefront, attaching it to a "core" trend that creates hyper-awareness. Cluttercore, specifically, is creating maximalist outfits punctuated by layers, texture, and an array of mismatched styles and patterns — often with vintage sensibilities.
You can probably trace the trend back to the 80s, when Molly Ringwald was the ultimate cluttercore gal in Pretty and Pink. In her secondhand clothes, she was the vulnerable teen with the stylized eye that made vintage shopping cool to a whole new generation. Fast forward to the 2010s, and fashion bloggers like Tavi Gevinson were integral to the whole vintage-grandma-chic movement. These outfits were experimental, quirky, and personalized. 
Of course, this was before social media was such a pervasive part of our lives, and people were freer to be. Now, much of fashion can feel like a production, and this can make authenticity seem hard to come by. Notably, an article presented at the International Conference of Textile and Apparel Fashion says, "Many so-called trends are just old pieces, minimally reinterpreted in order to have more commercial appeal." 
But ironically, the essence of cluttercore is authentic, individualized (and somewhat mad) self-expression. As long as you're aware of what is triggering your attraction to trends, you don't have to be blindly influenced and can make informed decisions. So if cluttercore is a look you're interested in, here are some ideas for how to achieve it. 
Look out for granny-inspired pieces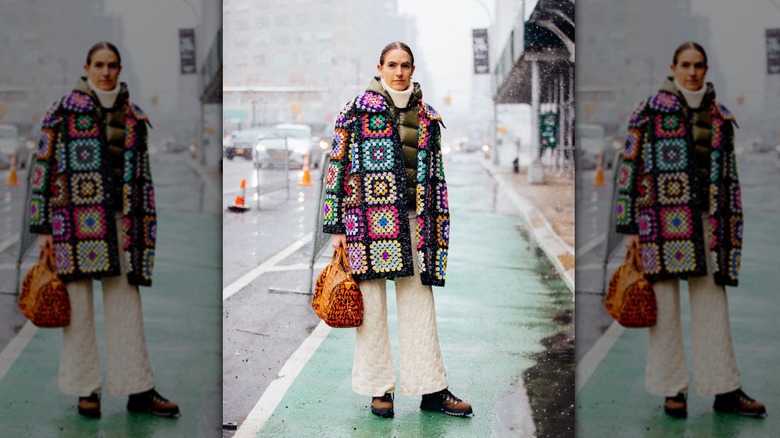 Melodie Jeng/Getty Images
What's more cluttercore than a multi-colored granny square crochet coat? Layered over a puffer jacket and exaggerated turtleneck, the comfy blanket coat feels modern. And paired with white textured pants, brown sporty shoes, and an orange logo printed handbag, the look feels pulled together and cozy, just right for running around in inclement weather.
Wear sensible shoes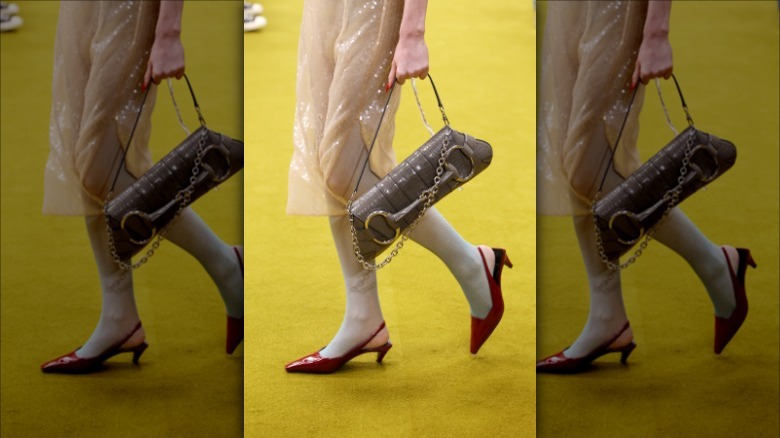 Daniele Venturelli/Getty Images
With cluttercore, sensible shoes are no longer just for the sensible. The daringly expressive types wear them too. They're comfortable to walk in and add character to a maximalist outfit. While these shoes may be practical, don't call them boring. Paired with a sheer sequin skirt, opaque stockings, and a chain-link bag, the look gets a trippy update.
Supersize your collar
Supersized collars are a key element of cluttercore. A nod to well-dressed women of years gone by, the exaggerated collar calls attention to the details in a society that moves fast with little time to stop and take notice. Pick a collar with a contrasting pattern to amplify it. And pair it with a printed scarf for a prim and proper look with a bohemian edge.
Pump up the volume
Cluttercore style is full of volume. Think puffy sleeves and oversized proportions that border on the ridiculous. It's like poking fun at proper dressing, only you're in on the joke. A puffy sleeve dress layered over a button-down shirt and cinched at the waist feels a little offbeat in the most elegant way. And the large fur hat complements the volume below.
You can match and clash all at once
Leopard prints and florals everywhere are the perfect mashup for cluttercore. Pour on the vintage glamour with a side of kitsch by matching a 60's inspired hat and gloves. And if you want to take cluttercore to the next level, add some noticeable make-up that just might be a little overdone, depending on who you ask.
Embrace nerd glam
One thing that makes cluttercore style alluring is it's ability to look offbeat and refined at the same time. On its own, a matching printed suit may be seen as smart and sophisticated. But paired with sneakers and old-school striped socks, it takes a sharp turn, giving hot nerd vibes. And the large purple/pink coat only solidifies the quirky drama.