Hair Was A Bigger Let Down Than Any Award Loss At The 2023 Oscars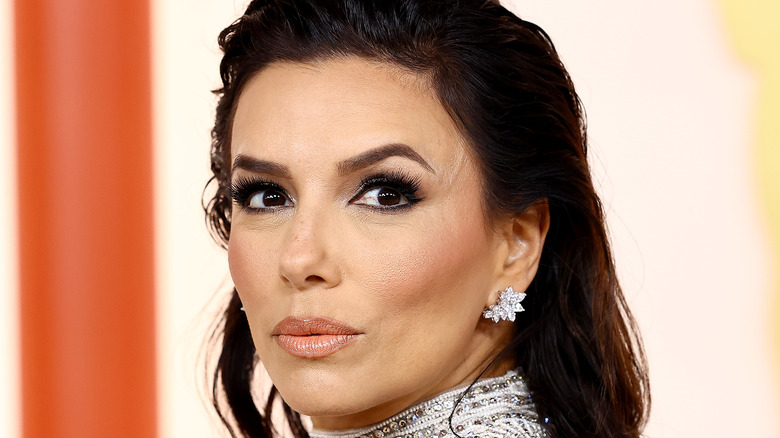 Arturo Holmes/Getty Images
Each year, millions of viewers tune into the Oscars to witness history in the making, from the historic film achievements to iconic fashions sported by celebrity attendees. It's no secret that stars are judged just as much for their hair, makeup, and outfits as they are for their on-screen talents. At the 95th annual Academy Awards, stars walked the newly-laid champagne carpet at Los Angeles' Dolby Theatre to unveil their fiercest looks. From showstopping haute couture to vintage Chanel chic, one thing was clear: Celebs brought their absolute best in terms of attire, and the best Oscars looks showed in spades. 
Advertisement
While plenty of celebs dressed to the nines at the Academy Awards, a curious trend emerged. The dresses impressed, the jewelry dazzled — but the hair and makeup? Makeup didn't dazzle at the 2023 Oscars, and, well, let's just say the hair fell flat. Despite the impeccable fashions, stars underwhelmed us with their coiffure choices. Most attendees opted for sleek middle-part buns; straight, lightly-tousled hair; or simple half-up, half-down ponytails. Wild.
Everyday hairstyles reigned supreme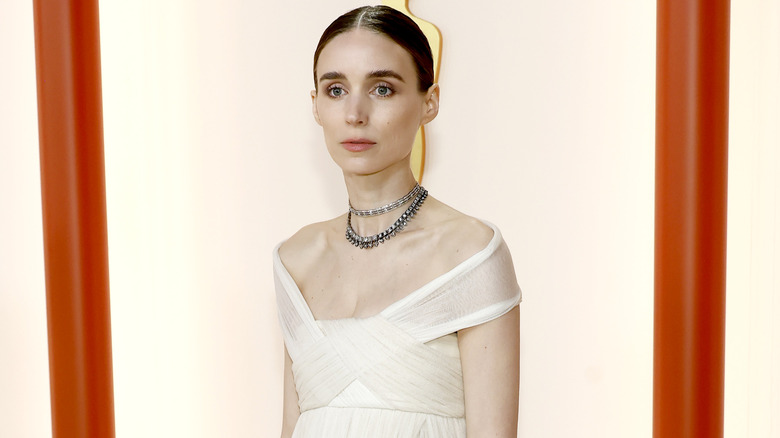 Mike Coppola/Getty Images
What's worse than a veritable fashion faux pas? Playing it safe. At the 95th annual Academy Awards, very few in attendance chose to make a statement. While superstars like Fan Bingbing and Halle Berry sported elegant vintage Hollywood styles, others played it safe or veered into messy territory. Take Eva Longoria, for example. The "Desperate Housewives" actor wore a dazzling white gown to tonight's ceremony but paired it with rumpled, wet-inspired hair that left the look feeling unfinished.
Advertisement
Longoria wasn't the only celeb who missed the mark. Rooney Mara wore a simple middle-part bun, Jennifer Connelly wore a severe, slicked-back bun, and Lady Gaga wore an easy French braid with grown-out roots. Those who had down-dos played it even safer. Rather than opting for blowouts, glamour waves, or styled curls, actors embraced Gen Z's penchant for finger-combed, air-dried hair. For example, Nicole Kidman and Ana de Armas displayed at the 2023 Oscars undone locks that looked determinedly unstyled. 
In fact, so many stars settled for safe, everyday styles that it was easier than ever to spot those who opted for something more eccentric. Florence Pugh, for instance, may have landed on our list of the worst Oscars 2023 looks, but her intricate updo was an unforgettable style for short hair. Furthermore, several stars proved that messy updos needn't look basic — just take a look at Rihanna or Sandra Oh's perfectly-tousled tresses. While this year's coiffures may have felt uninspired and safe, things can, at least in theory, only improve in the future. 
Advertisement
What makes hair Oscars-worthy?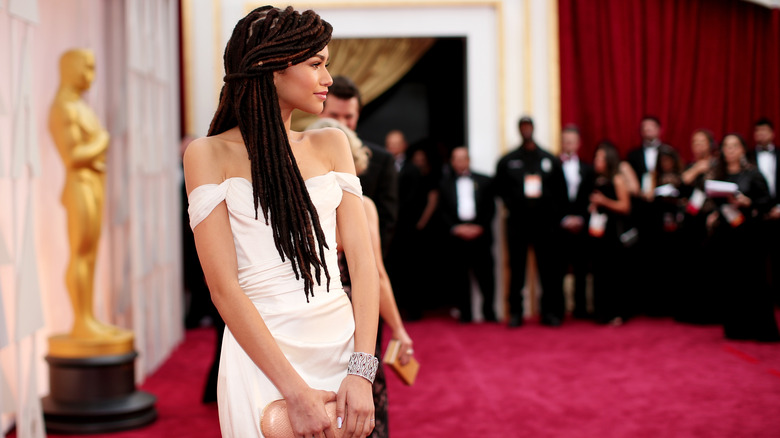 Christopher Polk/Getty Images
Throughout the history of the Oscars, red-carpet hairstyles have garnered serious attention and changed the cultural landscape. Who could possibly forget Cher's curly 1986 updo at the 58th Oscars ceremony, crowned by a massive Bob Mackie headdress? Although it landed her on a few worst-dressed lists, today, it's viewed as nothing short of legendary. More recently, we can recall when Zendaya wore her flowing auburn locs to the 87th Academy Awards. "My wearing my hair in locs on an Oscar red carpet was to showcase them in a positive light, to remind people of color that our hair is good enough," the star wrote on Instagram at the time.
Advertisement
Awards show hair should wow us. Whether artsy or refined, red carpet (or champagne carpet) hairstyles are expected to be nothing short of jaw-dropping. For celebrity hairstylists, creating the coiffure to match their clients' Oscars dress is an art form not to be taken lightly. After all, hair is an accessory in and of itself. However, at the 2023 Academy Awards, it was evident that many stylists didn't get this memo. Some stars, like Danai Gurira, took our breath away at tonight's ceremony with beautiful styles. Still, a staggering number of guests left us wanting more — or worse, let us down entirely.