Your Ultimate Guide To Being A Maid Of Honor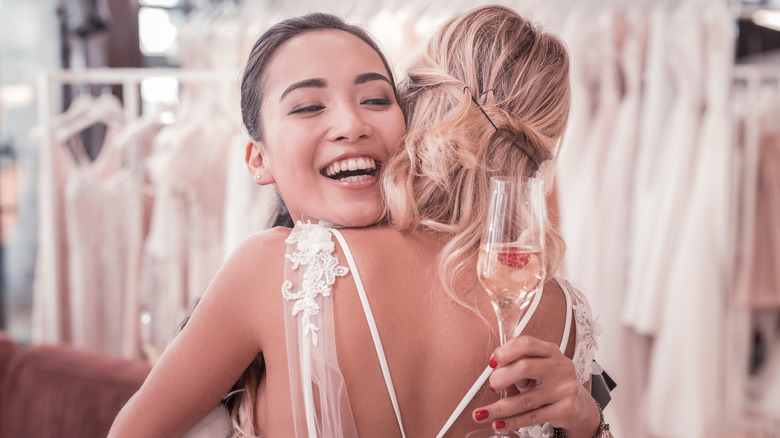 YAKOBCHUK VIACHESLAV/Shutterstock
There's no question that a wedding is a huge occasion for many, many people. Of course, it goes without saying that the happy couple is the center of attention — but the in-laws, extended family members, and friends have a lot to celebrate, too. High on that list of friends is you, the maid of honor.
In many ways, the success of the day rests entirely in your capable hands (so no pressure, right?). Fittingly, it's an "honor" of a lifetime to be someone's maid of honor, as it indicates that the person has a significant amount of trust and confidence in your abilities. They know that you're the only one they can count on to be there when the going gets tough just as much as you'll be there during the good times — and, yes, there might be some hiccups along the way.
Luckily, you're along for the ride. You'll efficiently handle details big and small, be a source of constant emotional support, and juggle more than a few balls in the air at once — all without breaking your stride. But what exactly are you expected to do? These are the maid of honor duties you can expect to fulfill.
Plan out and talk about her bridal vision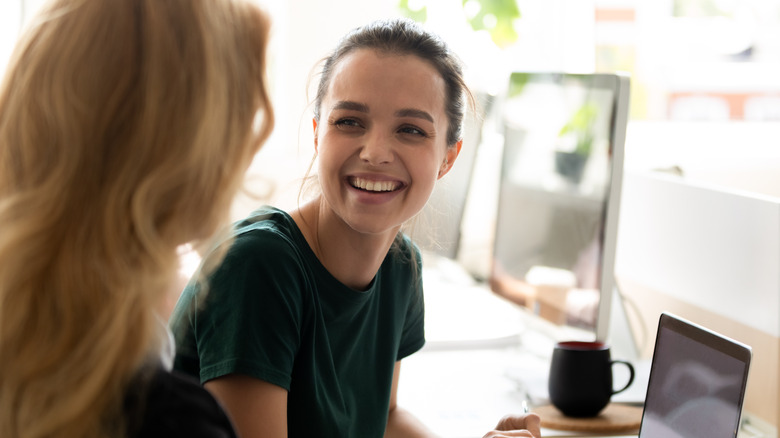 fizkes/Shutterstock
If the bride has had a vision of the "perfect" wedding for most of her life, chances are she's already got a fairly good idea of what type of ceremony she would like. She may have everything planned from start to finish, from the color of her flowers to the style of her dress. Conversely, she might walk into the process blindly. No matter what, your role is to help her execute her ideas with accuracy.
Start by hashing it all out and focusing on her wants, needs, and areas of specific interest. This is a smart starting point, according to wedding planner Alex Moreau, who told The Knot, "... look for inspiration in other places such as museums, art, and architecture. Additionally, make sure that as you're coming into wedding planning, you are looking for ways to incorporate both of your personalities and styles."
Vision boards can help, too. Seeing pictures can really open up the bride's eyes to new options that she may not have considered before. Peach instead of violet? Daisies instead of roses? Who knows where a little creativity will take her! And when she's stuck or uncertain, you'll be there to save the day.
Be a source of support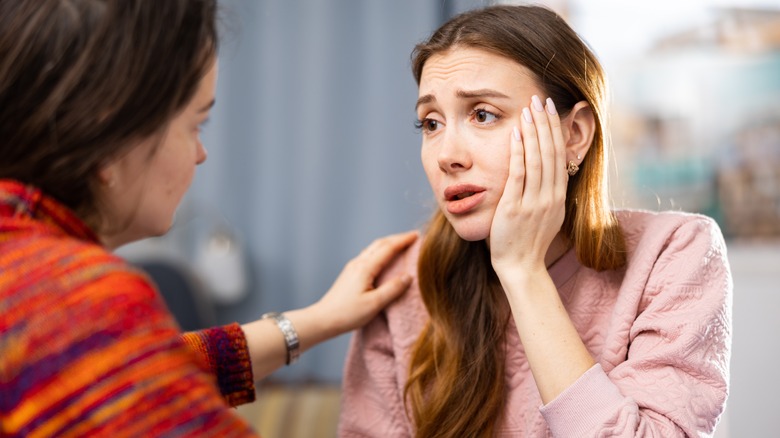 BearFotos/Shutterstock
Real talk: The bride chose you to be her maid of honor for a reason. With that honor does come responsibility — namely, the kind that calls for you to swoop in and save the day. The bottom line is that the bride chose you because she knew that when things got a little shaky (as they do), you'd be there to bring your genius. Giving invaluable support to your girl is your forte!
Be there for her as much as possible. Moral support is incredibly important — it ranks right up there with giving your opinion about potential wedding dresses and planning the bridal shower. She is bound to feel stressed at some stage during the planning process.
Providing a listening ear is great, but you can also play a more tangible role by taking action when things get a little tough. Offer to make the phone calls and chase down vendors. Provide her with links to some ideas if she's stumped. Give her a rundown of hotels in the area if she's planning a destination wedding. By being a more proactive source of help, you can fill the gaps for her when things just start to feel a little too crazy for her.
Initiate bridal party introductions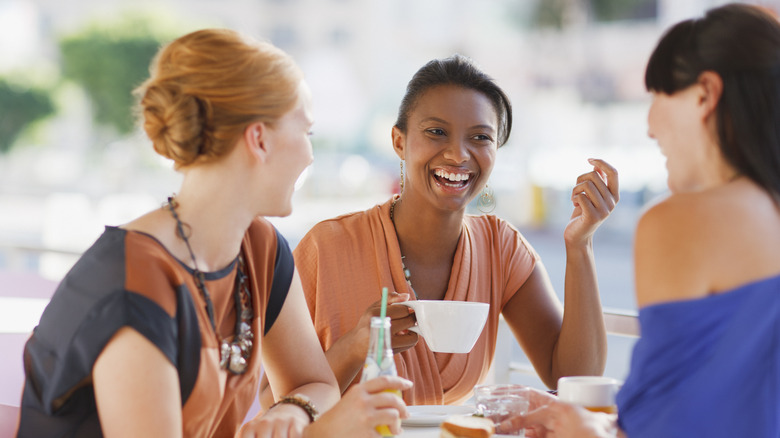 Paul Bradbury/Getty Images
Sure, the bride's besties all play key roles in the bridal party — but that doesn't mean they all know one another. Here's where you step in: Wrangle up the party so everyone can get acquainted with each other. It's going to be a busy few months, and it's always easier to jump into the festivities when everyone is familiar with everyone.
This is where social media is an excellent tool. Whether you're setting up a WhatsApp chat, a group on Facebook, or even a mutual Pinterest page where everyone can pin their ideas for the bride's benefit, this virtual connection can set the tone in a simple way. Miranda Tassi, a wedding planner at Chancey Charm Charlotte, told Brides, "It can be an outlet for advice, catching up, getting to know each other, and keeping up on wedding details." 
When people know each other, they're more likely to feel comfortable sharing their opinions. If you've ever powwowed during a big meeting or collaborated with someone on a project, you know exactly what this is all about — mutual respect and a sense of camaraderie. Things just go a lot more smoothly and are a lot more fun when everyone gets along, too!
Shop for wedding dresses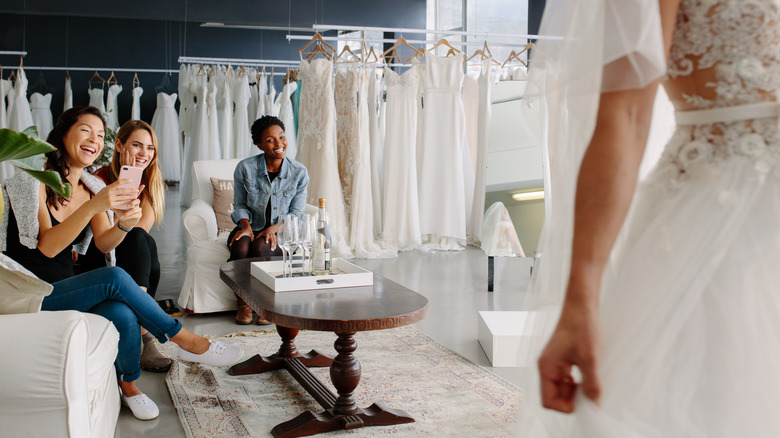 Jacob Lund/Shutterstock
Some brides love the idea of going dress shopping with large groups. It can be fun, but it can also be a little hectic. As the maid of honor, you can be sure that you will be invited along, whether it's alongside several other people or just the two of you.
You can do the bride a big favor by connecting with the store in advance to find out how many people can comfortably fit inside during fittings. Some retailers are able to accommodate many people, while others can comfortably fit just a couple. As for who those lucky few should be, it's ultimately up to her. Kleinfeld bridal consultant Shay Yarbrough tells Brides, "You want soothing people who are careful with you and their words—who are honest but in a loving way."
Keep in mind that no matter how many people are there, the bride will likely lean on you the most. Deliver your unfiltered, honest, loving opinions when asked. Is she leaning a little too far into wedding dress trends that you're pretty sure she'll hate on the big day? Does she look absolutely amazing in that to-die-for modern gown? Keep it light and fun, take a few pictures to commemorate this special time together, and have a blast.
Help with correspondence needs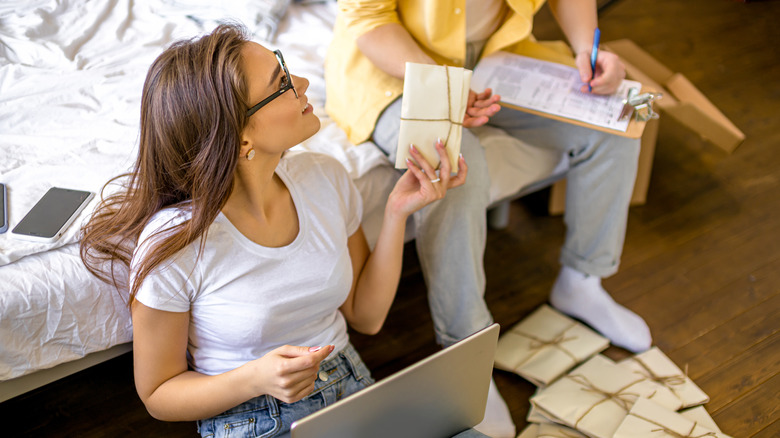 UfaBizPhoto/Shutterstock
Planning a wedding calls for tons of stationery, naturally including invitations. Some may prefer to send electronic invites if they're taking a more casual route, in which case you can help by collecting links for various electronic invites that you think might be suitable. It's a thoughtful gesture that may save them some time.
The couple might also decide to send out invites to an engagement party. Countless cute, unique styles are available on sites like Etsy and Zazzle. Be mindful of how far in advance they'll need to send these invites, though; for a more formal affair, the couple should give their guests at least a few months' notice, but for a relaxed affair, it's customary to send the invite a few weeks ahead of time.
You will likely be in the driver's seat when choosing invitations for the bridal shower, but you can consult with other bridal party members if you'd like help. During the shower itself, assume the responsibility of jotting down the name of each guest and the gift they brought. She can then write personalized thank-you notes (bonus points if you provide her with a package of chic stationery!) after the wedding is in the rearview mirror.
Plan the bridal shower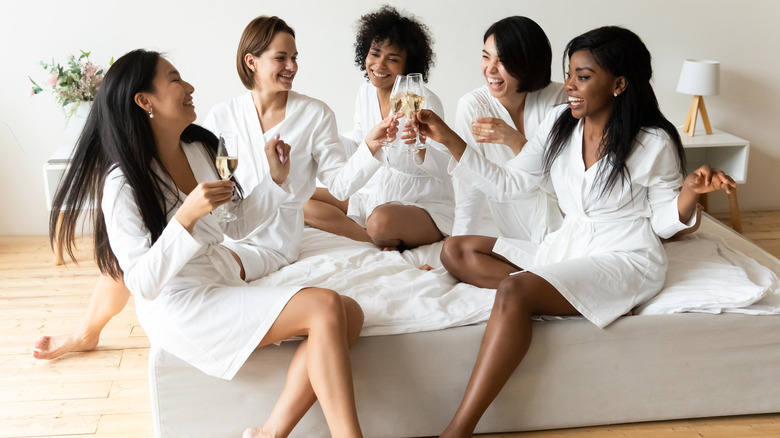 fizkes/Shutterstock
Planning the bridal shower is a major undertaking. It can be casual or more upscale, but both call for some serious time and energy to arrange. Taking it step by step is the most effective way to make sure that you stay on track and on schedule. Start by choosing a date at least three months in advance, which should allow you plenty of time to contact venues and find out availability.
Then move on to the guest list. While you might be pretty sure you know the bride's friends, you don't want to make any mistakes here. There may be a conflict between someone in the bridal party and another friend that you know nothing about, which is why giving the bride free rein over the attendees is crucial. Never make the final call yourself.
Then you can set to work decorating, putting together a menu, and planning fun activities. Keep things light and fun — and skip the outdated bridal shower traditions that need not apply in the modern world! Don't spread yourself too thin, though. Give the bridesmaids some responsibilities so you aren't so overwhelmed by your own duties that you can't have a good time.
Plan the bachelorette party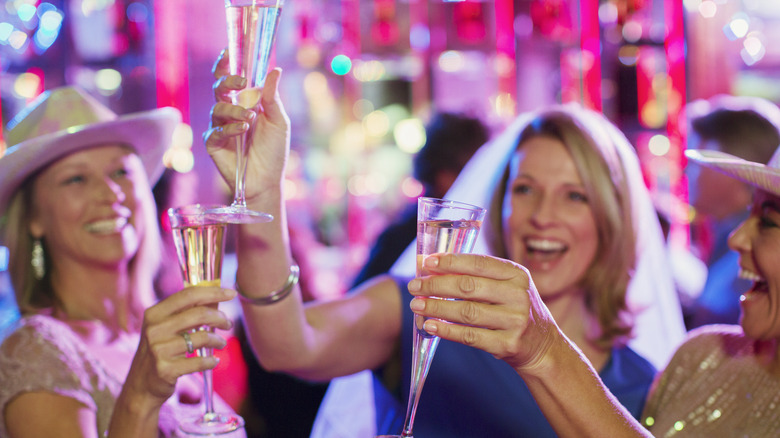 Dan Dalton/Getty Images
The bachelorette party is an opportunity for the bridal party to celebrate the bride. This is a "last hurrah" type of celebration — a chance for her to spend one last night as a single woman in the company of the people who love her the most, fondly bidding farewell to the old and excitedly gearing up for an entirely new chapter. 
Now, the fun part: going all out for the guest of honor! Is she the outdoorsy type? Rent a cabin in the woods for your group and have the adventure of a lifetime. Go glamping, head to the lake for the weekend, or book a yoga retreat at a chic spa. Other fun ideas include wine tastings, road trips, pub crawls, and destination bachelorette parties. Remember, it's all about delighting the bride and giving her an experience she will never forget.
As for themes, there are plenty of classy bachelorette party ideas that she will love. Maybe she adores the 1980s, so invite everyone to dress in their raddest gear — hello, fingerless lace gloves, sky-high bangs, and hot pink leg warmers. Above all else, relax and enjoy this moment to break away from the madness.
Write your MOH speech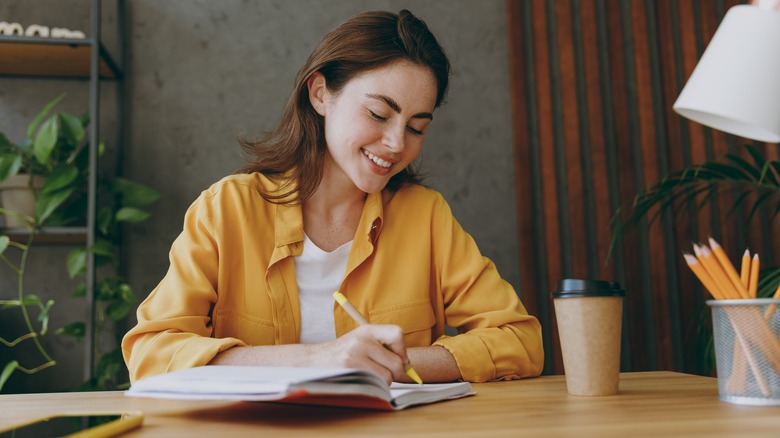 ViDI Studio/Shutterstock
Not everyone in the bridal party will deliver a speech. You, though, will be expected to step to the mic and leave everyone both in stitches and dabbing their eyes. Giving a speech is next-level big on the list of maid of honor responsibilities. Still, no pressure. This is your moment to shine, yes, but it's really more about shining the spotlight on your dear friend.
Whether or not speaking in public is your forte, it's important to plan what you're going to say by writing your maid of honor speech beforehand. It's best to keep it on the shorter side. Now's the chance to share the funny story about how you met or one of the goofy things the two of you did together. Add a few words about their relationship, express your joy about their union, and finish with uplifting words (and a toast!) as you wish them a lifetime of happiness.
After writing the speech, give it a practice run. Read it out loud to yourself, then read it to someone else. Encourage them to tell you if they feel it's too long, too drawn out, or too wordy. Remember: Short, sweet, and meaningful is the goal.
Organize the travel plans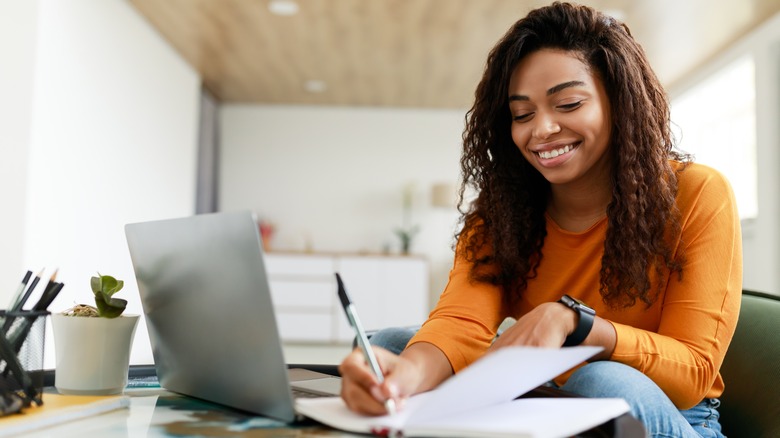 Prostock-studio/Shutterstock
Travel and transportation can be tricky. It's an often overlooked area that might leave everyone scrambling to figure out how best to get to the wedding venue and the reception after. If some guests aren't from the area, they may not have a vehicle and may not be comfortable driving around in a rental car. Even locals might not be thrilled about driving and finding parking.
You can make it easier for everyone by helping the couple organize travel options. Those can range from well-appointed sprinter buses to limousines for fancier rides. However, determining the best choices for guests is really dependent on factors like how many people are traveling together and the budget. A huge group staying at the same hotel will require a bus to reach the wedding venue, for example.
Other options abound, too. Anything from a minibus to a motor coach can be suitable transportation. These can transport guests from their hotels to the venue and then to the reception if it's at a different location. You can take an enormous weight off the bride's shoulders by organizing all these logistical details for her.
Help with last-minute tasks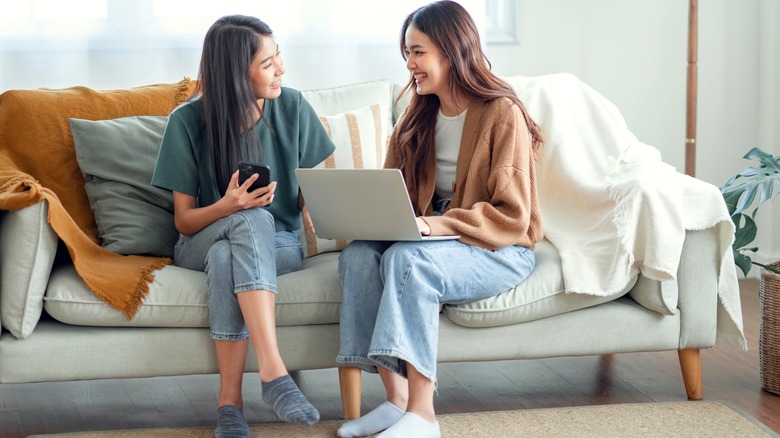 oatawa/Shutterstock
It's not unusual for the bride to feel overwhelmed as the big day looms. Sudden last-minute to-dos may come up out of nowhere, leaving her frazzled. Good thing you're there to keep things moving in the right direction. Step one: Create a pre-wedding schedule with dates and times, plus a schedule for the day of the actual ceremony. Keep it neat and organized so people can quickly navigate to a specific day and time.
If the bride has shared vendor information with you, take it upon yourself to check in with them before the wedding. She's likely either far too preoccupied with other matters or just a big ball of jitters — which means something like calling the vendors to make sure everything is good to go may not be on her radar. Keep everyone's contact information handy, so you can make necessary calls on the wedding day.
You can also put together envelopes for tipping anyone who typically receives gratuity at this stage, like entertainers or valets. If you don't have their names, just put their title on the envelope and a designated amount, provided the couple has agreed to that figure in advance.
Make a wedding emergency kit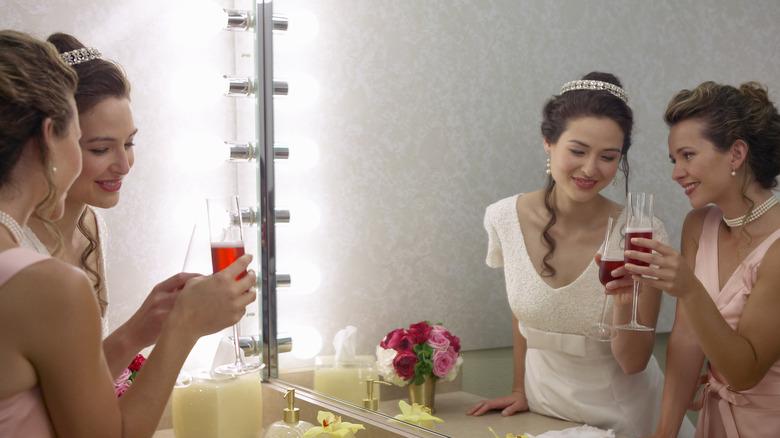 Burke/triolo Productions/Getty Images
Putting together the wedding emergency kit may well be one of the most important things you do for the bride. Things happen — dresses develop snags, mascara runs (especially if you outdid yourself during your MOH speech!), and hair starts to look a little less "done." Whatever the drama, you can solve it if you assemble a kit with all the basics.
From a beauty perspective, tuck a few basics in the kit: mascara, a stick foundation or concealer tube, setting spray, and blotting sheets to soak up oil. Other items that can come in useful include bobby pins, safety pins, a first-aid kit, fashion tape, a lint roller, hand lotion, cotton swabs, sunscreen if the wedding is outdoors, breath spray, mints, tissues, and lip balm.
You might even want to keep a few snacks handy. You never know when the bride might get a little peckish, especially if she was so nervous in the morning that she couldn't eat a thing and is just now starting to breathe a little more easily.
Be the day-of hostess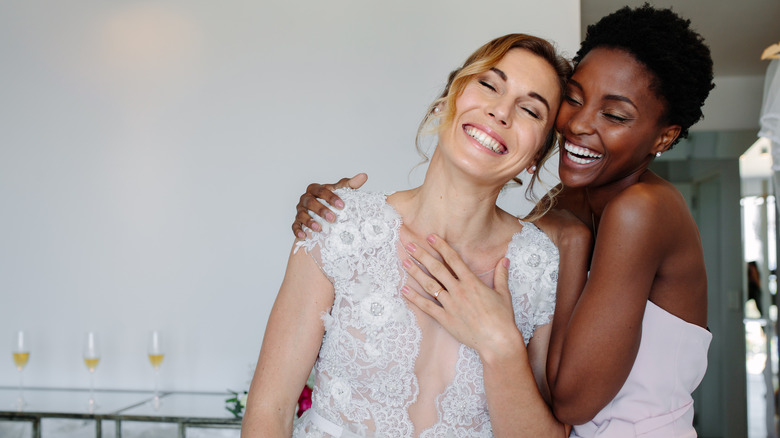 Jacoblund/Getty Images
The big day is here, and much of its success rests firmly on your capable shoulders. You'll be the go-to point of contact for everyone. That includes the couple, who might want to convey messages to each other through you. Feel free to run that note up to the room where one party is getting ready.
Check-in on the parents, too. Do they need a snack? A drink? A comfy pair of slippers or a robe to wear while they get their makeup done? Do your thing, MOH. It's also thoughtful to bring food to the bridal suite or have it delivered or catered. The bride might be too nervous to eat, but everyone will appreciate having something to munch on while they get ready.
Finally, keep the bride's essentials with you. Grab her phone if she wants it nearby but doesn't necessarily want to hold onto it. Place some tissues in your bag. If she's wearing something extra, like a shawl or a cardigan, make sure to keep it somewhere safe since she may want to cover up again during the reception.
Arrange the wedding dress train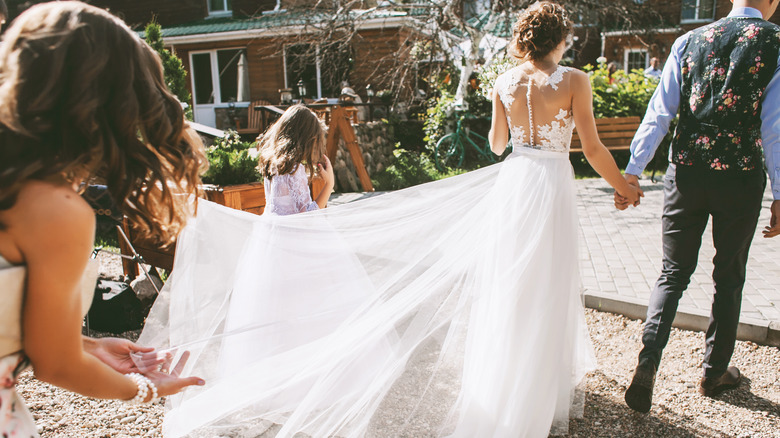 Nastya Dubrovina/Shutterstock
If the bride's dress has a train, you'll be on train duty — which means you can count on smoothing out the material for the bride after she's walked down the aisle. It's quick, painless, and sweet — and an easy way to ensure that the pictures capturing their "I dos" aren't disrupted by rumpled or creased fabric swirling around the happy couple's feet.
You might even find yourself dealing with the train at other stages of the day. For example, if she's walking into a church, then you can assist the event coordinator in lifting it off the ground, so it doesn't get dirty. Once you reach the venue and she's ready to walk down the aisle, do a quick wardrobe check from head to toe.
Inspect the veil for any specks of debris or other imperfections, and make sure that the train is clean. According to All Brides Beautiful, asphalt is one of the few elements that "cannot be removed" from a gown or a train, making your role as the resident train-holder extra important. Do her proud!
Handle all ceremonial duties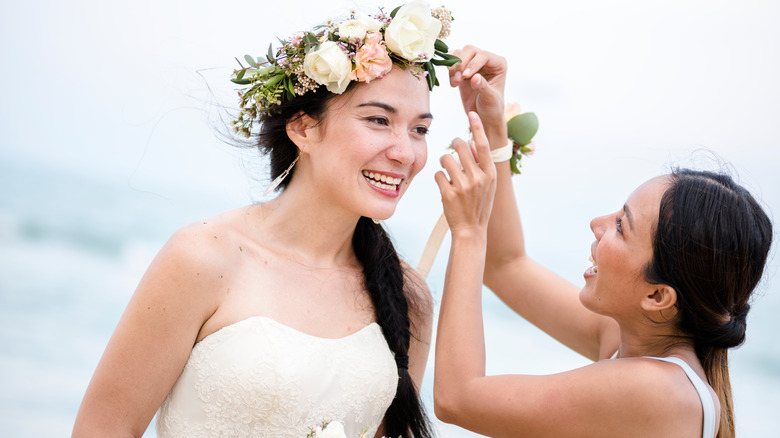 Rawpixel.com/Shutterstock
With the ceremony underway, you might be surprised to learn that you have a few more duties that extend beyond just providing support for the bride. For a start, you might be asked to hold the wedding bouquet when the ceremony starts.
After they've exchanged their vows and are ready to walk down the aisle as a newlywed couple, you can return the flowers to her. But keep in mind that you might find yourself holding the stems again if you're nearby and she needs to snap some pictures or otherwise take care of her wedding-related duties.
Although it is customary for the best man to hold the rings during the wedding, it is possible that you may be asked to do the honors instead. This may be the case if there is no best man or conventional wedding roles don't bind the couple. 
Handle all reception duties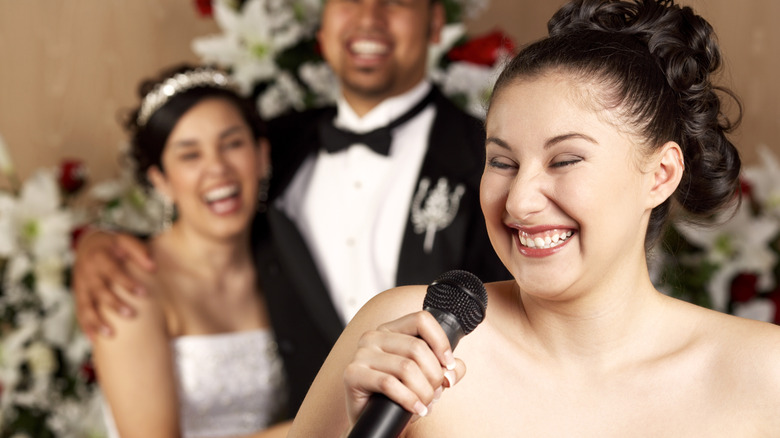 Creatas/Getty Images
Party time! The wedding was a success. All of those months of planning, laughter, hard work, and focus paid off in a beautiful way. Now it's time for everyone to let their hair down, relax, and celebrate the happy couple. Being the maid of honor, though, you might have some additional duties to uphold. Being a VIP in her life (and the wedding, of course), you'll likely stand in the receiving line with the rest of the bridal party to greet the guests.
Make it a point to walk around during the reception and check in on all the guests, too. Introduce yourself to those you don't know, mix and mingle a bit, and ensure that everyone is having a good time. The bride and her spouse will be wandering around, too, but they won't have nearly as much time given that they have a cake to cut, a first dance to dance, and pictures galore to take!
Handle post-reception duties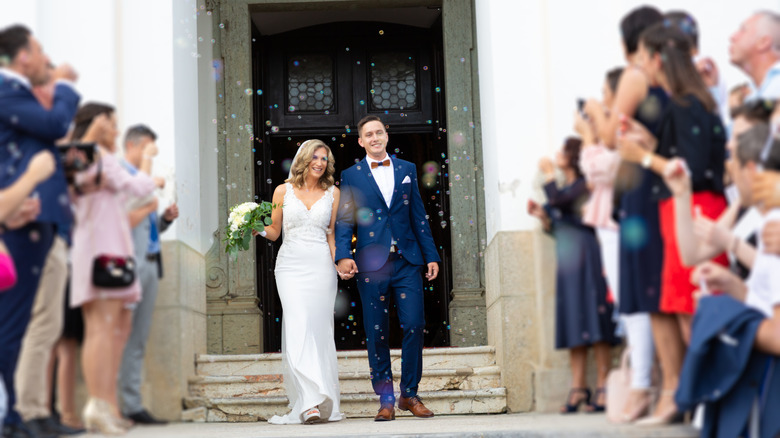 Matej Kastelic/Shutterstock
Whew. You've done it. So what's left? The work isn't quite done! Lighten the load for the couple by gathering all the gifts they received. If you can, arrange for them to be loaded into the couple's vehicle or transported to their residence, so they don't have to deal with that step.
Now is also the time to hand out the tips to the vendors. You can jot down any names you missed to make it more personal. There's probably also some cleanup at the end of the night. Gather any personal belongings and keep them in a single place so the couple can grab them as they leave.
The bride may need your help changing out of her dress, too. This is a big one since many wedding dresses are complicated and require some work to get out of. Take a few pictures together before the dress is removed — this is the end of the whole event. It's been a success from start to finish, and you've played a massive role in ensuring the bride's day was truly unforgettable.