Everything You Need To Know To Style A Pair Of Slide Sandals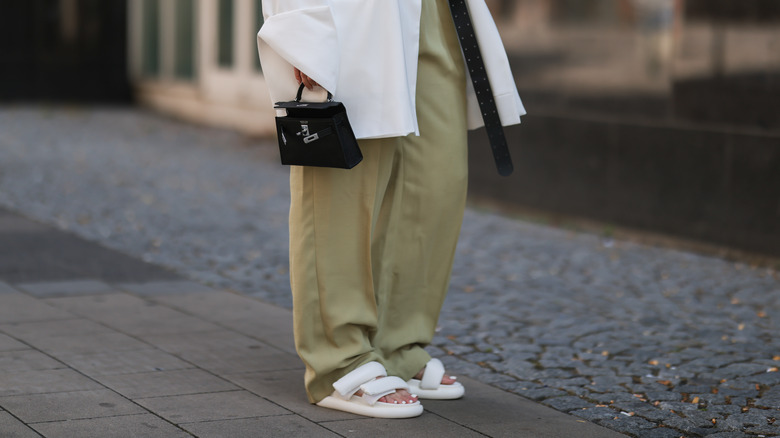 Jeremy Moeller/Getty Images
This is a public thank-you note to the trendsetters who said "nah" to stilettos and began wearing shoes that toe the line of comfort and style. One of the top styles of sandals that feel like walking on clouds, slides used to be reserved for poolside relaxation seshes and post-workout 'fits. These situations are no longer the only good times to wear slides — they've become a staple in closets and as much of a fashion symbol as a pair of good chunky boots or slingback heels.
Advertisement
The sheer number of sandal-style options makes it just as easy to slide these puppies into any ensemble you like. The super casual appeal of athletic slides is a total must for athleisure and model-off-duty-inspired outfits. But your more curated looks and slick pieces will benefit from popping a pair of slides on, too (think miniskirts, midi skirts, and strapless dresses). Even the former fashion faux pas of wearing sandals with socks is a trend worth trying. Wondering how to make these work with your own collection of clothes? Here is everything you need to know to style a pair of slide sandals.
Pair them with a blazer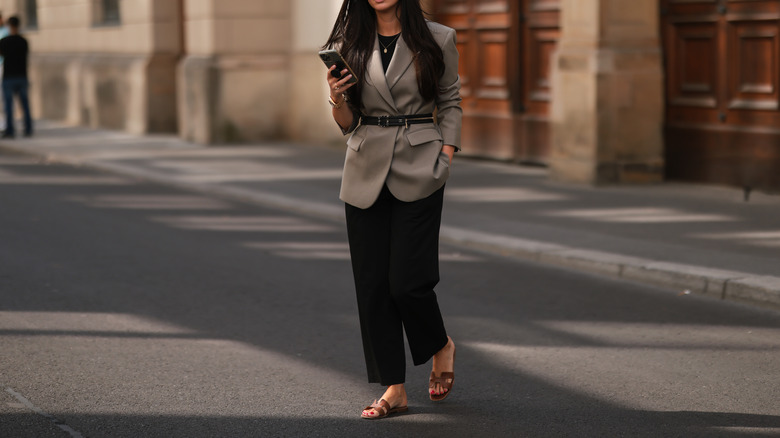 Jeremy Moeller/Getty Images
What makes this look so good? It's the unexpected contrast. While you'd probably expect a sleek pair of loafers or stilettos to be rocked with an office-ready suit, the formality of a blazer gets perfectly offset by the kicked-back essence of slide sandals. It's a slight fashion rebellion that we are so here for. Whether you stick with polished leather slides or shoes with a puffy or chunky silhouette, a blazer will add elegance while your sandals shake things up.
Advertisement
Wear slides with ripped denim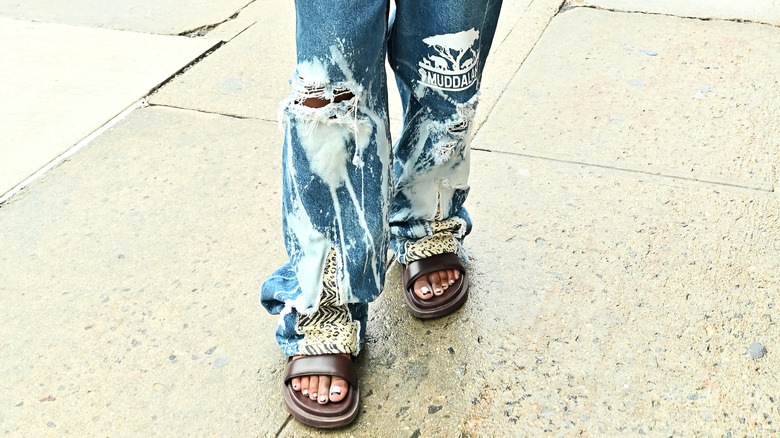 Shannon Finney/Getty Images
Tired of wearing sneakers or stilettos with your ripped jeans? Give slide sandals a chance to spice things up. The pairing results in a super casual outfit that's fit for running errands or weekend shopping sprees. Distressed denim and slides look good with a more casual flannel or sweater, but can equally be turned up a notch when paired with a blazer or billowy blouse. The type of slides you pick will make a difference, too, in the final result (try colorful rubber slides for a low-key look or leather slides for something a touch more refined).
Advertisement
Try slides with activewear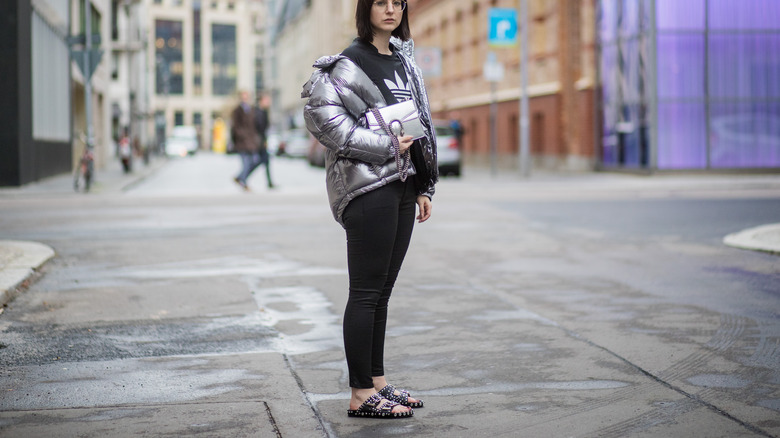 Christian Vierig/Getty Images
A classic pairing, slides and your latest coordinated leggings and sports bra or crop T-shirt is very much en vogue. Throw a trench coat over top and what was once simply your cute gym attire is now good enough to be an Instagrammable #OOTD. Athletic slides or a rubber pair are an obvious choice, but choosing slides with a platform or a style with a few extra straps becomes an instant fashion statement rather than a well-planned activewear set.
Advertisement
Style slides with a sundress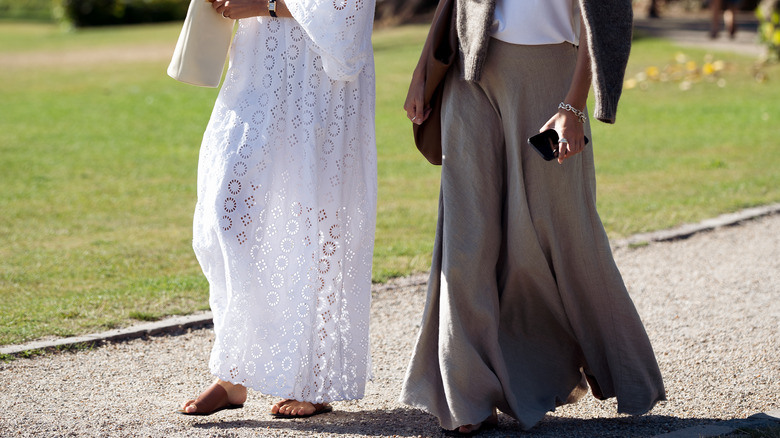 Raimonda Kulikauskiene/Getty Images
When the weather gets hot, it's hard not to opt for your trusty and well-worn pair of flip-flops every time you head out the door. Fortunately, slides are just as easy (and comfortable) to pair with all your outfits. They also have a few more style credentials than thongs, keeping a sundress looking chic rather than toning it down or making it feel more casual — something flip-flops instantly do. For an earthy 'fit, aim for brown leather sandals, or infuse a mega pop of color with vibrant terry cloth platform sandals.
Advertisement
Wear slides with a midi skirt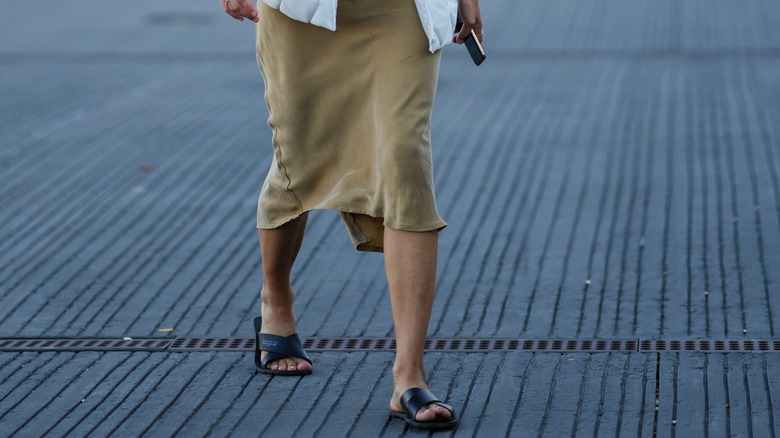 Edward Berthelot/Getty Images
Midi skirts are longer than minis but aren't the floor sweepers maxi skirts are. This makes them a much more versatile choice for a wide range of occasions and outfits. It also makes them workable with tons of different shoe types, including slides. While you might be envisioning a denim midi, any skirt fabric will be just as viable of a candidate for rocking with your best pair of slides. It's a lovely way to make an outfit feel less overly curated, especially with fabrics like satin, silk, or leather.
Advertisement
Pair them with loose-fitting denim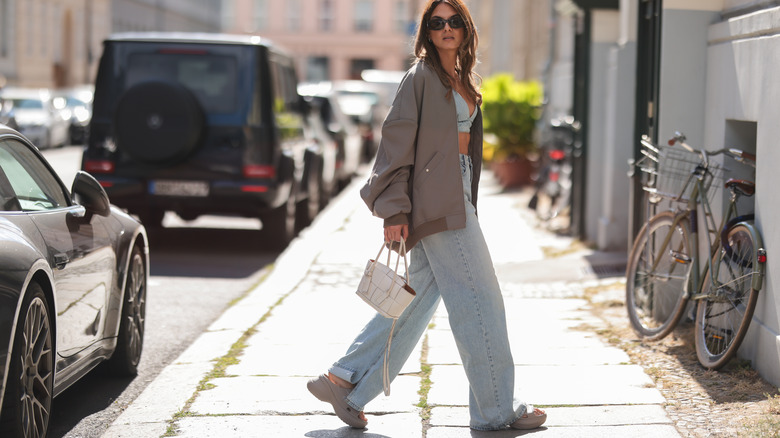 Jeremy Moeller/Getty Images
Yes, skinny jeans are returning. If you're celebrating that fact, keep scrolling for slides that match. But if you're one of the many fashion fanatics who is still voting for loose-fitting jeans and baggier styles reminiscent of the grungy '90s era to stay in your closet, listen up. It can be difficult finding shoes that match the aesthetic. In instances where heels don't fit the brief but sneakers feel too overdone, try out a pair of slides with jeans in this silhouette. This is a fun chance to experiment with chunky soles or flashy colors that peek out from the seam.
Advertisement
Try slides with socks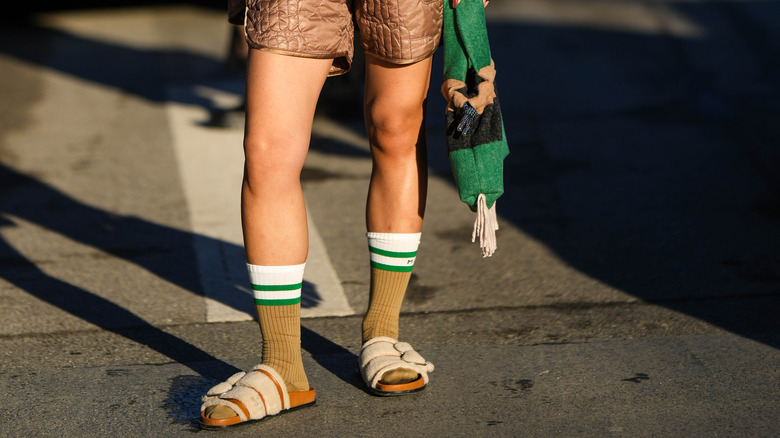 Edward Berthelot/Getty Images
No, you're not imagining things — socks and sandals are most definitely in, though not in the classic sense. While it's easy to picture your junior high boyfriend in calf socks, slides, and basketball shorts, socks and slides have come a long way since then. Think of it as similar to wearing socks with loafers or Mary Janes, and choose socks with lacy, frilled trim or a sleek black option. Or, pick slides that have extra details or fun features, such as faux fur-lined soles or bejeweled buckles.
Advertisement
Style skinny or slim-fit jeans with slides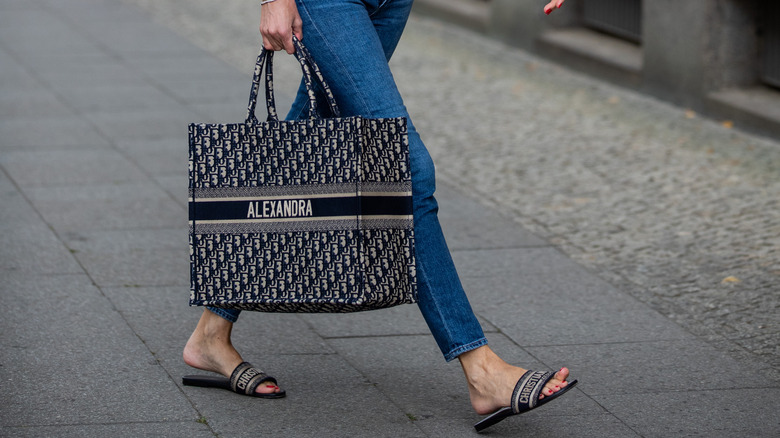 Christian Vierig/Getty Images
What was once the dated jean trend of the last few years is now back in business. Skinny jeans are arguably one of the most versatile denim styles out there and despite what trend cycles say, it's a staple worth keeping around, especially if you gravitate towards slides. How you style them depends on the look you're after and the color and material of jeans and slides you have. Laidback looks could include blue jeans with slides in a textile upper. For something a little more elevated, try pleather skinny jeans with leather slides or bedazzled sandals.
Advertisement
Slip on slides with a strapless dress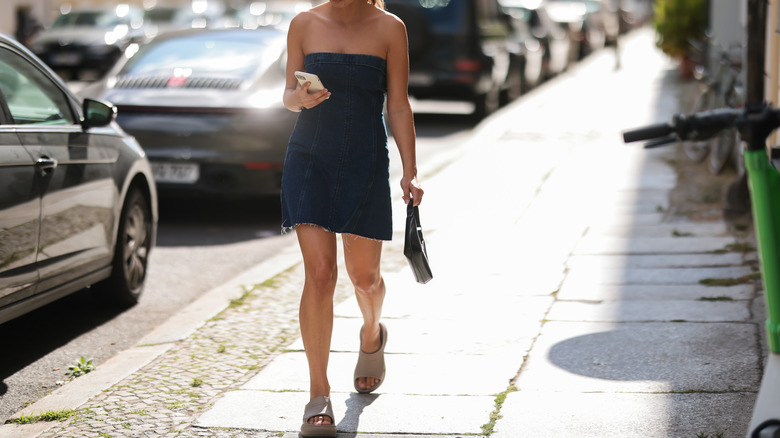 Jeremy Moeller/Getty Images
Strapless dresses, particularly strapless minis, feel like the perfect going-out look. But how do you wear them when it's still daylight? Dilute the slightly sexy cut and silhouette with clunky slides or rubber-soled sandals. Altogether, the outfit is still on-trend, but it won't feel like you're headed to the club or dinner with friends when you're grabbing your morning latte. 
Advertisement
Top off a chic jumpsuit with slides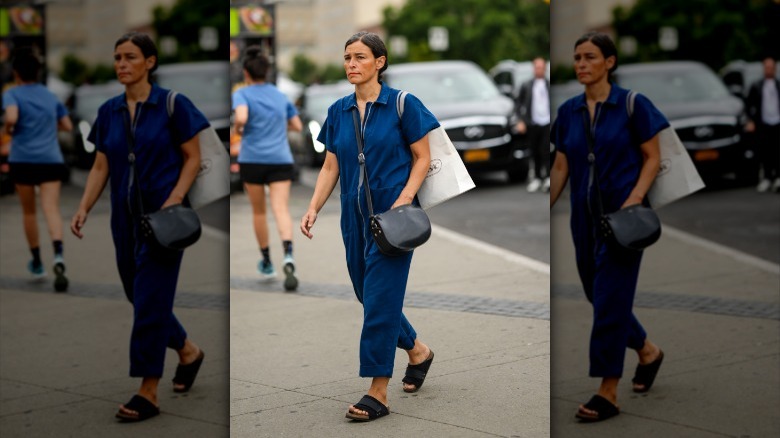 Edward Berthelot/Getty Images
There are so many ways to feel stylish in a jumpsuit — and a million reasons why so many fashion mavens love them. They're adultified, stylish onesies that usually have pockets and can be just as lovely as a dress if you're more of a pants person. Paired with slides and you have a spring and fall outfit that can do no wrong. Adventurous spirits should test the waters with complementary colors (blue jumpsuit and orange slides, for instance), and anyone who's a minimalist at heart can stick with a full-blown monochrome look.
Advertisement
Work slides into a shorts outfit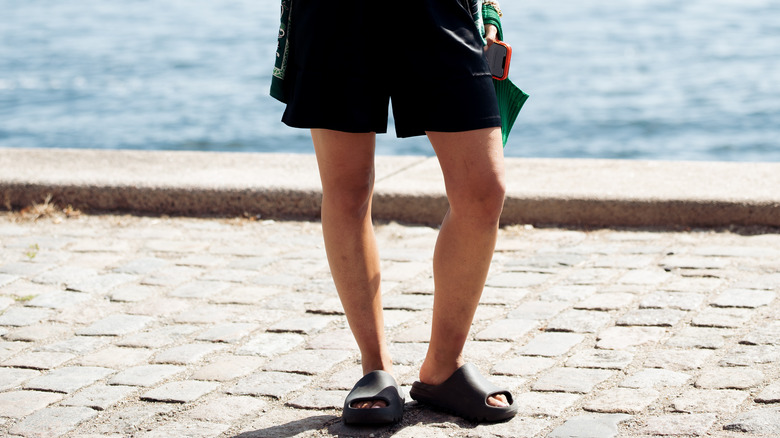 Raimonda Kulikauskiene/Getty Images
Is there a better outfit to kick back in or run around your vacation destination in than slides and shorts? Absolutely not. Denim cut-offs, linen shorts, and even sweat shorts are all workable choices with any pair. Rubber slides are always a go-to for chilling by the pool, but as of late they're noticeably present in street style, too. Here's your sign to pack all your slides in that suitcase or rotate your sneakers and other heeled sandals out for these slip-ons.
Advertisement
Keep it casual with slides and a T-shirt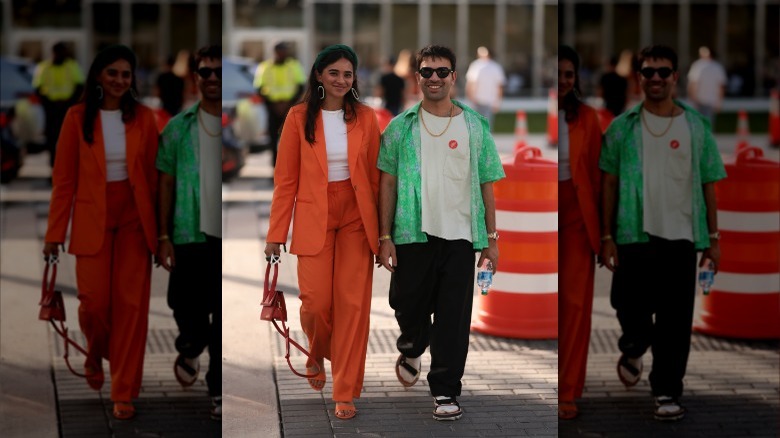 Jeremy Moeller/Getty Images
Slide sandals and a T-shirt can be done in quite a few different ways. You may wanna keep things cas, rocking them with loose pants and matching slip-ons, or you can zhuzh a basic shirt up with a blazer and slides to match. No matter how you choose to do it, the important fashion lesson to remember is just how malleable slides are as a style of shoe. Don't forget about them the next time you're working out a T-shirt-focused outfit.
Advertisement
Pair slides with leggings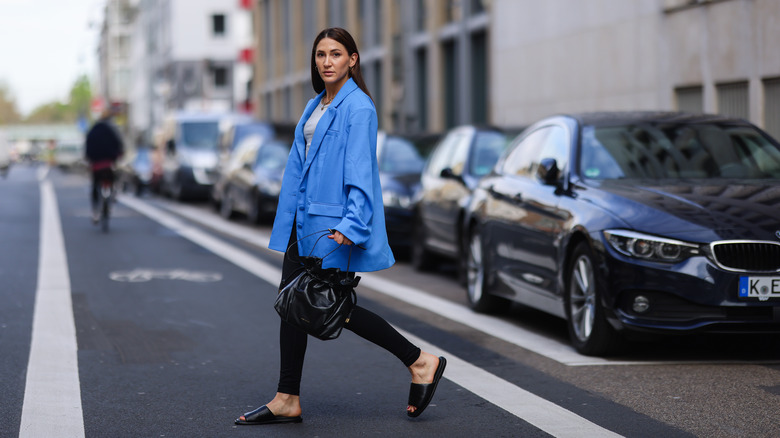 Jeremy Moeller/Getty Images
Leggings aren't simply a workout basic anymore. They're a certified closet staple for any kind of outfit. Whether it's a simple boot and legging combo or they're teamed up with slides, they're just as good as any pair of trousers. To amp up the style game of your leggings and slides choose darker shades and slides made of leather (or faux leather). This will translate into a polished #OOTD rather than a lazy day ensemble.
Advertisement
Opt for chunky slides and a miniskirt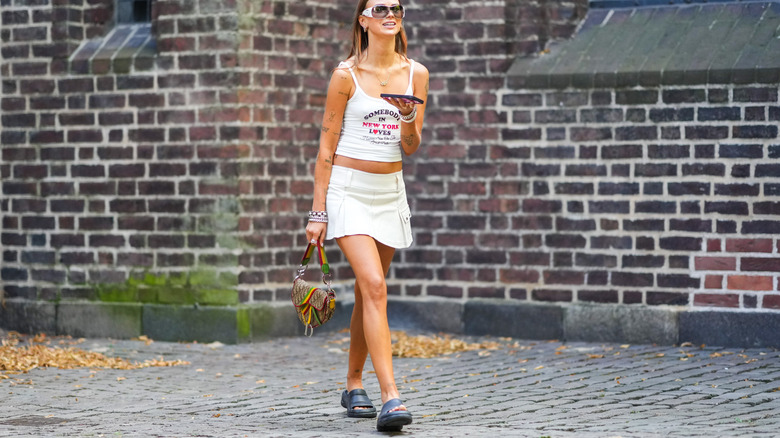 Edward Berthelot/Getty Images
The short nature of miniskirts makes them difficult to find shoes for. Pair with sneakers, and you'll feel like you're headed to a tennis lesson. If you put on stilettos, you might feel a bit too dressed up. That's where slides come in. While a mini can quickly feel a little too over the top, you'll feel comfortable and will have a much more grounded outfit when slides are your top pick. For a cute, coordinated look, grab sandals in the same color as your whole outfit, or make your footwear stand out with a complementary or contrasting shade.
Advertisement