Tips For Using Makeup To Give Your Eyes A Wide-Awake Appearance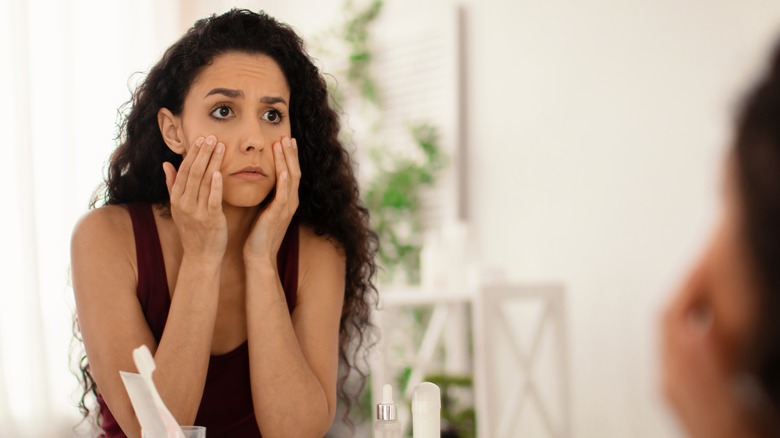 Prostock-studio/Shutterstock
The easiest way to look your best in the morning is through properly caring for your body and mind with a full eight hours of shut-eye. Sometimes, though, that just isn't possible. Busy schedules, daily stressors, and that impossible-to-resist reality TV show can seriously cut into the amount of sleep you get each night. That means something as minor as a few hours of lost rest could leave you looking (and feeling) puffy, drained, and in desperate need of a caffeine source.
Advertisement
Unfortunately, cosmetics won't cure your early-morning fogginess or temper the urge to nod off at your desk. But they can leave you looking and feeling a bit more prepared for your day. Around the face, you can do a few things to bring you back to center — try out an ice roller for puffiness, cover dark circles with a brightening concealer, start with a glowy primer to leave your skin looking healthy — but the real challenge is in the eyes. By using these tips, however, you'll be looking like you slept like a baby in no time.
Brighten the inner corner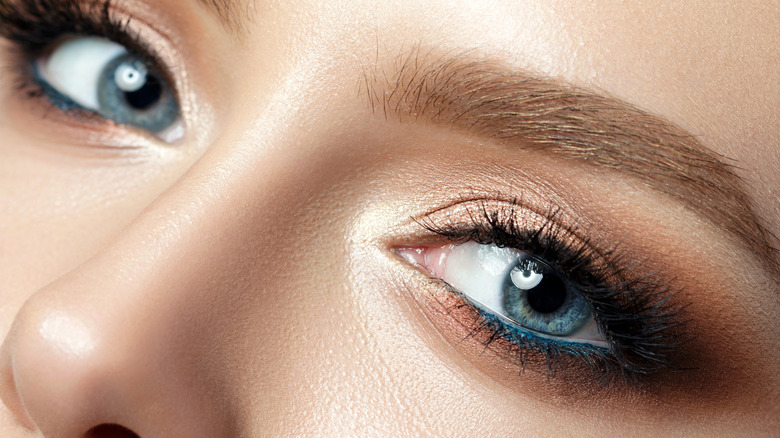 ldutko/Shutterstock
One of the easiest ways to bring a bit of brightness back to your eyes is by using a touch of a shimmery eyeshadow or highlighter in your inner corner. This is a fairly common makeup hack, especially when using darker shadows along the rest of the eye. But it especially comes in handy when you're trying to combat that sunken, sleep-deprived look, too. Dark, matte colors create the illusion of depth and draw parts of the eye back (that's why darker shadows in the crease are so common) but light, shimmery colors do the opposite. If the inner corners of your eyes are looking sunken or red, a bit of subtle shimmer can help bring them forward.
Advertisement
To do this, all you need is a shimmery eyeshadow that's lighter than your skin tone. People with ivory skin should go with a frosty white or champagne, medium skin tones will look best with champagne or gold, and deep skin tones have more room to experiment with more saturated metallics like true gold or even copper. Apply a tiny bit with your finger or a small brush directly on the inner corner of your eye, and you'll instantly look a bit brighter.
Focus on the lashes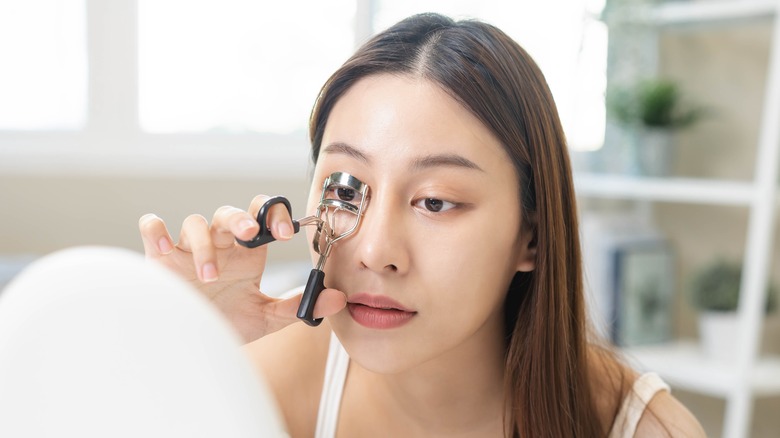 Kmpzzz/Shutterstock
Doing your makeup to look more awake is all about creating the illusion that your eyes are wide and open, even if you can barely keep your lids from drooping throughout the day. An easy way to do this is by focusing on your eyelashes. A sultry, cat-eye look is great for a night out, but in this situation, you're going to want to go for something more rounded and bright, almost approaching a doe-eyed effect. To do so, start by heating your eyelash curler and curling your lashes, ensuring that they're as fanned out as possible — especially focusing on the center of your eye.
Advertisement
Next, you're going to want to grab your favorite mascara. In this situation, it's best to stick with something lengthening rather than volumizing, as applying too much product can drag your eyes down instead of brightening them up. Apply a thin coat or two, making sure you focus on separation rather than drama. Unless you feel unbalanced without it, it's also a good idea to skip the lower lashes on this step. Adding darker colors to your bottom lashline can close up the eye and make it look smaller.
Try out a beige or white liner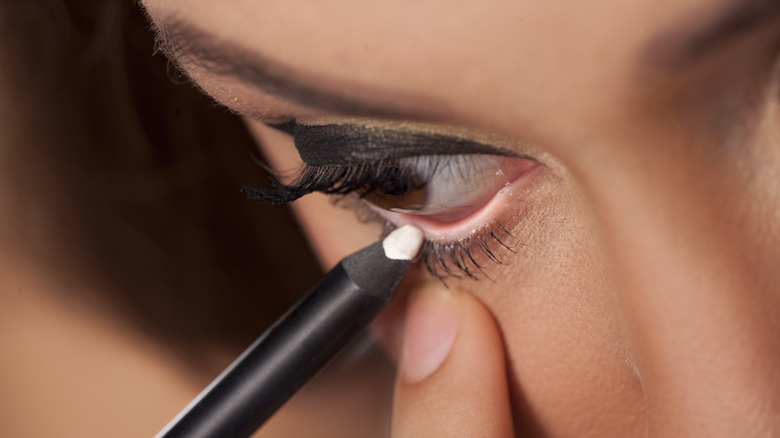 Vladimirfloyd/Getty Images
The waterline is an often-overlooked part of the eye, but after a night of compromised sleep, you might notice that it looks a bit more red or irritated than usual. This part of our eye is naturally a bit pink. But by adding a touch of white or beige liner to the area, you can fake a more awake and wide-eyed look. This is because it covers up any redness and creates the illusion that the eye itself is a bit bigger than it actually is.
Advertisement
White liner is frequently used in more dramatic makeup looks, especially when you're going for that doll-like effect, but light beige looks a bit more natural while still bringing a touch of brightness. If you have sensitive eyes (or find yourself a bit sniffly first thing in the morning), it might be best to skip this step or wait a bit until any irritation has calmed down. Light colors in the waterline can go a long way, but they can also create unwelcome redness and tears that will only cause further issues.