An Oft-Overlooked Denim Trend From The '90s Is Coming Back This Spring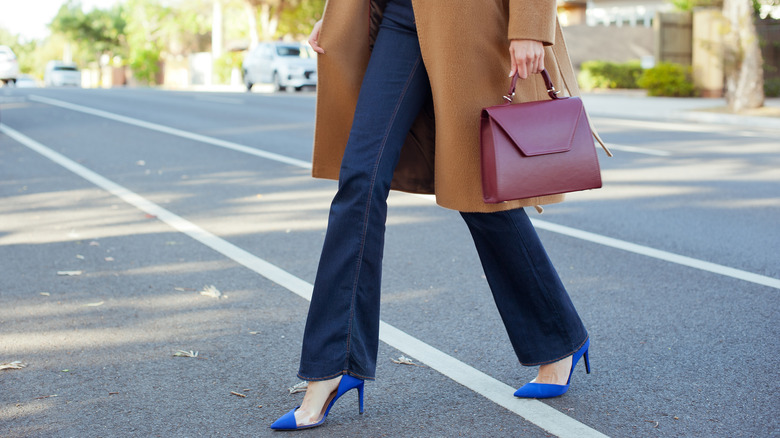 Sabelnikova Olga/Shutterstock
Bootcut jeans, a staple of the fashion-forward '90s and early-2000s woman, are back — big time. "The boot cut has patiently been waiting in the wings for the skinny to move over!" denim stylist Sam Remer tells Woman and Home. "It's definitely time for this universal style to be brought out again. It seems whenever the flare of wide-leg jeans is on trend, the bootcut is a diluted favorite that becomes the go-to shape. Gen Z's love of all things '90s can't get enough of the bootcut shape either with a high-rise waist or a low-rise."
Advertisement
You may be hesitant to ditch your skinny jeans and jump headfirst into this Y2K throwback trend, but fear not. Not only do bootcut jeans flatter just about everyone but there are also dozens of ways to modernize this slightly flared, tried-and-true blue jean look. From mid-rise to cropped kick-flares, learn the best ways to wear this oft-overlooked denim trend.
Pair Uggs with bootcut jeans for a casual vibe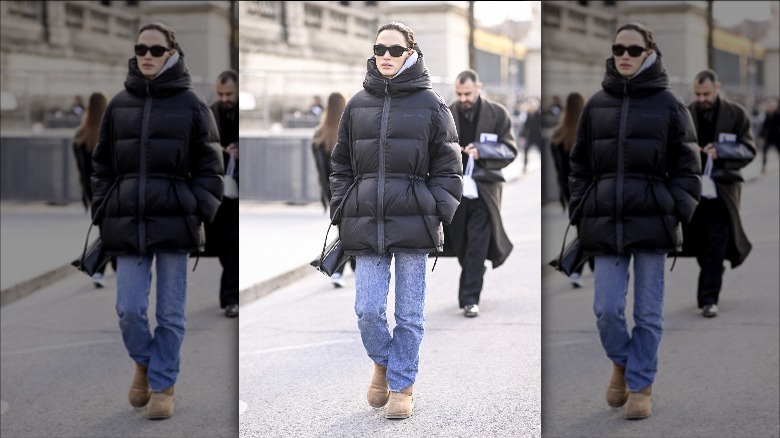 Daniel Zuchnik/Getty Images
There is no better way to bring this Y2K fashion trend to life than by pairing your coziest pair of Uggs with bootcut jeans. The slightly tapered flare of the bootcut jean falls nicely over the boot shaft, creating a comfy casual look perfect for going to class or running errands at Target.
Advertisement
Opt for low-waisted varieties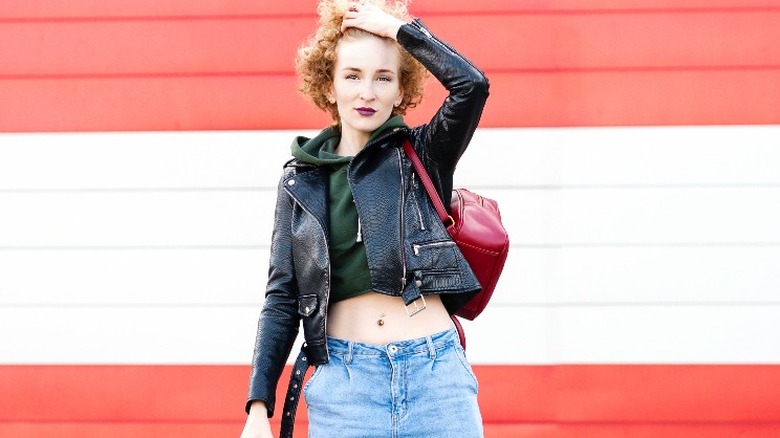 Vagengeym_elena/Getty Images
Low-waisted denim had its shining moment during the midriff-baring '90s and early 2000s, but it, too, is making a comeback. While whale tails thankfully do not appear to be accompanying the low-rise bootcut jean trend, thin knits, blousy sweaters, and crop tops are. Don't forget to add a floppy fedora or rancher hat for a bohemian look.
Advertisement
Don't be afraid to rock the Canadian tuxedo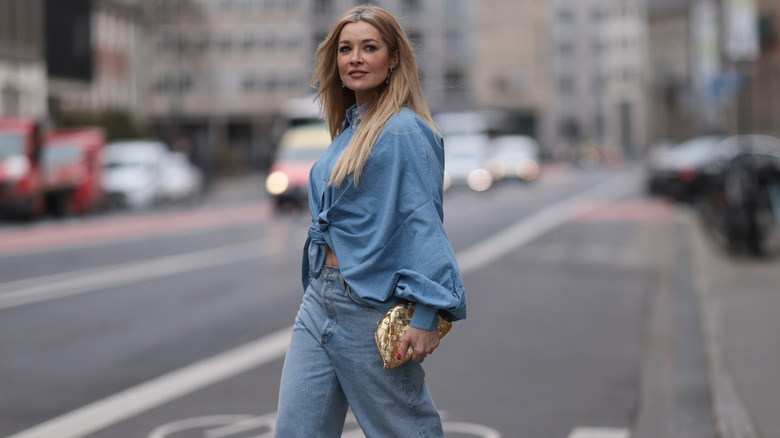 Jeremy Moeller/Getty Images
The Canadian tuxedo, also known as wearing a denim shirt with denim jeans, has been the butt of fashion jokes for decades. But fashion-forward individuals are embracing this charming trend and giving it a fresh spin. Today's Canadian tuxedo looks combine mix and match washes and experiment with everything from rhinestones to classic denim jackets. For a less matchy-matchy look, throw on a long blazer or an oversized chunky knit over the denim shirt.
Advertisement
Boots and platform heels were made for bootcut jeans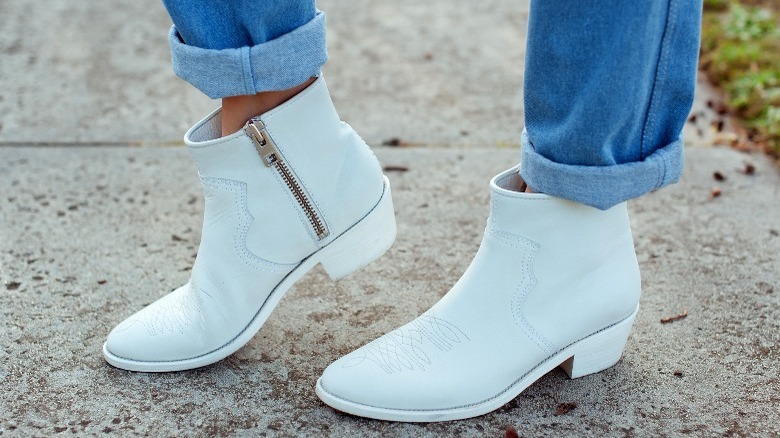 Sabelnikova Olga/Shutterstock
By definition, bootcut jeans look amazing with boots and platform heels. Style a medium or dark wash jean with a pair of cowboy boots for a country western vibe, or throw on your favorite pair of Doc Martens and a distressed light wash to capture the grunge aesthetic of '90s fashion.
Advertisement
Distressed bootcuts are this season's favorite throwback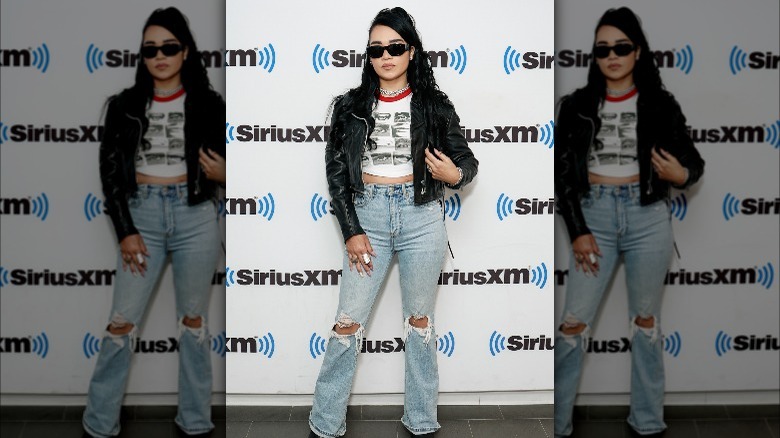 Jason Mendez/Getty Images
Regardless of wash or length, distressed bootcuts are the perfect way to look put together and charmingly rock and roll at the same time. The lightly frayed, worn-out-looking denim has a timeless style, whether you opt for a graphic t-shirt and a cropped jacket or go full grunge with a flannel and sneakers.
Advertisement
Oversized blazers look great with a high-rise bootcut jean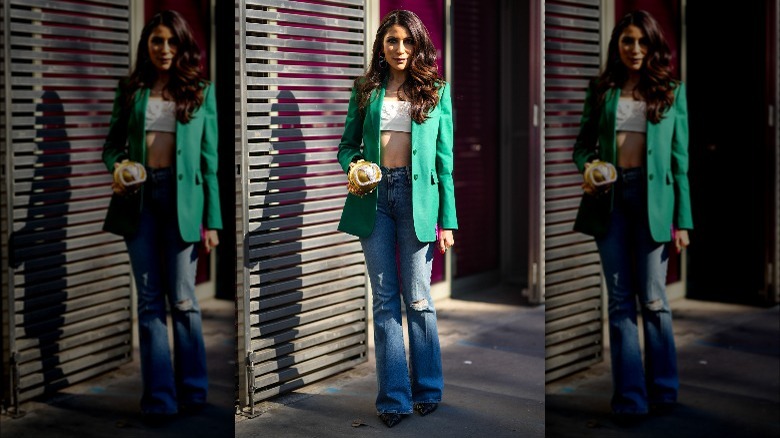 Edward Berthelot/Getty Images
Pairing longline and oversize blazers with high-rise, medium-wash bootcut jeans helps create a minimalistic, trendy outfit. The overall look is loose and deconstructed in an intentional way. Keep it classic with neutral shades and simple accessories, or go bold with jewel tones.
Advertisement
Embrace cropped bootcut jeans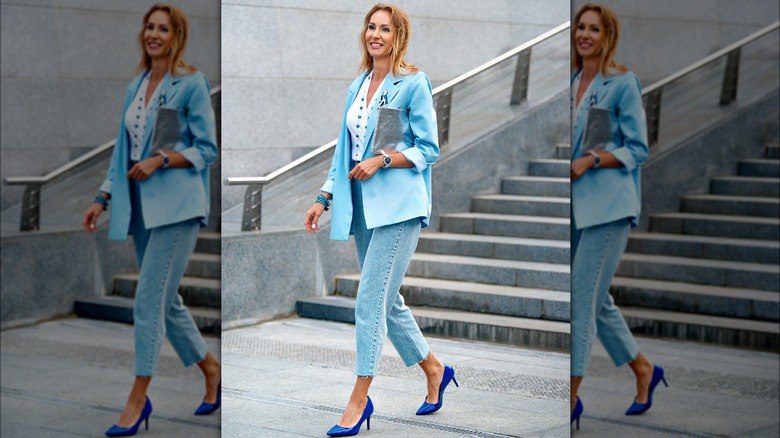 Mabuka/Shutterstock
Cropped bootcut jeans, also known as kick flares, have a slim fit along the hips and thighs and either a gentle or ultra-wide flare at or above the ankle. Like traditional bootcut jeans, cropped styles make the legs look long and provide plenty of balance in an outfit. Pair your cropped bootcut jean look with ankle booties, pumps, or a pair of casual sandals.
Advertisement
Pair bootcut jeans with balloon sleeves for a retro look
Edward Berthelot/Getty Images
The timelessness of bootcut jeans makes them the perfect pants for a charming retro look. If you're going for a girly chic style suitable for any occasion, strap on a pair of wedges and a top with balloon sleeves. The flouncy volume of the shirt's arms perfectly balances the gentle flare of the jeans.
Advertisement
Make it edgy with a leather jacket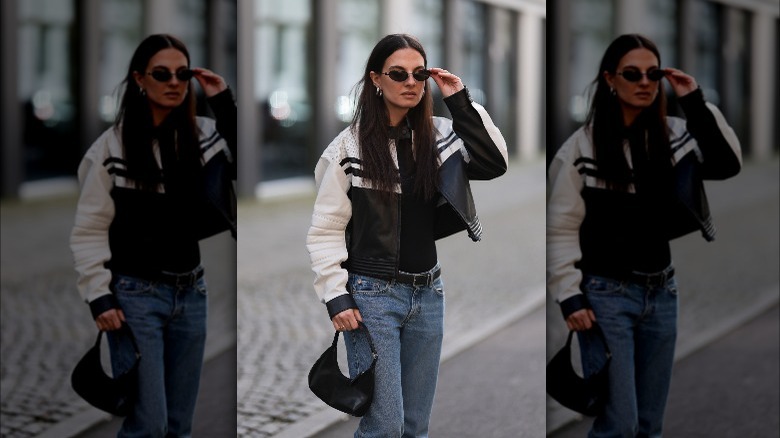 Jeremy Moeller/Getty Images
Some outfits refuse to go out of style, and a leather jacket with bootcut jeans is one of them. This look is both edgy and chic depending on your preferred way of dressing it up. If you want to shake things up to keep with the season, opt for a leather jacket in white or blue in spring and burgundy or chocolate brown in fall.
Advertisement
Button-up shirts dress up bootcut jeans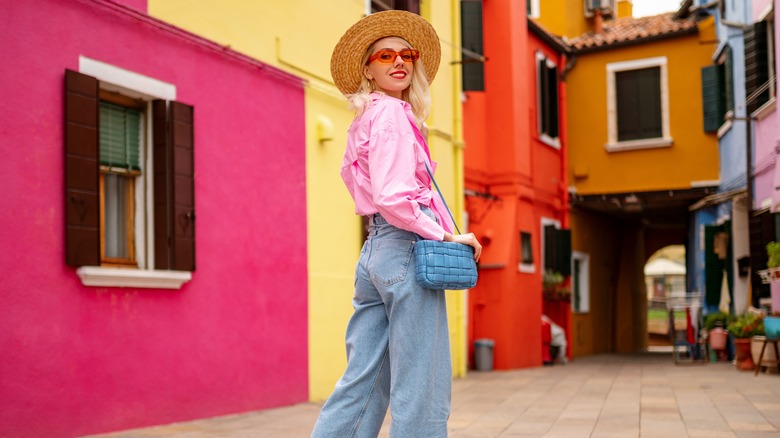 Victoria Chudinova/Shutterstock
For a cool, sexy date night look, pair an oversized button-up shirt with any wash of bootcut jeans. The bagginess and texture of the oversized shirt offer plenty of styling options, while the structure of the denim keeps the look casual. This outfit is a versatile and fun take on the traditional bootcut jean.
Advertisement
Keep it simple with a plain white t-shirt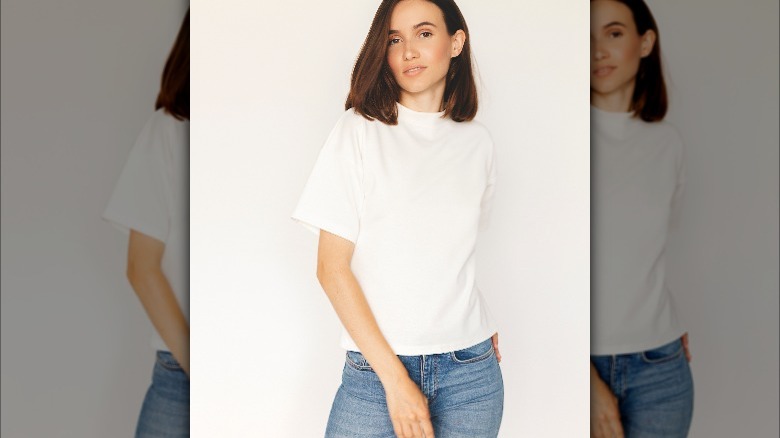 Ekateryna Zubal/Shutterstock
On the days you just don't feel like putting together an outfit, rely on your favorite pair of loose-fit bootcut jeans and a plain white t-shirt. This is a classic look that can be dressed up or down and easily accessorized with a fun bag or delicate jewelry.
Advertisement
High-waisted bootcut jeans look great with a crop top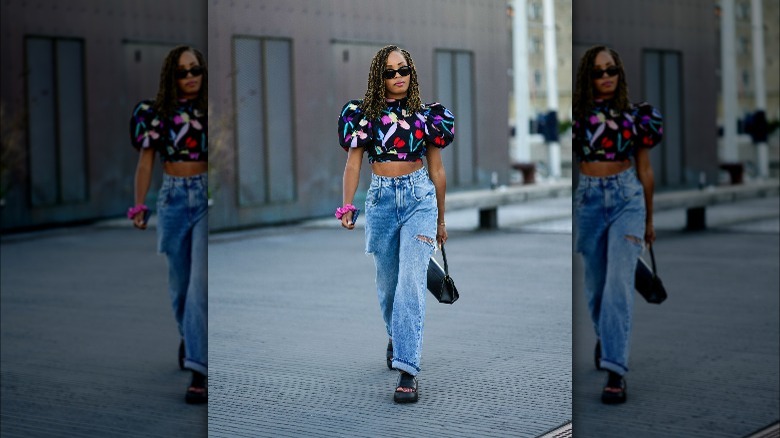 Edward Berthelot/Getty Images
"A classic cut and wash will stay in your wardrobe forever and can be dressed up and down so seamlessly," Libby Page, market director at NET-A-PORTER, tells Elle. For example, combine your high-waisted bootcut denim with an elegant crop top with fun patterns and a solid-colored bag or shoe. Alternatively, add a long, colorful trench coat for a Saturday brunch with the girls outfit.
Advertisement
Create the illusion of longer legs with heels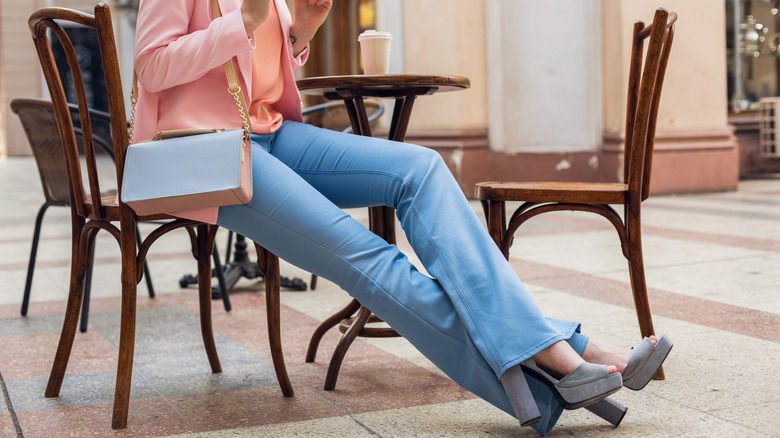 Maria Markevich/Shutterstock
Bootcut jeans are naturally elongating, which is one of the reasons they look good on every body type. "A full length bootcut jean gives a fabulous, elongated silhouette and should be worn ideally with heels for that sexy svelte style," stylist Sam Remer explains to Woman and Home. "Keep them long with the hem hitting just before the base of the toe (1-inch from the floor.) If there's a break in the long line of the leg, the length is too long."
Advertisement
Black or gray bootcut jeans look effortlessly chic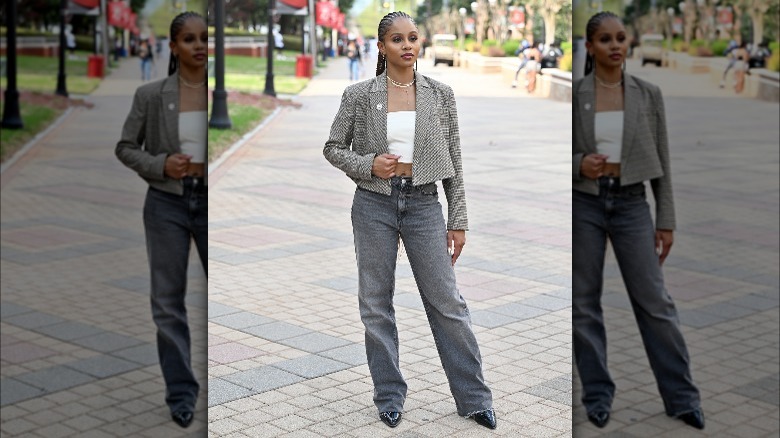 Paras Griffin/Getty Images
You don't have to love the traditional blue bootcut jean look to be able to create an effortlessly chic, on-trend outfit. Instead of blue denim washes, experiment with the versatility of neutral shades of gray or black. Dress it up with a pair of heels or go for a classic, casual look with a plain white tee or crewneck sweater.
Advertisement
Switch things up with a splash of color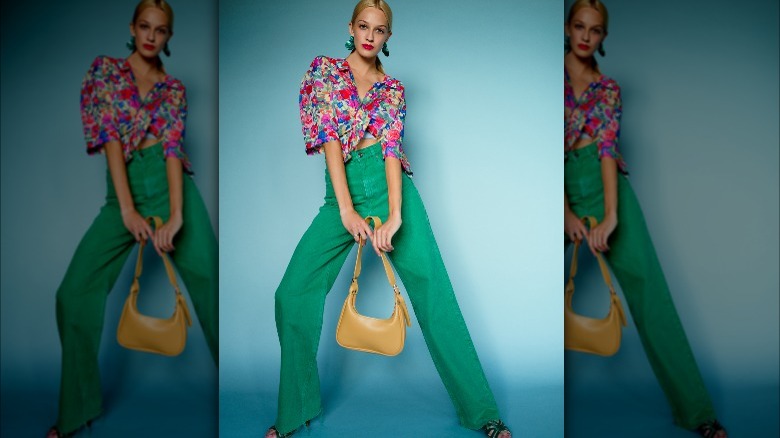 Victoria Chudinova/Shutterstock
Nothing says spring like bright colors and lovely pastels. The overall look is whimsical and sweet. Keep on trend with bootcut jeans in white, yellow, or pink, and pair them with nude-colored shoes. If solid-color pants aren't your vibe, experiment with colorblocks or two-toned jeans.
Advertisement