Coachella Fashion Is Kinda Basic This Year, And TikTok Has A Theory About Why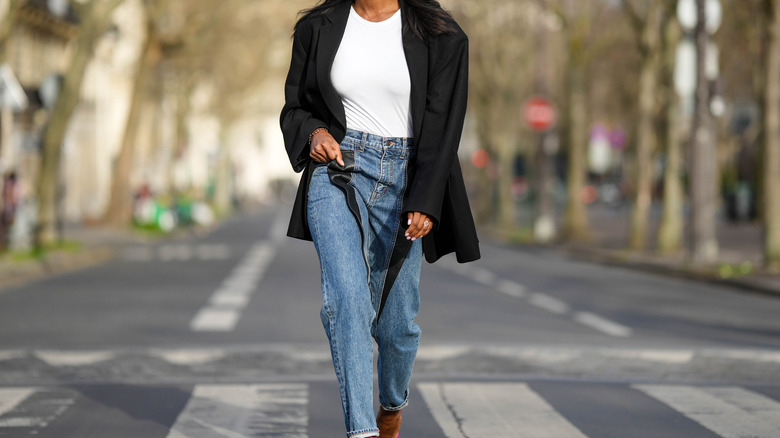 Edward Berthelot/Getty Images
The weekends of Coachella have become synonymous with the start of summer and a showcase of the season's fashion trends. Every year, you see celebrities and influencers posting photos and videos of their bags as they pack for the festival and the subsequent outfits they put together for the weekend. Coachella, for the last couple of years, has been an informal fashion show.
Advertisement
And featured for millions of followers to like on social media have been styles that show off dreamy bohemian-inspired outfits, flashy rave looks, and trendy pieces styled in unique ways. Of course, the thousands of fans and regular people have also partaken in the fashionable music festival, posting their own photos for friends back home to see. But for those who have been taking in the fashions from afar, there seems to be a shift in the usual fun, bright, and trendy styles that the Coachella Valley typically sees.
The outfits of major celebrities have become simple, neutral, and, as some commenters would say, basic. While celebrities like Hailey Bieber and Kendal and Kylie Jenner have been known to flaunt fashion-forward looks, this year, fans are less than impressed with the outfits they're seeing.
Advertisement
A mindset shift might be to blame
Many people look forward to Coachella, a music festival that kicks off festival season and the summer, to see what their favorite influencers and celebrities wear over the weekend. However, this year, fans are underwhelmed by some celebrity looks that seem to err on the side of basic. With simple jeans and a plain white tank top, these outfits aren't what people have come to expect from the festival weekend. And while many fans feel confused, Mandy Lee, who goes by @oldloserinbrooklyn on TikTok shares her theory of why fashion has changed in a video on the platform.
Advertisement
In the video, she explains there's a distinction between the A-list celebrities and influencers who attended this year's music festival. Celebrities like Hailey Beiber and the Jenner sisters kept it "extremely simple," she explains. But it might have to do with an overall trend of uniformity and basicness, which feed into the trend of "quiet luxury." Quiet luxury is all about choosing pieces that are high quality and expensive, but not flashy — rather, sophisticated and timeless.
But the change may also be because these A-list celebrities are no longer their teenage selves. They're business owners and faces of brands, which comes with the responsibility of representing those companies instead of themselves at times. According to Lee's theory in the TikTok video, clothing is no longer a necessary way for these celebrities to signal their status.
Advertisement
The fun fashion is still there
For those who still turn to festival fashion as a place for trends, all hope is not lost. Lee's theory still states that while A-list celebs may have turned to basic dressing, many influencers are still serving up unique and fun outfits. And it makes sense because, for many influencers, their brands are themselves. They've made a platform based on their unique style perspectives or their own personalities. That affords a lot more freedom to dress in more playful and fun ways, especially when people expect it.
Advertisement
Because of this, many influencers, and regular people as well, brought their own styles to the music festival, including denim-on-denim looks, flashy sequins, and a variety of boot styles. Bright colors, lots of fringe, and gauzy skin-showing outfits still reigned supreme, as seen in videos posted by @whatpeoplearewearing on Instagram. This only proves that there are multiple places where you can find inspiration on the season's trends and how to wear them — and that developing a personal style will always be on-trend.