The Forever Pieces You Should Always Have In Your Wardrobe, According To A Stylist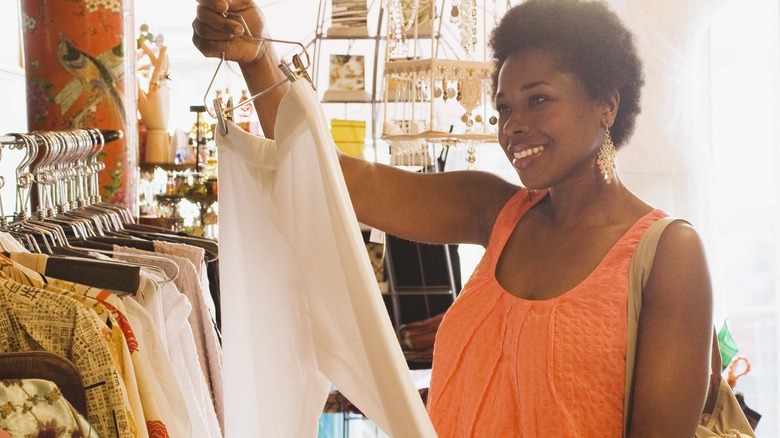 Jupiterimages/Getty Images
With the ease of online shopping and the emergence of fast fashion, it's easy to accumulate apparel items without actually taking the time to consider which pieces you should be adding to your closet. When you think about the basic items you should have in your closet, you may conjure a list of jeans, sweatshirts, heels, and cute outfits for special occasions. To elevate your wardrobe, you should take the basic items to the next level by adding forever items into your clothing capsule. Ordering clothing online can be a quick way to make certain you have an appropriate outfit for an upcoming event, but if your closet is already filled with quality pieces that are versatile and chic, you'll be set to go without having to put in the extra time of finding a last-minute outfit.
Tracy Cheng is a personal stylist and founder of the fashion blog Girl Shares Tips, and she has the knowledge of and passion for curating closet capsules that will span years of fashion trends. Cheng is a proponent of building sustainable wardrobes and investing in high-quality forever pieces. She advocates for purchasing items made of high-caliber fabrics that will thrive for several years, if not decades. Now, here are the forever pieces you should add to your closet ASAP. 
Black blazer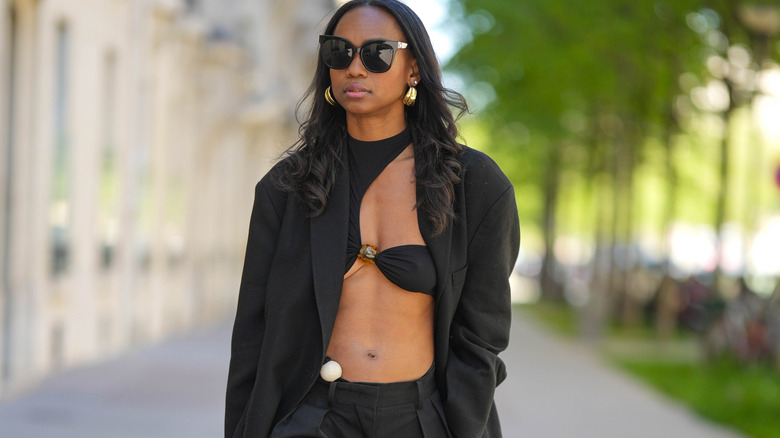 Edward Berthelot/Getty Images
Black has always been a classic color in fashion, most notably in the form of the little black dress (LBD). However, there's another item in the hue that you should have at the forefront of your collection: a black blazer. The versatility of a black blazer is as fluid and magical as the LBD and the black flats or pumps known for instantly elevating outfits. Having a tailored blazer can take you from a casual afternoon when paired with jeans to an evening dinner or professional event when worn over a dress or complemented by tailored pants for a true power look. "Investing in a well-made black blazer is important as it will last you for years and never go out of style. Look for one with classic features such as structured shoulders, notched lapels, and a single-button closure," Tracy Cheng exclusively tells Glam.
Cheng advises that "when styling your black blazer, consider pairing it with a white blouse and trousers for a classic office look," adding, "For something more casual, pair it with denim shorts or distressed jeans and sneakers." If you're rushing out the door in the morning, tossing on a black blazer can instantly make you look put together even if you've had a chaotic start to the day. Additional benefits include the ease of tossing on an upscale piece and the fact that the garment works with practically every brand of personal style.
White T-shirt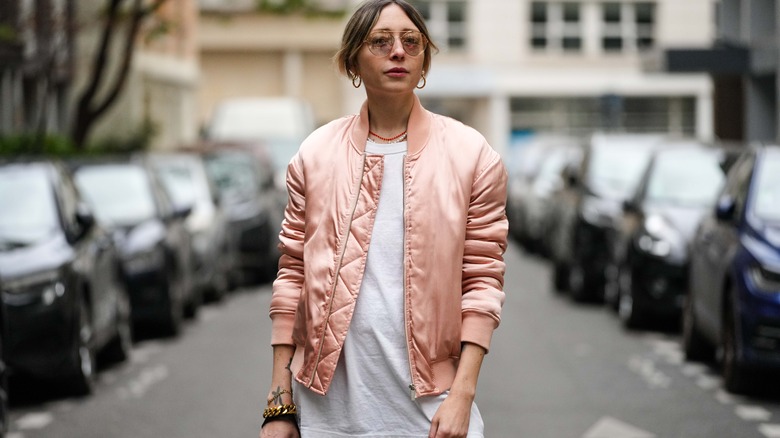 Edward Berthelot/Getty Images
A black blazer can look sleek and fashionable when paired with a white shirt, but the white T-shirt deserves its own round of applause. While the LBD and more sophisticated items in a wardrobe tend to receive the most attention, the white t-shirt can be thought of as the glue that holds the capsule wardrobe together. "A white T-shirt is a forever piece that every wardrobe should have. This versatile piece can be dressed up or down, making it perfect for any occasion," Tracy Cheng, who suggests investing in a white T-shirt of higher quality, exclusively tells Glam. Cheng recommends purchasing apparel that will remain just as chic as the day you first acquired the piece, stating, "Instead of buying cheap shirts that lose their shape after just one wash or wear, opt for a durable and well-made option that will last for years to come."
You can vary the types of white shirts you include in your wardrobe, opting for shirts that fit your style and lifestyle needs. What's more, collared white button-down shirts are coming into vogue, so perhaps your forever collection will include a plain white T-shirt alongside a crisp, white button-down shirt. Or, perhaps you find the most comfortable option. With white T-shirts, comfort triumphs!
Nude pumps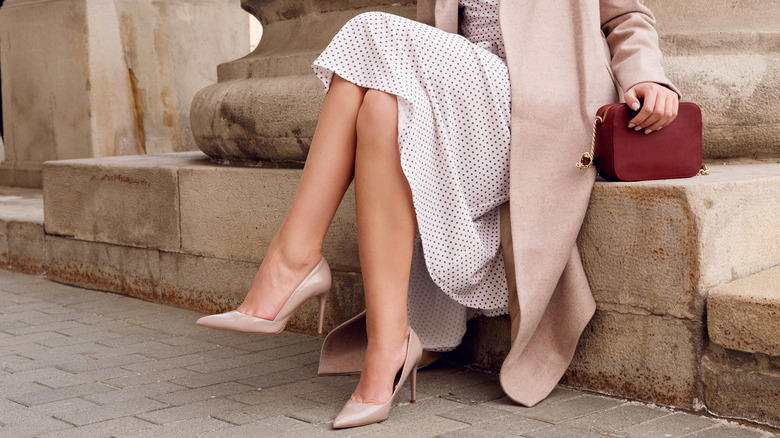 Viktoria Minkova/Shutterstock
In the masses of shoes that gather in our closets, there is one pair that should always be within easy reach and ready to wear. The staple shoe you should ensure to include in your wardrobe is a pair of nude pumps. Tracy Cheng recommends also having a pair of classic black pumps akin to the timeless nature of a tailored black blazer and the LBD, as well as using the addition of nude pumps to create more nuanced finesse. When speaking about the suitability of nude pumps, Cheng exclusively tells Glam that "not only do they go with almost every outfit, but they also elongate the legs and add a touch of sophistication to any look. Whether it's for work or a night out, nude pumps can be dressed up or down depending on the occasion."
Since nude pumps are obviously a lighter shade than heels of darker hues, it's a good practice to get into the habit of becoming knowledgeable about how to take care of your forever pieces. Many nude pumps come in suede or patent leather, which can easily scuff or become dirty. To be prepared, simply create a cleaning kit of shoe cream, soap, cotton pads, nail polish remover, and a soft cloth.
Slip skirt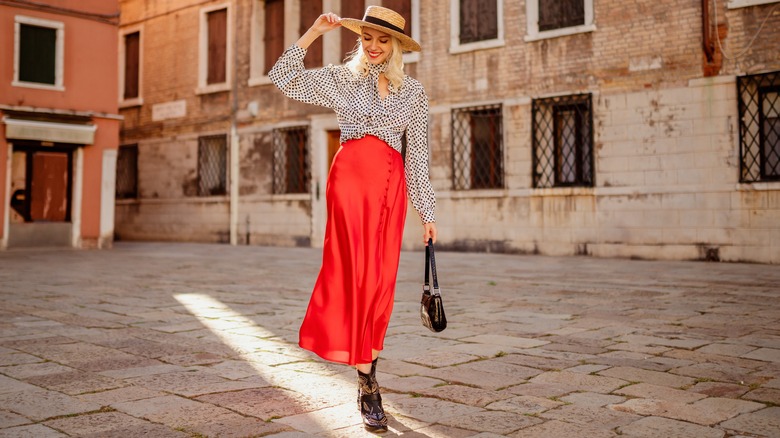 Victoria Chudinova/Shutterstock
It may be surprising, but slip skirts are absolutely a staple. Usually made of satin or silk, Tracy Cheng advocates for the addition of slip skirts into wardrobes because they align with the foundation of forever pieces in that they are exceptionally versatile. A slip skirt can be taken from day to night by switching the top you wear, or by adding a black blazer on top. When paired with heels, particularly nude or black, a slip skirt can become elegantly sophisticated with minimal effort. In reference to the quality of the garment you should acquire, Cheng exclusively tells us, "When shopping for a slip skirt, consider investing in high-quality fabrics such as silk or satin. These materials will not only last longer but also give your outfit an elevated look."
The versatility of slip skirts doesn't end with a day-to-night transition but is carried out throughout the year. "One of the best things about the slip skirt is its ability to transition between seasons. In the summer, pair it with sandals and a crop top. In the fall, throw on some boots and layer with an oversized sweater. The possibilities are endless," Cheng adds. The versatility continues, as you can also invest in a slip dress that you can transform into a skirt by styling it with a top or blazer.
Little black dress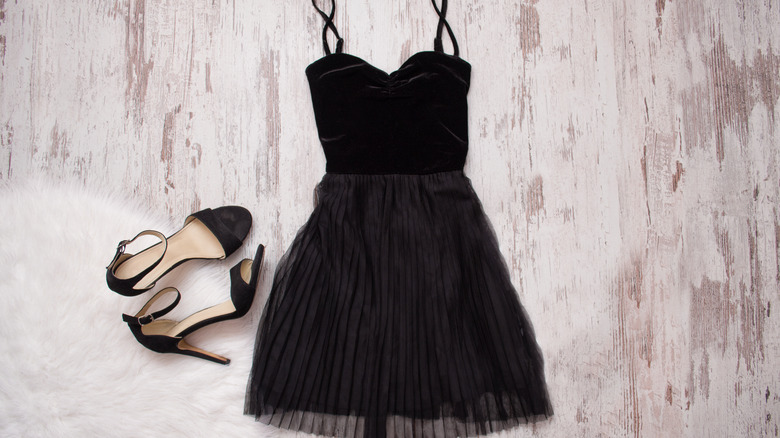 Serhii Yevdokymov/Shutterstock
The little black dress (LBD) is as iconic as fashion pieces come. "A versatile and timeless item, the LBD can be dressed up or down for any occasion. From cocktail parties to office events, it's the perfect outfit choice when in doubt. With the right accessories, you can transform your LBD into a chic and elegant ensemble," Tracy Cheng exclusively tells us, hinting at combining an LBD with a black blazer and nude heels for the perfect professional look. To dress an LBD down, particularly a slip dress, try wearing an oversized white t-shirt tied at the waist for an elegance-meets-casual look.
"Investing in a well-made little black dress is essential for creating a stylish wardrobe. It's also an excellent investment because it will never go out of style," Cheng advises. "You can wear it season after season without worrying about trends or fads becoming outdated. Choose a classic cut that flatters your body type and fits comfortably so that you will feel confident wearing it." Furthermore, Cheng promotes exploring LBDs until you find the one that fits you and your personality perfectly. Then, when wearing your LBD, use accessories to your advantage by maximizing or minimizing your look to fit the occasion.
Now, with these staples, create a forever capsule collection that will make you feel like a rockstar every time you walk out the door.