Wraparound Sunglasses Are The Futuristic Eyewear Trend Of The Summer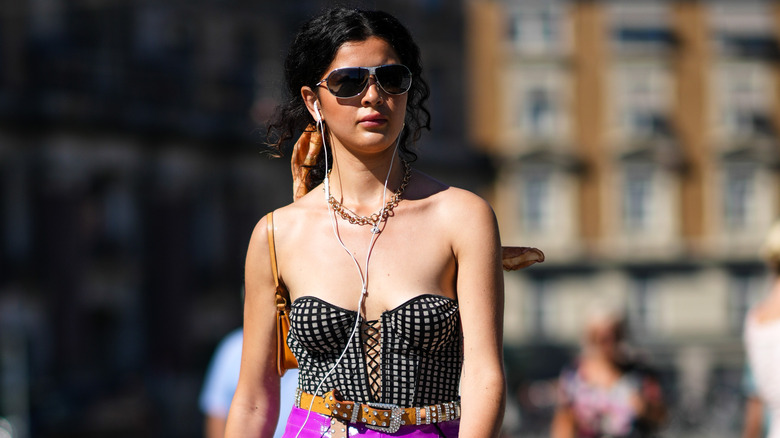 Edward Berthelot/Getty Images
What do wraparound sunglasses make you think of? Maybe skiing trips, cycling, or some other sporty activity? Perhaps they conjure up images of almost every sci-fi movie you've seen. Or maybe they just give you dollar store or gas station vibes. Whatever comes to mind, it's time to consider another association — high fashion. Yup, wraparound sunglasses are no longer relegated just to special activities — they've been fully integrated into fashionable wear.
Advertisement
Let's consider how this came to be. According to a 2017 research study in Fibres and Textiles in Eastern Europe, dress is a non-verbal form of communication complete with symbols that are impacted by culture. The meanings of these symbols are constantly changing. 
For instance, if you were seen wearing leggings and sneakers 20 or 30 years ago, people would likely assume you were going to the gym. Now cultural meanings have shifted; and athletic wear is worn as fashion. So if you are dressed in leggings, you could be going to the gym or to a party.
Such is the case with wraparound sunglasses. Sporty or futuristic elements like wraparounds add dimension to fashionable outfits, and create an interesting style story.
Advertisement
Wear it with a vintage styled scarf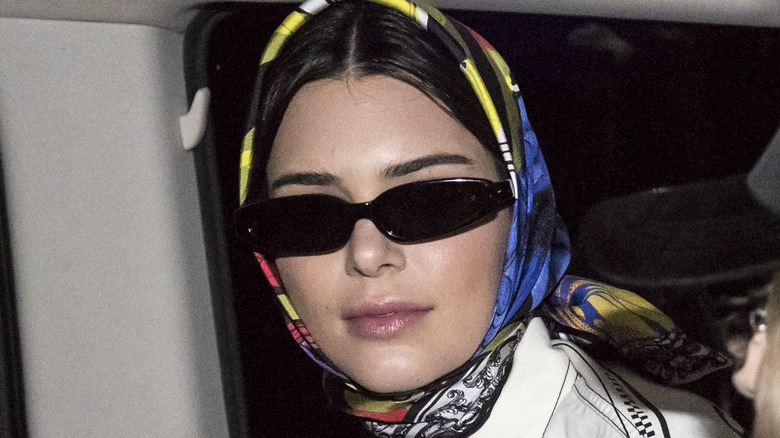 Arnold Jerocki/Getty Images
Futuristic eyewear modernizes a vintage styled scarf, and a vintage scarf adds classic appeal to futuristic eyewear. Together, it is both modern and substantial; creating the ultimate chic look, and elevating the most basic outfit. If you're looking to add some drama to your every day, try wearing it with sneakers and sweats.
Advertisement
Go full-on space age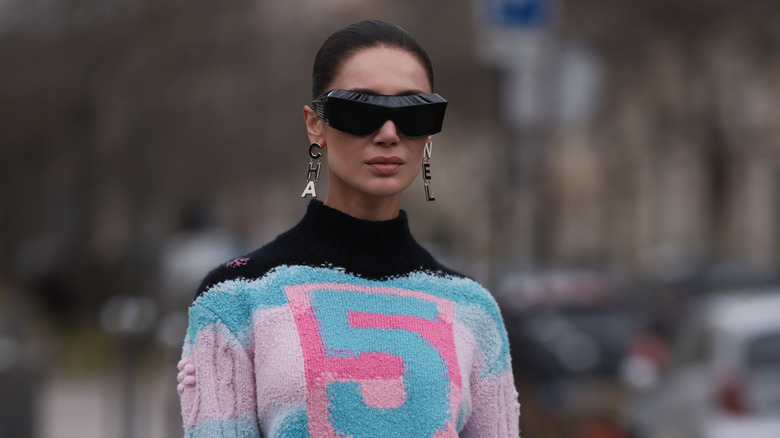 Jeremy Moeller/Getty Images
Reminiscent of virtual reality glasses, you probably can't get any more futuristic than these ultramodern wraparounds. Space age style was popular in the '60s when the U.S. (and the world) was preparing to walk on the moon, obsessed with aliens, and all other things "space." It makes perfect sense for advanced technologies to work its way into our fashion, given the rise of the digital space and augmented reality. If you want to intensify the look, wear similarly standout pieces like these conspicuous Chanel earrings. Should you choose to tone down the look, wear the glasses with more understated pieces instead.
Advertisement
Be sporty-chic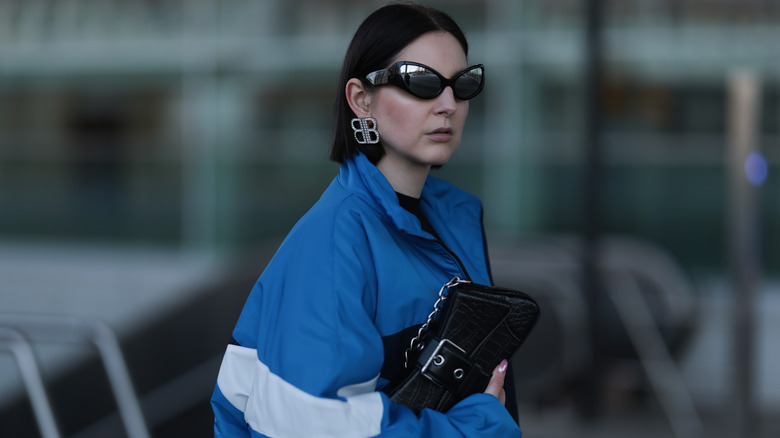 Jeremy Moeller/Getty Images
Athletic wraparound sunnies are perfectly at home with a sporty look. Wear it with a windbreaker tracksuit and fashionable accessories to show a mix of function and fashion. Worn with a clutch and oversized earrings, it creates a  complex message that considers both our preoccupation with comfort and ease, and our fascination with getting all dolled up.
Advertisement
Try colored wraparounds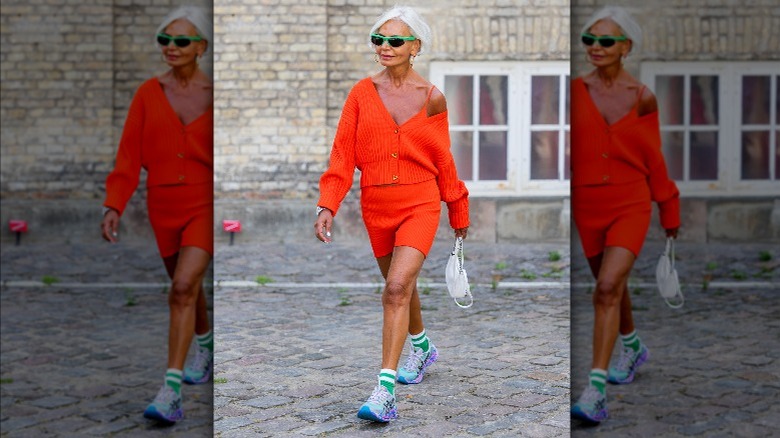 Christian Vierig/Getty Images
If you want to add a little fun to your wraparound sunglasses, try wearing colored ones. Here, bright green glasses with a contrasting orange ensemble feels stimulating, but not overly so. The matching set creates a unified feeling, preventing it from being too overwhelming. The green athletic socks and sneakers feels on trend, and coordinates with the sporty glasses as well.
Advertisement
Try it with classic neutrals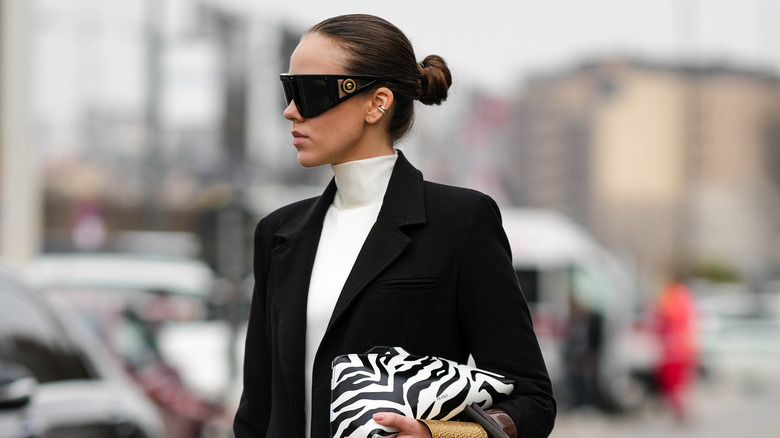 Edward Berthelot/Getty Images
Wearing neutrals in classic shapes, like this blazer and turtleneck, creates a minimal look. Paired with wraparound sunglasses, it feels spare, modern, and bold. A black and white animal print bag adds visual complexity to the nervy outfit. And if you want to turn up the severity, wear a slicked back bun.
Advertisement
Wear it with frilly pieces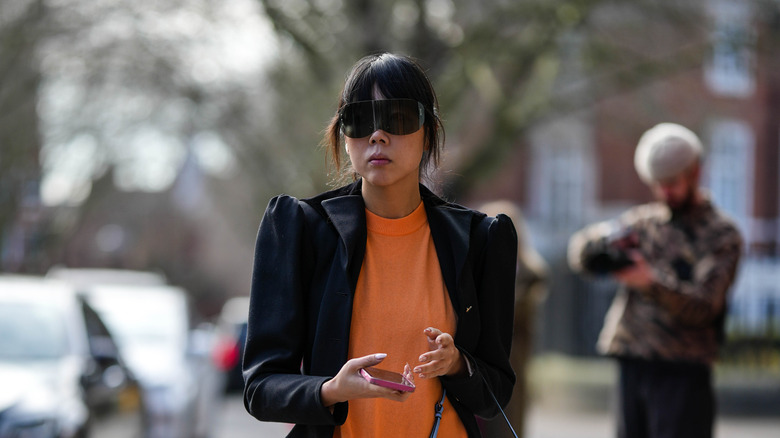 Edward Berthelot/Getty Images
Similar to wearing athletic wraparounds with a vintage style scarf, pairing wraparounds with romantic, frilly pieces is refreshingly unexpected. A T-shirt evens out the look by anchoring it to the glasses. Typically, when you pair opposing styles, you'll want to make sure you are wearing one other clothing item or accessory that harmonizes with each of the opposing styles. This prevents the outfit from feeling disjointed, and creates balance.
Advertisement