Comfy Cotton Headbands Are The Latest Trend Comeback & We're Here For It
The wide cotton headband is the latest '90s trend to make its way back into our closets, and we're not complaining. If you think about it, they're really a perfect hair accessory. These stretchy headbands are comfortable to wear (they cause no pain behind the ears like hard headbands) and keep your hair out of your face. You can use them to strategically cover bangs that you're growing out of or hide greasy roots. They're versatile and look fabulous in short, long, down, or tied-up hair — and their fabric material means they can catch sweat when you need them to. Most importantly, they look so cute.
From a gym sesh to a night out with friends, there's a way to incorporate a jersey headband into a range of outfits. Perfect for preppy or athletic styles, these cozy hair pieces are sporty and casual. They can tone down a preppy outfit or elevate an athleisure look and make either one more effortlessly thrown together. Best of all, they come in a variety of colors (though neutral black and white options have a classic vibe to them). There are a few ways to wear this nostalgic '90s hair accessory, and we've rounded up some wearable looks and outfit ideas so you can step out in this comfortable trend.
Cover your hairline
Wearing a wide cotton headband directly over your hairline is the classic '90s way. Sporty but chic, it works for almost any casual occasion. Plus, this look is ideal for when you need to cover your hairline in style, such as if you're growing out some bangs gone wrong or working with third-day hair.
Pull out your front strands
If you want a preppier look, sit your cotton headband back a little bit and pull forward a few front strands of hair. This pretty style looks less sporty and works nicely with a dressed-up outfit. It's also the better style if you like face-framing pieces or if it's just your preference to keep your forehead more covered up.
Middle-parted
For another perfectly preppy look, pair your cotton headband with a sleek middle part. The middle part's reign is only beginning, which is ideal because they look so fabulous with a headband anyway. If you want an ultra-sleek look, set your middle part with hair spray or hair gel before putting on your headband.
Wear it with bangs
A headband and bangs will always look adorable — the headband just frames bangs beautifully. To keep your bangs on display, you'll need to wear the headband a little further back on your head, so it can help to use bobby pins to keep it in place. We love how the pink headband in this look matches the sweater to tie the look together.
In a ponytail
Cotton headbands are made with activity in mind. They're comfortable, and their material is perfect for soaking up sweat, so they're a working-out staple. If you're wearing a sporty ponytail, a cotton headband just makes sense. It's a good choice for the gym, tennis lessons, a pilates class, and beyond, like for running your weekend errands.
Accessorize low buns
Low space buns, braids, or pigtails look oh-so-cute with a headband. It dresses the look up and can add a pop of color around your face, even if you just choose a bright white headband like in this look. This type of style is practical as well since it can help keep the headband solidly in place.
Balletcore
The balletcore fashion aesthetic has taken over our feeds recently, taking leotards, airy skirts, and ribbon bows from the dance studio to the street. A cotton headband is a practical and cute accessory to wear, whether you actually plan on attending a ballet class or you just want to look like you do.
Spice up a preppy outfit
Thanks to style icons like Blair Waldorf from "Gossip Girl," headbands are solidly part of the preppy style canon. They're girly and classy-looking, especially with your hair worn down. It's the outfit that really takes the cotton headband from sporty to preppy. Choose a neutral headband color and pair it with plaid clothing to get a similar look.
Elevate a summer dress
While cotton headbands are cute to wear year-round, they're particularly suited for spring and summer. They're a low-effort way to pull your hair back when the weather gets warmer. While wide cotton headbands have a sporty vibe, they still pair nicely with a feminine summer dress, so they're ideal for those hot summer days.
Perfect for an athleisure look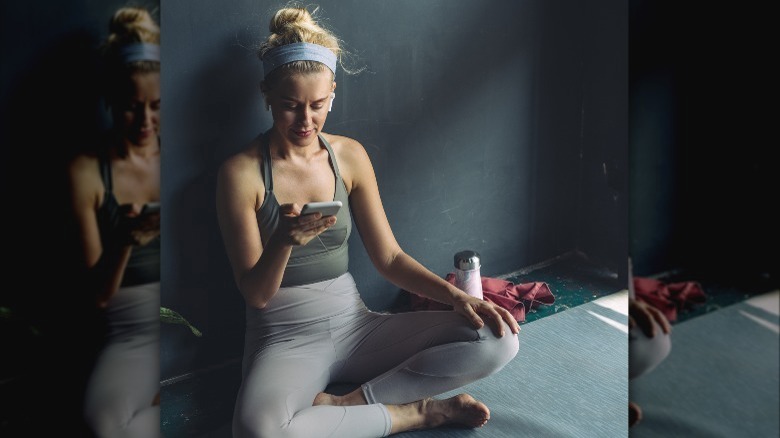 Freshsplash/Getty Images
Fashion aside, one of the main purposes of a wide cotton headband is to keep your hair back and your sweat out of your eyes when you're working out or playing sports. That means they'll fit right in with an athleisure outfit, perfect for going to the gym or running errands.
A cozy outfit
The stretchiness and soft material of cotton headbands give them a snuggly vibe, so why not pair one with your coziest outfit (and grab your pup for a cuddle)? This gray sweater is as comfortable as it gets, and the gray headband gives a monochromatic vibe. Tan-colored lounge pants give this look a little pop of color, so the entire look isn't all-over gray. 
Rock a trendy blazer
Another preppy trend that just won't leave our closets, some iteration of the structured and chic blazer is almost always in style. A cotton headband instantly makes a blazer — whether structured or oversized — feel more low-key and relaxed, ideal for those days when you want to look classy but a little more laid-back.
Dress down a night-out look
While cotton headbands are usually best for daytime looks, it doesn't mean you can't wear them with a night-out outfit as well. The key here is to stick with a put-together preppy style so it looks formal enough for a night on the town, but you still get to include this fun and comfy accessory.
Street style
Street style often has an athletic element to it, so it makes sense that a wide cotton headband would fit right in. It just has that cool factor. Plus, since many headbands come in neutral colors, they work for both masculine and feminine street-style outfits. Match the headband color to another part of your outfit (like the shoes in this photo) to make it look more polished.
A fun accessory to pair with a matching set
Matching sets are here to stay — they are so adorable, and accessories can really take them up a notch. A cotton headband is a lovely accompaniment to your favorite matching set, whether it's a cozy one for lounging or a fetching two-piece outfit for a day with friends. If you choose a neutral black or white headband, it should go with pretty much anything.