Marilyn Monroe's Eyeliner Hack Is Going Viral On TikTok - How To Get Her Signature Sultry Look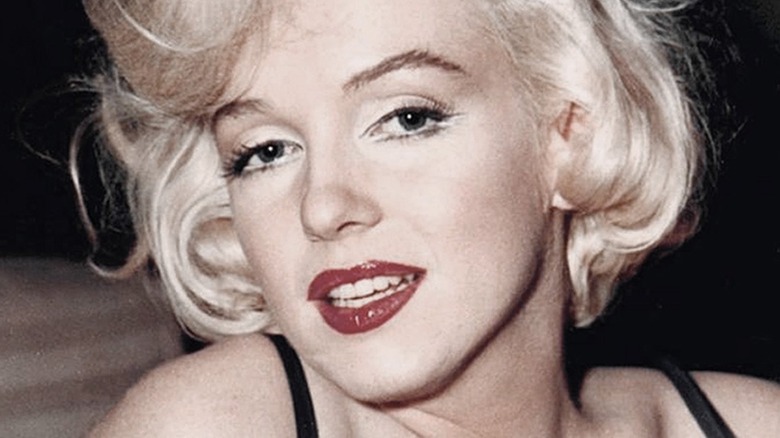 Donaldson Collection/Getty Images
One of the most unmistakable traits of Marilyn Monroe was her inviting eyes. Sultry and dreamy, the actor's eyes always looked haphazardly open in sheer bliss that was in perfect accompaniment with her mischievous pout and her playful personality. The timeless icon of old Hollywood glam was one of the few celebrities with eyes that oozed sex appeal on autopilot.   
Although Marilyn Monroe had naturally gorgeous eyes, her siren-like eye smile was not so much a result of God's work as it was of makeup. Yup! You don't need plastic surgery or filters to achieve seductive eyes that recall "The Blond Bombshell." If she could do it with makeup, so can you. In fact, Marilyn Monroe's eyeliner hack is going viral on TikTok under #marilynmonroemakeup, which has garnered over 19 million views at the time of writing. It's easy to recreate and you don't need any fancy tools other than eyeliner and eyeshadow. By the way, this hack was originally shared by the late actor's makeup artist, Allan "Whitey" Snyder, so you know it's legit. 
Marilyn Monroe's lash shadow effect
First, line your upper lash line with brown or black eyeliner. Then, flick a delicate wing to the outer corner to extend your eye. Here comes the trick of the trade. For the lower lash line, use a pencil in a brown or taupe shade; and, starting from the outer third of the eye, wing out a flick and keep it pointed down. You'll want to use a tool with a matte finish for the lower wing so you can smudge it out easily. This underwing must look subtle enough so it looks like a shadow. 
The space between the upper lash wing, which points upward, and the lower wing, which points downward, should take the shape of a triangle on the outer corner of the eye. The point of this double eyeliner look is to create the illusion of a shadow cast on the lower line, adding thickness to the lashes and depth to the eyes.  
To amplify that shadow effect, use an eye shadow of a lighter shade to fill in that triangular space between your top and lower liner wings and blend the pigment out. You can line the rest of your waterline with white eyeliner to make your eyes look bigger and more awake. To elongate and further open the eye, dab a red dot on the inner corner of the eye. And voila: the iconic eyeliner look of Marilyn Monroe.
Other eye makeup tips used by Marilyn Monroe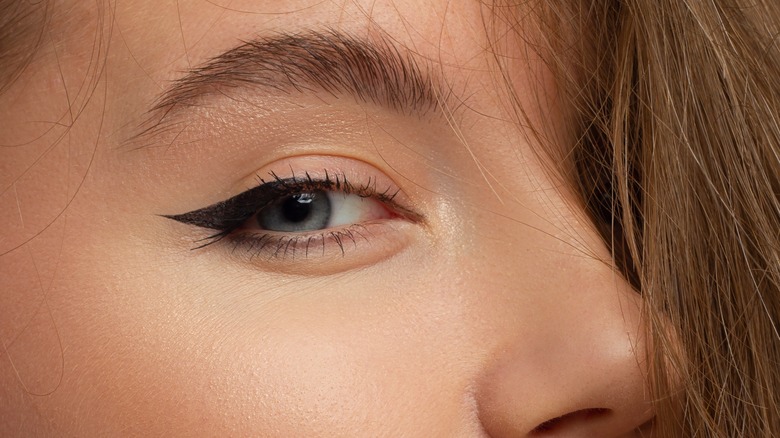 Shtennikova Evgenia/Shutterstock
Although eyeliner is a vital part of a makeup look, it's not everything. There are other elements that tie the look together, such as eye shadow and eyelashes. Let's find out what else Marilyn Monroe did to make sure her eye makeup was always on fleek.
There was no commercially formulated eye primer back in the day, so to prime her lids for makeup, her makeup artist, Allan "Whitey" Snyder, would dab some Vaseline or coconut oil on her lids to hydrate them and give them a subtle sheen. Next, the artist would apply white eyeshadow all over her upper lids, extending up to just beneath the brow bone and the inner corner of the eye to lift the brow and freshen the face. Then, a darker eye shadow hue would be added to the crease to contour and define the eye. 
Eyelashes played an indispensable role in Marilyn Monroe's eye makeup routine. To make Monroe's lashes look more fluttery in a natural way, her makeup artist would snip her false lashes in half and add them to the outer halves of the upper lashes to give her wings the ultimate lifted look. Actually, this half-falsie trick is useful even in today's modern makeup scene. Not only are half lashes more eye-opening and easier to maneuver, but they also feel lighter and more comfortable on the eyes than a full strip of lashes.