Stacking Hoop Earrings Is The Easiest Way To Add Extra Polish To Your Look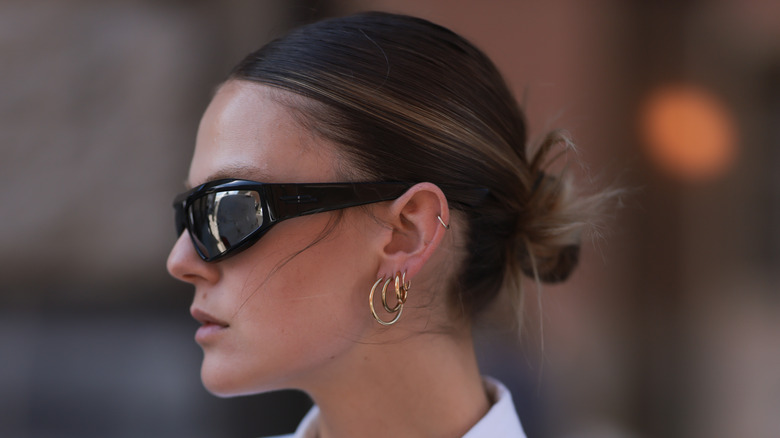 Jeremy Moeller/Getty Images
When you see someone wearing hoop earrings, what comes to mind? Often linked to edgy, sexy, or classic looks, our specific associations with hoops are largely based on our experience with them, and what they symbolize for us. They've been around since ancient times and are very well cemented into our public consciousness, thanks to their visibility in pop and urban culture.
Some assume that the hoop's wide appeal is due to its shape (via Coomi). Notably, the circular shape is a symbol of life and beyond, and larger hoops have often been linked to strength, particularly in urban communities. While one pair of earrings is pretty much the status quo, wearing stacked earrings feels lavish, fits in with the maximalist trends we've been seeing lately, and overall makes a strong personal statement. So, if you're looking to show the world a little extra polish, try out these stacked hoop earring looks.
Classic stack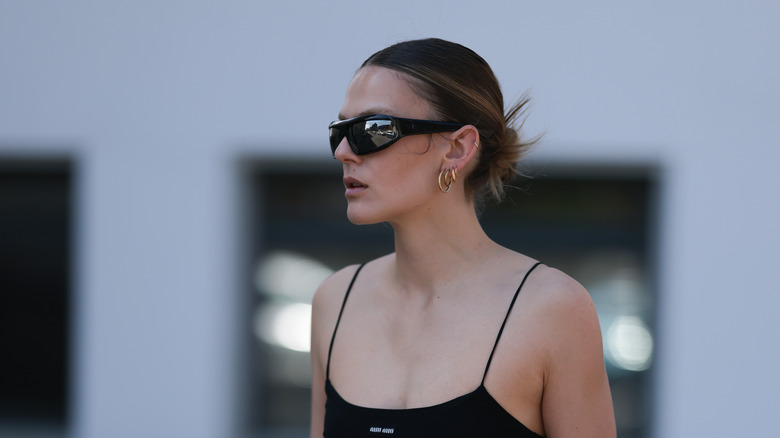 Jeremy Moeller/Getty Images
Classic gold hoops are a hallmark of stacked earrings. The more you stack, the more opulent the look. It's as if your ears are dripping in gold, and people won't be able to help but stare. Stack the earrings from largest to smallest as far up as you can go. You can also add hoops, either cuffs or pierced earrings, on the upper part of your ear if you're feeling particularly excessive.
Chunky stack
Chunky stacked earrings seem to be the latest craze, and for good reason — it's a refreshing take on a vintage look. Chunky earrings are loosely reminiscent of a time when mature women wore chunky earrings with matching jewelry. But stacked, the earrings are modern and fiery, especially when stacked all the way up the ear with chunky earrings and ear cuffs.
Mixed stack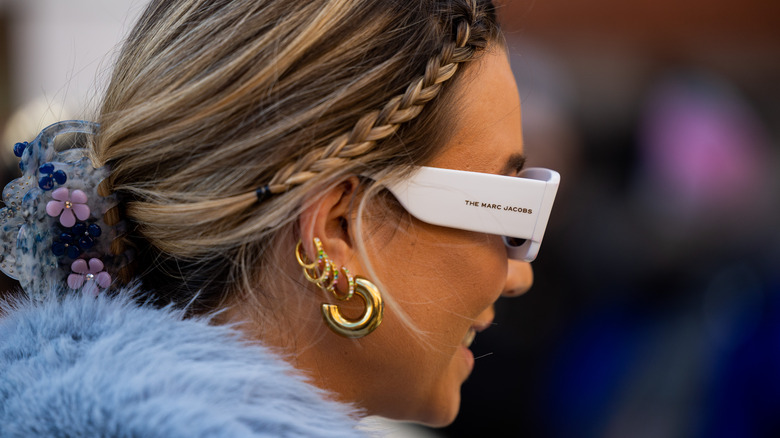 Christian Vierig/Getty Images
While many stack earrings are the same, you can always mix and match your stack for more interest. You can wear one larger hoop in the first hole and stack the rest with duplicate smaller hoops. Alternatively, you can stack each hole with different hoops for a funky, cool look.
Oversized hoops with stacked huggie earrings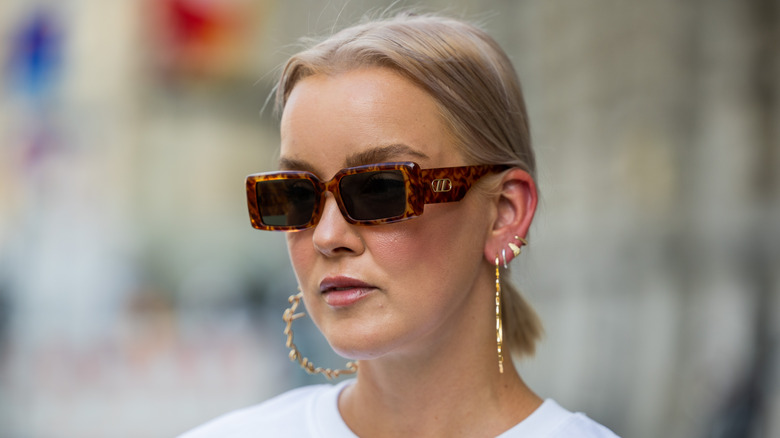 Christian Vierig/Getty Images
If you're wearing oversized hoops and want to add just a little more opulence, large hoops with huggies is another way to try a mixed stack look. While the oversized hoop gives all the 'tude, the stacked huggie hoops give understated lavishness. The overall vibe is chic, high energy, and great when you want to evoke a bold look while running errands or doing mundane activities.
Faux stack
If you only have one earring hole, or opt not to wear multiple earrings, you can always wear multiple hoop earrings. These are earrings that look like stacked earrings but only require one hole. Multiple hoop earrings come in a variety of styles, including ones that mimic matching hoops and ones made up of different hoops. Note that hoop earrings don't have to be gold — pearls and rhinestone hoops are luxe alternatives to the classic metal.