The 1 TikTok Eyelash Curler Hack You May Want To Avoid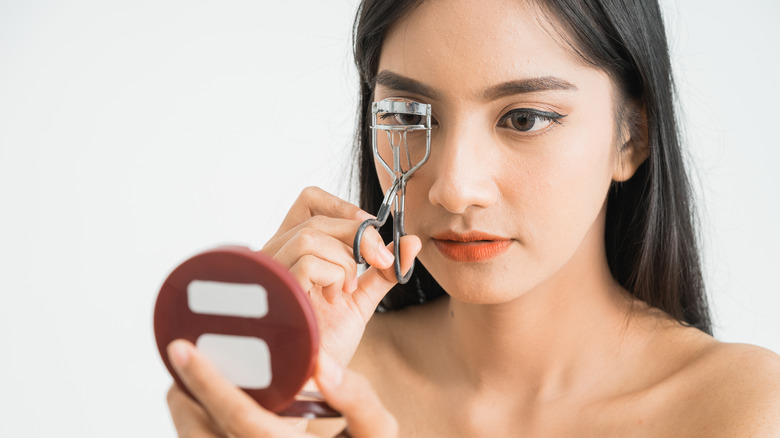 Odua Images/Shutterstock
Nowadays, makeup gurus may be more likely to apply their looks while peering at a phone screen, rather than a mirror. Social media has revolutionized the way that we share our knowledge and participate in trends. In recent years, makeup has found a brand new home and bustling community on TikTok. Influencers and advertisers alike have flooded the platform with beauty content, each hoping to be the new guru or brand that takes off in a game-changing trend. 
Even those who don't hope to make a career out of their cosmetics have found joy in sharing and learning makeup hacks on the platform. The beauty secrets that were once buried in teen magazines are now easily accessible on the "For You" page. Whether you needed an easy way to apply false lashes or want to achieve a supermodel facelift, TikTok and its short, digestible videos have you covered.
Of course, one of TikTok's greatest strengths, its accessibility, can also be a downfall. Anyone can upload content to the platform and quickly achieve viral success regardless of their credentials or the safety of their advice. With makeup in particular, it's crucial to remember that everyone has different skill levels, skincare needs, and experiences. One recent eyelash curler hack is proving that sometimes you're better off listening to the experts. 
TikTokers are flipping their lash curlers
In April 2023, an eyelash curler hack was uploaded to TikTok and quickly had the internet flipping out. Audrey, a beauty creator who goes by @audboos on the platform, shared a tutorial with her half a million followers. After a viewer noticed her unique eyelash curling method, Audrey set out to educate TikTok on what she called an "insane" trick.
Audrey starts by flipping her eyelash curler upside down, using the tool in an unconventional manner to straighten her eyelashes out. Afterward, she uses the curler normally and redirects the stick-straight lashes upwards. She demonstrates how, once she finishes applying her mascara, the "hacked" lashes appear longer. It can be hard to stand out in the competitive #BeautyTok space, but Audrey's video resonated with users.
The tutorial quickly gained over one million likes, receiving comments from viewers like, "[Y]ou've just changed the eyelash game." Indeed, many were eager to incorporate the trick into their own makeup routines, with the "upside down eyelash" topic getting nearly eight million views and counting. Despite the tremendous popularity of the trend and the positive comments, the weeks following Audrey's video have revealed that the viral approach may not be for everyone.
The new eyelash curler hack is not without risks
Eyelash curlers come with risks to begin with, so using them in an improper way could spell serious trouble. RMS Beauty notes that an inexperienced user could mistakenly crimp, damage, or rip out their eyelashes with the device. Makeup artist Saffron Hughes noted to Refinery29 that the upside-down approach introduces unique challenges — like battling against the curvature of the device, which aims to align with the eye shape when held right side up. She suggested that the resulting misalignment could end up "trapping the skin of your eyelid [...] or even scratching your cornea." 
Even professionals had trouble mastering the atypical approach. Well-known guru James Charles tried out the viral hack in a YouTube Short and struggled to achieve the desired results. Eventually, while acknowledging that Audrey achieved good results, he decided that the method wasn't for him. "I feel like if you do this every day, eventually someone's gonna accidentally rip their entire eyeball out," he said at the end of the clip.
Ultimately, the risks may outweigh the benefits of this specific hack. You can instead try more natural methods to grow your lashes to new heights — like investing in higher quality mascaras, lash serums, or switching up your diet.