Chessy, Meredith, Or Elizabeth: Which Parent Trap Aesthetic Is Right For You?
For a movie billed as a children's summer flick, "The Parent Trap" starring Lindsay Lohan has plenty of grown-up takers for its iconic '90s fashion moments. This is most evident on TikTok and other social media platforms, where different looks and styles of all the characters from this popular film have gone viral. With all things '90s witnessing a strong comeback, it comes as no surprise that styles from this staple film aren't far behind. 
Since "The Parent Trap" showcases numerous strong female characters, each one different from the other, viewers are spoilt for choice in terms of sartorial inspiration. So, no matter your personality, you are sure to be able to find an aesthetic that matches yours.
You may identify with Chessy, the housekeeper and family friend who lives and works in the Napa Valley with the Parker family. Or perhaps you are more of a preppy chic Meredith, the sophisticated and uber-stylish girlfriend trying to marry the father of the twins. You may also feel closest to Elizabeth, the English mother of the twins whose Princess Diana vibe is charming and easy to replicate. 
Chessy's comfort 'fits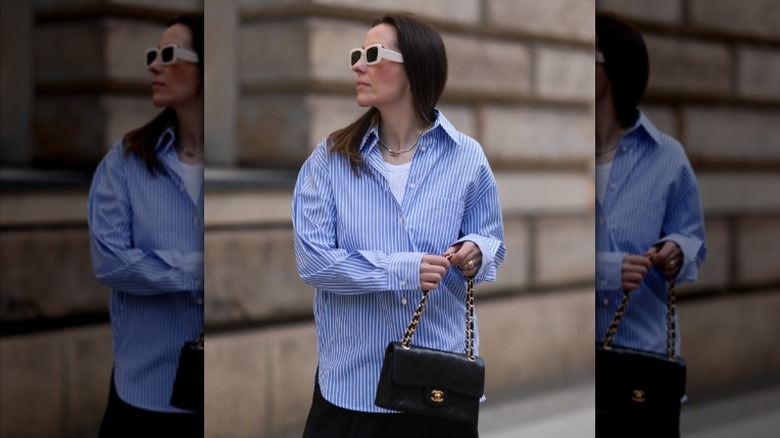 Jeremy Moeller/Getty Images
As a busy woman in charge of running a big home, taking care of a family with a young child, cooking, cleaning, and caring for their dog, Lisa Ann Walter's Chessy certainly has her hands full. Throughout the movie, she dresses in casual and comfortable silhouettes that help her get her work done. Yet, she never looks frumpy for even a second.
Her style is a judicious mix of laidback and rugged, masculine and feminine — completely in line with her character's beautiful Californian setting. Her fashion aesthetic serves a purpose but still packs a punch.
The basic staples in her wardrobe include oversized button-down shirts in solid colors (the bigger the better) paired with fitted camisoles in neutral shades. Jeans, cargo pants in varying styles, and shorts are her bottoms of choice. A slick of '90s nude-brown lipstick, her beautiful hair done up in a messy bun held in place with a large claw clip, and dainty gold earrings round off her looks in terms of accessories. This is work-from-home chic at its best and certainly has timeless appeal.
Meredith's super stylish wardrobe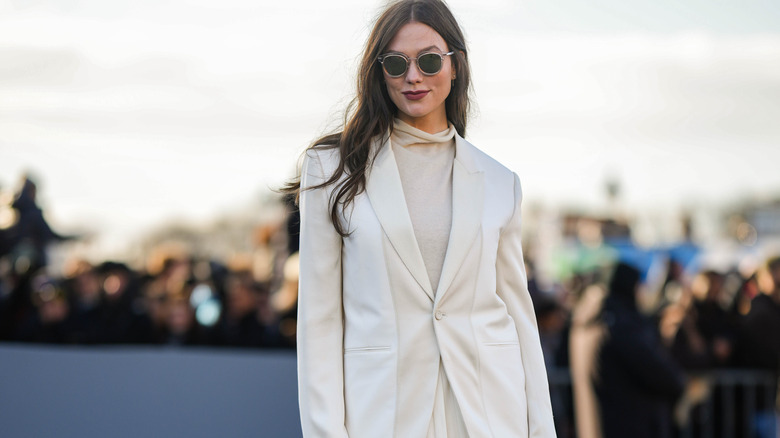 Edward Berthelot/Getty Images
Meredith Blake, played by actor Elaine Hendrix, is the only true villain in the movie. That said, one remembers her more for her outfit choices that spell sophistication. Sticking to a classic '90s luxe aesthetic, Meredith's character is defined by quiet yet clean opulence.
Perhaps her most famous look from the film is the black-and-white summer athleisure outfit she wears on the ill-fated camping trip she takes with the twins and their father. In the rest of the film, Meredith's outfits consist of classic, tailored cuts, chic dresses, preppy blazers, and classy accessories.
Classic silhouettes such as minidresses are offset by a bold red lip, wide-brim straw hat, understated jewelry in the way of mother-of-pearl studs, and neutral tones. Though her accessories shy away from showing off their logos, you get the sense that she is expensively dressed from head to toe. Taking inspiration from her character will hold you in good stead now just as it would have back then.
Elizabeth's Princess Diana-inspired looks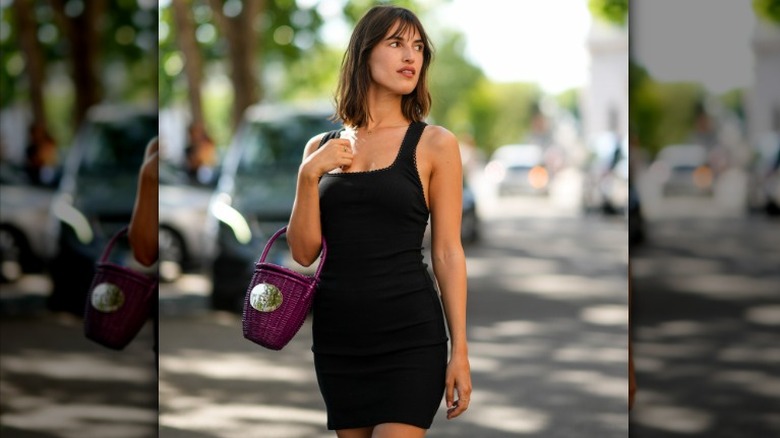 Edward Berthelot/Getty Images
Aside from the striking physical resemblance that the late actor Natasha Richardson's Elizabeth bore to Princess Diana, it seems her entire wardrobe in the film was inspired by this iconic personality of the '90s. Right from the short, layered bob cut which Diana sported after her divorce, to the oversized white coats, elegant shift dresses, and a preppy mom aesthetic — there was a lot in common between Elizabeth and Princess Diana.
She further proves this through the scene in the film where she steps out of her comfort zone to don a sexy LBD on the advice of her butler. Even her little black dress is an ode to Princess Diana's "revenge dress." Noting this deliberate choice, NYC-based stylist Alison Bruhn tells Bustle, "A sleeveless little black dress with a boat neck that shows off the collarbone and toned arms with a heel, there is truly nothing more chic than that."
Now with all the options laid out before you, don't be afraid to go forth and pick the right aesthetic from "The Parent Trap" to fit your personality.